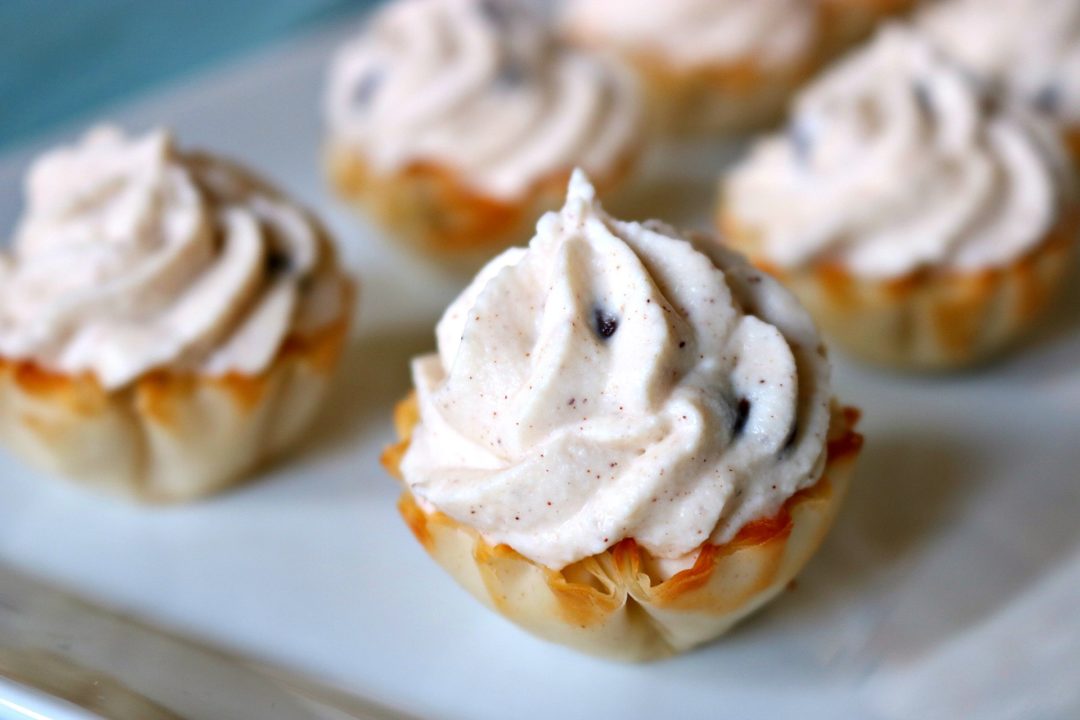 Cannolis…where do I begin? My love affair with cannolis began…well, can newborns eat cannoli cream? I honestly do not know when it began.  But for as long as I can remember, I loved cannolis.  There is nothing more comforting than a cannoli with the mini chocolate chips (I was never a fan of the dried fruit version). We always had them on holidays, and occasionally, they would make an appearance at the Sunday dinner table.  In an effort to make cannolis easy and bite sized, I came up with the idea of cannoli cups.
Cannoli cups are an easy and impressive pastry to serve at the holiday dinner table.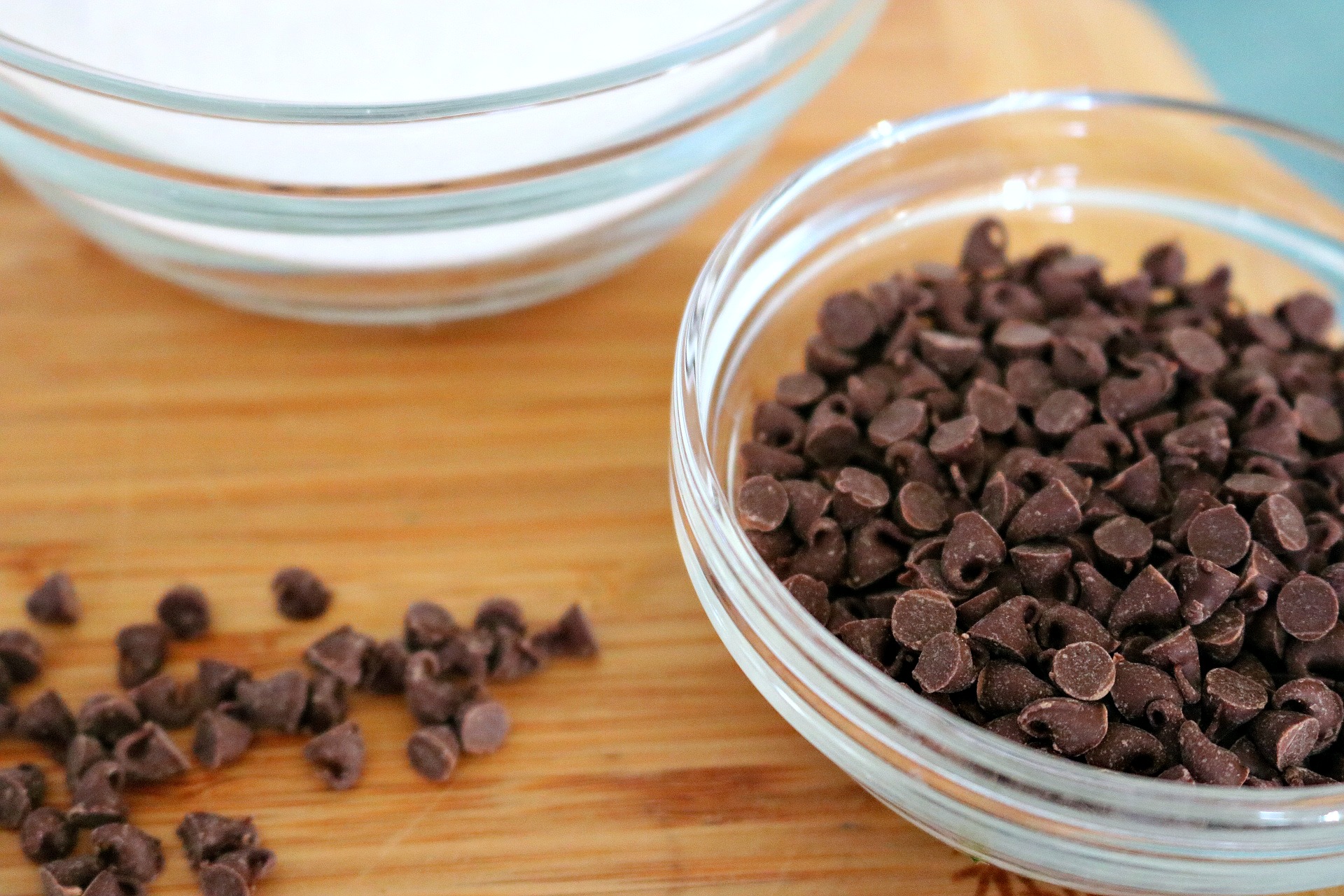 While these are very easy to make, there is one step that must not be ignored.  You must strain the ricotta. I repeat…you MUST strain the ricotta.  Even if the ricotta looks dry to you, there is liquid hiding in there. Look here for directions on doing this.  Also, you must get fancy piping tips.  You can find them at any craft store.  I use these
.  The set comes with 6 different tips.  You also need pastry bags.  Of course, you can use ziplocks, however, in my experience, they are messy and not as easy as the pastry bags.  I use these
 pastry bags by Wilton.
Once the ricotta is drained, you are ready to begin making your cannoli cups.  They are super easy…I promise.  Do not be intimidated by needing to strain the ricotta.  That is what has stopped me from attempting to make cannolis for years.  I don't know what was so scary about straining the darn ricotta.  Go to the supermarket, buy yourself some cheesecloth (or buy it right here
) and strain away.  Everything after that is simple.  Go ahead and make them.  And save a seat at the table for me.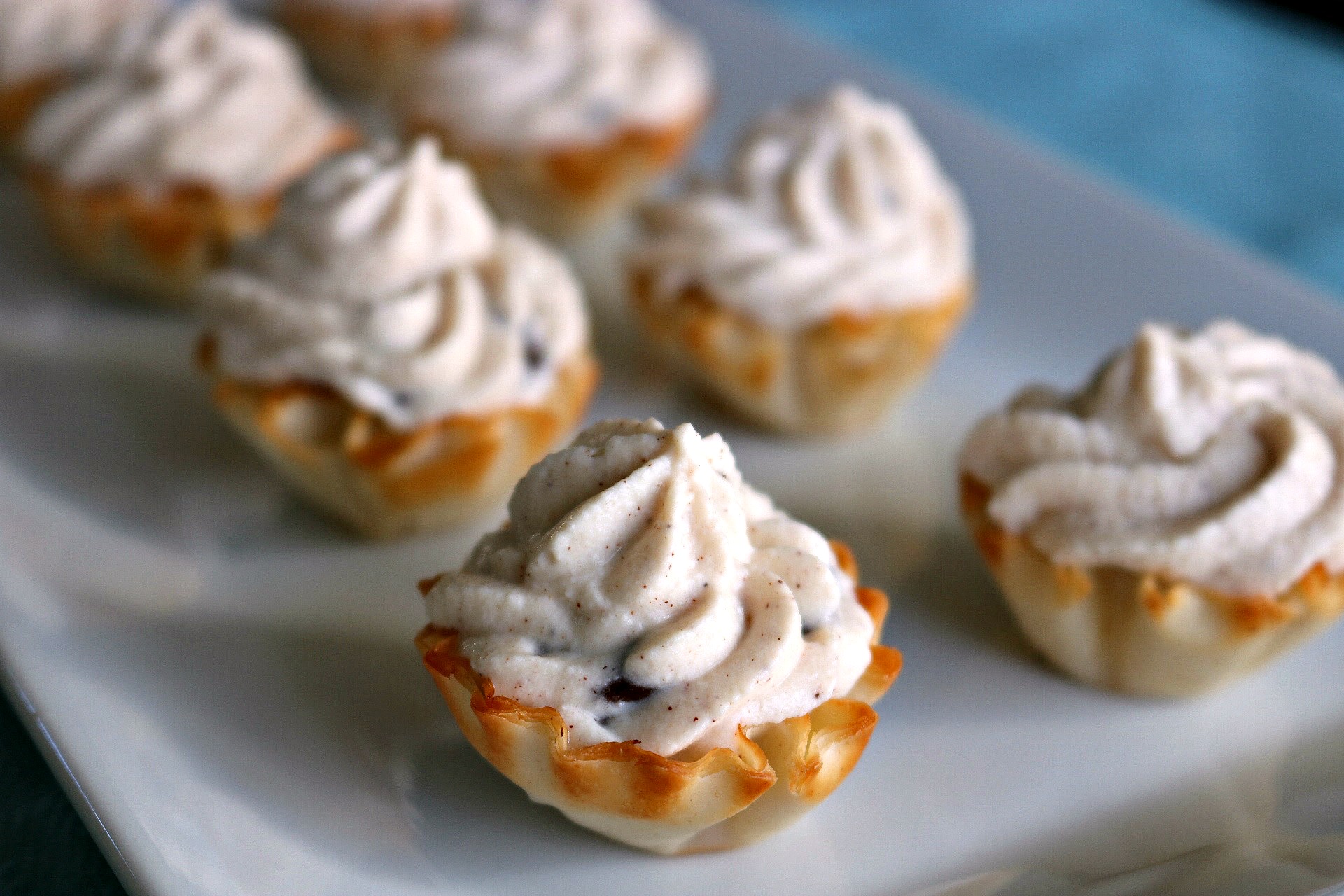 Ingredients
2 boxes phyllo shells
1 15 ounce container of whole milk ricotta cheese
1/2 cup heavy cream
1/2 cup confectioners sugar
1/2 teaspoon vanilla
1/4 teaspoon cinnamon
1/3 cup mini chocolate chips
Instructions
Strain the ricotta in a cheese cloth (4-5 hours or overnight)
Preheat the oven to 350 degrees.
Line the phyllo pastry shells on a baking sheet. Cook in the oven for 3-4 minutes until crisp. Allow to cool.
In a bowl, using a hand mixer with the whisk attachment, and beat the heavy cream until it forms stiff peaks.
Place the strained ricotta in another bowl, and with a hand mixer, mix the ricotta until smooth. Add the confectioners sugar, vanilla, and cinnamon.
Carefully, fold in the whipped cream and chocolate chips.
Put the cream in a pastry bag with a tip. The tip must be large enough to allow the chocolate chips to pass through and not clog.
Fill the pastry shells.
Serve with a dusting of confectioners sugar (optional).
http://www.mangiamichelle.com/cannoli-cups/