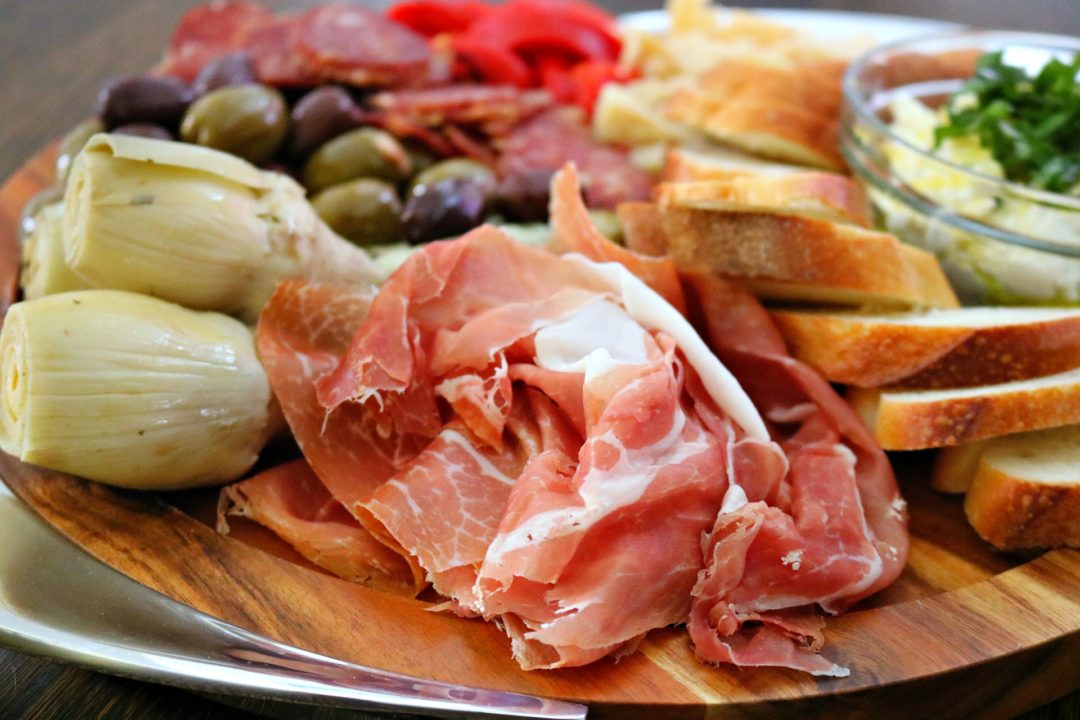 This holiday antipasto platter is sure to be the hit of cocktail hour at your holiday party.  I love antipasto. Honestly, I could make a meal out of it.  Give me a glass of wine and I am all set. I will gladly grab a plate and make myself a wall flower for the first 30 minutes of the party.
Holiday antipasto platter is a classic dish to bring to any party.
Anytime that I am asked to bring something to a party, this is the dish that I bring.  While there are some basics to an antipasto platter, you can always customize it to your liking.  There are not set ingredients that you have to include.  I usually opt for Italian antipasto, however, this is an easy dish that you can make your own.  There are some main components to an antipasto platter; charcuterie (2-3), cheese (2-3), bread or crackers and marinated vegetables (2-3).  Sometimes I substitute dried fruits and nuts for the marinated vegetables.  This depends on the cheeses I am using.  For a more traditional Italian antipasto platter, here is what I include:
Cheese: In this platter I have two cheeses.  First, I have a lemon basil ricotta that can be spread onto bread or crostini.  I buy really good, fresh ricotta cheese from a specialty food market that makes it daily. Click the link to see the recipe.  It basically combines fresh ricotta cheese with lemon zest, basil, salt and freshly ground pepper and a drizzle of really good extra virgin olive oil. The second cheese is a nutty and salty parmigiano reggiano.  Imported parmigiano reggiano is a classic pairing for charcuterie. You are probably wondering why I have not included fresh mozzarella in this platter.  And here is the reason why…in my humble opinion, fresh mozzarella is the king of all cheeses.  And for this very reason, the king deserves its very own throne.  Perhaps a throne with some roasted red peppers and salty kalamata olives, topped with a basil chiffonade and a drizzle of extra virgin olive oil.  And please, for the love of all good cheeses, buy your mozzarella from a place that makes it fresh.  I promise, you will not regret it!
Charcuterie: In this platter I have spicy soppressata and imported prosciutto di parma.  I cannot stress the importance of buying imported prosciutto.  I swear I am not being a snob, but, in my humble opinion there is a huge difference.  The domestic prosciutto has a stronger, gamier flavor.  The imported prosciutto is milder, and a lot less gamey.  Of course, you can choose whichever cured meats you would like.  Dry sausage or bresaola would also be delicious.
Marinated vegetables: I always love assorted olives.  In my platter, I have green olives stuffed with garlic and sundried tomatoes, and some kalamata olives.  My favorite bite is a piece of parmigiano, soppressata and a kalamata olive.  Yum! I also have marinated artichoke hearts.  Also delicious, and they look pretty.  And finally, my favorite, roasted red peppers.  I love the roasted red peppers with kalamata olives.  The flavors complement each other nicely.
Wine pairing: Chianti, Sangiovese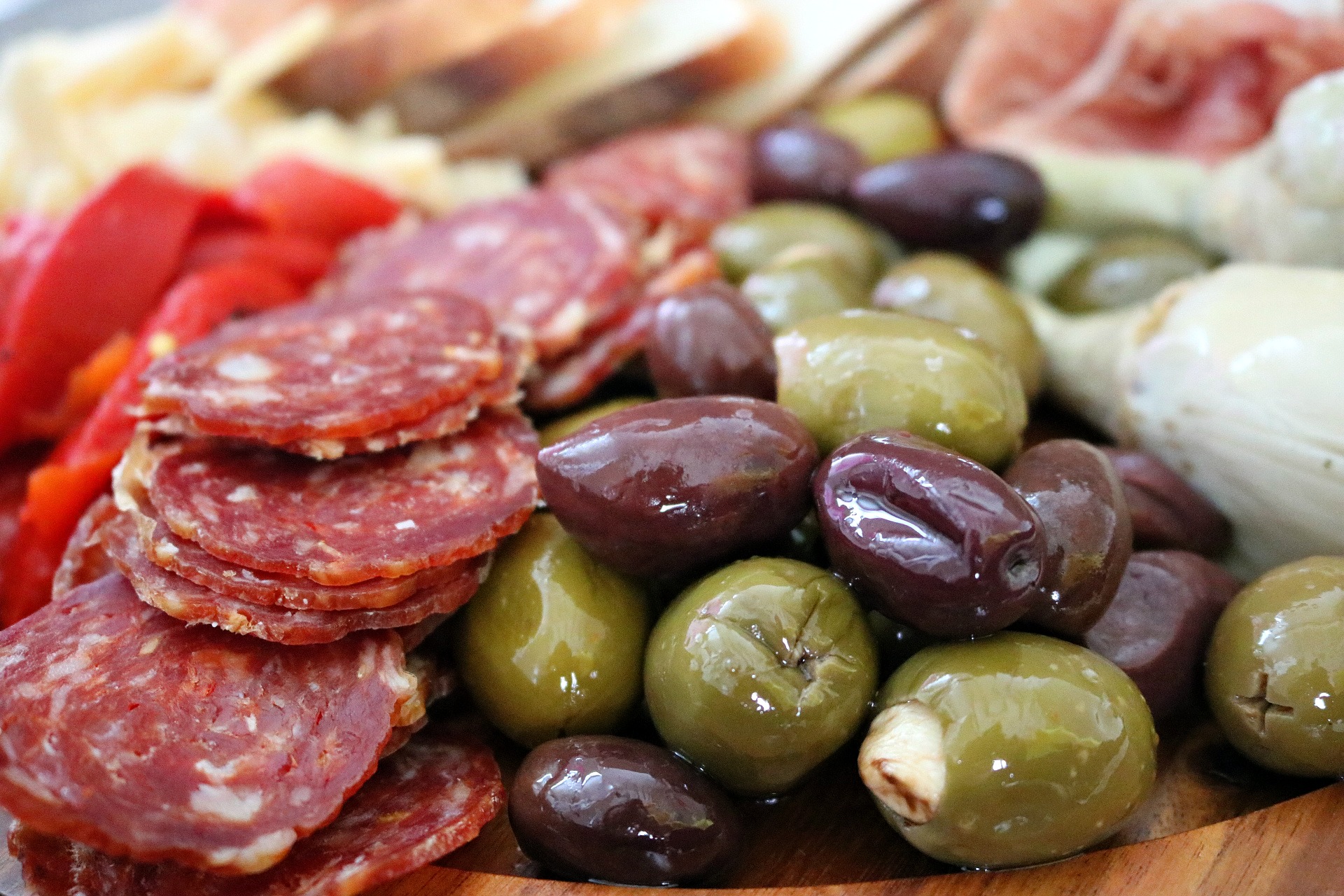 Customize your antipasto platter to suit your tastebuds
Here are some other delicious combinations for your platter:
Option 1: Gorgonzola (or any bleu cheese), sharp aged cheddar, candied walnuts or pecans, dried apricots and cranberries, wheat crackers, hard salami and prosciutto. Wine pairing: Cabernet Sauvignon.
Option 2: Brie cheese, gruyere, fig jam (or figs), sliced apples or pears, chorizo, serrano ham, rosemary crackers, almonds. Wine pairing: Chardonnay
Enjoy your antipasto platter.  Send me a message with your variation.
Mangia!