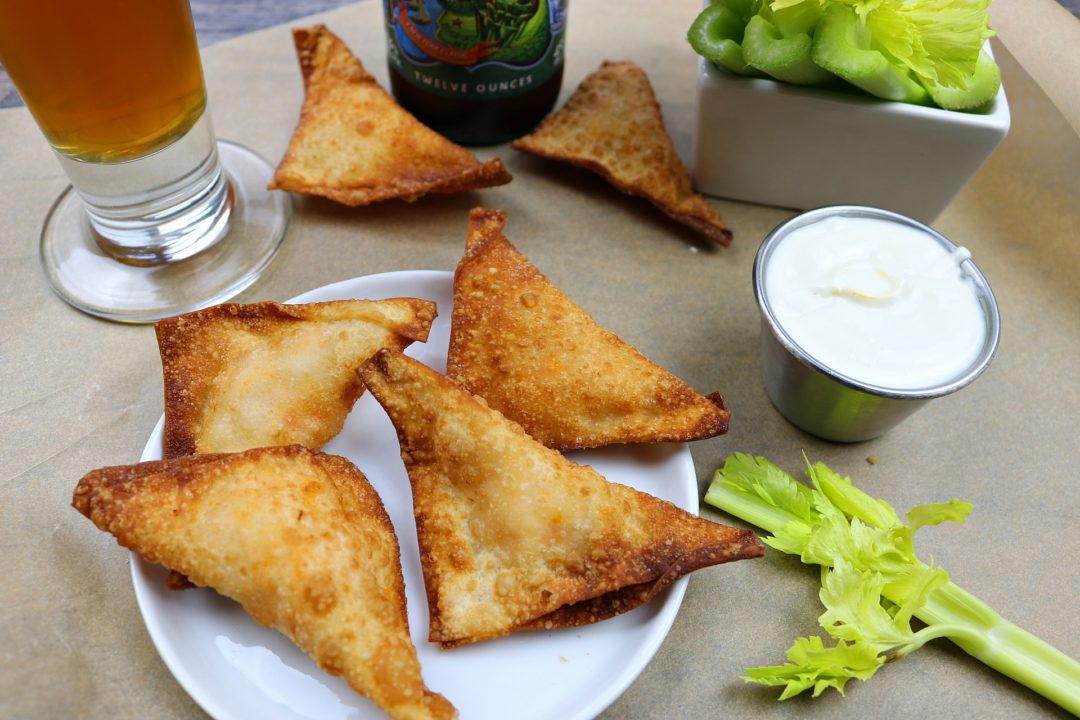 I love me some buffalo chicken. Honestly, it is one of my favorite foods.  I love the spicy chicken dipped in the cool and tangy blue cheese.  It is simply perfection.  Not great first date food, because who wants orange fingers from the buffalo sauce, not to mention, it will definitely get all over your face.  It cannot be avoided.  But not these babies.  Buffalo chicken wontons are delicious buffalo chicken stuffed in a wonton and deep fried.  No risk of getting buffalo sauce on your face, clothes, or fingers.  Another good reason to make these, is you can use a store bought rotisserie chicken to cut out some cook and prep time.  An even better, this recipe only has 5 ingredients (including the blue cheese dipping sauce).  Thats right, five.
Buffalo Chicken Wontons can be made with only 5 ingredients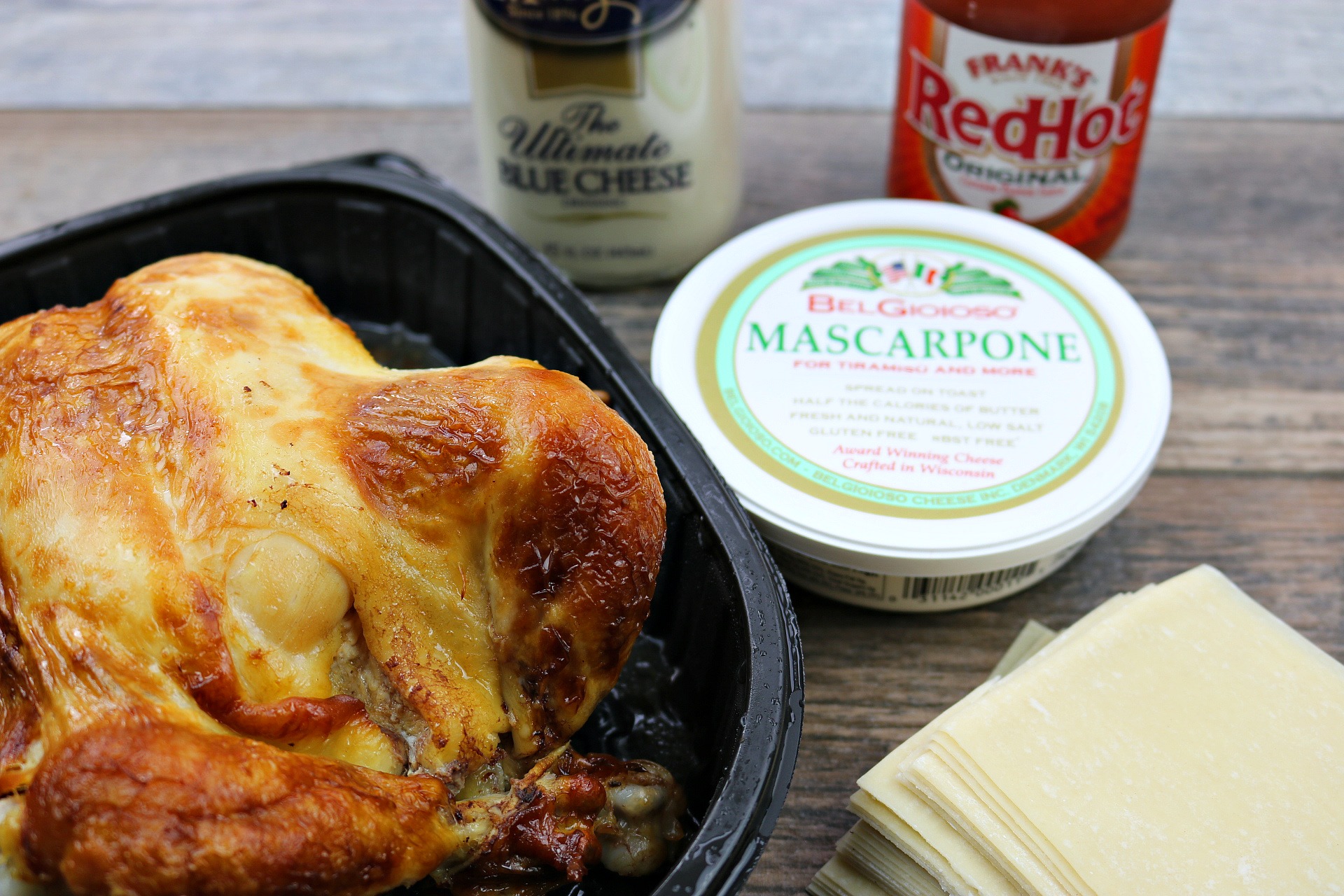 Step 1: Shred the Chicken
Remove the breast portions from the chicken.  Remove the skin.  Take two forks and shred the chicken in a medium bowl.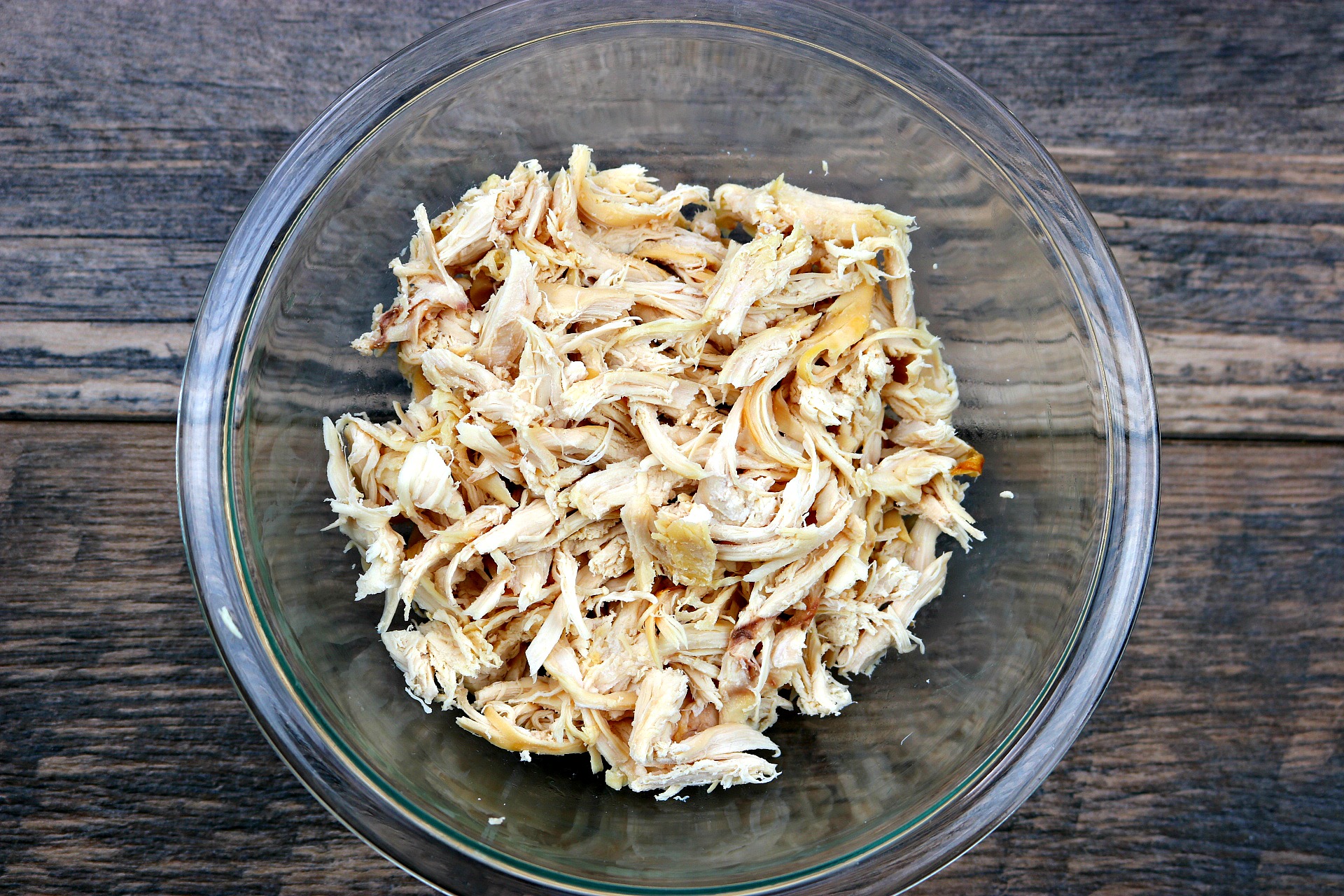 Step 2: Add the mascarpone and hot sauce, and combine.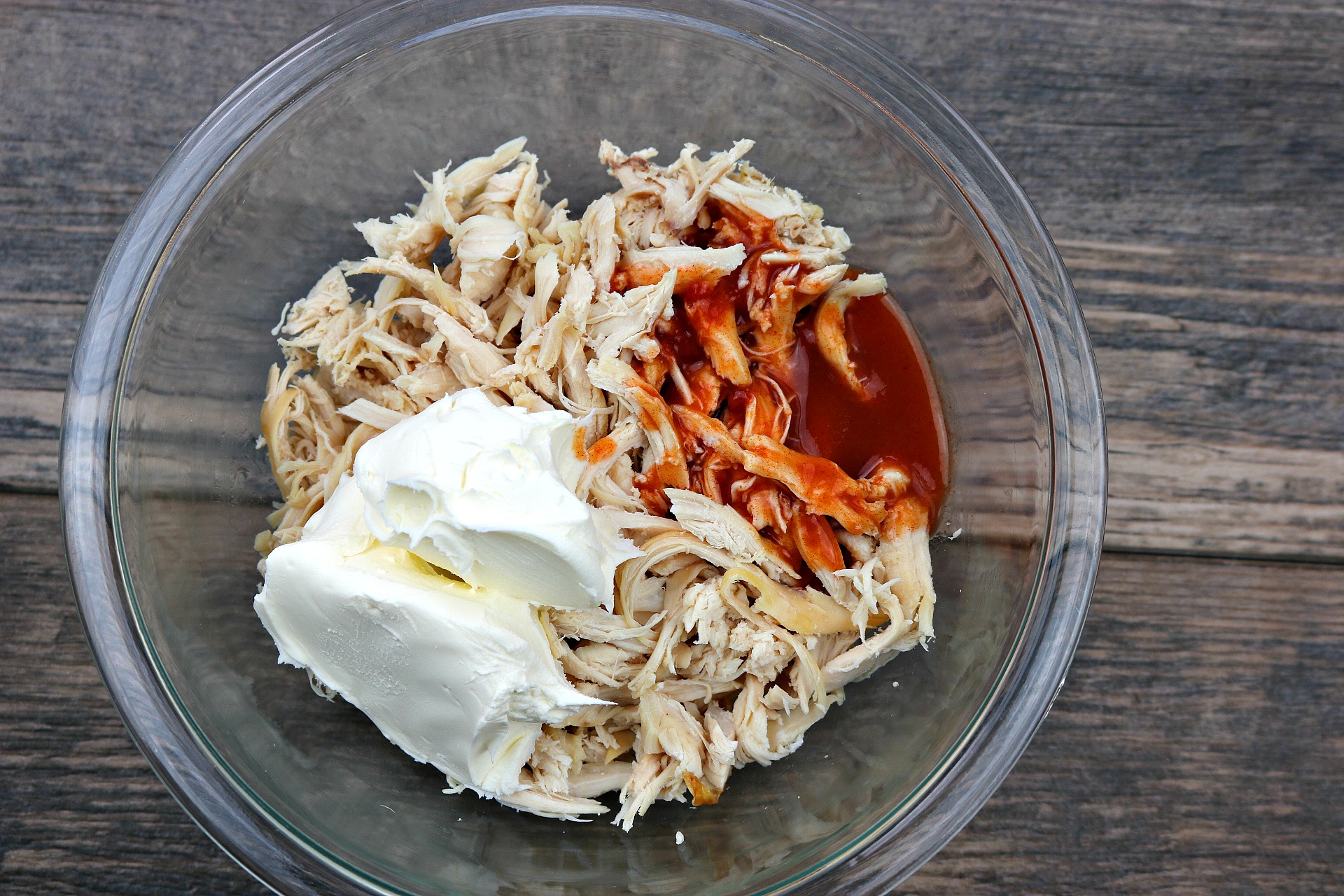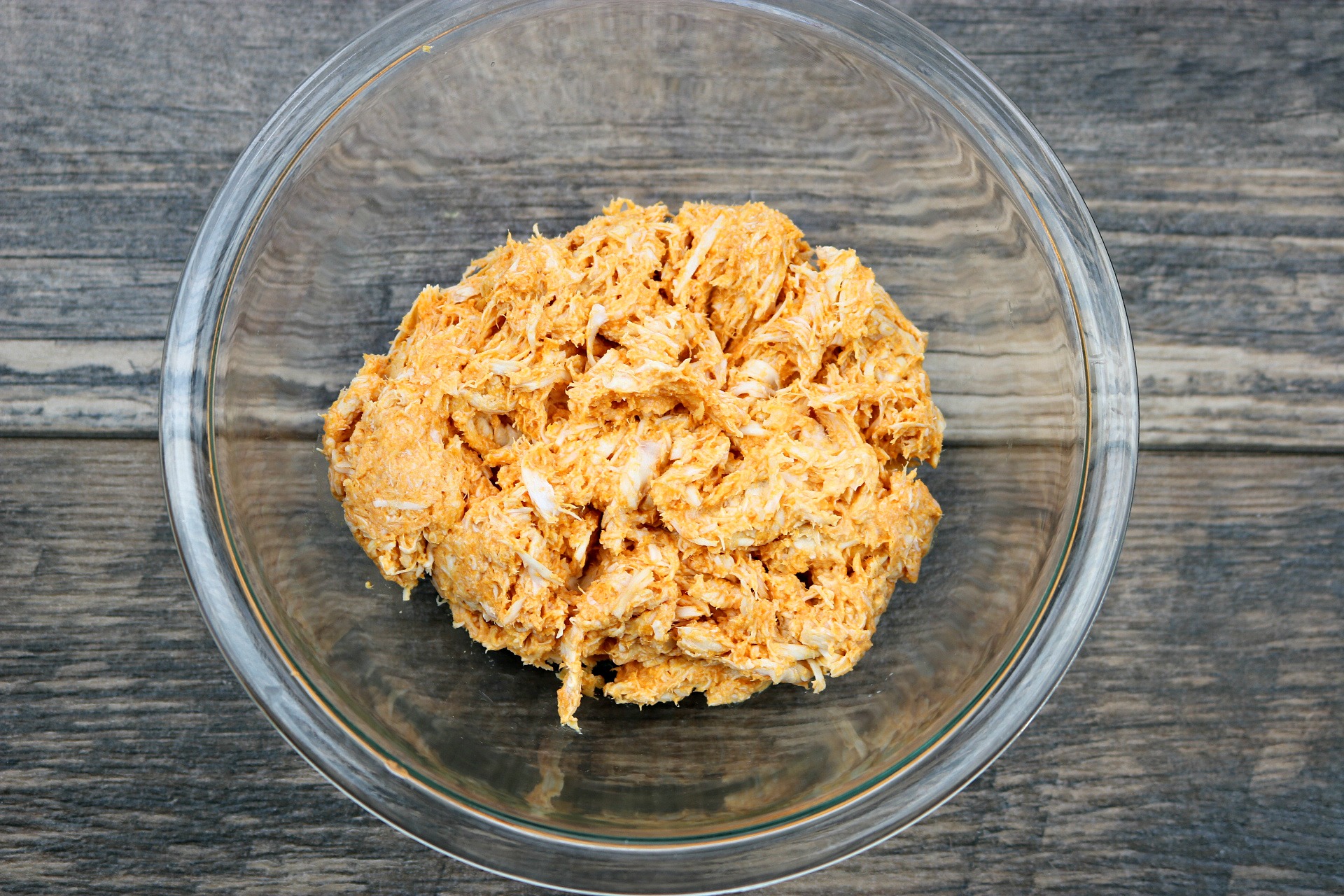 Step 3: Line the edge of the wonton wrappers with water.  Add one teaspoon chicken mixture and fold over.  Press the edges to seal.
Step 4: Fry in vegetable oil for 1-2 minutes, or until golden brown.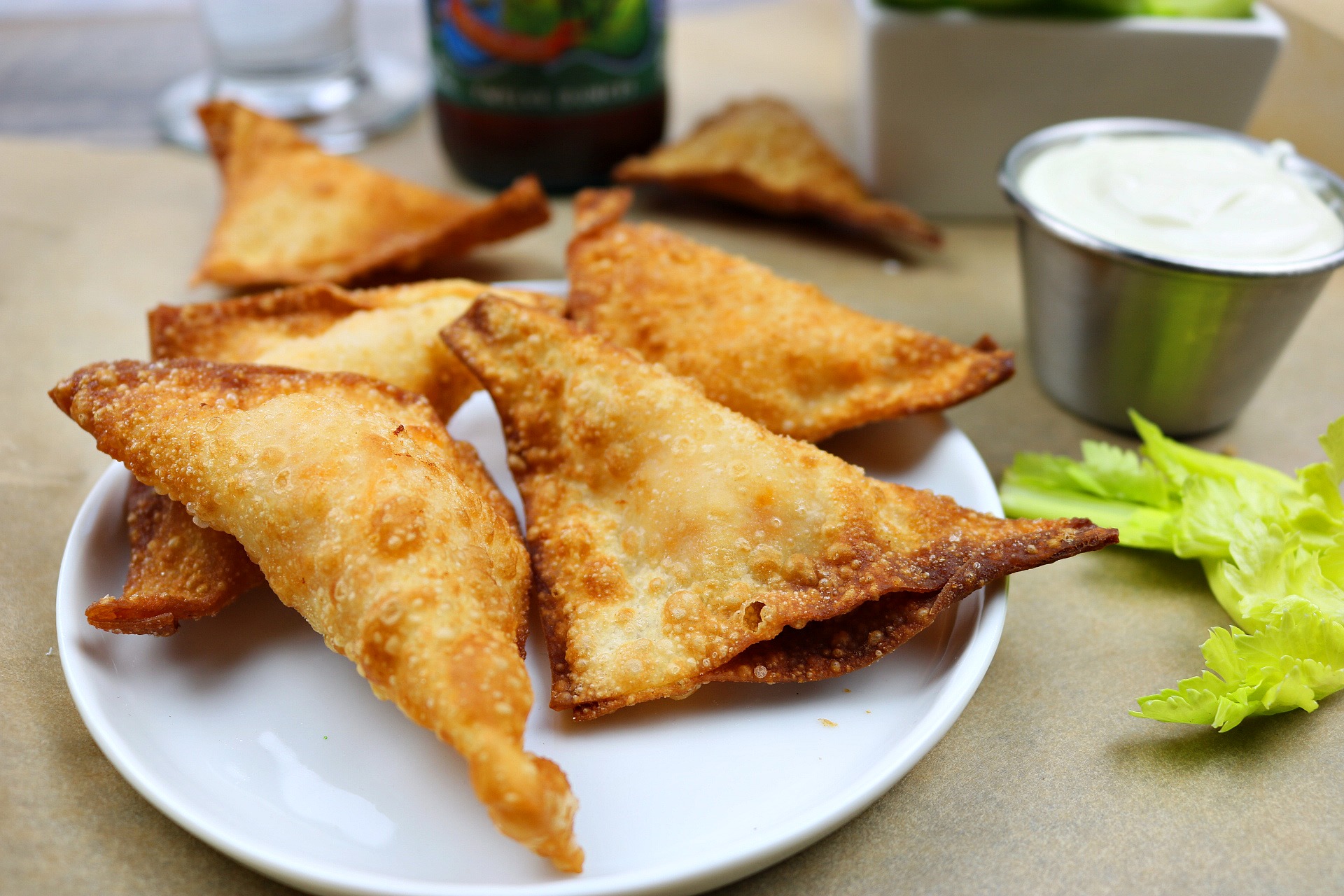 Mmmmmm…buffalo chicken wontons.  Come to mama! Warning…these are super addicting.  Eat with caution.  They will certainly contribute to those love handles, that I have a love/hate relationship with.  These are best served warm from the hot oil.  And DO NOT forget the blue cheese dipping sauce.  I buy Marzetti ultimate blue cheese.  You can buy it in the produce section in the supermarket.  The wonton wrappers will also be in this area, so keep an eye out for them.  If you cannot find the wonton wrappers, buy the egg roll wrappers and cut them into four squares.
Enjoy these bad boys! They are worth the calories, I promise 😉  And if you are looking for another delicious appetizer using wonton wrappers, check out my recipe for spinach and artichoke wontons.
5 Ingredient Buffalo Chicken Wontons
Ingredients
1 store bought rotisserie chicken
1/4 cup hot sauce
3 ounces mascarpone or cream cheese
30 wonton wrappers
Blue cheese dressing for dipping
Vegetable oil for frying
Instructions
Remove the breasts from the rotisserie chicken and remove the skin.
Use two forks to shred the chicken in a medium bowl.
Add the hot sauce and mascarpone cheese. Mix until all ingredients are combined.
Line the edges of a wonton wrapper with water. Add 1 teaspoon of the chicken mixture in the center. Fold over and seal the edges. Repeat until all of the chicken is gone.
Add vegetable oil to a medium pot, until it is about 2 inches high. Put on medium high heat.
Use a hot oil/candy thermometer and bring the oil to 350 degrees. Once the oil reaches 350 degrees, drop the heat to medium.
Cook each wonton for about 1-2 minutes, flipping halfway through.
Drain and move to a plate lined with paper towels.
Serve immediately with blue cheese dressing for dipping.
https://www.mangiamichelle.com/buffalo-chicken-wontons/
. . .