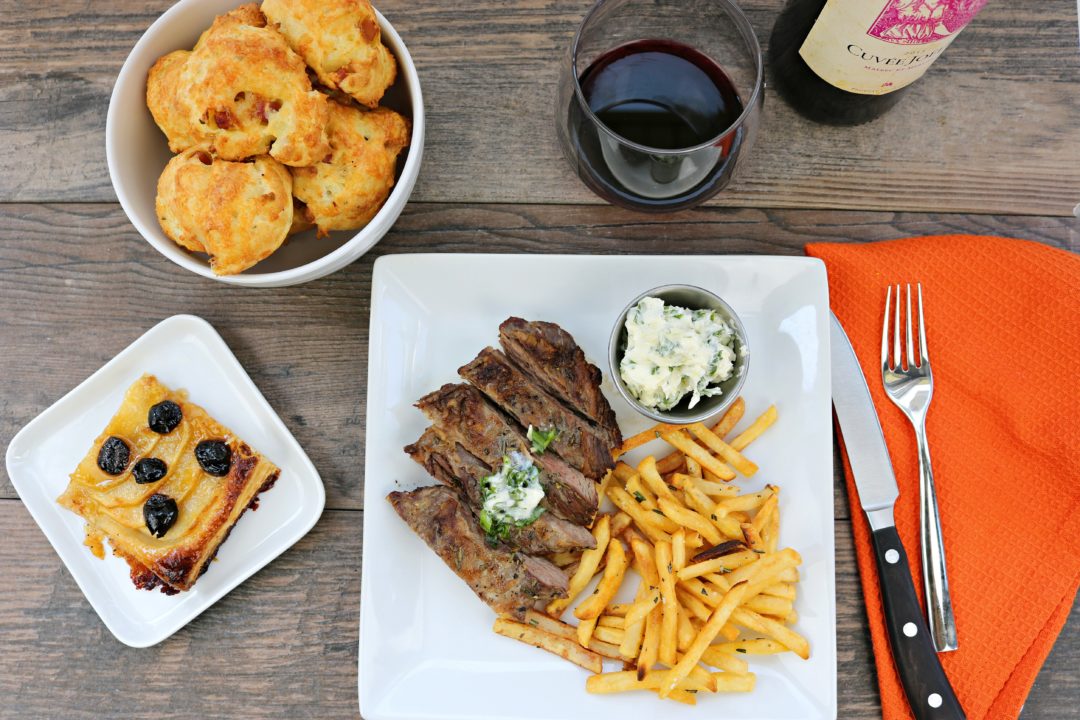 Inspiration for Dinner in Paris | A Simple French Meal
As you may already know from my previous posts, my husband and I were fortunate enough to travel a little bit before having children.  Being that we are both teachers, we have all of the same vacation time together (yay us!).  Anyhow, we certainly took advantage of this.  One of our trips, was to Paris.  And might I add, this was a somewhat spontaneous, last minute decision, which made it all the better.  I have to say, Paris, is a magical place.  Yes, I know what you are thinking right now, "she said the same thing about Rome."  #Truth.  I definitely did. But in all honestly, Paris is magical too.  The food, the culture, and the people are like out of a fancy magazine.  Only in France, can women wake up, throw their hair in a messy bun, toss a scarf around their neck, and then look like a fashion model walking down the streets.  Damn them! I'm a little bit bitter.  Kidding, not kidding.
Viva la France!
So, while my tax return may make it seem like I went there for the history (because, ya know, I've got the teacher thing going on), let's be real.  I went for the food and wine. Duh.  Can you say, french onion soup every day.  Every. Single. Day. And I didn't even feel the slightest bit guilty.  No siree.  Pile on the cheese and send me over an extra glass of Burgundy!  Now, I could go on and on about that trip.  But you aren't here for my dreamy anecdotal, you are here for the food.  So what do I have to offer you? I have an amazing 3 course French meal that you can create for your next dinner party, or even a special family dinner.  This includes three new recipes, but I also give you some store-bought options as well to suit your needs and time restraints.  So, lets begin.
The Menu: Dinner in Paris
I have to admit, I was a little bit intimidated by the thought of making these.  But honestly, they couldn't be any easier.  I promise. This is why I chose this as the appetizer. The gruyere makes them super cheesy and rich in flavor.  But the texture is what is really amazing.  They are airy in the middle.  Similar to a popover. It is truly a dream in your mouth. Now, as always, I empathize with your limited time.  I get it.  This menu isn't something you can whip up in a half hour.  So, if time is the issue, I also provide a store-bought option for the appetizer.


Store bought alternative: Go to an artisan supermarket or cheese shop and ask for a Boursin cheese and a soft Brie or Camembert.  Get some simple crackers (wheat would be fine) and some grapes.  You can create a small, yet beautiful cheese board.  This is a simple alternative to the gougeres.

This is very popular in Paris.  And honestly, it is so simple to make.  I chose to use a skirt steak for this recipe, but honestly, you have other options if skirt steak isn't your thang.  You can use flank steak (which is skirt steak's cousin), New York strip, Ribeye, Porterhouse, Filet Mignon…the list goes on and on.  Pick your favorite.  I seasoned it simply with salt, pepper and some chopped rosemary.  For the french fries, I bought frozen shoe string potato french fries and I doctored them up with some salt, pepper and black truffle flavored olive oil.  The results were amazing! You have to try this.  The beauty of this meal, is that I made the steak and french fries on a sheet pan.  One pan, less mess to clean.  Now, of course you can use the grill or a cast iron skillet if you want.  But for the skirt steak, the sheet pan worked perfectly.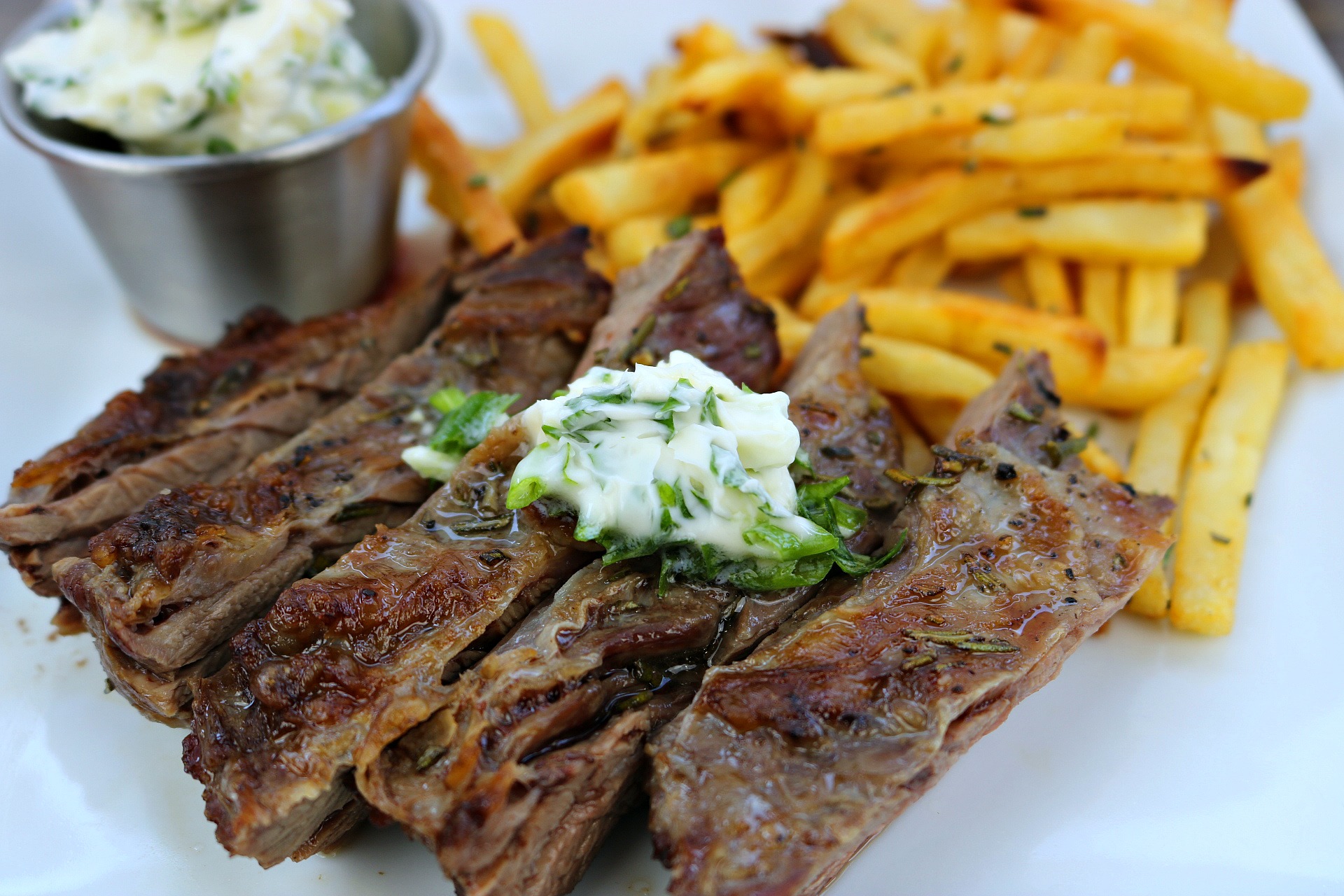 Um…yum! The most delicious dessert I have made in a while.  I have to say, just hearing and saying the words "french apple tart" makes me get butterflies in my stomach.  It's sooooo good! The sugar on top cooks and becomes a glaze of caramel.  It is truly amazing.  Dried cherries are not traditional on an apple tart.  But ya know, I don't like traditional.  So I added some tart dried cherries.  Some chopped walnuts would also be delicious, not to mention, quite autumnal.  Fall is right around the corner my friends 😉
Store bought option: Macarons! Yaaasssss! In fact, I may get them in addition to my apple tart.  You can find these at a specialty food store, or a bakery.  Macarons are so "in" right now (didn't know a cookie could be "in," but apparently it can be).  You can get a variety of flavors and colors.  Not only are they delicious, but they are super adorbs.

When should you make this menu?
Well, because all three courses are homemade (unless you go with the store bought options), I would make this to entertain some friends and family on the weekend, or maybe a going away meal for your soon to be college freshman (or a welcome home meal).  Honestly, make it whenever you want.  It appeals to most people and goes well with a nice glass of Cabernet Sauvignon (or as the French say, Bordeaux).
Here is what you need:
 FROM THE SUPERMARKET
Rosemary
Diced ham (1/4 cup, about 1 thick slice from the deli)
Gruyere cheese (shredded, 2 ounces)
Parmigiano Reggiano (grated, 1 ounce)
1 bag frozen shoe string french fries (recipe calls for half bag, but you can make the whole thing if needed)
1-2 pounds skirt steak
Chives
Parsley
2-3 Yellow delicious apples
Frozen puff pastry sheet
Apricot preserves or jelly
Dried cherries (1/4 cup)
IN YOUR PANTRY
Whole milk (1/2 cup)
Butter (2 sticks, plus 3 tablespoons)
Flour (1 cup)
4 eggs
Garlic (1 clove)
Salt and pepper
Granulated sugar (1/4 cup)
FROM THE LIQUOR STORE
A bottle (or more) of Bordeaux wine (Cabernet Sauvignon)
The Recipes (click the links):
I hope you love this menu as much as I did! Drop me a note and let me know how it turns out 🙂


. . .