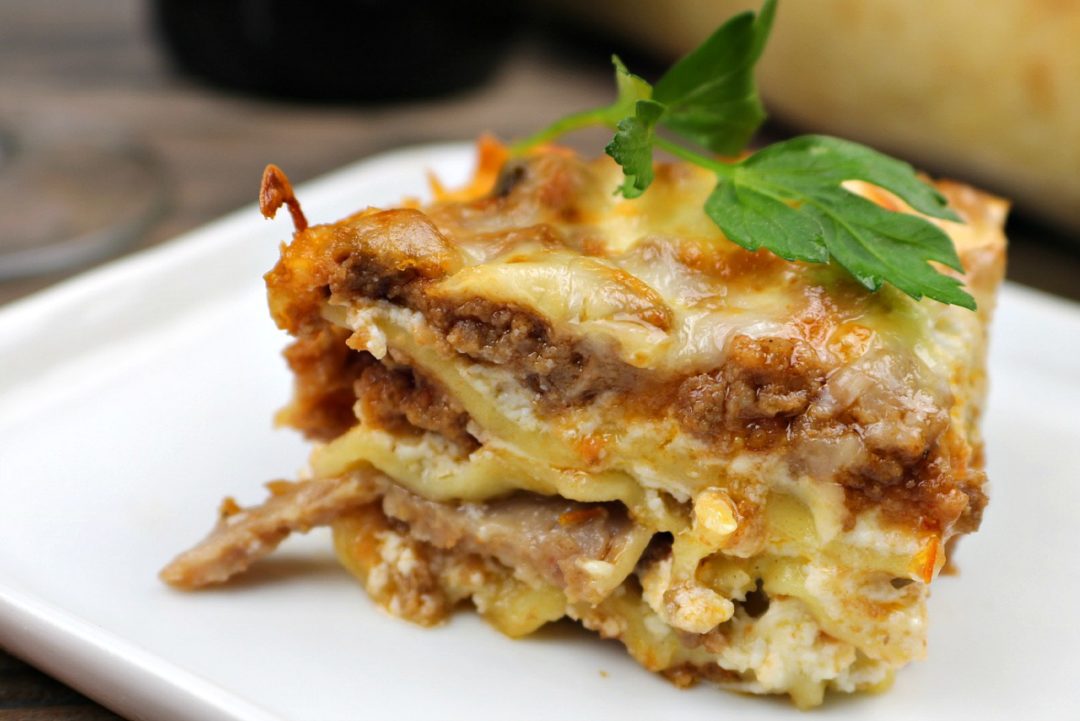 One of my fondest memories as a child, was sitting at my grandparent's dinner table on a late Sunday afternoon, and devouring a huge piece of my grandfather's lasagna. My grandfather was an amazing cook. Nothing was measured (I am not sure that he actually owned a measuring cup), every ingredient was eyeballed, it was a little of this, a little of that, and every time it came out perfect.  My Sunday lasagna recipe is based on the lasagna that my grandfather made, with my own little tweaks, of course.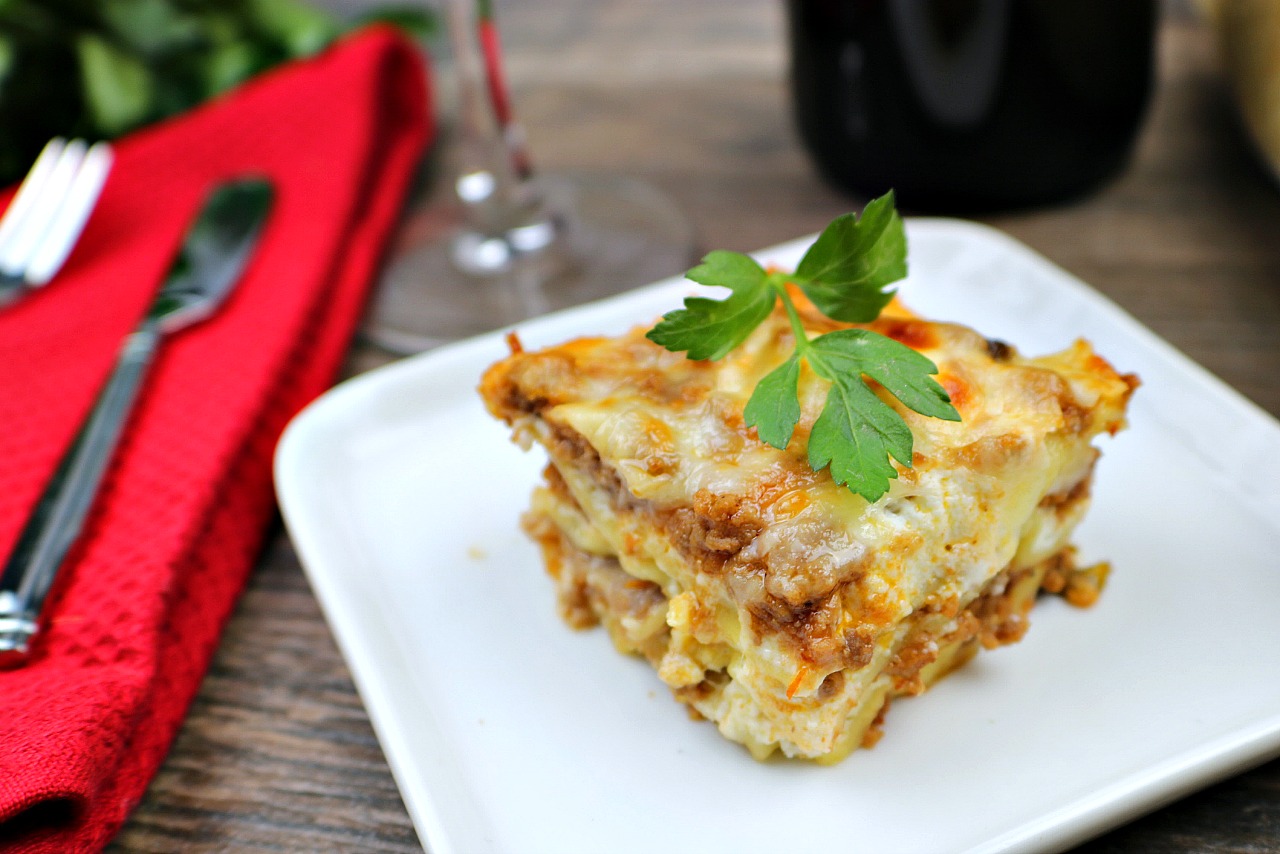 Make Sunday Lasagna as a special treat for family and friends.
Now, here is always a question; bechamel, or ricotta? I like both.  In my recipe for white lasagna, I use bechamel.  But for this recipe, I am going with ricotta.  That is what my grandfather used. And PopPop would never steer me in the wrong direction.  This is not to say that I would not use bechamel for a lasagna with red sauce.  In fact, I am working on a variation of this recipe that uses bechamel instead of ricotta.  I will keep you posted on that.
 So, before I get into the recipe, there are a few items that I want to show you. First, I use
Cento Passata
 for the base of the meat sauce.  Basically, this is pureed tomatoes.  If you cannot find this passata (or any other), then pureed tomatoes would be fine too.  Oh, and for the record, I am not in any way being compensated by Cento, or any other company's products that I recommend in this post.  These are the products that I have been using for a long time.  I usually find this at a specialty food store, or you can order it from the link above.
Second, I use Amore Tomato Paste.  I like this because It is in a tube.  So when I only need a couple of tablespoons at a time, I can put the cap on it and put it back in the refrigerator.  This I usually find right in my local supermarket.

Also, I make my own lasagna noodles.  Of course, you can use the ones from the box (no shame at all, making pasta takes time), but if you have the extra time, I urge you to make them.  It takes time, but is not that difficult and is totally worth it.  You will need a pasta maker.  I have the KPasta Roller & Cutter attachment set
 that conveniently attaches to my KitchenAid stand mixer.

Make sure that you give yourself about three hours to make this.  I recommend simmering the sauce for at least two.  Start that first, and then work on the making the homemade pasta.  Don't try to rush this.  It takes time.  This can be frozen for up to 4 weeks too.  Assemble the lasagna, (don't bake) and then wrap tightly in plastic wrap and then ton foil.  When you want to eat it, allow a few hours for it to defrost.  And then bake according to the directions (remove the plastic wrap, obvs).
Very important, don't forget the vino rosso.  I prefer a nice Chianti, or a delicious Tuscan blend would be nice.  I hope you and your family love this.
Mangia!
Michelle
Ingredients
Lasagna Noodles:

3 cups flour, plus extra for kneading
6 eggs
Olive oil
Salt and pepper

Meat Sauce:

2-2.5 pounds ground beef
Four slices bread soaked in milk
Two eggs
1 cup grated parmigiano reggiano cheese
1/4 cup chopped parsley
Salt and pepper
2 tablespoons tomato paste
1 jar Passata
1 carrot
1/2 large onion
3 cloves garlic
1 cup dry white wine (like Pinot Grigio)
Water as needed
A few basil leaves
Ricotta cheese, 30 ounces
Shredded mozzarella, 8 cups
Grated parmigiano reggiano, 2 cups
4-5 sweet sausage links
Instructions
In a large bowl combine ground beef, eggs, milk soaked bread, salt, pepper, tomato paste, parsley and grated parmigiano reggiano cheese.
In a food processor, puree the carrot, half and onion, and three cloves garlic with 1 tablespoon of extra virgin olive oil. In a large pot add some extra virgin olive oil (about 2-3 tablespoons). Add puréed carrots, onions and garlic. Cook for five minutes. Add beef mixture. Cook until beef is browned. Add white wine. Cook until wine reduces. Add passata. Add a few basil leaves, and chopped parsley. Add salt and pepper. Simmer for at least one hour (preferably 2 hours).

To make lasagna noodles:

Put flour on a clean surface. Make a well in the center. Add eggs. Mix eggs with a fork. Mix eggs and flour together. Add a drizzle of extra virgin olive oil (about 2 teaspoons) and a half teaspoon salt. Knead for ten minutes. Knead for a few more minutes. Place in a bowl and cover with plastic wrap. Let rest for thirty minutes. Use the pasta roller attachment for the KitchenAid stand mixer. Start with level one. Work until level four (five if you want them extra thin). Cut sheets to length of pan. Hang on a drying rack. If layering, put a moist paper towel between layers.
Put sausage links in a large pot of boiling water. Boil for ten minutes. Drain the water from the pot, and add some extra virgin olive oil to the pot and brown the sausage for about 5 minutes. Remove sausage to a plate. When cool enough to handle, slice the sausage into thin slices (about 1/4 inch thick). They will look like quarters.

To Assemble Lasagna:

Preheat the oven to 350 degrees.
Ladle sauce on bottom of pan.
Add one layer of lasagna noodles, avoid overlap.
Spread a thin layer of ricotta.
Add meat sauce, and sliced sausage. Don't overdo the sausage, make sure they are about two inches apart.
Sprinkle shredded mozzarella, and a light sprinkle of grated parmigiano reggiano
Repeat the process until desired thickness.
The top layer is noodles, ricotta, sauce and mozzarella.
Cover the lasagna with tin foil.
Bake for 20 minutes covered.
Uncover and bake for an additional 20-25 minutes, or until the top is browned and bubbling.
Allow to cool for at least 20 minutes before slicing.
https://www.mangiamichelle.com/sunday-lasagna/
. . .