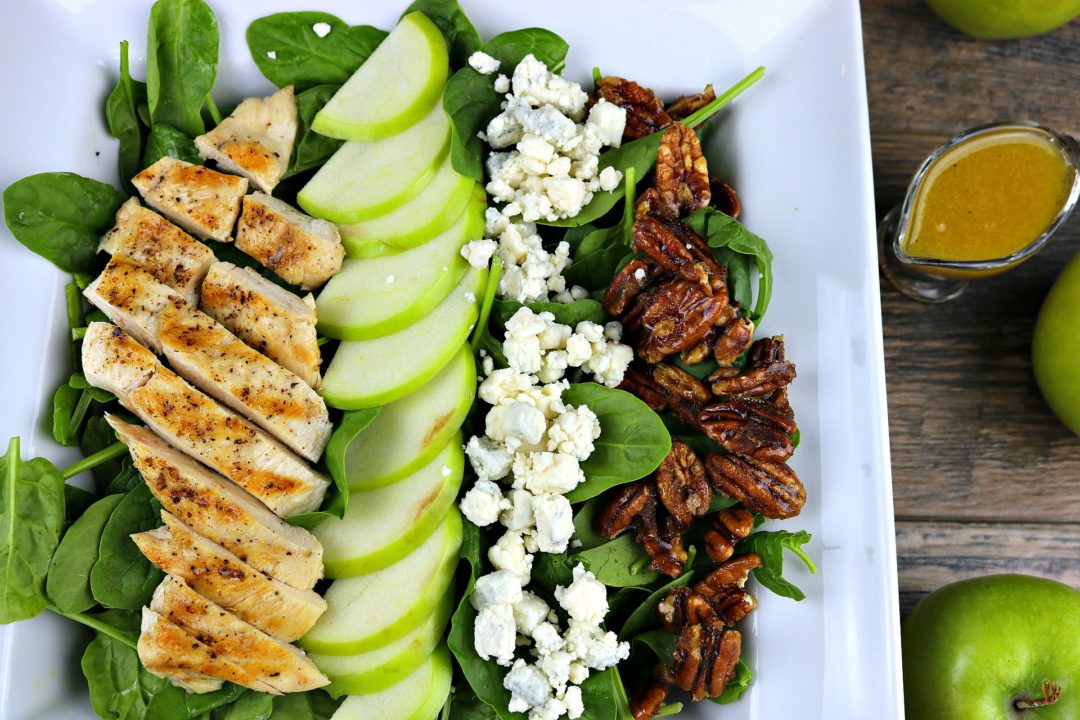 Apples, apples, everywhere! At least, that is how it feels, now that September is well underway.  I have another easy and amazing apple recipe for you today.  So now you have something to make with all of those apples you picked at the farm (or bought at the supermarket…I am a realist).  This apple and chicken salad is super easy to make, and is perfect for prepping your meals ahead.
Meal prep on Sunday and have apple and chicken salad all week long!
This salad can easily be made and prepped ahead of time.  Follow these five simple steps below.


STEP 1: Make the candied pecans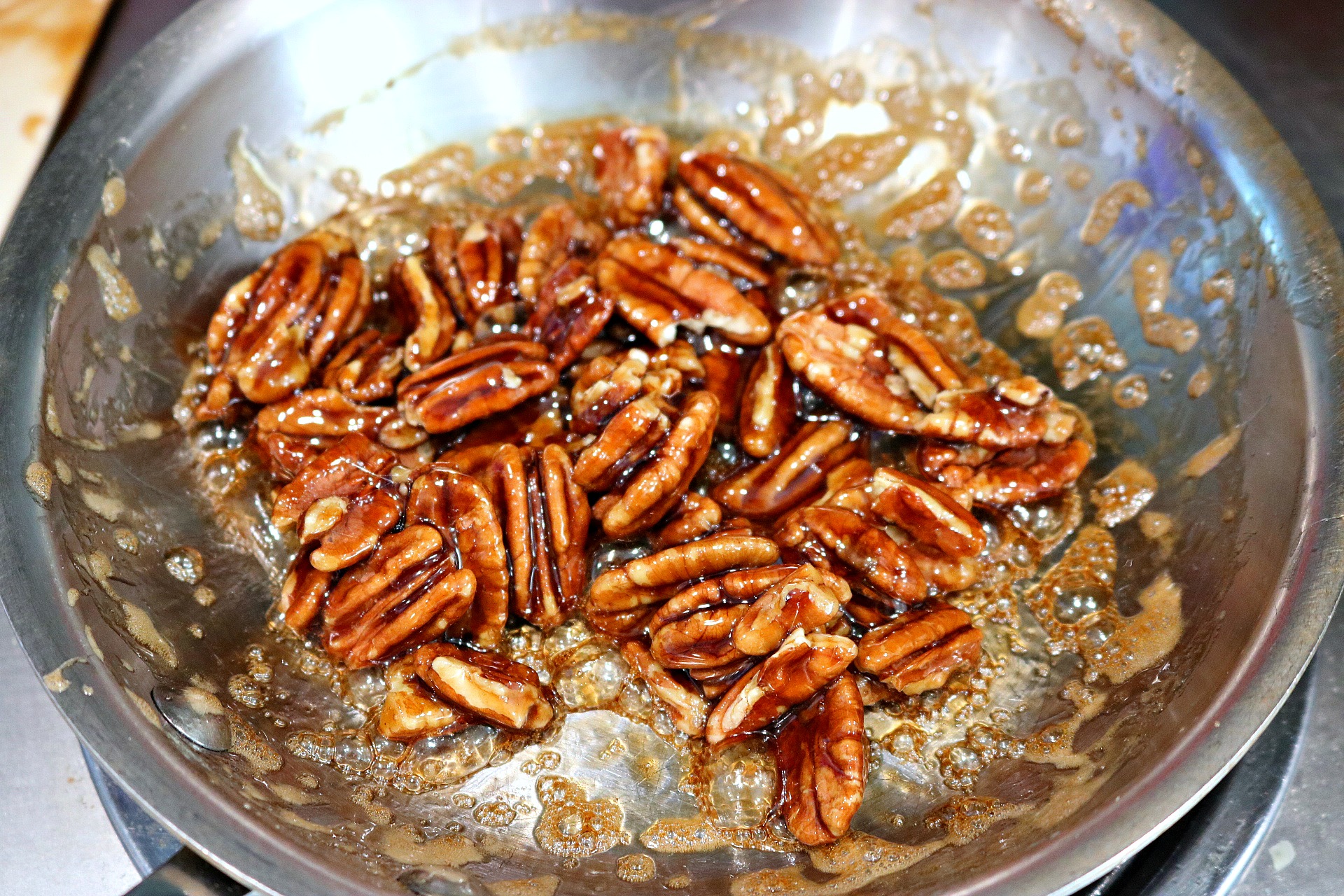 While the thought of making candied pecans may feel a bit intimidating, they are in fact, pretty easy to make.  Hence the name, 5 minute candied pecans.  Click here for the recipe.  They only require 4 ingredients, and literally only take 5 minutes to make.  You can make them ahead and keep them in a container in the fridge.  They taste great on salads, topped on ice cream, or just on their own as a quick snack.
STEP 2: Grill the Chicken
I like to buy a family pack of chicken breasts, grill them up, and then have them all week.  I like to make lunch bowls with chicken, quinoa and roasted veggies, and of course you can put chicken on salad, like this one.  Season them simply and throw them on the grill.  I store grilled chicken in large plastic storage bags.
STEP 3: Slice the Apples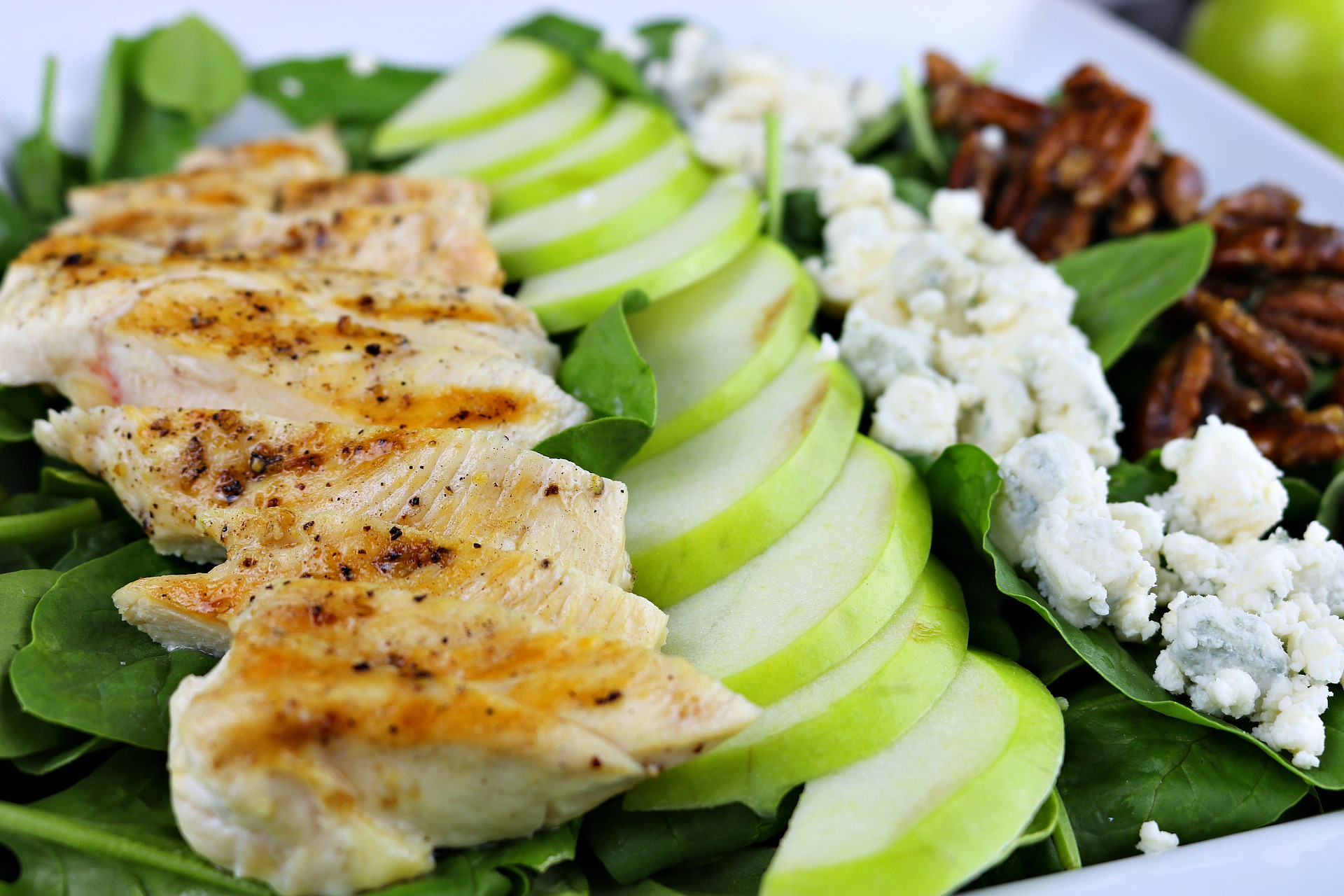 Use a sharp knife and thinly slice the apples, avoiding the core. Try to slice the apples so they are about a quarter inch thick.
STEP 4: Assemble the Salad
Place the washed and dried baby spinach on the bottom of a bowl or plate.  Layer the grilled chicken, sliced apples, crumbled gorgonzola cheese and candied pecans on top of the spinach.
STEP 5: Make the Maple Dijon Dressing
In a bowl, add the apple cider vinegar, pure maple syrup, extra virgin olive oil and dijon mustard.  Sprinkle in some salt and pepper.  Whisk all ingredients until they are combined and the dressing thickens a bit. Pour over the salad and mix everything together.
This salad makes a perfect lunch.  Pack the salad in a tupperware.  Put the dressing in a smaller tupperware and mix once you are ready to eat.  Alternately, you can pack the salad in a mason jar.  Put the dressing in the bottom and the rest of the salad ingredients on top.  When it is time to eat, shake the mason jar and pour the salad into a bowl.
Enjoy!
Apple & Chicken Salad with Gorgonzola and Candied Pecans
Ingredients
Salad Ingredients:

1 granny smith apple, sliced
5 ounces of baby spinach, washed and dried
1 piece of grilled chicken, sliced
1/4 cup crumbled gorgonzola cheese
1/4 cup candied pecans

Maple Dijon Dressing:

2 tablespoons apple cider vinegar
1 tablespoon pure maple syrup
3 tablespoons extra virgin olive oil
1/2 teaspoon dijon mustard
Instructions
In a small saute pan over medium heat, add the brown sugar, 1 tablespoon water and pinch of salt. Cook until the sugar dissolves (a couple of minutes).
Add the pecans and toss until coated. Remove to a sheet of parchment paper and allow to cool for 5-10 minutes.
In a small bowl. Whisk together the ingredients for the maple dijon dressing.
In a bowl, add the washed baby spinach.
Layer the apple slices, grilled chicken, gorgonzola cheese and the candied pecans.
Dress the salad with the maple dijon dressing and serve.
https://www.mangiamichelle.com/apple-and-chicken-salad/
. . .