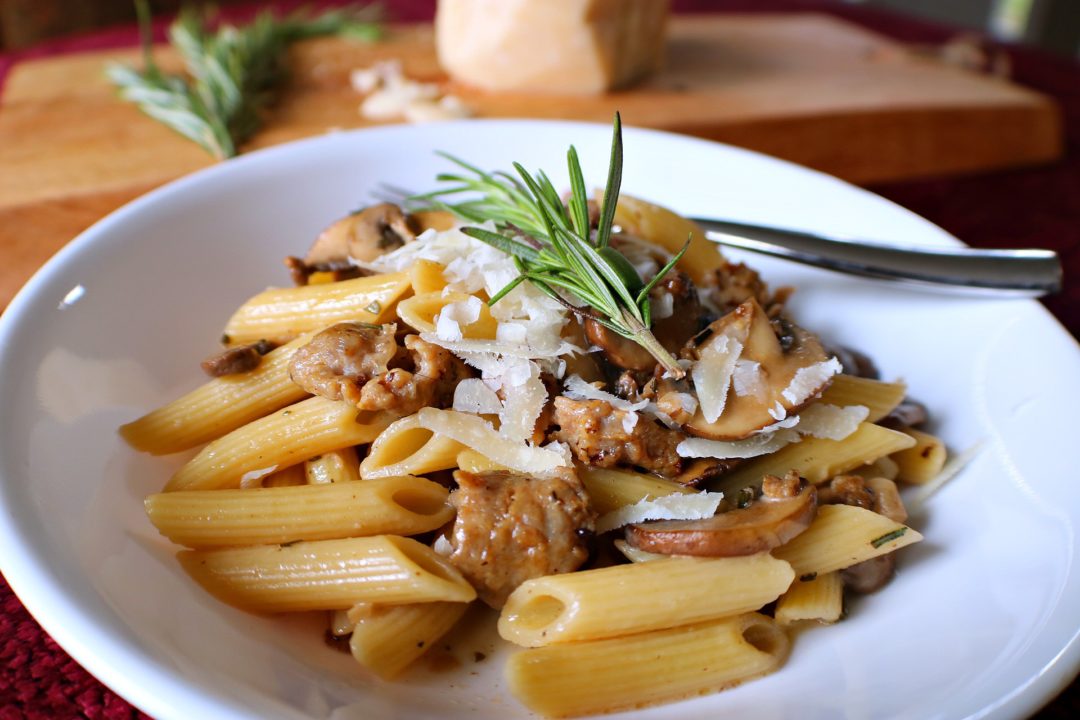 For all you marsala lovers out there, this is the recipe you've been waiting for. Penne marsala with sausage and rosemary.  So, you are probably wondering why I use sausage and not chicken.  For some reason, I am not a fan of chicken in my pasta.  Shrimp, I love (check out this recipe)…sausage or meatballs, of course, chicken I can take or leave.  Not sure why…I guess it is just one of my hangups.  Anyway, lets get down to business.  This recipe is out of this world.  It is also something different, not a recipe that you come across everyday.  It will wow your taste buds and will become a top request by the fam (kids included).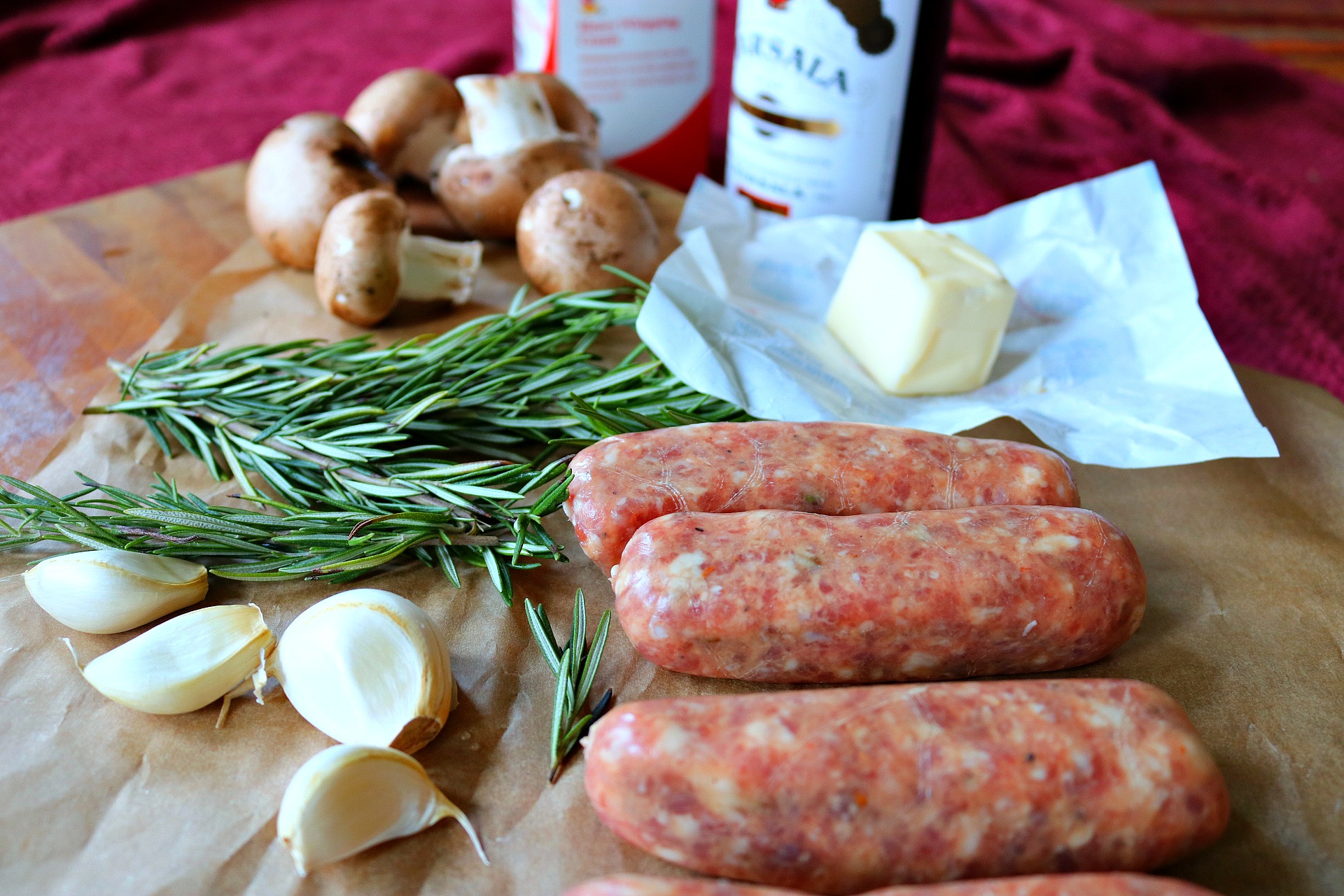 Penne marsala is an earthy, hearty pasta dish to enjoy for dinner.
I love sausage with marsala.  The saltiness of the sausage really compliments the rich taste of the marsala wine.  And a touch of rosemary adds a piney flavor that puts this dish over the edge.  I also add some heavy cream.  Because, well let's be honest, heavy cream makes everything better.  And the magic touch is a cup of grated parmigiano reggiano.  Add it on top of the hot pasta, and watch the magic happen.  It melts right into the pasta and the sauce to make something really special.  Ok…lets wipe the drool of our chins and move along.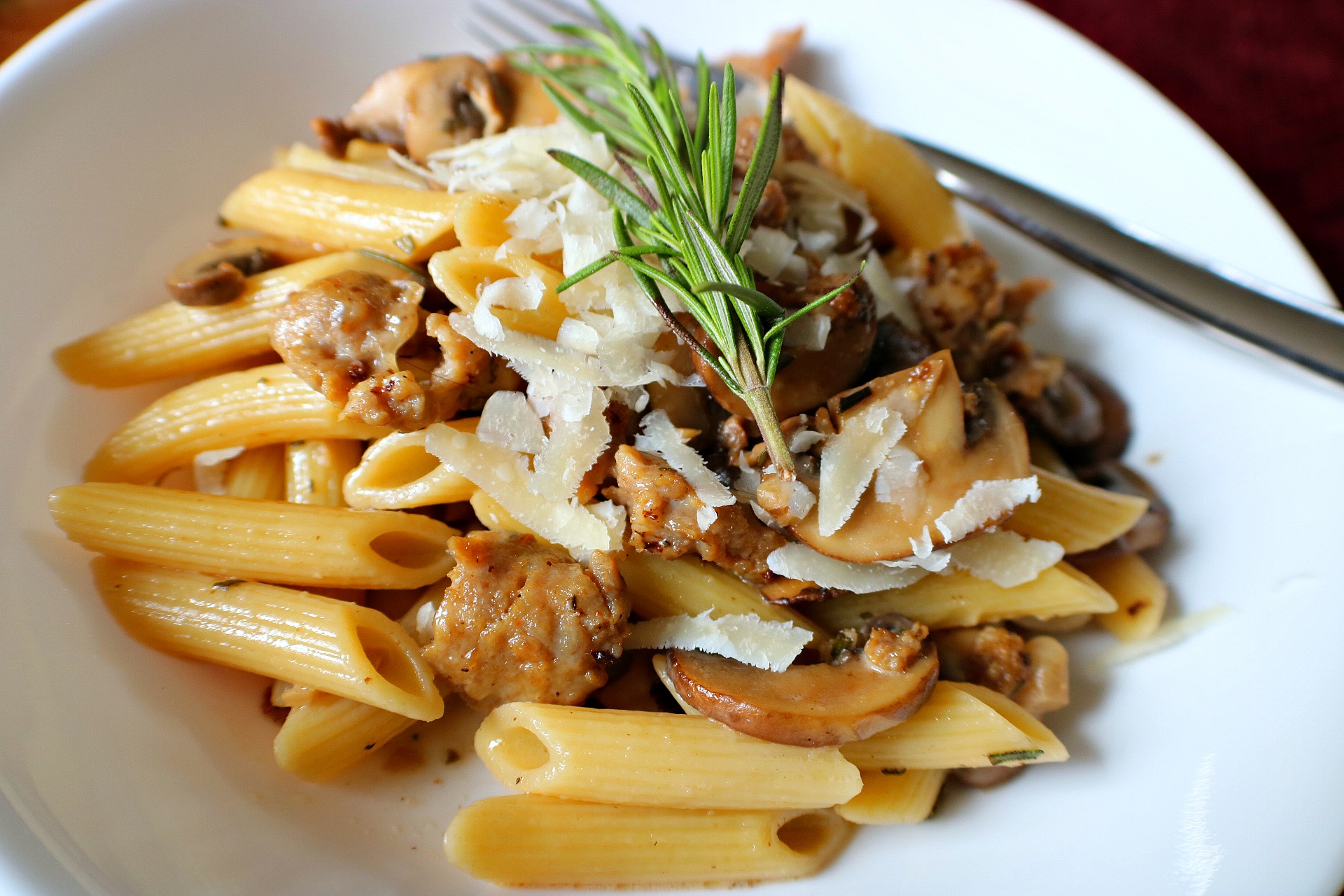 For all you vegetarians out there, omit the sausage, double the mushrooms, and you have one tasty dish for dinner.
If you don't feel so great about sausage, you can make this dish vegetarian.  However, I would add more mushrooms.  Like double the amount.  I know it will seem like a lot, but they do cook down a bit.  Plus, you need to substitute something for the missing sausage.  Extra mushrooms will give this dish a meaty feel, but without the meat.  You could also experiment with using different types of mushrooms.  Do some cremini, slice big portobellos, shitake, or porcini.  If you use porcini, which usually come dried, you have to reconstitute them.  Check out this link on directions to do that.  More importantly, do not throw away the reserved liquid.  Add a little to the pasta to give a boost to the yummy mushroom flavor.
Check out some different ways to serve "Out of this world penne marsala"
Serve it as a starter to your Thanksgiving Turkey dinner
For some reason, when I think of marsala and mushrooms, I think of autumn.  I think its the earthy flavor and texture that make me think of cool crisp air, burnt orange and red trees and that amazing smell of fall.  This is a dish that I would serve before the turkey on Thanksgiving.  I would probably omit the sausage to make it a little bit lighter before the main course, but to each her own.


Serve alongside a hearty salad
Serve this pasta alongside a healthy salad.  I would make a salad with baby spinach, toasted walnuts, dried cranberries and goat cheese.  I would dress it in a creamy balsamic vinaigrette.  This salad has flavors that have a similar earthy profile to the mushrooms and marsala (and again, reminds me of fall…I am seeing a theme here).  In this case, contrary to my recommendation below, I would pair this with an oaky chardonnay.  This is the type of dish you could probably do red or white (light red or a heavier white).  However, if I am serving with a salad, I would probably opt for the Chardonnay.  Of course, you do what your little, wine-loving heart desires.
Serve as the main course with a crusty ciabatta bread
Of course, you can make this dish the star.  Serve it with a crusty loaf of ciabatta bread and a nice glass of red wine.  Find a seat by the fire and dig in.
Let me know how it comes out!  Drop me a comment below 🙂
Wine pairing: Pinot Noir, Syrah
Penne Marsala with Sausage
Ingredients
1 box penne pasta
1 pound sausage, crumbled
16 ounces (2 containers) cremini mushrooms, cleaned and sliced
2 cloves garlic, minced
1 tablespoon rosemary, chopped
3 tablespoons extra virgin olive oil
2 tablespoons butter
1 cup dry marsala
1/2 cup heavy cream
2 tablespoons plus 1 teaspoon salt
1/2 teaspoon freshly ground black pepper
1 cup grated parmigiano reggiano cheese, plus extra for serving
Instructions
Bring a large pot filled with water to a boil. Add 2 tablespoons salt and penne pasta. Cook according to the directions on the box. In the meantime, follow the directions below.
Remove the sausage from the casing.
Add 2 tablespoons extra virgin olive to a large fry pan, on medium heat.
Brown the sausage (about 8-10 minutes) and transfer to a plate lined with a paper towel.
In the same pan, add the sliced mushrooms, minced garlic and chopped rosemary, one tablespoon extra virgin olive oil and two tablespoons butter.
Cook for about 5 minutes until the mushrooms start to brown. Stir constantly so the garlic does not burn.
Add the marsala wine. Raise to medium high heat. Cook for about 10-12 minutes until the liquid bubbles and start to reduce a little.
Reduce the heat back to medium. Add the heavy cream and stir until combined. Continue to cook for another 4-5 minutes.
Reserve 1 cup pasta water. Drain the pasta when it is done.
Add the sausage, cooked penne pasta, and 1 cup grated parmigiano reggiano cheese, and combine.
If needed, add some of the reserved pasta water.
Top with extra grated parmigiano reggiano cheese.
https://www.mangiamichelle.com/penne-marsala-sausage/
. . .