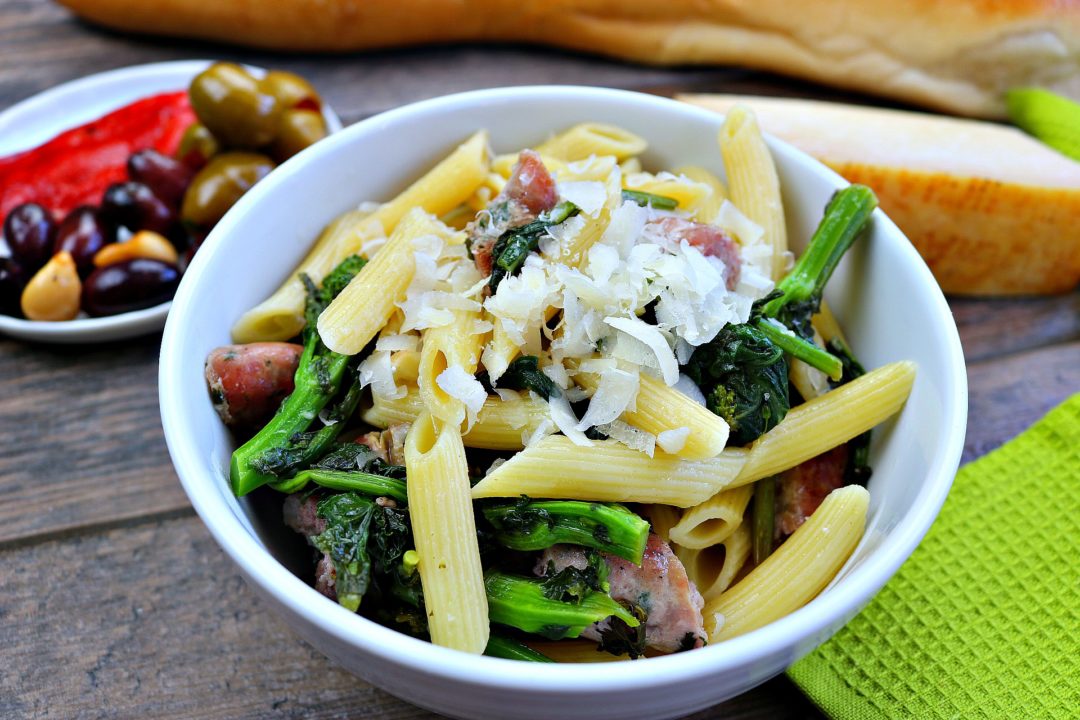 This dish is a classic.  It is definitely one of my favorite pasta dishes.  Broccoli rabe and sausage are a classic pairing.  Most pizzerias even put it on pizza these days, and I must say it is incredible.  This dish is pretty easy to make, and not to mention, easy on your wallet. I usually pay $6.99 for a pound of sausage, a box of pasta can be found for $1 on sale, broccoli rabe, maybe $4-5.  Everything else is most likely right in your pantry.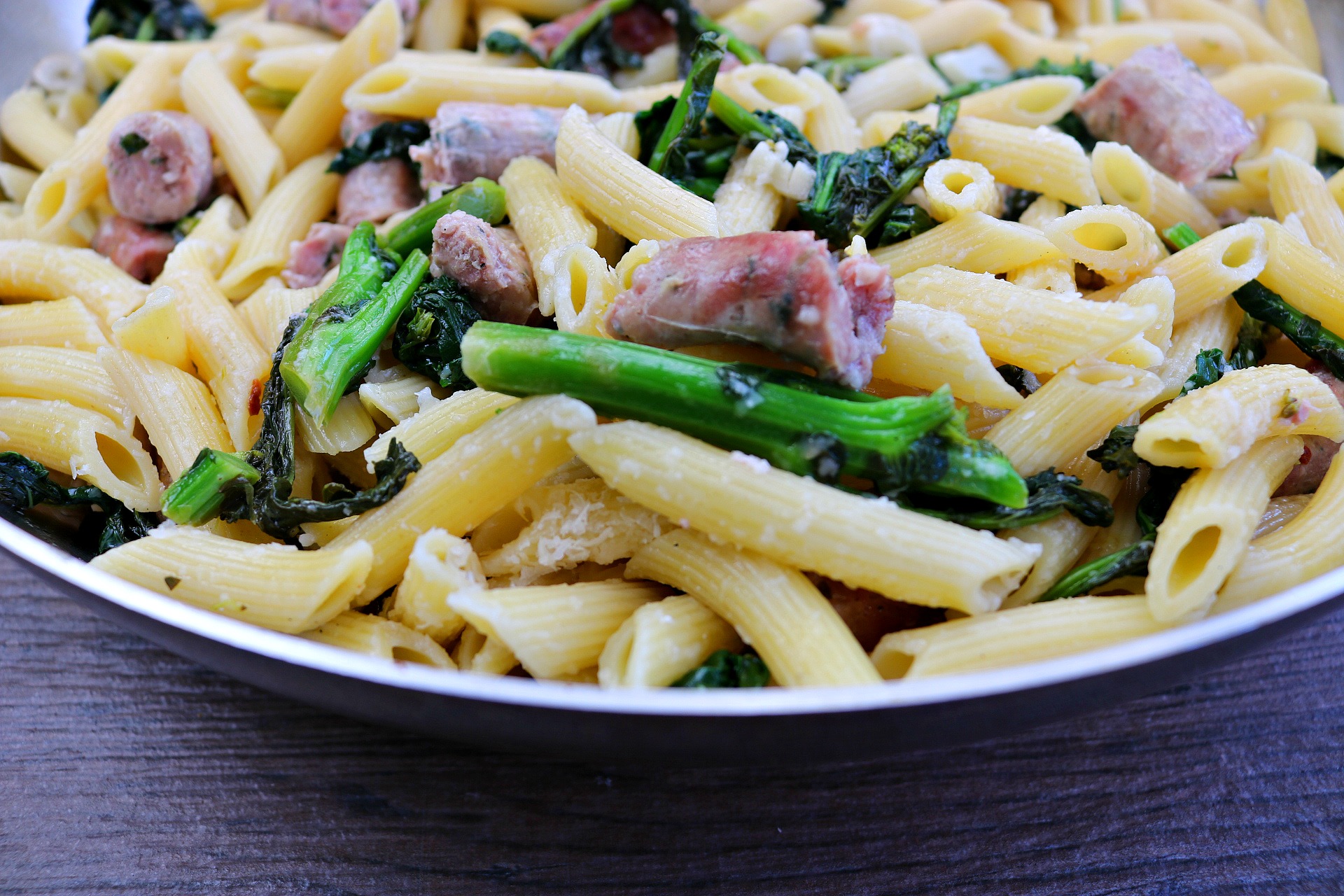 This dish reminds me of a time my awesome friend and I (shout out to Becky-hey girl) went to dinner in Little Italy (NYC).  We went to this great restaurant Paolucci's, which to my dismay, is no longer there.  Anyhow, she ordered penne with broccoli rabe and sausage.  And it was delicious.  So delicious, that I may have eaten half of it. The chunks of garlic and the sweet and salty sausage made this dish absolutely scrumptious.  I still remember this night. The food, the drinks, dessert, more drinks, free dinner…possibly a very unexpected limo ride home. Those were the days. I digress. Anyhow, it was after this night out that I decided I absolutely had to learn how to make this.  I knew that it would not be too hard as there aren't that many ingredients…pasta, broccoli rabe, sausage, garlic, white wine and a pinch of red pepper flakes to give it a kick.  And of course, plenty of grated parmigiano reggiano.
Penne with broccoli rabe and sausage is an easy meal that the whole family will enjoy.
Ok, one thing that I would like to point out, is the ever important step of blanching the broccoli rabe.  When you cook broccoli rabe, it tends to get a brownish tint.  And brown broccoli rabe is not pretty broccoli rabe.  So this is simple…fill a large pot halfway with water.  Bring water to a boil. Boil the broccoli rabe for 2-3 minutes.  Immediately put the cooked broccoli rabe in an ice bath (a large bowl filled with water and ice).  Let sit for about 30 seconds and remove to drain.  It is that simple.  Then you drain the water, chop the broccoli rabe and saute in garlic and oil (see recipe below for directions).  See the picture below of the broccoli rabe in an ice bath.
Now, you can use any short pasta you would like; rigatoni, ziti, cavatappi, etc.  Also, my recipe calls for sausage links that are cut into one inch pieces.  You can also use crumbled sausage if that is your preference.  Also, you can substitute white wine with chicken broth, however, I must say that the white wine really gives the pasta a special flavor.  So I would advise against it, unless you only have chicken stock on hand.
I hope you enjoy this classic!
Pairing: Pinot grigio
Mangia!
Penne with Broccoli Rabe and Sausage
Ingredients
1 pound penne pasta
1 pound pork sausage (about one coil of thin sausage-you can use sweet or hot)
1 1/2 cups dry white wine (like Pinot grigio)
4 medium cloves garlic, sliced
1/2 teaspoon salt
pinch of red pepper flakes
3/4 cup grated parmigiano reggiano cheese
2 tablespoons extra virgin olive oil.
Instructions
Bring two large pots of water to a boil.
Rinse the broccoli rabe and cut off the stems (about 2-3 inches).
While you are waiting for the water to come to a boil, cook the sausage. I prefer grilling it. It will take 4-5 minutes each side. Cut into 1 inch pieces.
Drop the broccoli rabe into the boiling water and cook for 2-3 minutes, until tender. Remove from boiling water and place in an ice bath for 30-60 seconds. Remove from ice bath, drain well and chop into large pieces. Set aside.
Drop the pasta in boiling water and cook according to the package, minus one minute (it will cook a little longer when combined with the broccoli rabe and sausage).
In a large fry pan over medium heat, saute the garlic, oil and pinch of red pepper flakes, about 4-5 minutes. Watch carefully so the garlic does not burn.
Add the white wine. Let it cook for 5-7 minutes, until the wine starts to bubble and reduce slightly. You may need to turn up the heat a little bit.
Add the chopped broccoli rabe and salt and combine with garlic, oil and wine. Add the sausage and stir until combined.
Before draining the pasta, reserve one cup of pasta water.
Add the pasta to the broccoli rabe and sausage. Add the grated cheese on top and use a large spoon to combine everything.
Serve with extra grated cheese.
*You may want to add some pasta water, as the pasta can absorb a lot of the liquid. The longer the pasta sits, the more liquid it absorbs (and the drier it may become).
https://www.mangiamichelle.com/penne-broccoli-rabe-sausage/
. . .