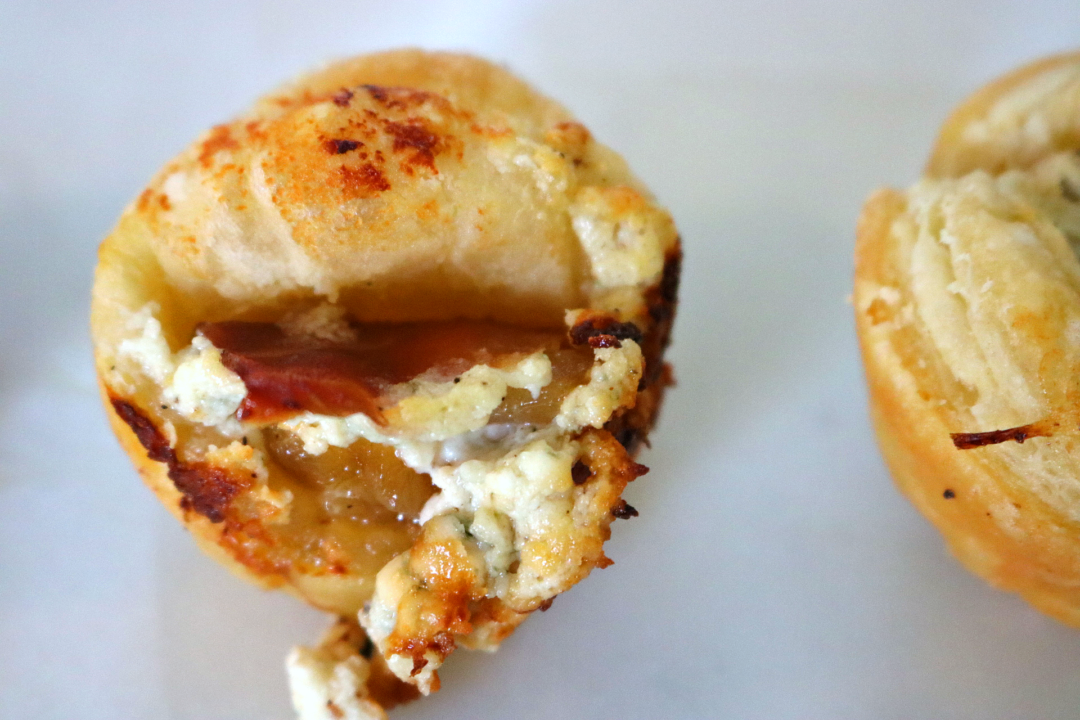 Gorgonzola caramelized onion tartlets are bite-sized flaky treats that you must have for your holiday appetizer spread.  They are easy to make and have only five main ingredients.  This is my favorite time of year.  I love going to holiday parties.  They seem to be more about the cocktails and appetizers than anything else.  It is kind of like the cocktail hour at a wedding…it is always the best part.
Gorgonzola caramelized onion tartlets will fly off the dish at your next holiday party.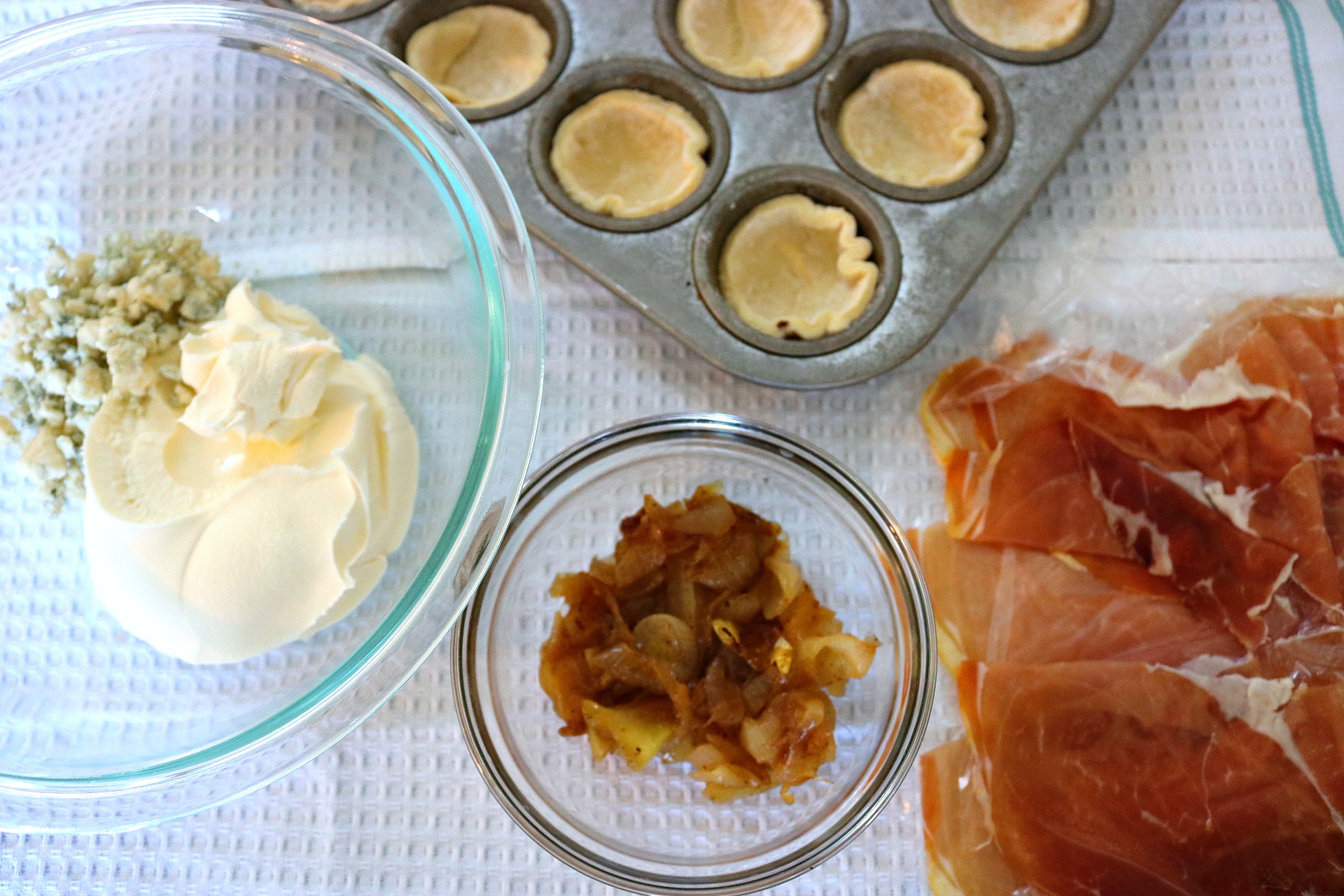 One word of advice on these bad boys…do not add any additional salt.  The prosciutto gives them a salty kick.  They do not want them to taste like the ocean.  And, in my opinion, they are not the same if you omit the caramelized onions.  I make some for my husband without them (he does not like onions…I know, what is wrong with him), and they just do not taste the same.  Although, he never complains.  To each his (or her) own.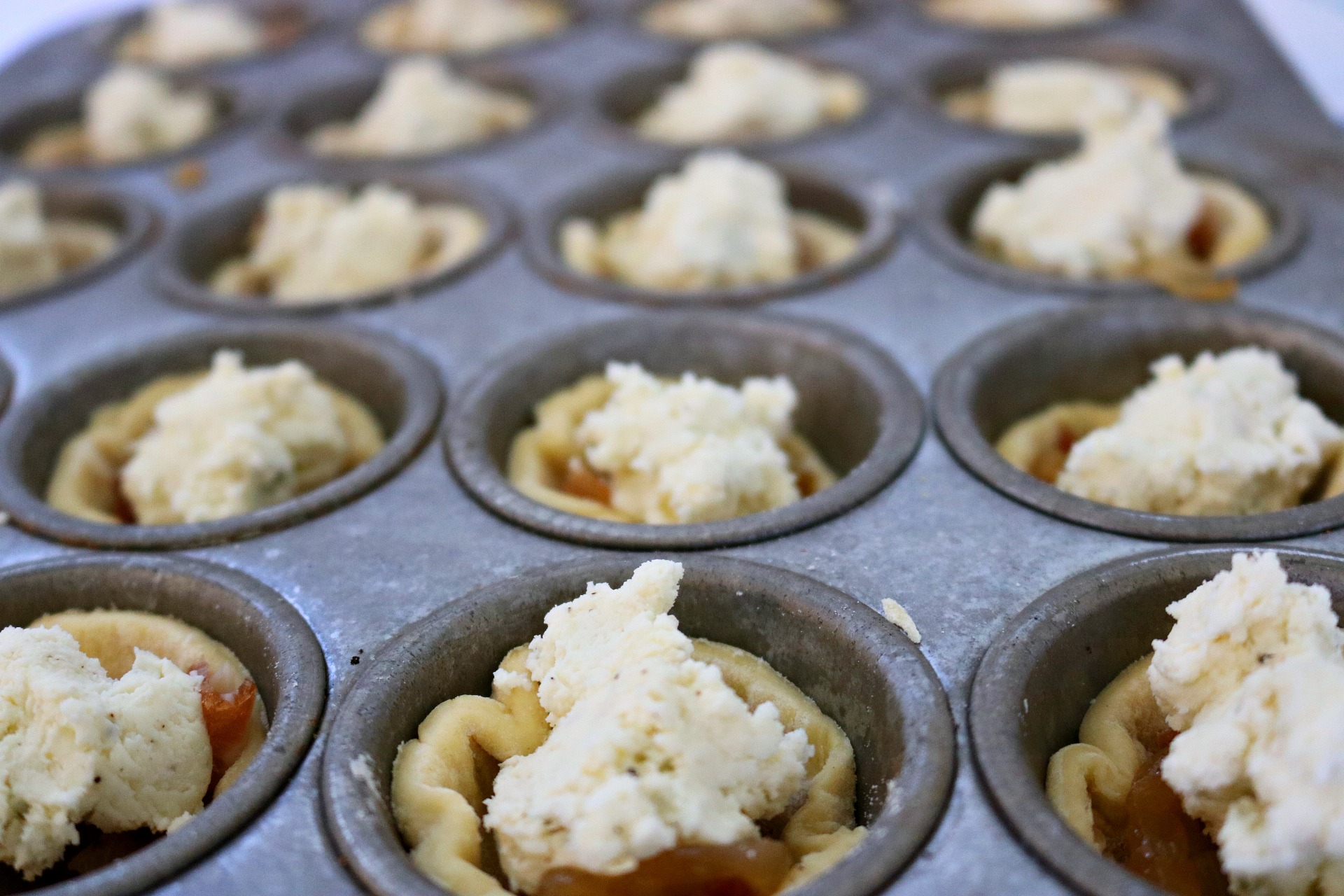 So when you make these for your next gathering, I suggest doubling the recipe.  And it is imperative that you put some aside for yourself.  Because they won't last for too long.  When people see cheesy puffed appetizers with cured meat, its all over.  Consider them gone. I can guarantee you that.  Of course, you can make it vegetarian, without the prosciutto.  The caramelized onions are a non-negotiable, the prosciutto is up to you.  I like it because it adds a salty kick.
Gorgonzola and Caramelized Onion Tartlets
Ingredients
1 box puff pastry (there should be two sheets of it)
1 container mascarpone cheese (8 ounces)
1/3 cup crumbled gorgonzola cheese
3 slices prosciutto
1/2 large sweet onion
1 tablespoon brown sugar
1 tablespoon extra virgin olive oil
1 tablespoon butter
1 teaspoon salt
1/2 teaspoon freshly ground pepper
Instructions
Preheat the oven to 375 degrees.
Allow the puff pastry to defrost (about 45 minutes).
Once defrosted, lay out the puff pastry on a lightly floured surface.
Use a 2 inch round cookie cutter and cut circles into both sheets of puff pastry (you should get 24).
Slice half a sweet onion into rings.
In a medium saute pan, heat 1 tablespoon extra virgin olive oil and 1 tablespoon butter.
Cook onions until translucent.
Add 1 tablespoon brown sugar.
Cook until onions are brown and caramelized, about 30 minutes. Remove from heat.
In a medium bowl, mix the mascarpone cheese, gorgonzola cheese, salt and pepper. Mix until well blended.
Push each circle of puff pastry into the bottom of a mini muffin tin.
Add a small amount of caramelized onion, a small piece of prosciutto and a teaspoon of the mascarpone/gorgonzola mixture.
Bake for 30 minutes, or until the tops are slightly browned.
https://www.mangiamichelle.com/gorgonzola-caramelized-onion-tartlets/
. . .