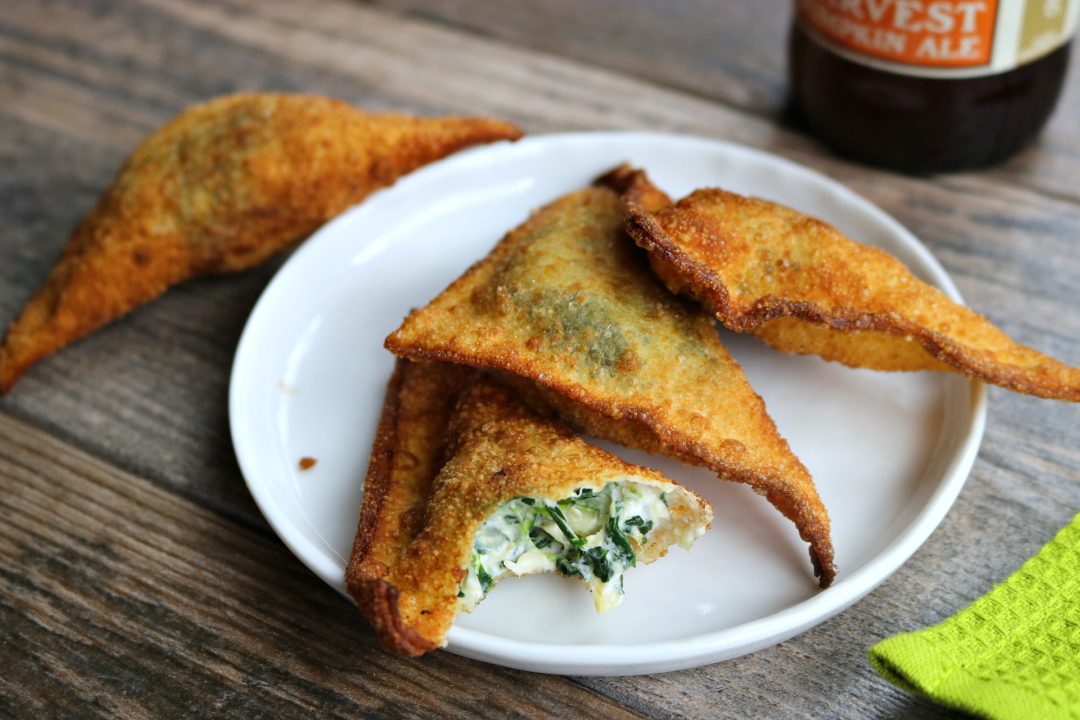 Best. App. Ever.  I've taken the oh so popular spinach and artichoke dip, wrapped it on a wonton wrapper and deep fried it.  My pants are getting tighter just thinking about it.  I apologize if I just ruined your diet. But come on, deep fried spinach and artichoke dip…does it get any better than this? No.  It doesn't.  Add this one to the list for your next gathering.  They won't last long.  Everyone will love these fried spinach artichoke wontons.  The center is warm, creamy and garlicky and the outside is crispy and slightly greasy from the oil.  Greasy in a good way, that is.  So keep reading to make this classic with a deep fried spin 😉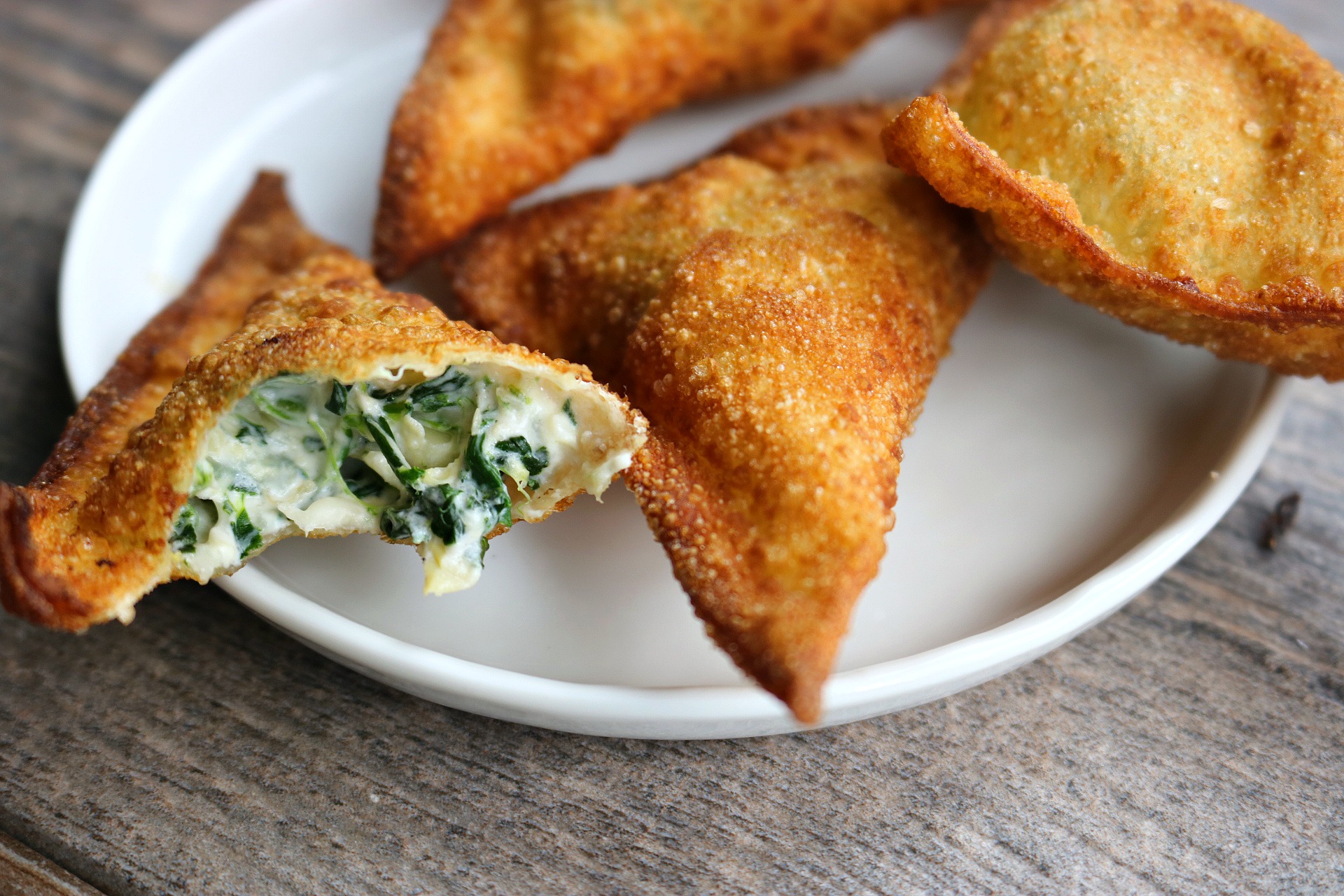 Spinach Artichoke Wontons will be a hit at your next party.
One of the best things about these puppies, is that you can prepare them ahead of time and refrigerate them until you are ready to fry them. When the party is about to start, fry them in vegetable oil.  They taste best when they are hot from the oil. However, if it is not realistic for you to make them right before your guests come, you can always fry ahead of time and and then warm them up on a baking sheet right before your guests arrive. Line them on a baking sheet and pop them in a 300 degree oven for about 7-8 minutes.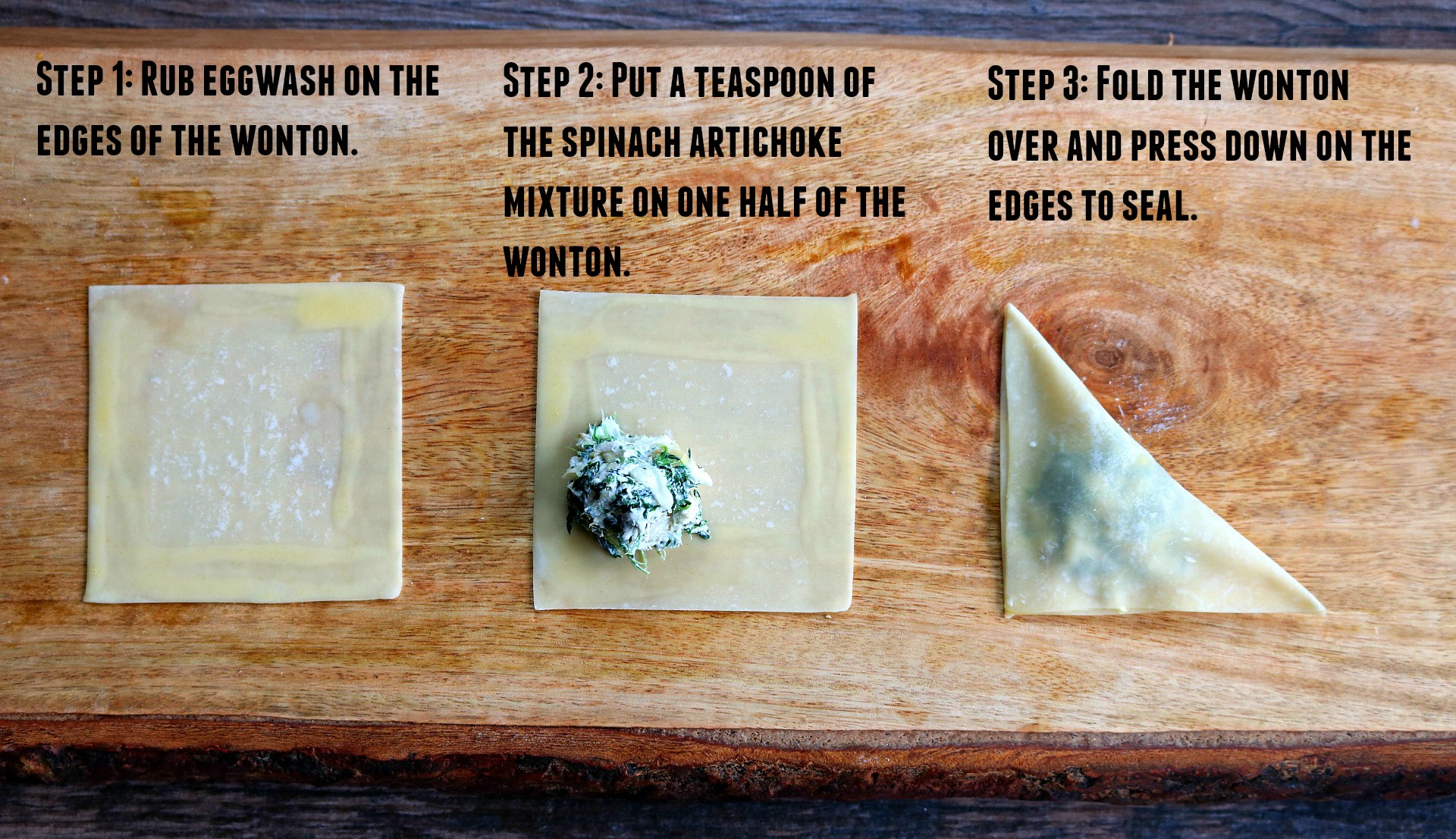 One piece of equipment that you will need is a hot oil/candy thermometer.  I use this one.  It is digital and very easy to use.  If you do not use a candy thermometer, you risk the oil getting too hot and your precious spinach artichoke wontons could burn up in no time.  And that my friends, is just sad.  Now, speaking of burning up, these cook very fast.  Don't drop them in the oil and walk away.  Stay right there to guard the precious spinach artichokey goodness.  You will flip them after about 1-2 minutes and cook on the other side.  This is long enough so the outside is golden brown and the inside is creamy and spectacular.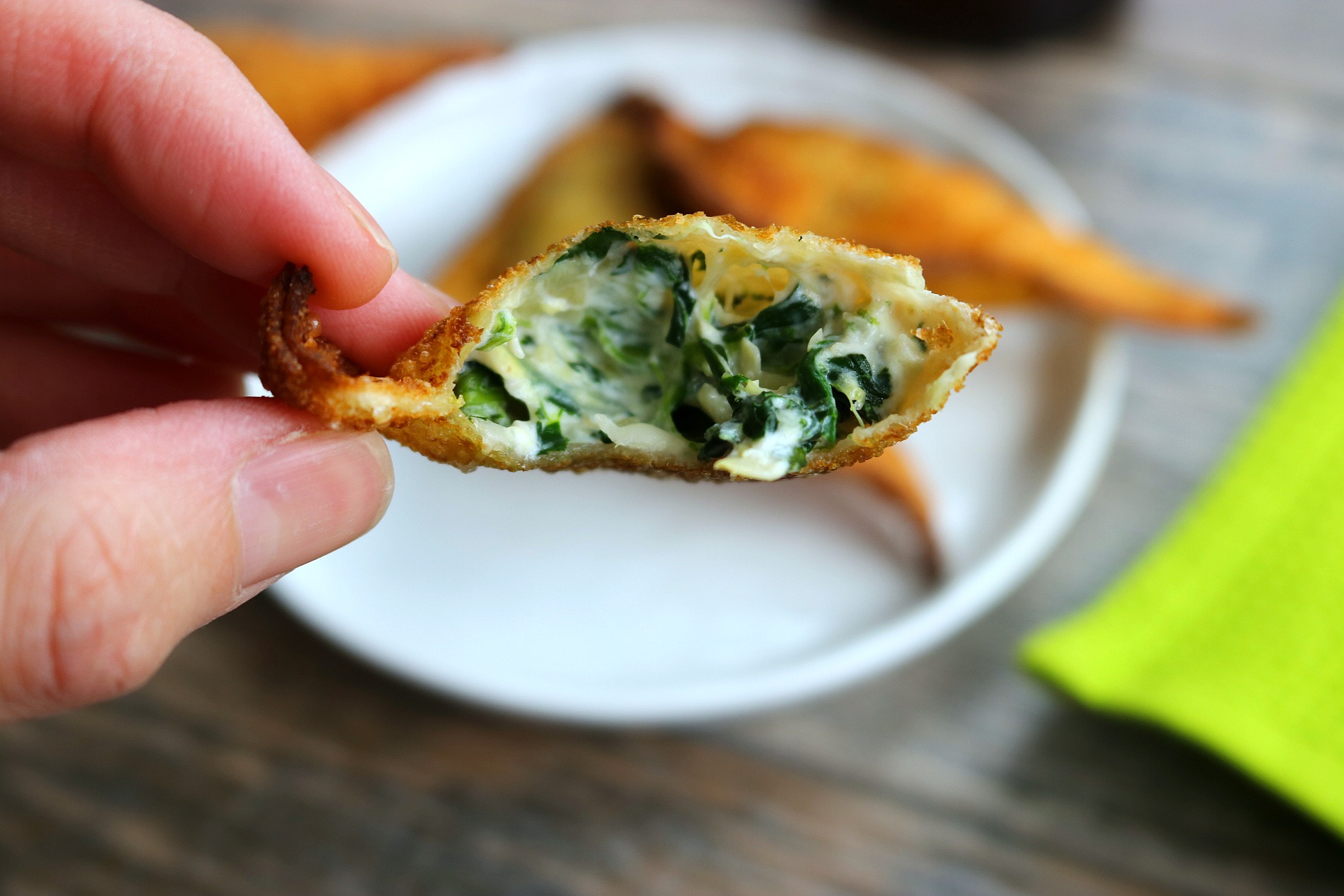 Make spinach and artichoke wontons in 3 simple steps
1. Mix the first ten ingredients in a bowl.
2. Wrap the dip in a wonton (see picture above).
3. Deep fry in vegetable oil.
It is that simple.  So serve these up at your next party.  They will not disappoint, I promise.
Pairing: Ice cold craft beer
Kitchen equipment: Digital Oil & Candy Thermomter
Mangia!
Spinach and Artichoke Fried Wontons
Ingredients
10 ounces frozen spinach, defrosted and drained well
8 ounces artichoke hearts, drained and chopped
8 ounces cream cheese
1/3 cup sour cream
1/2 cup shredded mozzarella
1/2 cup grated parmigiano reggiano
1/4 teaspoon garlic powder
1/4 teaspoon onion powder
1/4 teaspoon salt
1/4 teaspoon freshly ground black pepper
Vegetable or Canola oil for frying
1 package wonton wrappers
1 egg (to make an eggwash to seal the wontons)
Instructions
In a bowl, combine the drained spinach, drained and chopped artichoke hearts, cream cheese, sour cream, mozzarella, grated parmigiano reggiano, onion powder, garlic powder, salt and a pepper. Mix until all ingredients are combined.
Mix one egg.
Using your finger, rub the edges of the wontons with the egg wash. Fill each wonton with a teaspoon of the spinach artichoke mixture. Put on one half of the wonton. Line the edges with egg wash. Gently fold the other half over. Press at the seams to seal. Repeat until all wontons are full. Line the wontons on a baking sheet. It is ok if you need to overlap them.
Put the baking sheet of wontons in the freezer for ten minutes.
In the meantime, fill a large pot with vegetable oil over medium high heat.
Use a hot oil/candy thermometer and bring the oil to 350 degrees. Once the oil reaches 350 degrees, drop the heat to medium.
Place 5-6 wontons in the pot of oil (do not overcrowd).
Fry for 1-2 minutes on each side until they are golden brown.
Remove with long kitchen tongs and let dry on a paper towel.
Serve hot.
https://www.mangiamichelle.com/spinach-artichoke-fried-wontons/
. . .