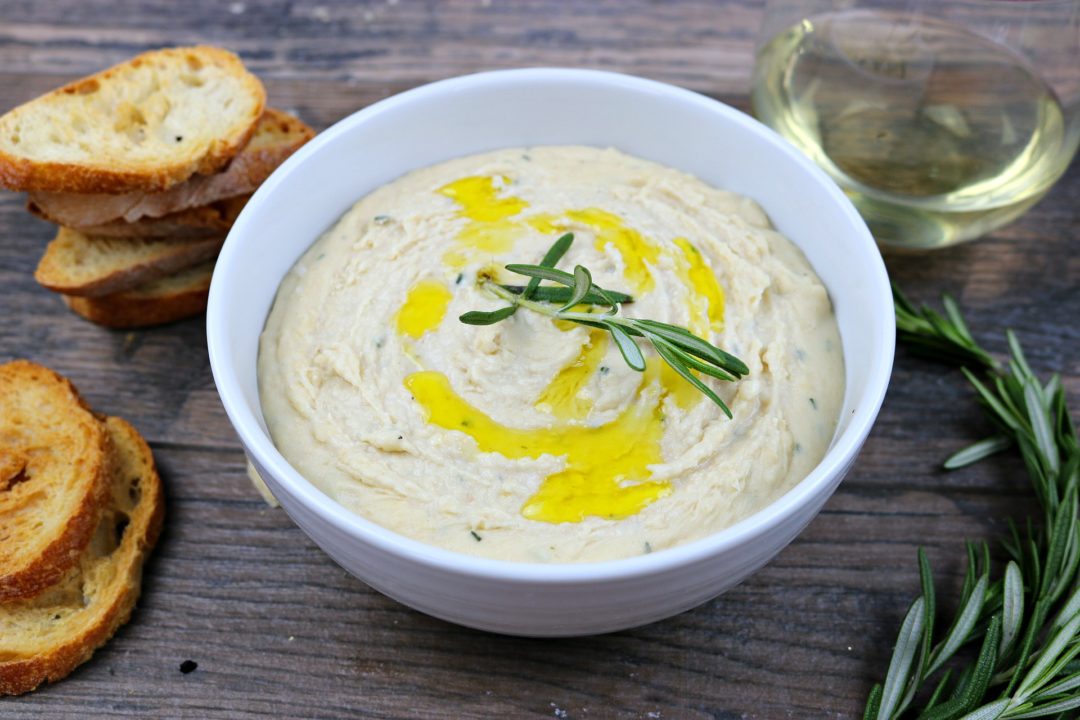 If you are looking for a simple, yet delicious dip to serve alongside toasted bread, then this is the recipe for you.  White bean dip with rosemary and garlic can be whipped up in no time. It has five simple ingredients (not including olive oil, salt and pepper), and literally takes minutes to make.  Of course, you will need the help of your food processor.  You have a food processor, right? No? Please go buy one…actually stop what you are doing and go get one right now.  A food processor is one of the most important kitchen appliances…every home chef needs one! I recommend Cuisinart.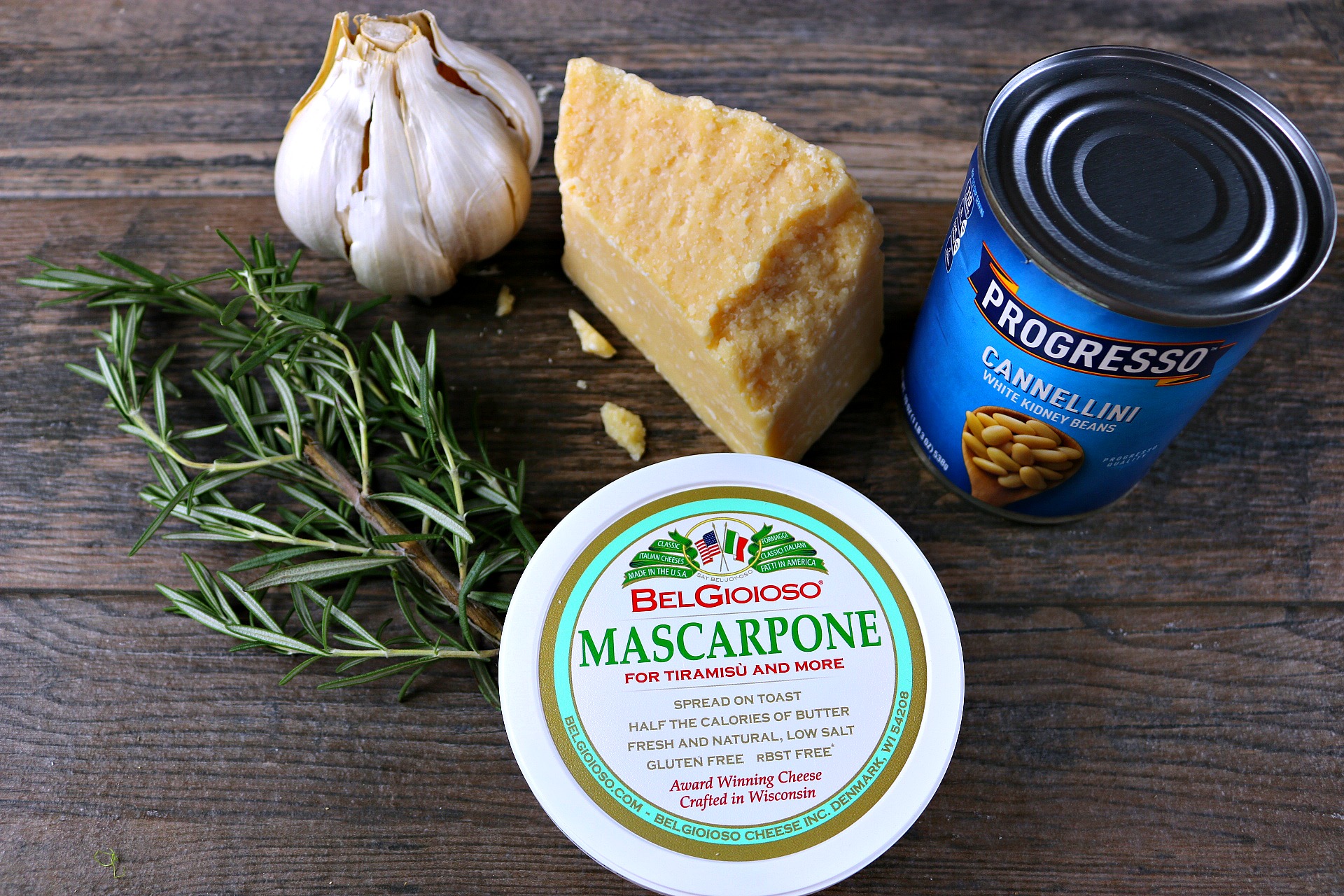 Ok, one thing I want to point out before I move on…this is not a sponsored post.  Meaning, I was not paid by Bel Gioioso or Progresso to show their products.  I used these products all the time, and would not show them unless I really liked them and thought they were good quality.  If you have been following my blog, you would know that I use mascarpone cheese in a lot of my recipes.  This is the one I use (Bel Gioioso).  I think it is great quality and super creamy and delicious.  And same with Progresso.  This is the brand I buy for cannellini beans.  Ok, now that thats out of the way, lets move on.
White bean dip with rosemary is a simple dip to make for your next cocktail party.
The first time I had white bean dip, I was out with some of my girlfriends at a local wine bar (whatup ladies).  Of course, we gorged ourselves in a smorgasbord of yum…charcuterie and cheeses, white bean dip, maybe some chorizo, can't remember, it was probably 10 years ago.  Anyhow, I loved the white bean dip so much that I had to come up with a copycat recipe.  It is the perfect starter and goes well with a nice glass of wine.  I would choose a light red, like a pinot noir, or a heavier white, like an oaky chardonnay.  It would definitely be delicious alongside some charcuterie and cheese…spicy soppressata, pecorino romano, asiago, prosciutto, yum…mouth watering over here.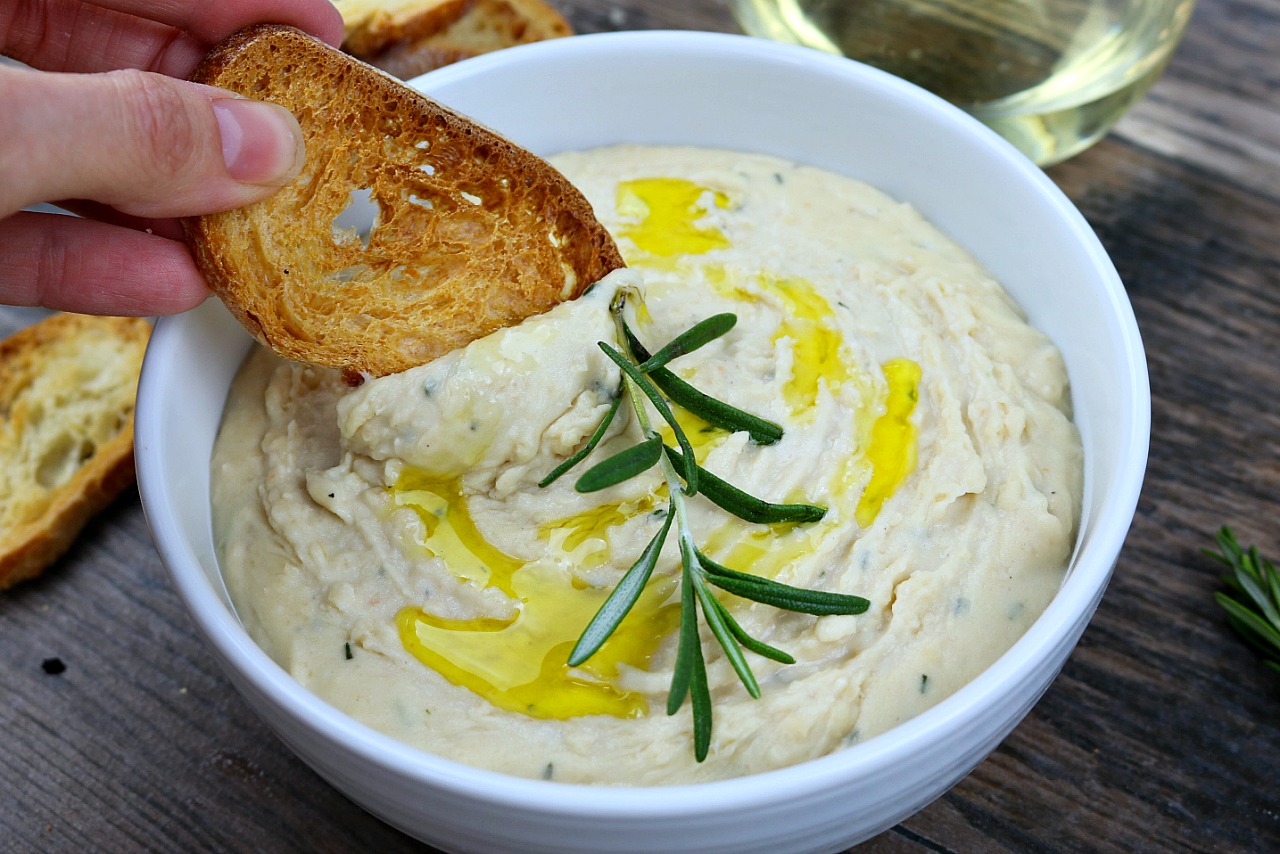 Now, if you want to make this a little bit healthier, you don't have to include the mascarpone cheese.  But honestly, why would you do that? The mascarpone makes it so rich and creamy.  Ok, I won't judge…do what you want.  And while you are at it, you may as well dip veggies in it instead of bread…eye roll…kidding, not kidding.
Enjoy!
White Bean Dip with Rosemary
Ingredients
1 can cannellini beans (15 ounces)
2 cloves garlic
3 ounces mascarpone cheese
2 tablespoons chopped rosemary
1 cup grated parmigiano reggiano
1/4 cup extra virgin olive oil (plus extra to drizzle on top - 1 tablespoon)
1 teaspoon salt
1/4 teaspoon freshly ground black pepper
Instructions
In a small pan add the olive oil and 2 cloves of garlic.
Cook over medium heat for 3 minutes. Stir frequently so the garlic doesn't burn.
Drain the liquid from the can of cannellini beans. You can leave the starchy "guck" at the bottom of the can. No need to remove.
Add the cannellini beans and the chopped rosemary to the pan. Stir to combine.
Continue cooking for 3 minutes.
Add the mixture to the food processor.
To the food processor, add the mascarpone cheese, the grated parmigiano reggiano, salt and pepper.
Process until the mixture is mostly smooth.
Transfer to a bowl and drizzle one tablespoon of extra virgin olive oil on top.
Serve with toasted baguette slices.
https://www.mangiamichelle.com/white-bean-dip-rosemary/
. . .