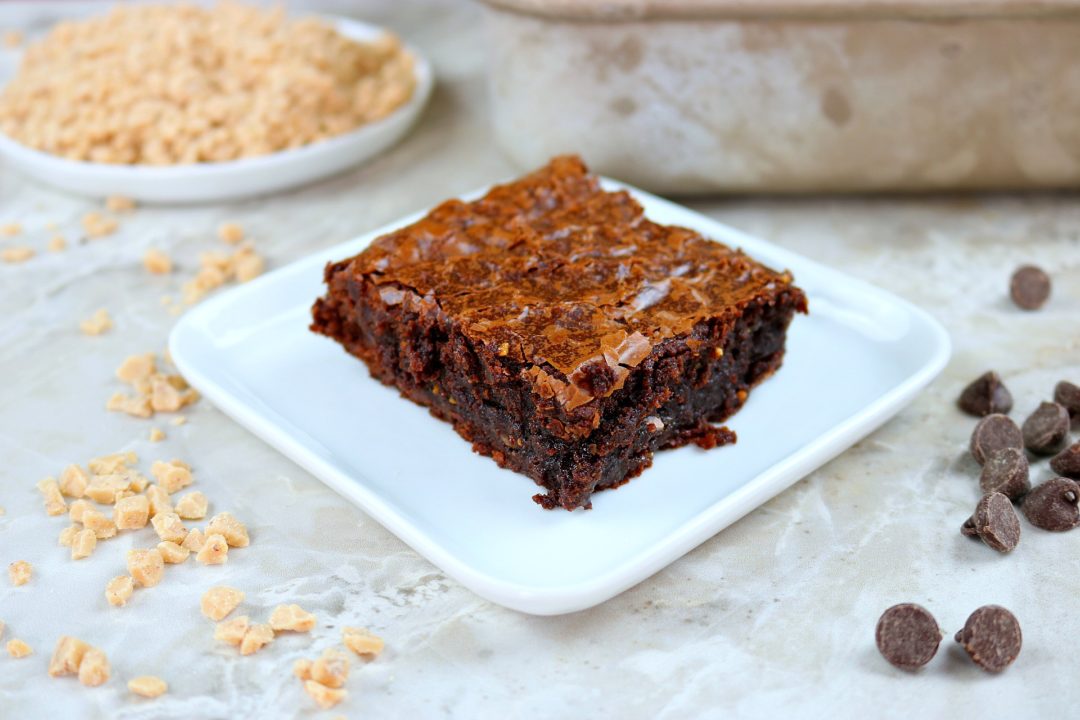 If you were to ask my husband what his all-time favorite food is, he would say, my brownies. Not just any brownies.  He looooooves when I make my super special secret ingredient brownies. Most people (in my circle) know about my brownies. If you are reading this right now and you know a little something about my brownies, raise your hand. Go ahead, raise your hand. Ok, now put it down…you don't want the people around you to question your sanity or know what you are up to. Anyhow, the point I was originally getting at, is that my brownies are nothing more than doctored up brownies from a box. And let me tell you, they are deeeeeelish! So I am about the let you in on one of my best baking secrets. Listen carefully. And to all the single ladies (all the single ladies…put your hands up…) if you want to put a ring on it, take notes. Because I'm pretty sure my brownies had something to do with my husband proposing. It is, in my humble opinion, the best brownie recipe ever (and the easiest, well, because it comes from a box).  So let's get to work!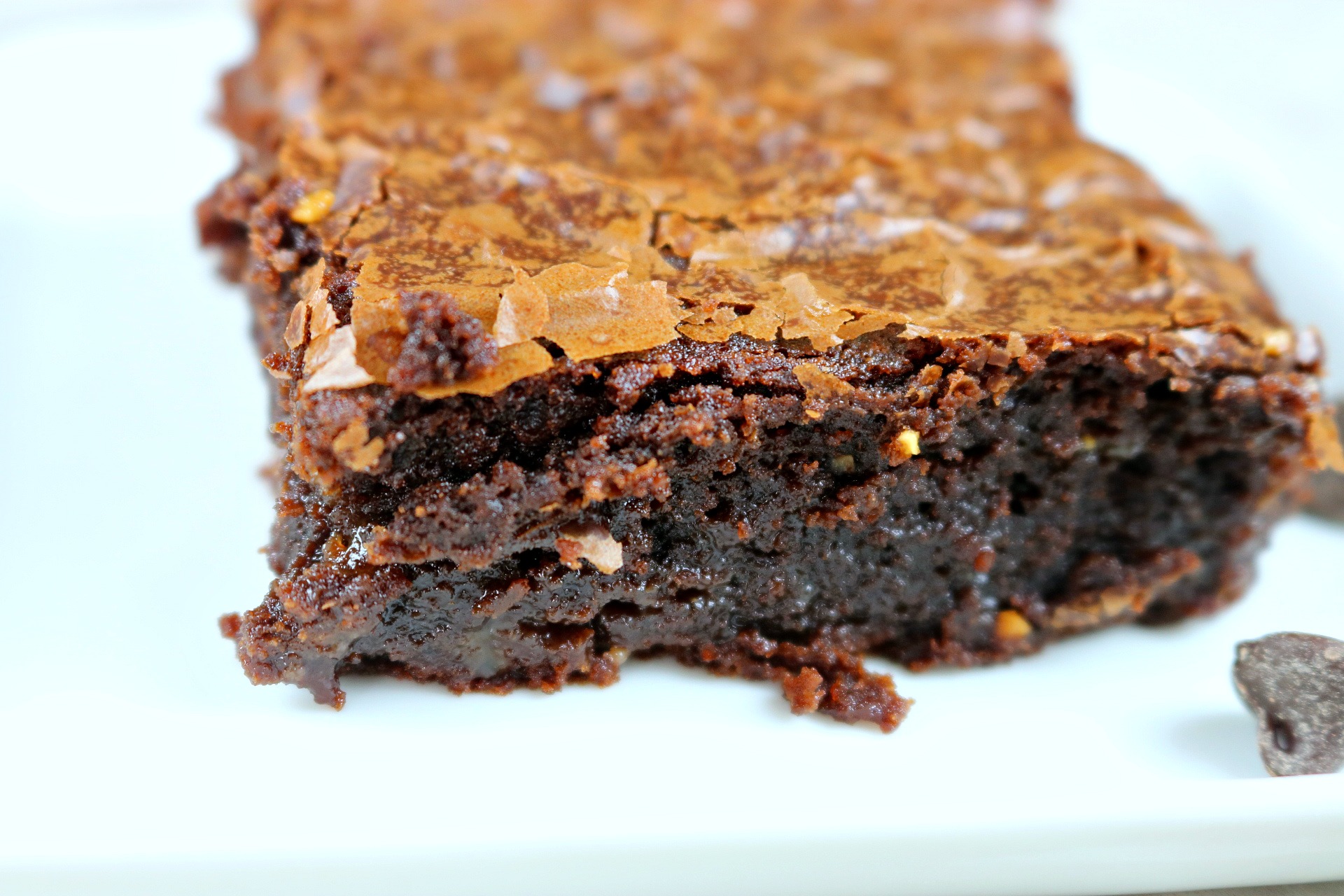 Now just look…look at the deliciousness that abounds.  Moist, rich, super chocolatey…I am telling you, they are the best.  Now, when I first started this food blog (not that long ago), everyone said to me, "you HAVE to put your brownies on there."  And my response was, "but I use a box brownie mix and I have to create my own brownie recipe from scratch first."  And survey says..XXX…three strikes.  I've pondered and contemplated this for a while.  And I came to the conclusion of, if it ain't broke, don't fix it.  So I ain't fixin' it.  Go for the boxed brownie mix.  It is ok, I promise.
Use a box mix to make the best brownies ever!
So, grab a box of brownie mix and add my signature secret (not so secret anymore) ingredients, and you will instantly become the best brownie maker people know.  You will quickly become the envy of the class mother, every soccer mom around, and the house that every kid wants to have a play date at.  And if you make them for your boo, he will very soon be down on bended knee asking you to spend the rest of your life with him.  Ok…I may have gotten a little out of control on the last one and I certainly can't make any promises, but hey, what do you have to lose?
Follow these 5 simple steps to make the best brownies ever!
Go to the store…easy.  Get a box of brownie mix.  Nothing too fancy.  Doesn't have to have a packet of fudge or have peanut butter swirls going through it…actually, the more basic it is, the better.  I use Duncan Hines Chewy Fudge Brownies. Prepare the ingredients according to the box for fudge-like brownies…so basically use two eggs, not three.  
STEP 2: Add the secret ingredients (see pic below)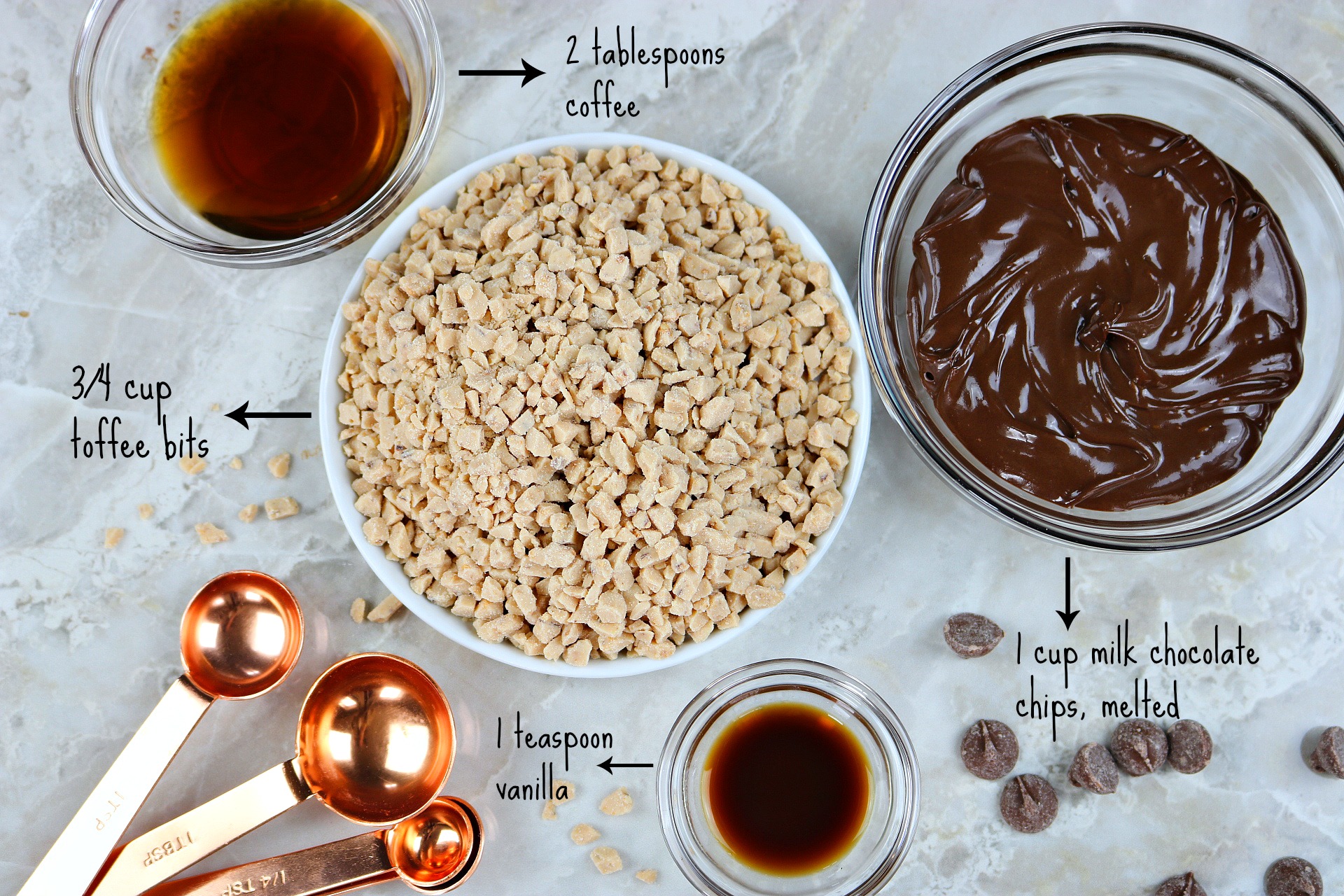 STEP 3: Pour into a greased baking dish and top with more chocolate chips
Mix it until it is combined and pour into a greased baking dish.  Top with extra chocolate chips.  For a baking dish, I use this one. I like it because it has a top so I can keep the brownies covered after they are baked.


STEP 4: Bake according to the box, and add 10 minutes
Bake the brownies according to the directions on the box.  Then you will need to add ten minutes.  So, if the box states you should bake them for 30 minutes, you will actually have to bake them for 40 minutes.  With the extra ingredients, the mix is a lot wetter and will need more time to bake.  When they are done, they will still be very moist.  When you put in a toothpick, it will not come out 100% dry (there may be some moist crumbs sticking to it).
STEP 5: Allow to cool for 10 minutes
This is the hard part.  You have to wait to eat your delicious brownies.  But don't fret my lovelies, it is only ten minutes.  I suggest going for a ten minute jog to burn some of those calories that you are about to consume.  Once they cool and set, they will be super moist and superdedooper fudgey. Totally delicious!  You now have a brand new craving…and I am not even sorry about it.  These brownies will wake you in the middle of the night. You will find yourself sneaking down the stairs to get a quick brownie fix.  It may be a good idea to hide them from your spouse and kids.  Everyone will be hooked.  I'm not lying when I say this is the best brownie recipe ever!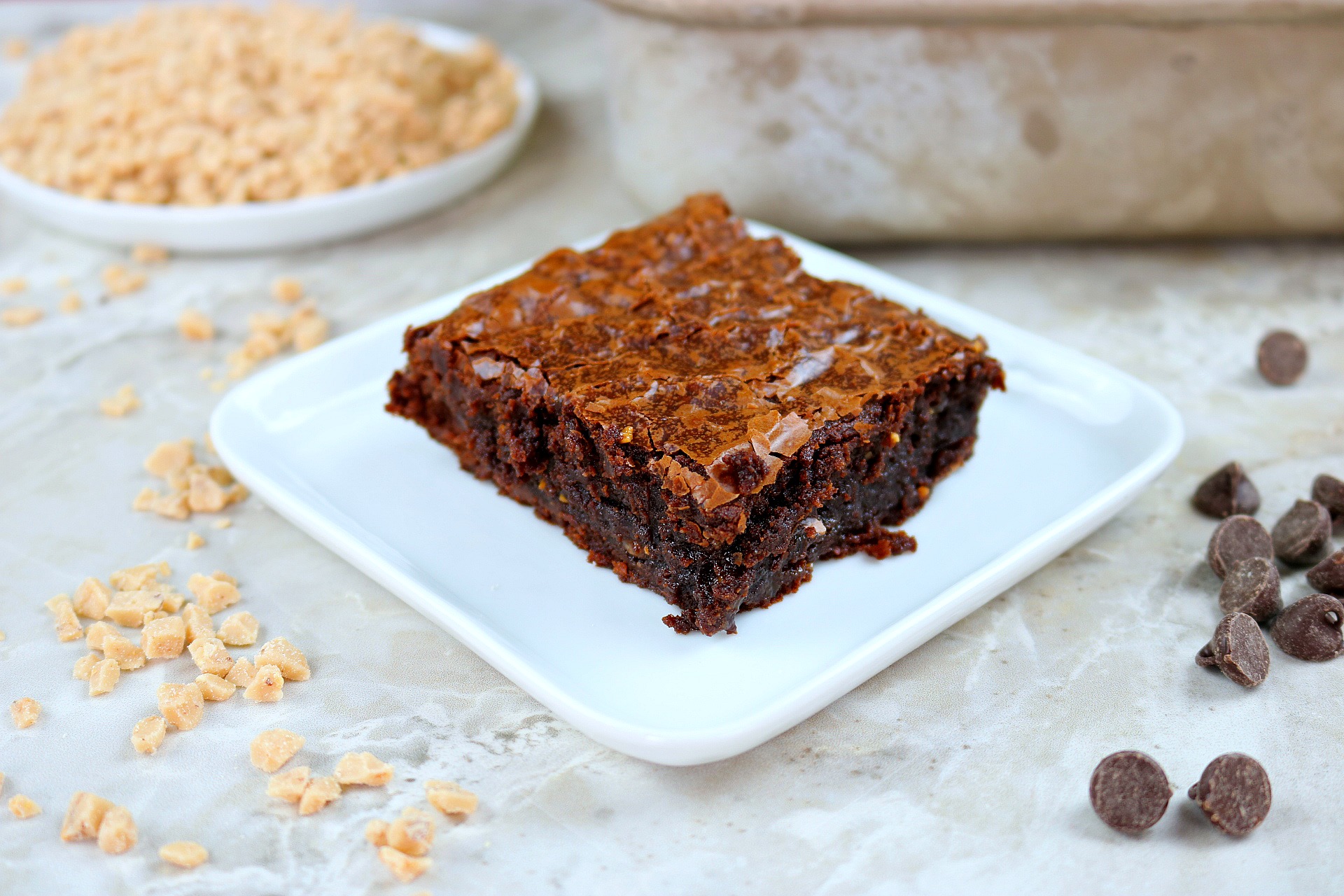 Pairing: tall glass of ice cold milk.
Now, if you are interested in making bite-sized balls of brownie heaven, hop on over to my post for Brownie Bombs!  The recipe is simple.  Make store bought brownies (do not doctor them up), crush them up, mix in a can of chocolate frosting, form into balls, dip in chocolate.  Bam! The perfect addition to your holiday cookie platter.  So hop on over and check out that recipe.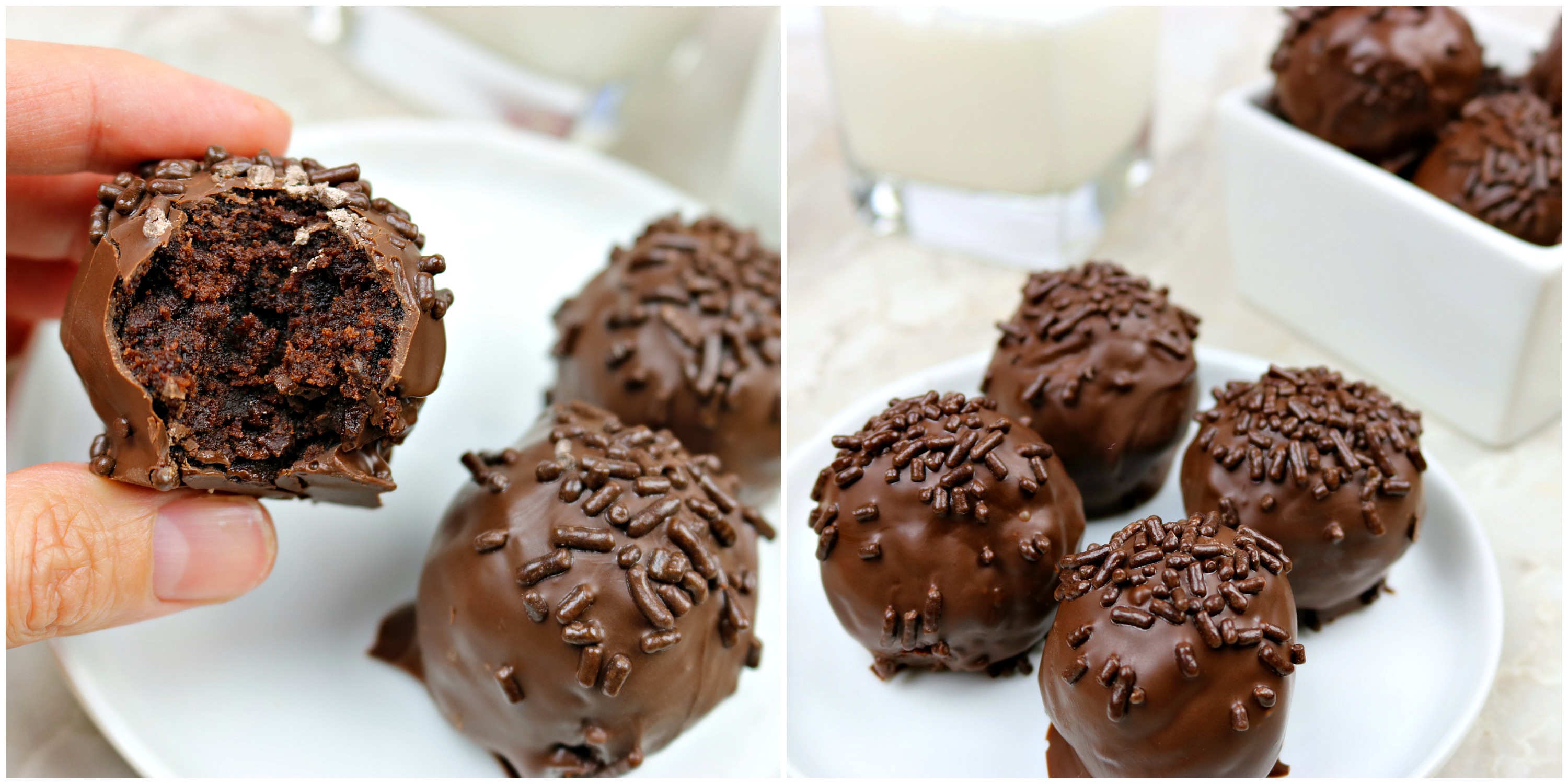 Doctored up box mix brownies
Ingredients
1 box brownie mix (I suggest Duncan Hines Chewy Fudge Brownies)
3/4 cup toffee bits
1 cup milk chocolate chips, melted
2 tablespoons brewed coffee
1 teaspoon vanilla
Instructions
Grease the bottom of a baking dish (9x9 is preferred).
Prepare the brownie according to the directions on the box. Choose the 2 egg option for fudge-like brownies.
To the mixing bowl, add the toffee bits, melted chocolate, coffee and vanilla. Stir until combined.
Bake according to the directions on the box, but add ten minutes to the baking time. Check the brownies at the time listed on the box. Insert a toothpick to see if they are still wet. Most likely they will be too wet and you will need the additional ten minutes that I suggest.
Allow to cool before cutting.
Brownies will be moist and super fudgey!
https://www.mangiamichelle.com/doctored-boxed-brownies/
. . .