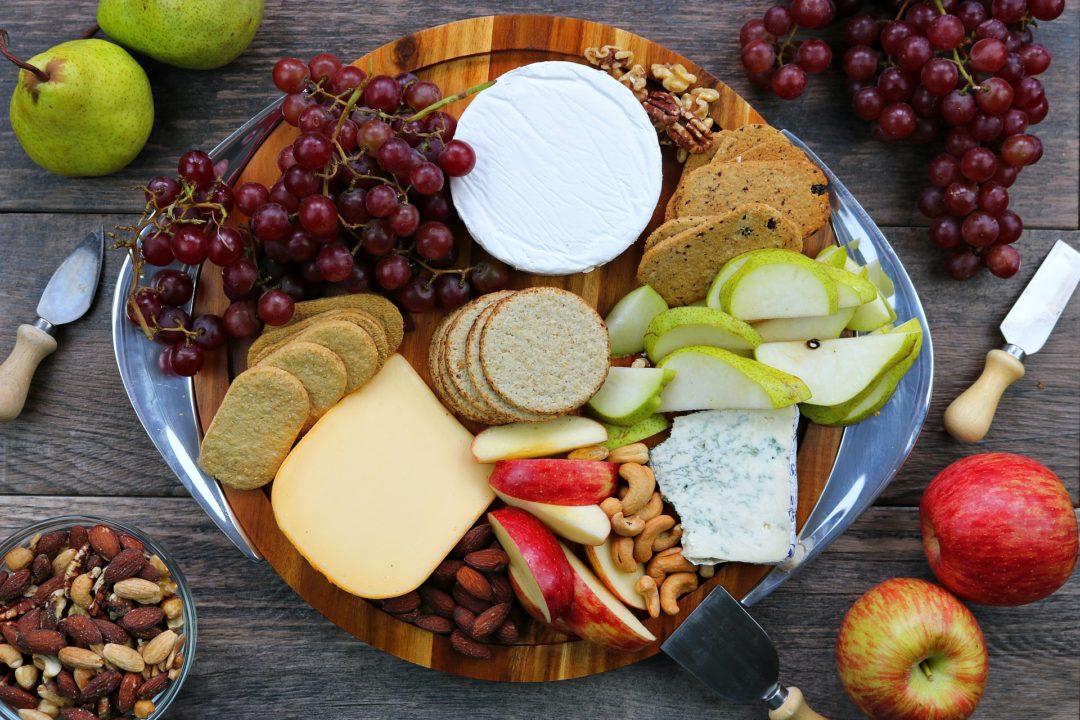 Disclaimer: I was provided with a free product in return for my honest review.  All thoughts and opinions expressed herein are my own and not influenced by the developing company, and/or its affiliates, in any way.
This may be the most important thing to have the next time you entertain.  So listen carefully! I will walk you through five simple steps to the perfect fruit and cheese platter.  And for all of you culinarily challenged readers, this one is for you (wink, wink).  This platter consists of all store bought ingredients, including Nairn's oat crackers and grahams.  Every party needs a fruit and cheese platter, and the key to a great one lays in the specific fruits, cheeses and crackers that you choose for it.  So pay close attention.  We are going in!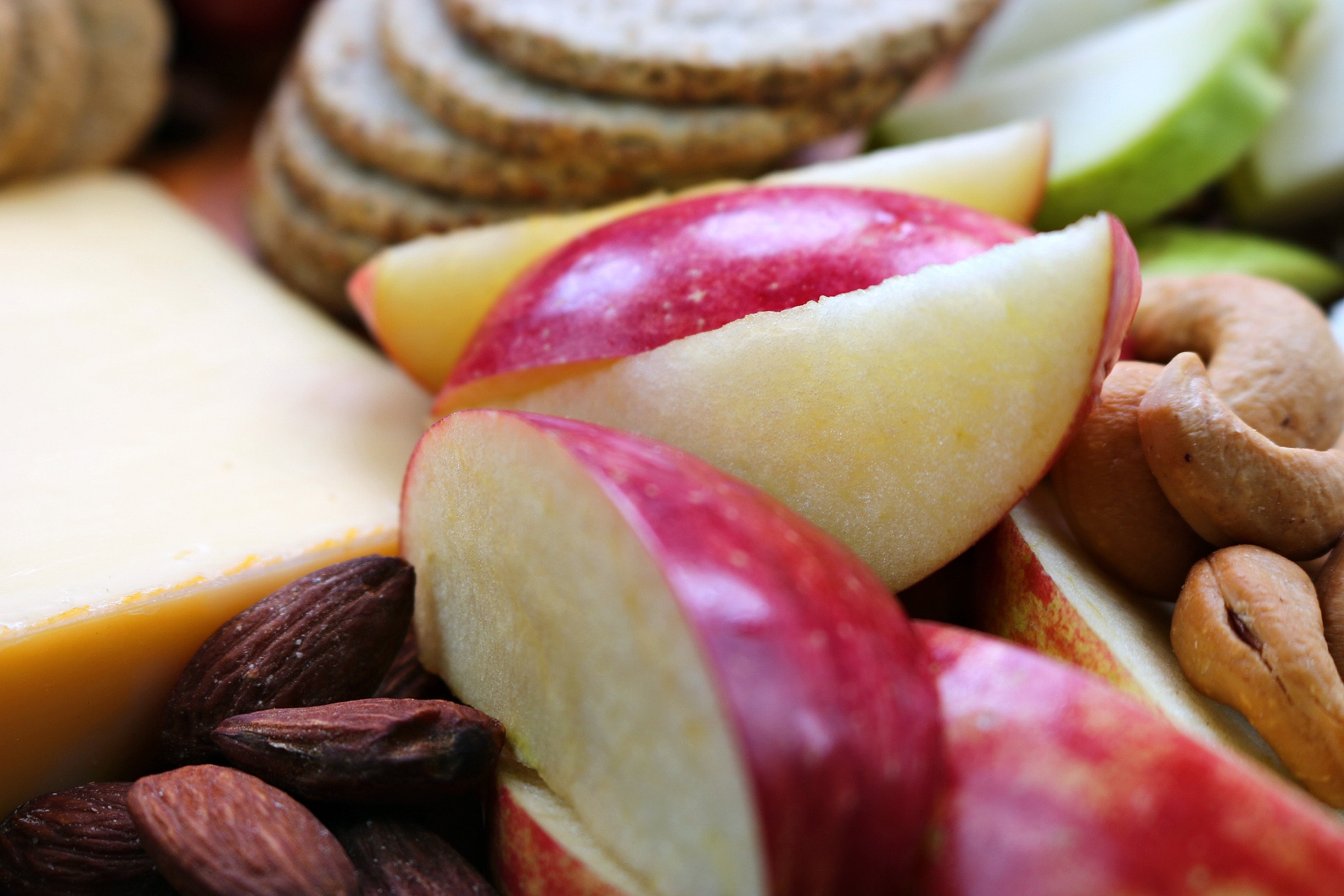 STEP 1: Choose a platter
So, the first thing that you need to do is to select the perfect platter to serve your fruit and cheese platter on.  And one rule of thumb, it has to be pretty.  Something with a natural look, like a wood or marble board would be perfect.  You can go with a traditional circular board, you can pick your square cutting board, and even longer rectangular boards look nice too.  This is the time to pull out the beautiful serving board that you got 7 years ago at your bridal shower, that is still in the box.  Seriously, see my platter
 in the picture? It is from my bridal shower.  I always use it for a fruit and cheese platter, or an antipasto platter.  Shout out to whoever gave it me (and I am embarrassed that I don't remember).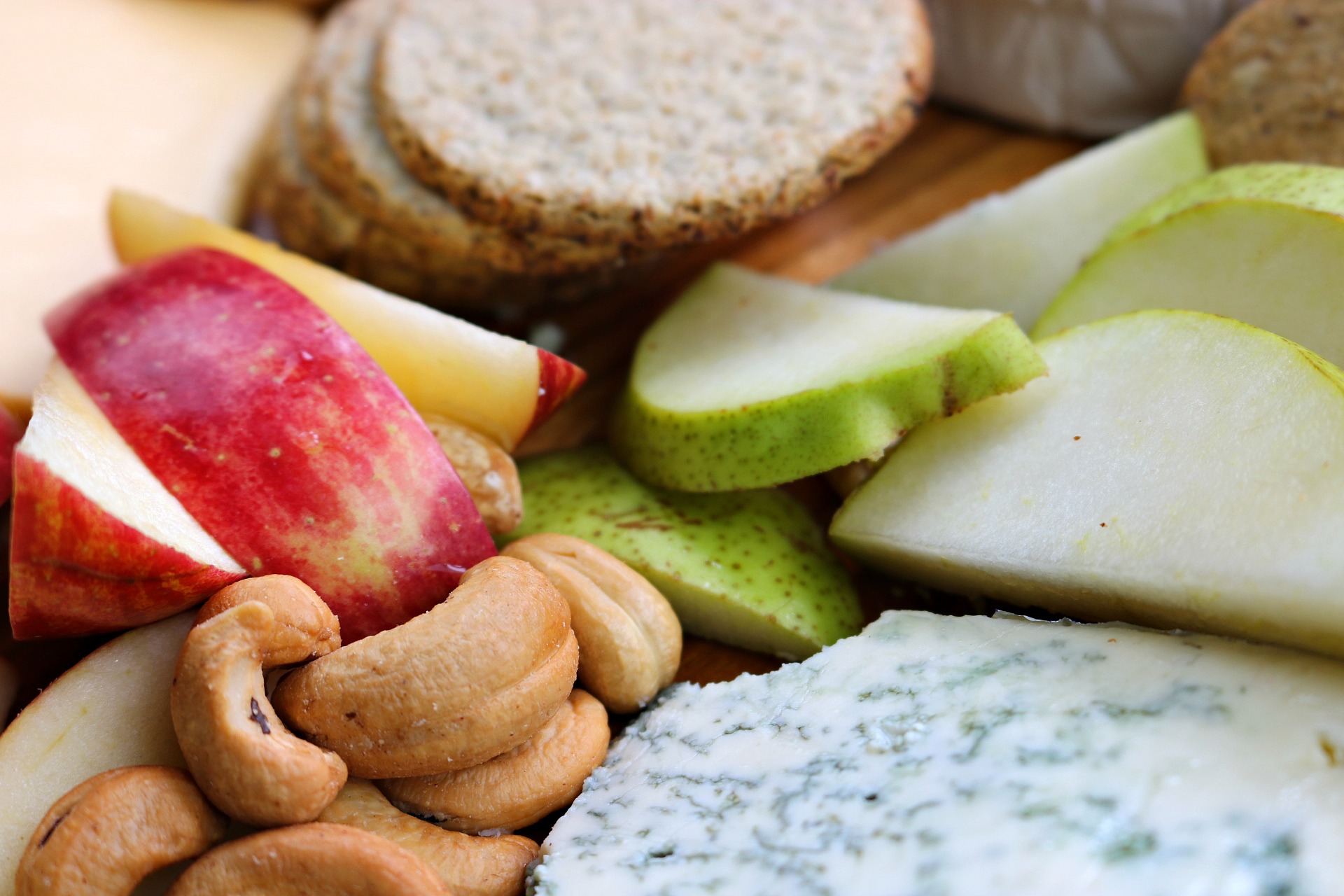 STEP 2:  Choose 3 types of fruit
The next thing that you need to do is to choose three different types of fruit.  Try to stick to fruit that complements cheese.  Apples, pears, grapes, and cherries are all fruits that pair nicely with cheese.  Stay away from bananas, oranges, grapefruit, pineapple or any other citrus fruit.  The acidity tends to overpower the flavor of the cheese.  For my platter, I chose bartlett pears, fuji apples and red grapes.  Keep the grapes on the vine for a fancier look.

STEP 3: Choose 3 types of cheese
Since you have three types of fruit, you should also have three types of cheese.  As a general rule of thumb, you should have a blue cheese, a hard cheddar or gouda, and a soft cheese like Brie or Camembert.  This will give you a variety of flavors and textures.  Plus, it is a guarantee that everyone will like at least one cheese on the board.  And if you are a glutton, like myself, you don't discriminate and will go for every cheese on the board.

STEP 4: Nairn's Oat crackers and grahams
"It's yummy," is what my two and a half year old son said when he first bit into a Nairn's oat graham.  And if Joey says it's yummy, then it MUST be yummy.  We are talking about a kid that would be happy to eat mac and cheese every night.  He is by far, my toughest critic.  These crackers go perfectly with a fruit and cheese platter.  They are grainy, earthy and have just the right crunch.  The flavor is toasty, but does not overpower the cheese.  They also come in several varieties and flavors.  In my platter, I used the organic oat crackers, and the gluten free oat grahams, original and raisin.  Which, by the way, the raisin goes surprisingly well with some gouda and an apple slice.  
When you are serving a fruit and cheese platter to your guests, it is so important to choose the right cracker or bread to go with it.  You don't want bright orange crackers, or crackers that are covered in garlic and onion powder.  These will overpower the the cheese and won't taste very pleasant.  As a rule of thumb, don't use the same crackers that you give your kids for long car rides.  You want simply shaped crackers with an earthy taste that will complement your fruit and cheese.  I always prefer something with a bit of a crunch, but aren't too crumbly.  Nairn's are the perfect fit.  And as proof that they were a hit, as there weren't any crackers left on this platter after I served it to my friends.   

Step 5: Add Nuts and/or dried fruit
In order to create a beautiful fruit and cheese platter, you need to make it look full.  There shouldn't be too much empty space on the platter.  You can do this by adding nuts and/or dried fruit.  Nuts and dried fruit add some saltiness and crunch and also can provide some earthiness and color to your platter.  Continue with the rule of 3.  Choose three nuts, or dried fruit to add to your platter.  Choose nuts like roasted walnuts, almonds and cashews.  If you choose dried fruit, go for dried cranberries, cherries, raisins and apricots.  Use them to fill in any empty crevices in the platter.  This will make it look bountiful and gorgeous.
Ok…you are all set, so get to it!  You rock that fruit and cheese platter, girl.  Find your prettiest platter. Choose three cheeses – remember, hard cheese, soft cheese and blue cheese.  Get some non-citrus fruit. Pick up three varieties of Nairn's crackers and some nuts, and you are golden!  Choose a variety of wines to go with your platter.  I recommend sticking to the basics; Cabernet Sauvignon, Chardonnay or a Champagne.  Get all three, and you are officially my hero 😉
. . .