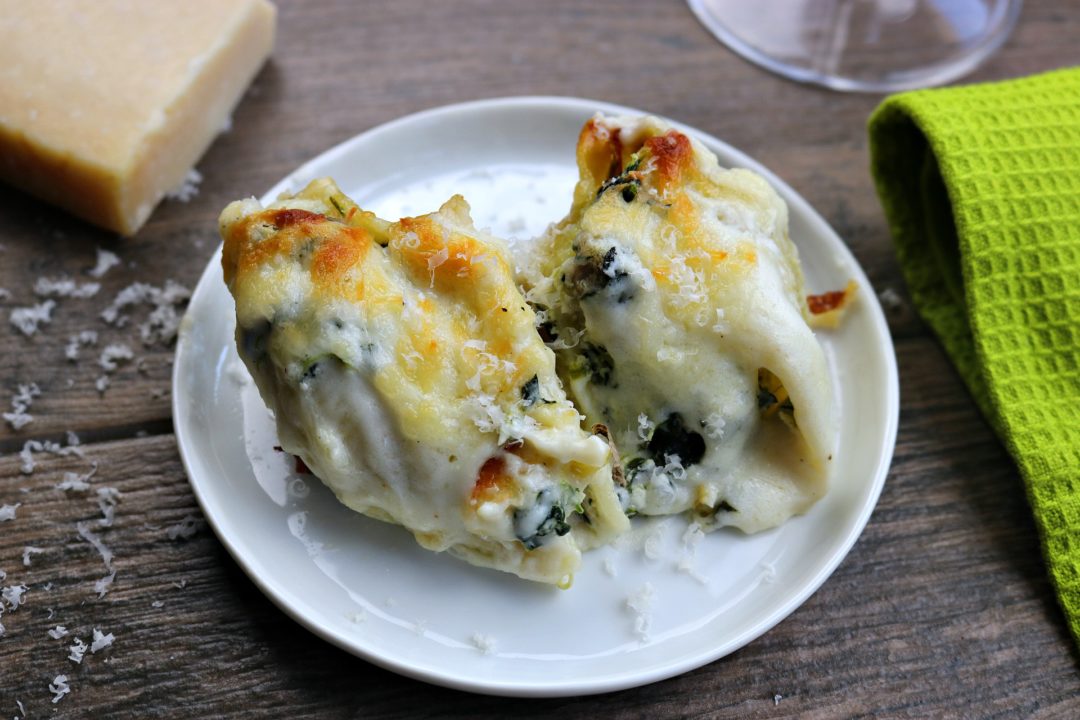 I was inspired to make this recipe from a meal that my husband had while we were in Florence many, many years ago.  Hence the name, "Florence Inspired Stuffed Shells." We were on our first trip to Italy.  We were staying in Rome and took a train to Florence for the day.  As with Rome, we were absolutely amazed by Florence.  The Italian lifestyle is so sophisticated.  The one thing that amazed me the most, is that I never saw a to go cup.  It seems so trivial, but no one gets their coffee to go.  You go up to the counter, order your espresso or cappuccino (and maybe a pastry) and stand there and drink it.  No rushing off to work, no drinking on the go…just simply and slowly enjoying your cup of joe…or should I say, cup of Guiseppe.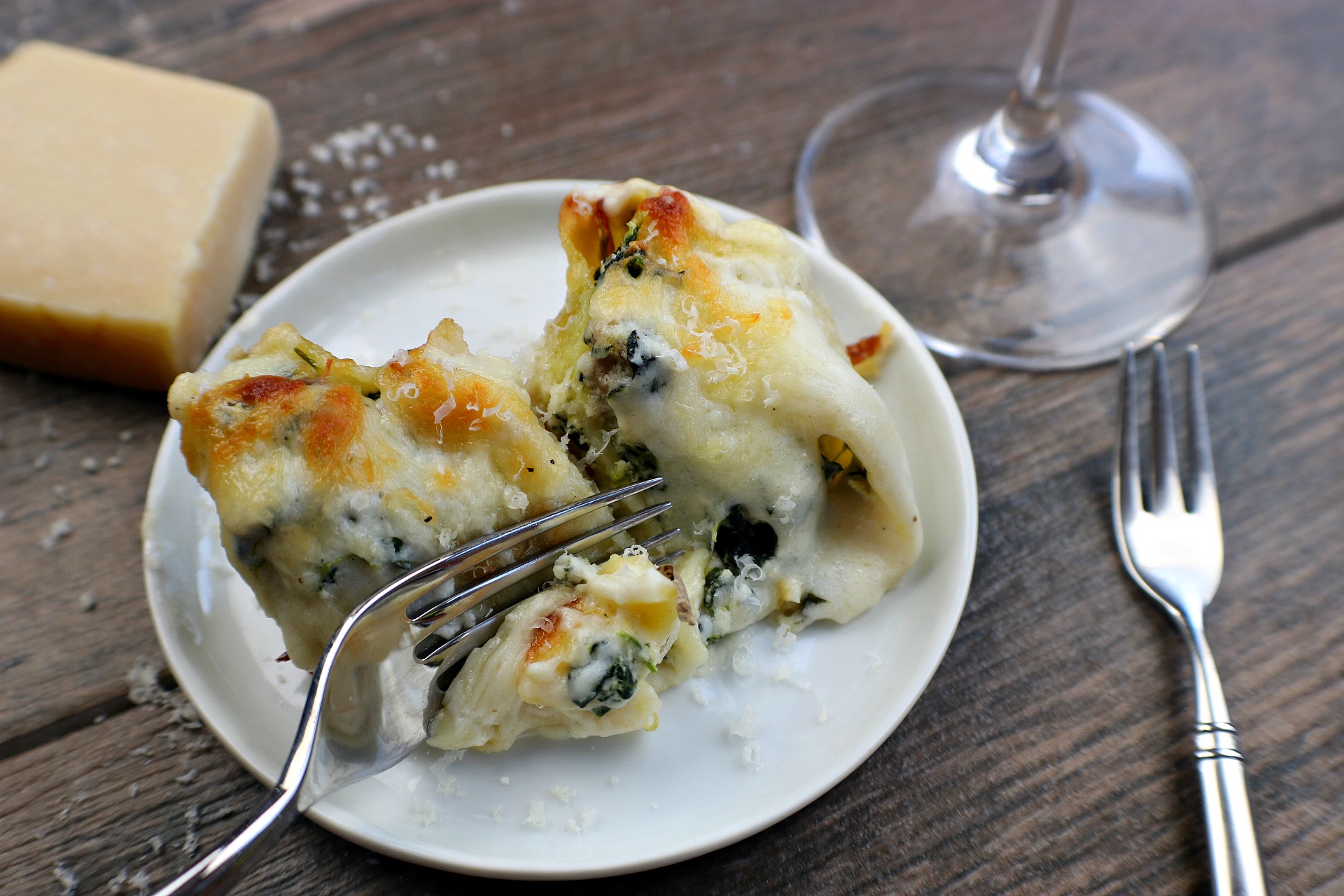 Anyhow, back to my inspiration.  We ate lunch at a little side cobblestoned street bistro.  We sat outside, as most people did.  I ordered a sandwich with salami and fresh mozzarella (and a glass of Pinot Grigio, because everyone has a glass of wine with lunch…again, sophisticated), and my husband had spinach stuffed shells.  So, they were slightly different than my recipe.  There wasn't any sausage and it was in a red sauce.  But for some reason, I was inspired. Well, pretty much everything in Italy inspires me.  So one of the first things I made when I came home, was sausage stuffed shells.  I wanted to add some meat to them…sausage came to mind, and I wanted to experiment with a bechamel fonduta sauce instead of red.
These sausage stuffed shells are a delicious and comforting meal that everyone will enjoy.
This meal is pretty easy to make, and it freezes very well.  Prepare everything (but don't bake it), wrap in plastic wrap and then tin foil.  Personally, I do not like things to sit in the freezer for more than two months, but I am sure they would stay good a little longer if you want.

Now, of course you can make this dish all vegetarian if you wish.  You can omit the sausage and double the amount of spinach.  Or, instead of the sausage you can chop and saute some cremini mushrooms.  That would also be delicious.  And there you have it, a delicious, vegetarian meal.
Pairing: Friulano (a delicious, but not too easy to find, Italian white wine), Pinot Grigio
Kitchen tools: use a Potato Masher to break up the sausage in the frying pan.


Mangia!
Florence Inspired Stuffed Shells
Ingredients
1 box frozen spinach (10 ounces), defrosted and completely drained
10 ounces sweet sausage, casings removed
1/4 teaspoon garlic powder
1/4 teaspoon onion powder
1 box large shells (pasta)
1 cup ricotta cheese
1/2 cup mascarpone cheese
1 egg, slightly beaten
3 cups whole milk
4 tablespoons butter
1/4 cup all purpose flour
3/4 cup grated parmigiano reggiano cheese
1 tablespoon plus 1 teaspoon extra virgin olive oil
1 teaspoon salt (plus some for sprinkling on top)
1/4 teaspoon freshly ground black pepper (plus some for sprinkling on top)
Instructions
Preheat the oven to 350 degrees.
Fill a large pot of water and put over high heat. Wait for it to come to a boil. Cook the shells according to the box. Subtract one minute from the time so they are al dente (they will finish cooking in the oven). When done, remove and put on a baking sheet to allow them to cool.
In the meantime, remove the casings from the sausage. Put one tablespoon of olive oil in a frying pan over medium heat. Cook the sausage until brown, about 5-7 minutes. Drain and put in a large bowl.
To the bowl with the sausage, add the ricotta cheese, mascarpone cheese, egg and spinach. Make sure that the spinach is thawed and completely drained. Mix until combined.
In a small saucepan, put the milk over low heat. Allow the milk to warm (about 4-5 minutes).
In a small saucepan, melt the butter. Add the flour and cook for one minute.
Add the warmed milk to the flour and butter mixture. Use a whisk and whisk until the sauce thickens (about 5 minutes). Remove from heat and add the grated parmigiano reggiano. Stir until combined.
Take one ladle of the white sauce and cover the bottom of a 13x9 baking dish.
Use a tablespoon and fill the shells. Arrange in the baking dish. There will be some shells leftover.
Cover the shells with the white sauce. Top with one cup of shredded mozzarella cheese. Drizzle with extra virgin olive oil, a sprinkle of salt and freshly ground black pepper.
Bake for 45-50 minutes, until the sauce is bubbling and the top is slightly brown.
Allow to set for 5-10 minutes before serving.
https://www.mangiamichelle.com/florence-inspired-stuffed-shells/
. . .