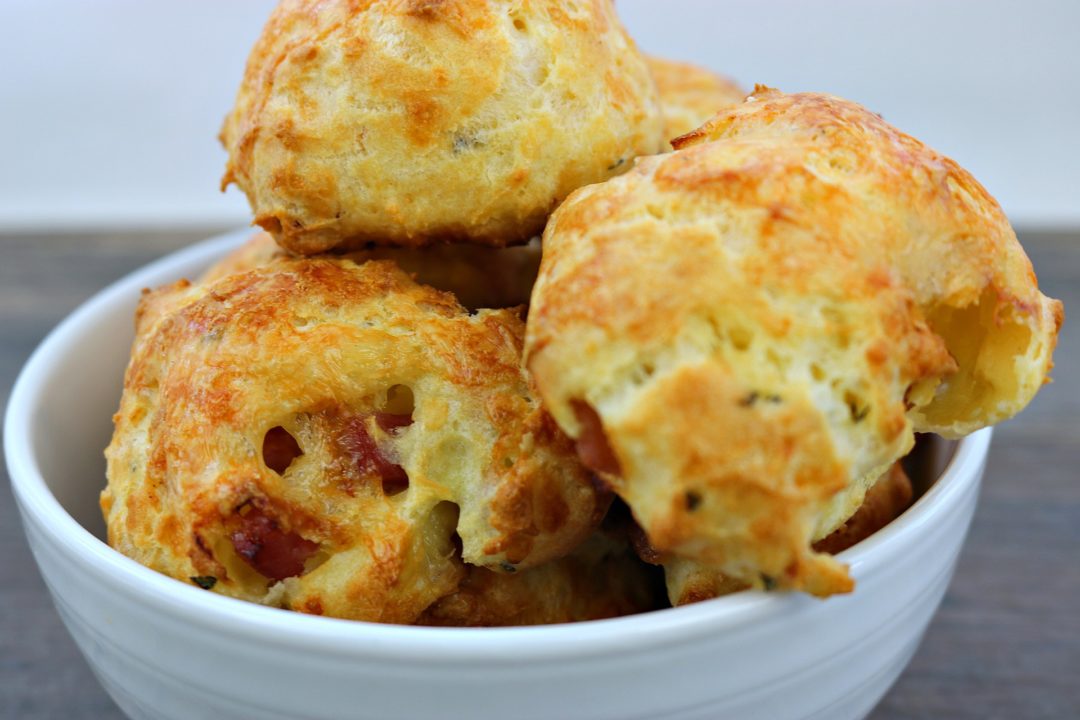 Cheese.  Ham.  Flakey doughy goodness.  Literally, thats what this recipe is.  I have to admit, I was very intimidated by trying this recipe out.  Because the words "cheese gougeres," are actually frightening to someone like me that isn't a trained French chef.  Or, just a trained chef.  However, you will be very happy to hear, that these were actually pretty easy to make.  The gruyere cheese gives them a rich flavor and complements the ham.  But it isn't the cheese that made me fall in love with these gems.  I know, its ALWAYS the cheese.  But actually, it was the airy texture that I fell in love with.  These almost tasted like popover but in a smaller package.  Just look below at the huge air pockets inside these babies.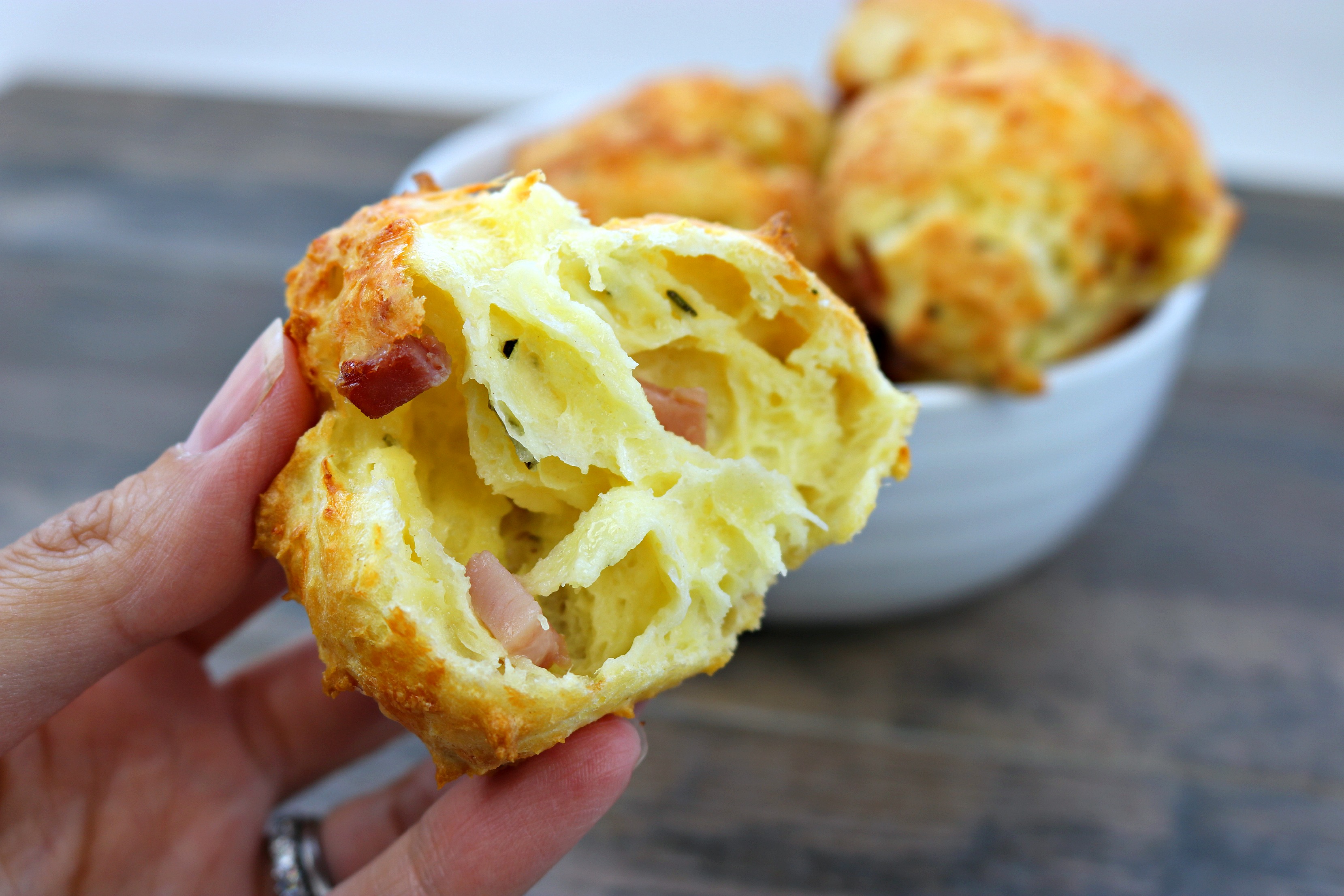 Now, I have a confession.  I break these babies open and add some butter.  I know, such crime.  But sooooo worth it.  When open them up, some steam from the air pockets release and the butter will just melt right into it.  Yum.  Drooling over here.  And please, for the love of cheese and carbs, serve them warm, right from the oven.
If you are looking for a three course French meal, check out my menu for dinner in Paris.  These cheese gougeres serve as the appetizer to an easy sheet pan Steak Frites, which is followed by a delicious French apple tart with dried cherries.  Yum! It is the perfect well-rounded French meal, which starts right here with these amazing cheese gougeres.
http://www.subscribepage.com/t1f4c8
Use your favorite cheese for Cheese Gougeres
Don't feel like you are tied to gruyere cheese here.  If swiss cheese isn't your cup of tea, try them with a sharp white cheddar.  Go ahead.  Be different.  Be bold.  You rebel, you.  I won't tell anyone 😉  But in all seriousness, if you switch it up a bit, drop me a note below and let me know how it turns out.



Easy Peasy Cheese Gougeres
Ingredients
½ cup water
½ cup whole milk
1 stick butter
1 cup flour
4 eggs
1 tablespoon chopped rosemary
¼ cup diced ham
2 ounces gruyere shredded, plus extra for topping
1 ounce grated parmigiano reggiano
Instructions
Preheat the oven to 400 degrees.
Line a baking sheet with parchment paper.
In a saucepan, combine the water, butter, milk and salt. Bring to a boil.
Add the flour to the water mixture and stir (over low heat) until the dough forms, about 2-3 minutes.
Scrape the dough into a bowl and allow it to cool for a couple of minutes.
One by one, beat the eggs into the dough.
Add the cheeses, chopped rosemary and the chopped ham.
Stir until just combined.
Use a tablespoon scoop and plop one tablespoon sized balls onto the parchment paper. Keep two inches in between each one.
Sprinkle with some gruyere.
Bake for 18-20 minutes or until golden brown.
Best if served warm with butter.
https://www.mangiamichelle.com/cheese-gougeres/
. . .