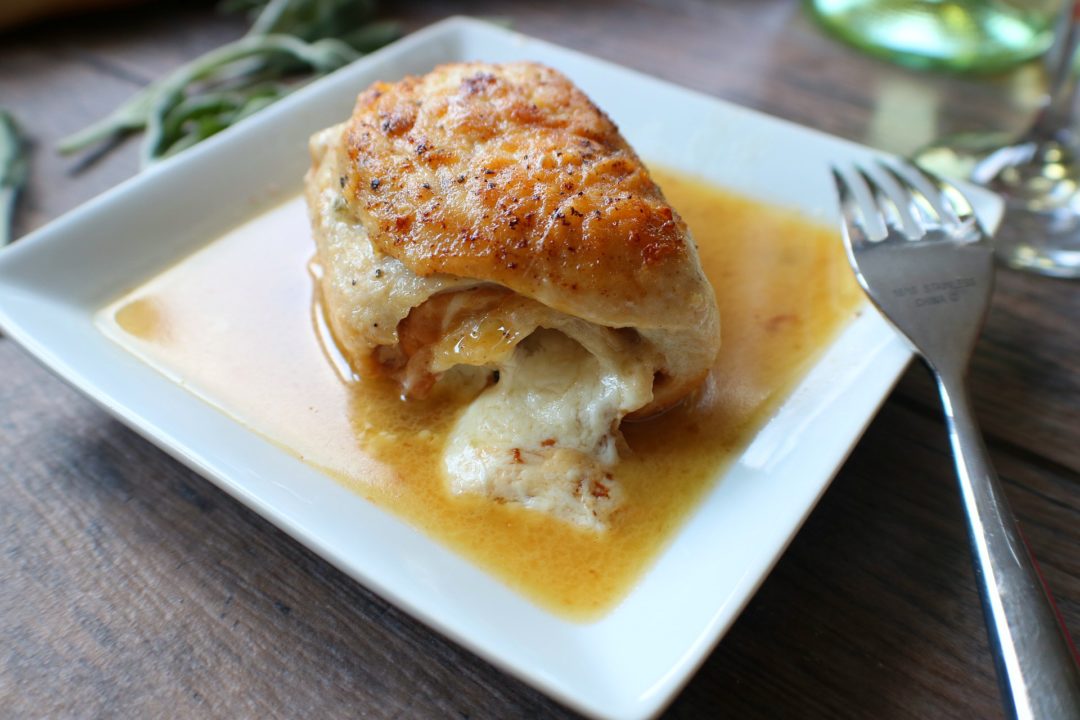 So I realized that I don't have any chicken recipes on my blog yet.  I honestly don't know how that even happened, because I make chicken a lot.  My family and I eat chicken several times a week! Anyhow, problem solved, I have my first chicken recipe; rolled chicken saltimbocca.  This classic dish is elegant and comforting.  It has a classic white wine sauce, and delicious, melted mozzarella that oozes out of the rolled chicken.  Chicken saltimbocca is easy to make and is definitely a fan favorite in my house.  Anything stuffed with cured meat and melty cheese is going to win me over…don't even ask twice.
Rolled chicken saltimbocca is a crowd pleaser and easy enough to make for an elegant weeknight meal.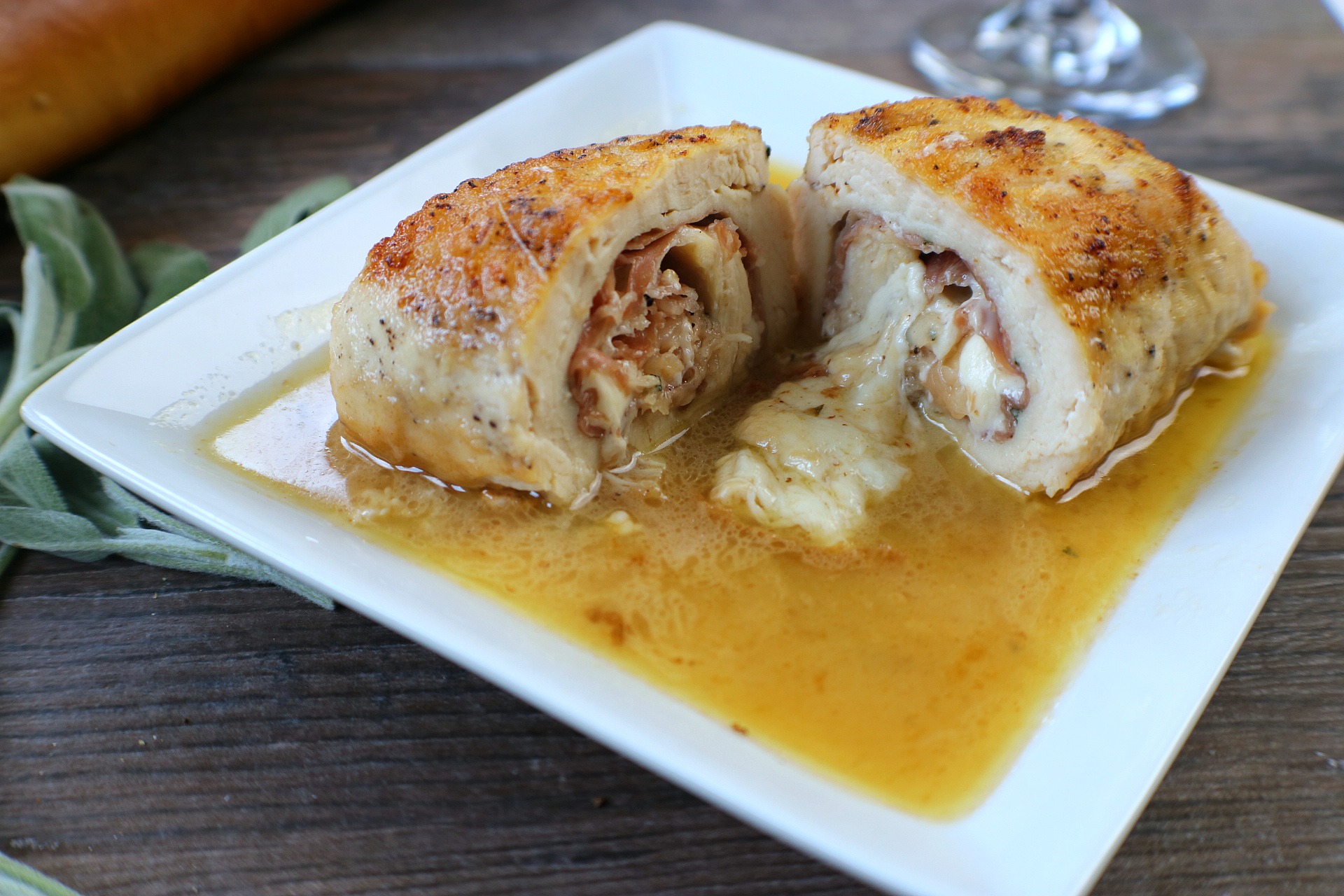 So for this recipe buy thin cutlets.  You may need to pound them out a bit.  Aim for about 1/3 inch thick.  I place the cutlet inside of either a large ziplock bag or I use plastic wrap.  Then I take the meat mallet and pound the chicken until it reaches the desired thickness.  Once the chicken is pounded thin, then you can start assembling the chicken.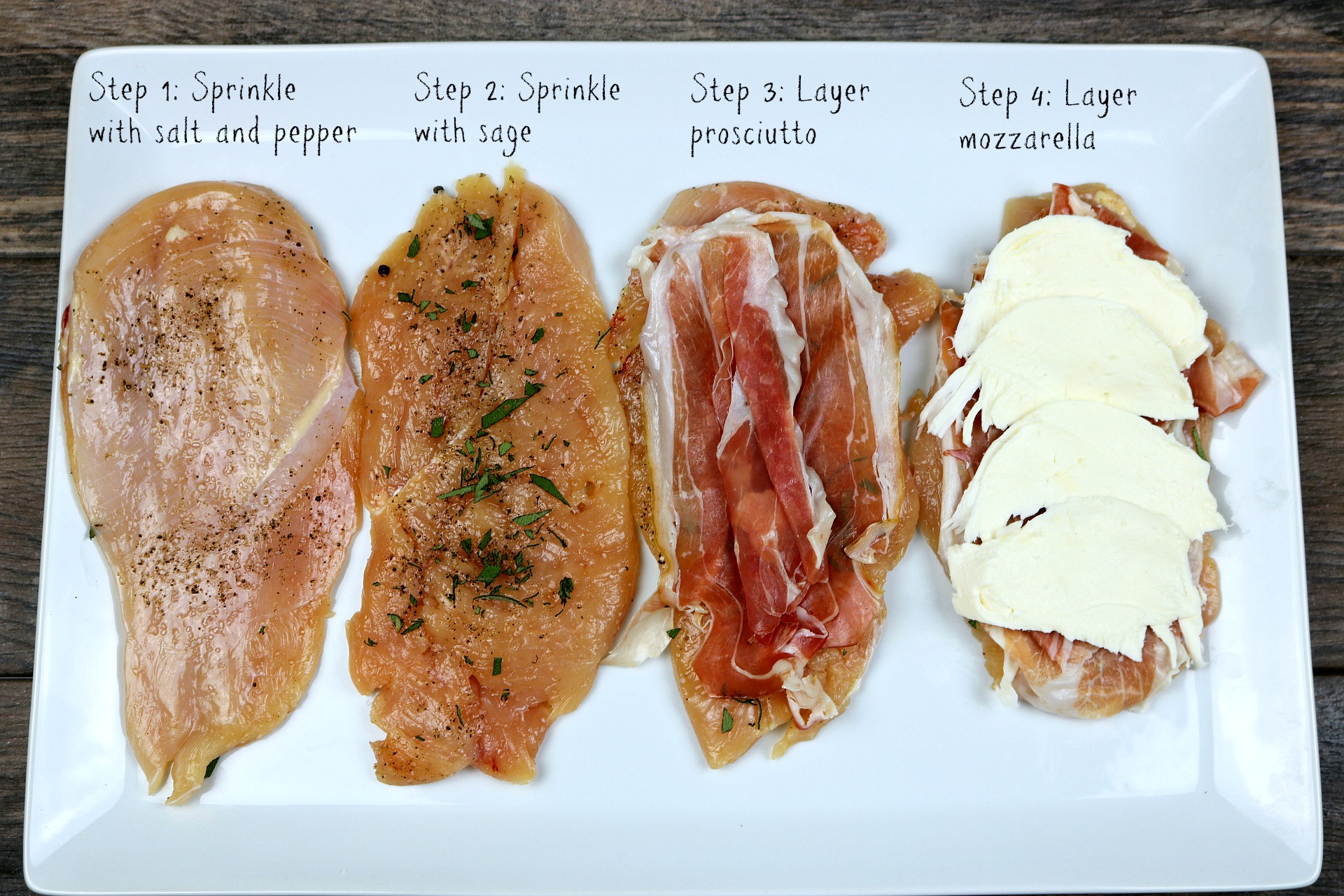 If you have read some of my other posts, you know that I recommend getting imported prosciutto di Parma (opposed to domestic prosciutto).  I am going to recommend that here.  I like the mellower flavor of the imported over the gamier domestic.  Anyhow, I layer two thin slices.  You can also get it cut thicker and put one slice.  Once you have layered your chicken, roll it up and secure it with a toothpick.  Then dredge the chicken in flour and you are ready to go.  The flour will help to brown the chicken and thicken the white wine sauce, so don't skip this step.  And before I forget, about the wine…whatever you do, do not buy the cooking wine from the supermarket.  Go to the liquor store and get a bottle of Pinot Grigio.  Get something that you can drink with the meal.  No supermarket cooking wine here girlfriend…capisci?
This is a good date night meal.  A date night at home, that is.  Now, I can't promise you that it will make him put a ring on it (like I did about my doctored up brownies), but it will keep your better half pretty satisfied.  Of course, if you are trying for the ring, you can always make the brownies for dessert…see, I got you girl.  Oh, and one more thing, pop the brownies in the microwave for 15 seconds and top it with some vanilla ice cream…hey, it can't hurt.  Your ring just got a quarter carat larger 😉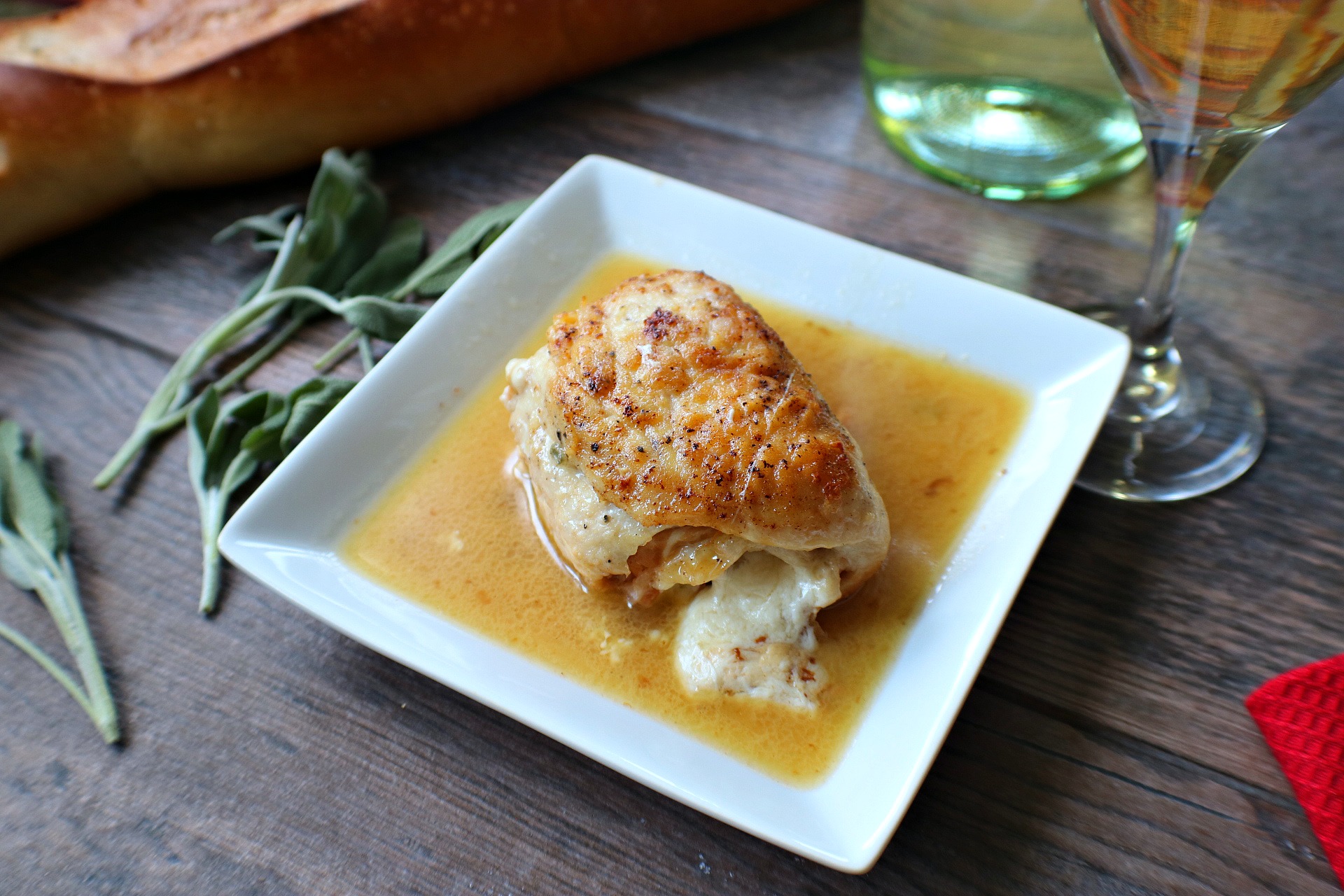 Wine pairing: Pinot Grigio (use whatever you cooked with)
Rolled Chicken Saltimbocca in White Wine Sauce
Ingredients
1 1/2 pounds thin chicken cutlets (about 4 cutlets)
4 slices prosciutto di Parma
2/3 pound fresh mozzarella, sliced
3 sage leaves, chopped
2 tablespoons extra virgin olive oil
2 tablespoons unsalted butter
1 cup dry white wine, like Pinot Grigio
1/2 cup flour
Instructions
Preheat the oven to 350 degrees.
Pound the chicken cutlets until they are approximately 1/3 inch thick. Put the cutlets in between plastic wrap and gently use a mallet to pound them.
Sprinkle each cutlet with salt and pepper.
Sprinkle each cutlet with some chopped sage.
Layer each cutlet with prosciutto first and then mozzarella.
Roll each cutlet up and secure with a toothpick.
Dredge each roll in flour.
Heat extra virgin olive oil and one tablespoon of butter in a frying pan over medium heat.
Brown each side of the rolled chicken until brown (about 4-5 minutes each side).
Place the browned chicken in a baking dish.
Add one cup of white wine and one tablespoon butter.
Cook for about 6-7 minutes, scraping up the browned bits.
Pour the sauce over the chicken. The sauce will thicken a little bit in the oven.
Bake for 30 minutes.
https://www.mangiamichelle.com/rolled-chicken-saltimbocca/
. . .