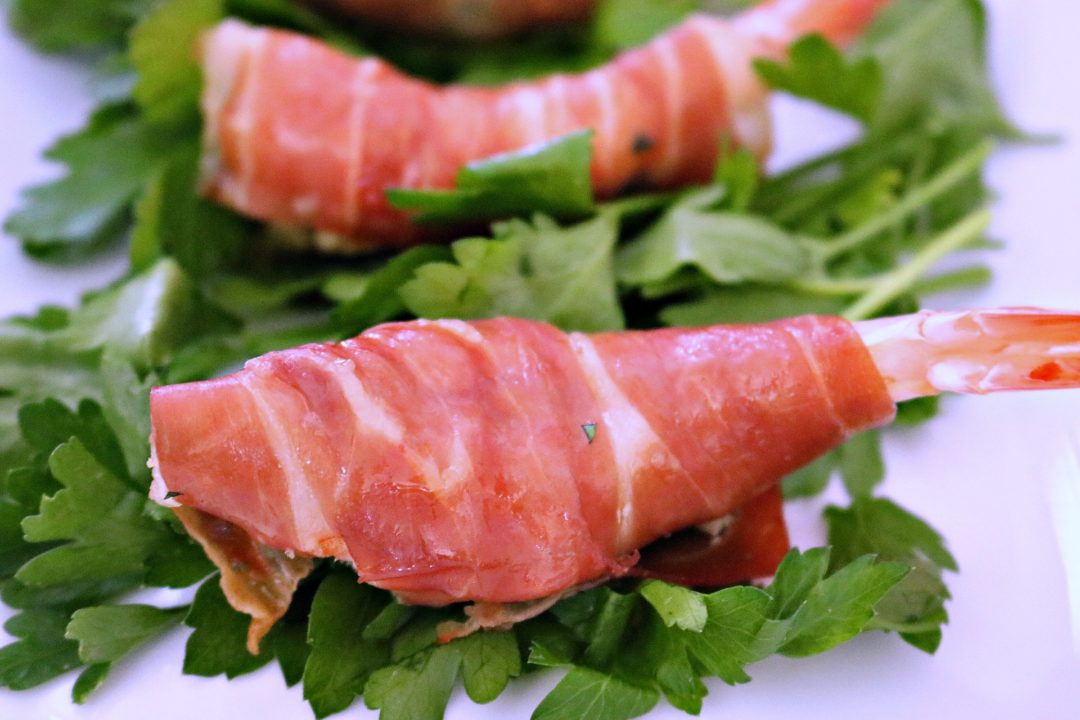 Shrimp wrapped in prosciutto is a classic.  I stuff the shrimp with panko breadcrumbs to give it an extra savory filling that will knock your socks off.  Panko breadcrumbs tend to absorb liquid better.  Therefore, you don't bit into a dried out mess.  The panko nicely absorbs the broth and olive oil so it does not taste dried out.
Shrimp wrapped in prosciutto will be a hit at your next cocktail party.
This is a go to appetizer to serve at a cocktail party.  It will leave your guests begging for more…I promise!  And now, I am going to yet again make the case for imported prosciutto.  Please, please, please…get imported!  The taste is milder than the domestic.  The saltiness of domestic will compete too much with the filling and the shrimp itself.  Don't get me wrong, domestic prosciutto has its place in the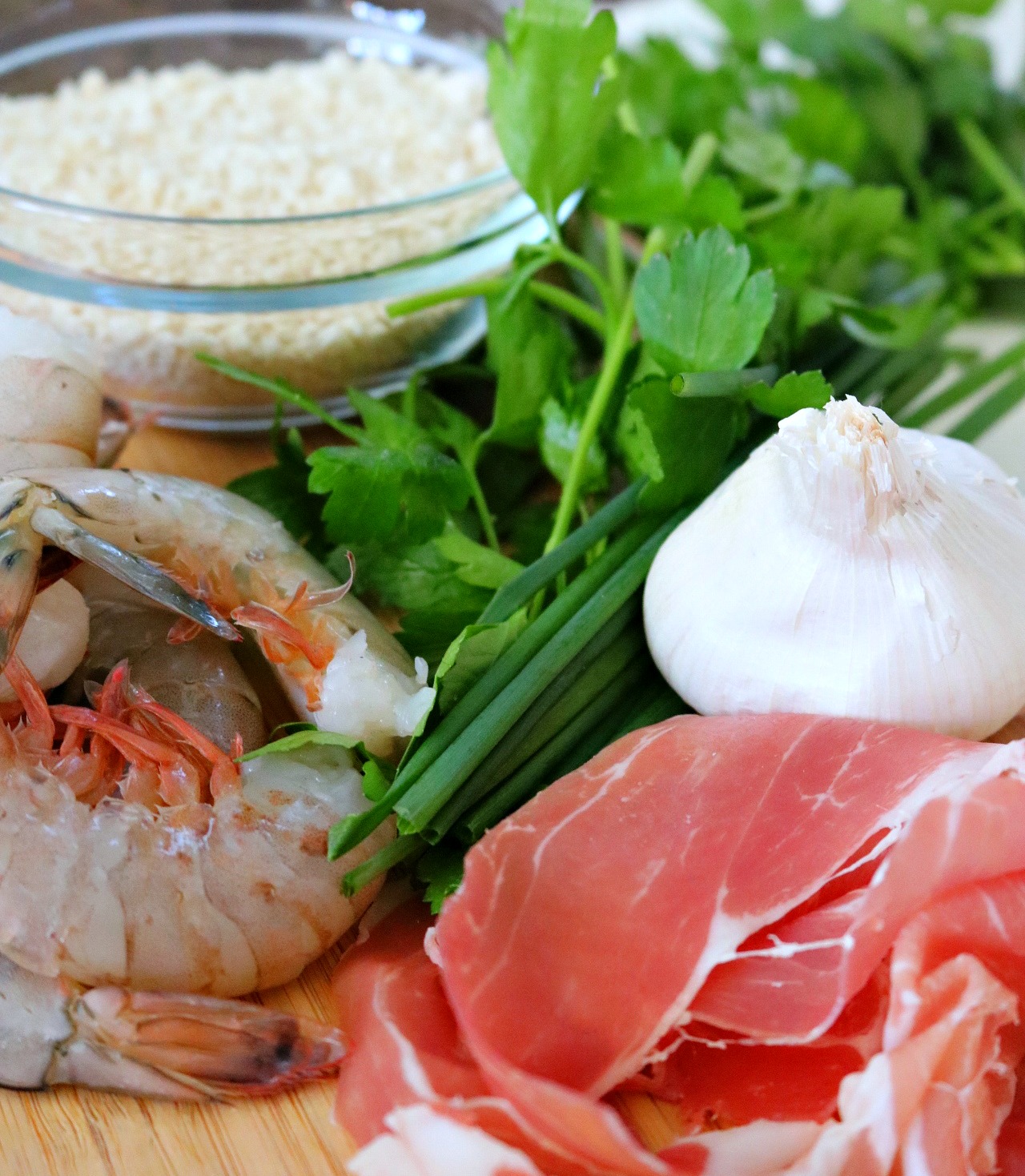 world…just not in this appetizer.  The taste is too strong.  Don't do it…I will find you and make you sit in the corner.
Ok, back to my post…let's talk shrimp.  I use jumbo shrimp for this.  They make the perfect bite (actually, two bites). Smaller shrimp are not big enough to hold the filling.  Of course you could do colossal shrimp, they would be delicious.  Personally, I like colossal shrimp for a main dish or as shrimp cocktail.  But that is a personal preference.  Its your shrimp, do what you want with it.
You need about a half pound of prosciutto sliced thin, and then you will cut each piece in half.  Just make sure that you have enough to wrap each piece of shrimp.  A pound of jumbo shrimp should get you about 20-24 pieces.  So figure you need about 12 pieces of prosciutto.


I would serve these babies with a cold crisp glass of Pinot Grigio.  My favorite is Santa Margherita.  I find it to be crisp and smooth and is a perfect pairing for this dish.  You could also go with a nice Sauvignon Blanc too.  And as always, my motto stands, I don't kick any wine off the table…so go ahead and drink whatever you want with it.
Mangia!
Panko stuffed shrimp wrapped in Prosciutto

Ingredients
1 pound jumbo shrimp
1/2 pound prosciutto di Parma
1 cup panko breadcrumbs
2 tablespoons extra virgin olive oil
1 clove garlic, minced
1 tablespoon flat leaf Italian parley, minced
1/4 cup chicken broth
1 small bunch of chives
1/2 teaspoon kosher salt
1/4 teaspoon freshly ground black pepper
Instructions
Preheat the oven to 325 degrees.
Clean the shrimp, making sure to remove the vein.
Butterfly each piece of shrimp. Insert a paring knife along the backside of the shrimp and cut to the other side (but do not cut though).
In a medium fry pan, saute the garlic in 2 tablespoons olive oil over medium low heat. Cook for about 4 minutes, or until the garlic starts to soften (and smell wonderful).
Add the panko breadcrumbs, parsley, salt, pepper and chicken broth. If the mixture seems too dry, add more broth, 1 tablespoon at a time (1-2 more tablespoons should be plenty). The mixture should be slightly moist, not Shrimp wrapped in prosciutto - this elegant appetizer will have your guests running to the table ~ www.mangiamichelle.comwet.
Cook the mixture for about 3-4 minutes and remove from heat. Allow to cool for 5 minutes so you can handle it.
Use a teaspoon measure and add one teaspoon of the breadcrumb mixture in the opening of the shrimp.
Cut the prosciutto in half.
Cut the chives in half.
Insert a half piece of chive in the backside of the shrimp and then add 1 teaspoon of the breadcrumb mixture.
Wrap the shrimp in a half piece of prosciutto and then place on a baking sheet, seam side down.
Brush the wrapped shrimp with a little bit of extra virgin olive oil.
Bake for 14 minutes.
https://www.mangiamichelle.com/shrimp-wrapped-prosciutto/
. . .