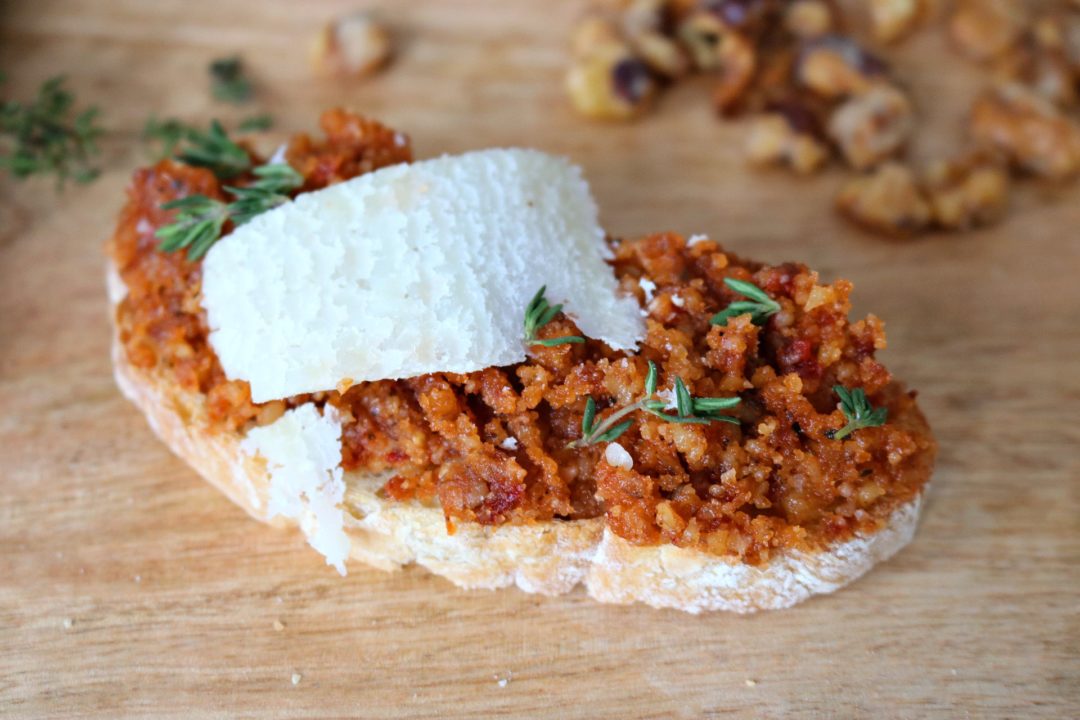 So here it is…one of my favorite holiday apps.  It is perfect for the holidays, or whenever you feel the urge. I always make these for Christmas Eve.  Maybe it is the beautiful red color that says "Christmas."
Walnut and Sun Dried Tomato Pesto on Crostini are a perfect holiday appetizer.
Ok ladies, this is the appetizer that you have all been waiting for.  Minimal work on your end yields tons of compliments from your guests.  I don't know what it is about this pesto, but every time I make it, people think I am some master chef.  And it is so simple.  So simple, that I give the credit to my Cuisinart food processor
 rather than myself.  Literally, you just dump a few ingredients into the food processor, toast some bread, and voila! You are finished.  Let the compliments roll on in.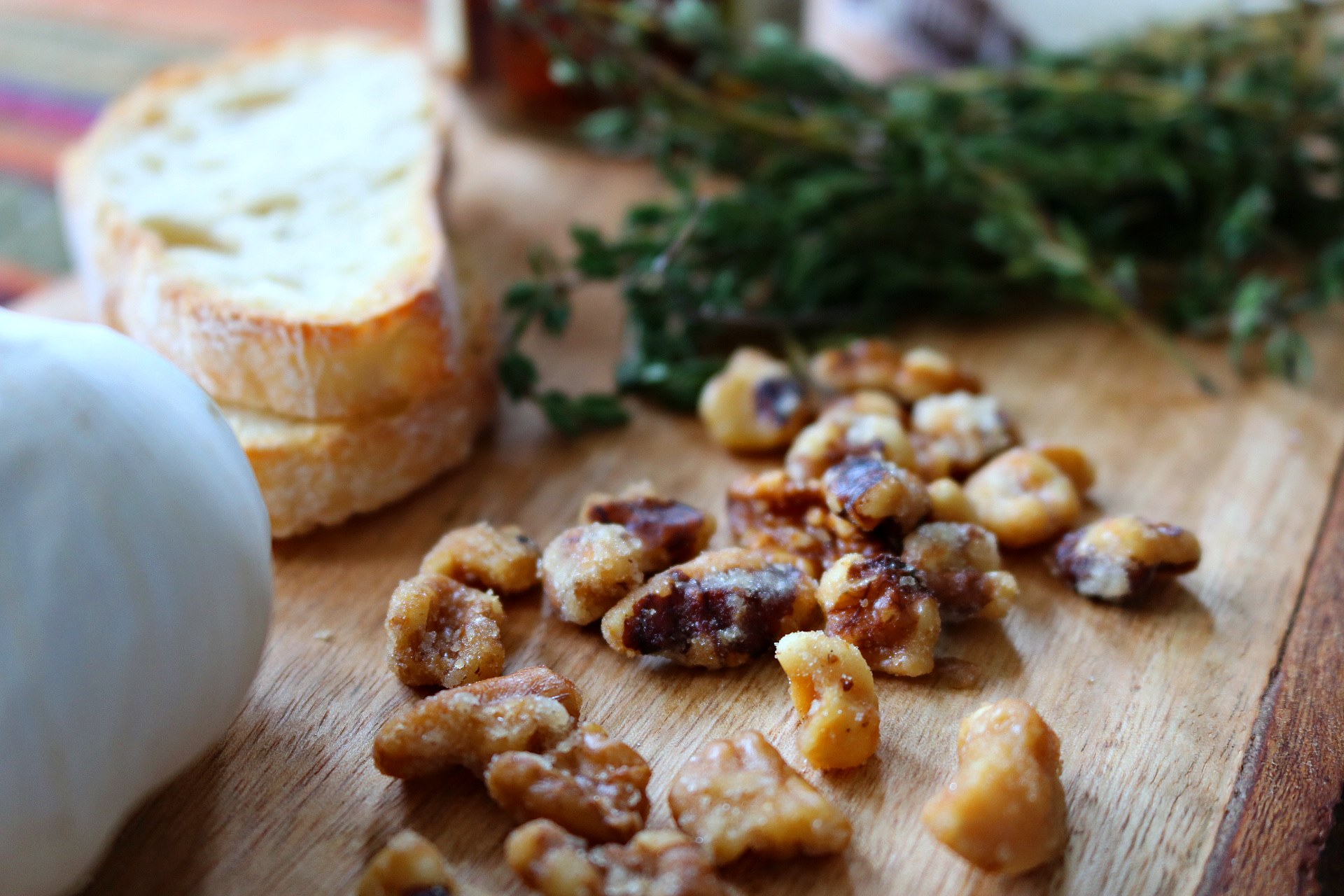 I top this off with a shaving of Locatelli Pecorino Romano
 cheese.  You can always use a shaving of Parmigiano Reggiano (my favorite) too, but there is something about Pecorino that really brings out the flavors of thyme and sun dried tomatoes in the pesto.  And make sure you get delicious, fresh bread.  A french baguette or a nice italian loaf would be delicious.  I would not get a flavored bread, like garlic or olive. Although they are delicious, they would compete too much with the flavors of the pesto.  Keep it simple, lady!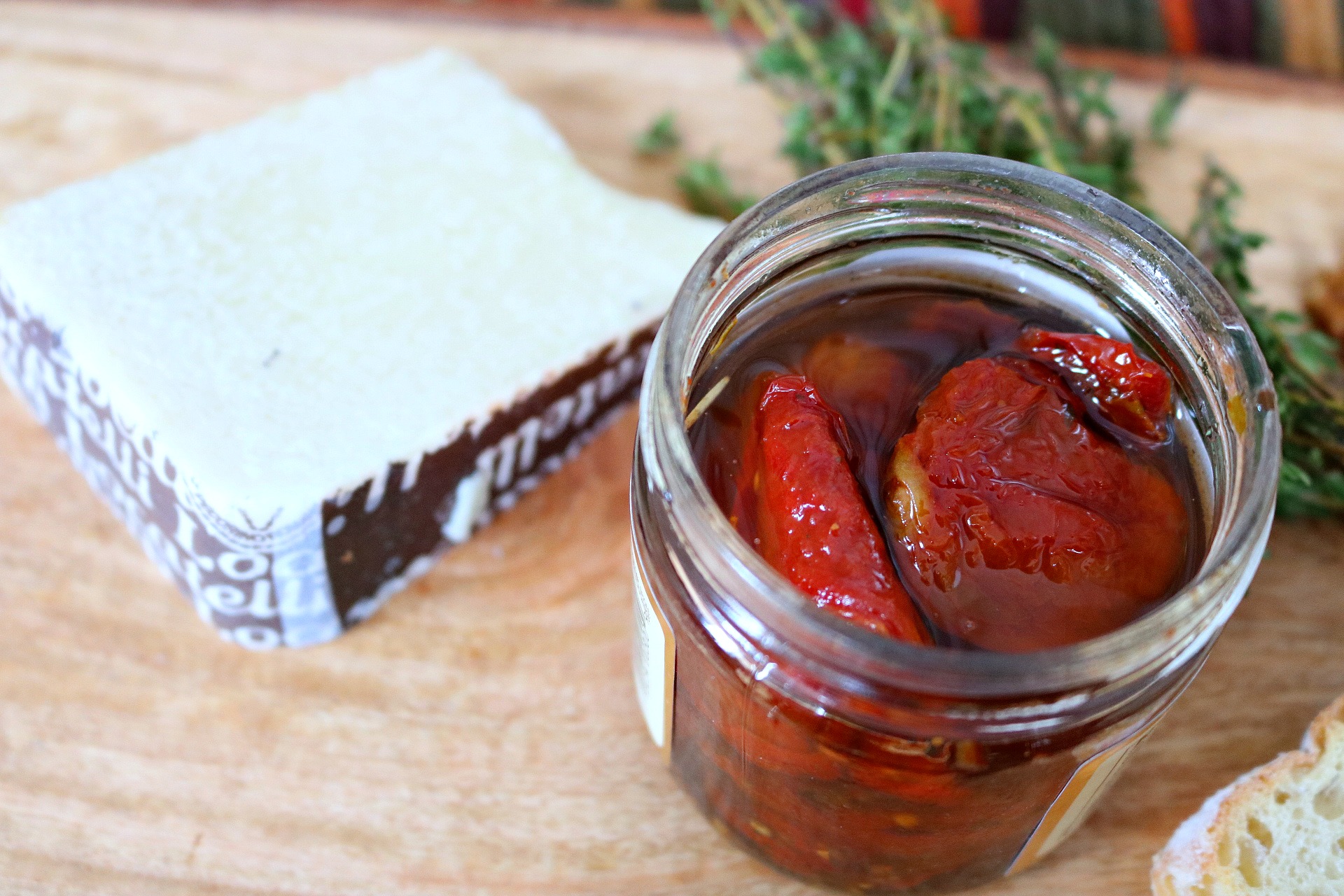 So remember ladies, do not give away the easiness of this recipe.  Let people think that you slaved away chopping and mixing ingredients.  No one will ever know.  It will be our little secret.  This would be delicious alongside an antipasto platter (click here to see mine).  Make walnut and sun dried tomato pesto on crostini part of your holiday appetizer spread.
Mangia!
Walnut and Sun Dried Tomato Pesto on Crostini
Ingredients
4 whole sun dried tomatoes
1 cup walnuts (whole or chopped-does not matter)
1 large clove garlic
3 sprigs thyme (leaves separated)
2 tablespoons extra virgin olive oil
1 teaspoon salt
1/2 teaspoon freshly ground black pepper
Pecorino Romano cheese
1 loaf French baguette
Instructions
Preheat the oven to 400 degrees.
Slice the baguette into half inch thick slices. Make a single layer on a baking sheet.
In the oven, toast the bread. About 4-5 minutes each side.
In a food processor, add the sun dried tomatoes, walnuts, thyme, garlic, salt, pepper, and extra virgin olive oil.
Blend until it is a coarse sandy consistency.
Spread on top of crostini and shave a piece of Pecorino Romano on top.
https://www.mangiamichelle.com/walnut-and-sun-dried-tomato-pesto-on-crostini/
. . .