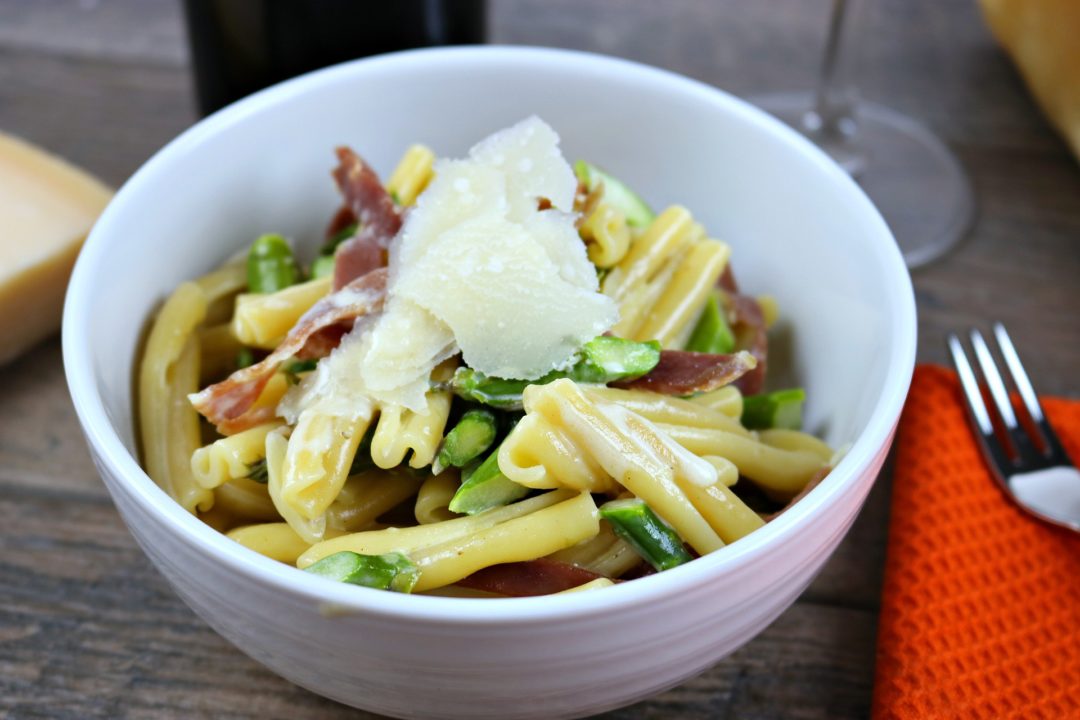 So here is whats for dinner…literally, my family is eating this beauty tonight.  This is a SUPER easy dish to make, and it is SUPER delicious.  This will become part of your dinner rotation.  Pasta with asparagus and prosciutto and is draped in a creamy (and very slightly buttery) sauce. The combination of asparagus and salty prosciutto marries nicely with the sauce, which is made of heavy cream, Parmigiano Reggiano and finished with one tablespoon of butter.  I mean really, does it get any better than heavy cream and butter? I don't think so, my friends.


Pasta with asparagus and prosciutto will become part of your dinner rotation.
For the pasta, I used casarecce, which literally means "home made" in Italian.  I love this pasta.  The sauce gets trapped in the crevice that runs lengthwise and it always seems to stay perfectly "al dente."  Of course, you can feel free to use whatever pasta you want.  Penne, cavatappi, or even pappardelle would be nice. But look for casarecce.  If the supermarket does not have it (although Barilla makes it), then you may need to check a specialty grocery store, or an Italian deli.  Look how pretty! (see picture below).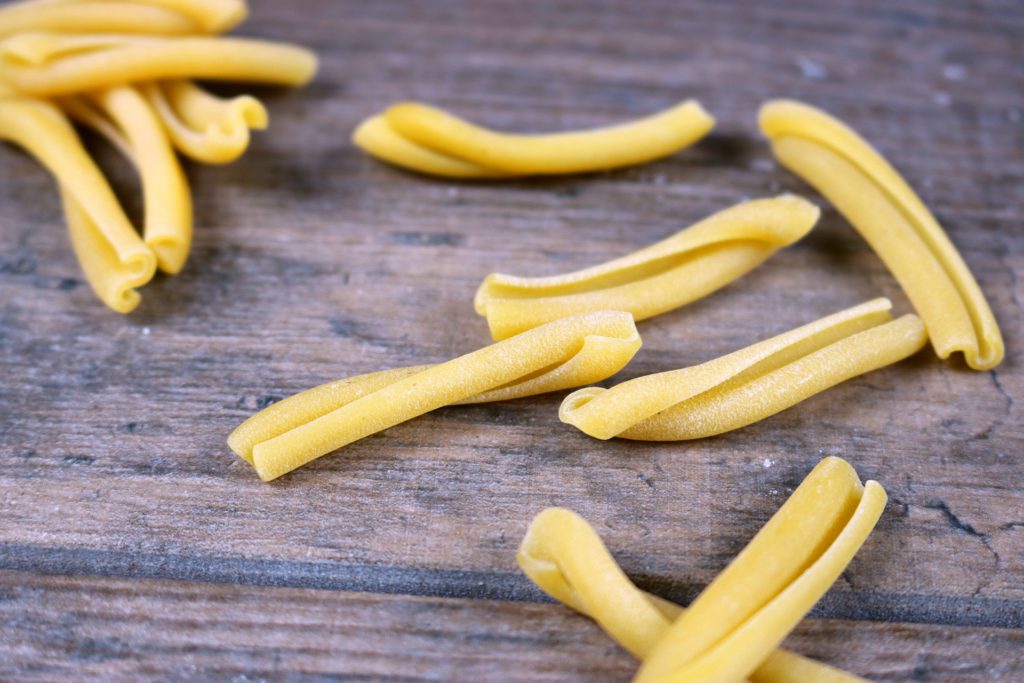 Ok, lets talk prosciutto.  As I have mentioned in other posts, I highly suggest getting imported prosciutto di parma (as opposed to domestic prosciutto).  There is a difference.  The imported prosciutto has a milder taste, whereas the domestic tends to be gamey and saltier.  You will pay more in price, but it is so worth it. There have been a few occasions when I got home from the supermarket and realized that the deli gave me the domestic prosciutto instead of the imported.  And to be honest, I did not use it.  It got sent back to the store.  Trust me on this one, k?  Anyhow, for this recipe I asked for two thick slices (this came out to be .145 pound).  Then, I sliced them lengthwise (see picture below).
As for the asparagus, I got one bunch from the supermarket, cut off the ends (which tends to be the bottom third of the asparagus, and then cut them on a bias (also see picture below).  This came out to be a bit more than 2 cups.  And then I sliced up three cloves of garlic.  I think the sliced garlic works better for this dish than minced garlic.  Sometimes I just want to bite into a piece of garlic (ok, most of the times I want to bite into some chunky, delicious garlic).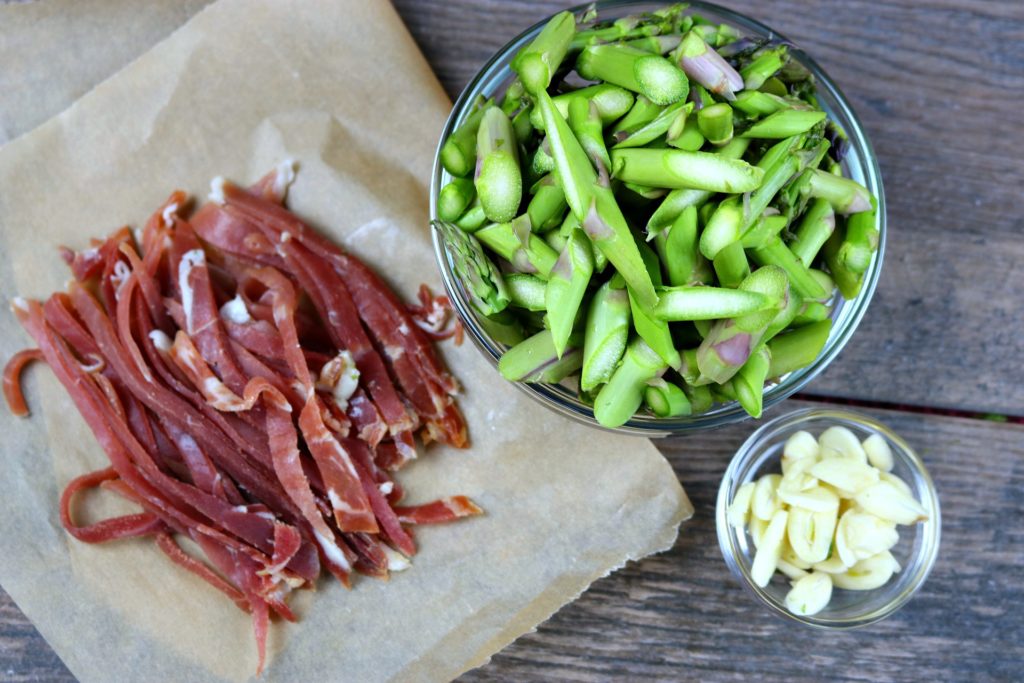 Toast some ciabatta bread to serve alongside this dish.
So, one thing that you will notice in the recipe is that I only add 1/4 teaspoon of salt to the recipe.  Please do not add anymore than that.  Honestly, it would taste delicious without any added salt.  Anyway, the prosciutto and the parmigiano reggiano add salt to the recipe, so only a very small bit of added salt will do. Anymore than that and it will be way too salty.  Trust me on this one.  Also, reserve a half cup of pasta water.  If you do not serve this right away, then the sauce may dry up a little.  Add some pasta water (a couple of tablespoons at a time) until the sauce reaches the desired consistency.  This will make the pasta good as new!
Wine pairings: a lighter red, like a Syrah or even a Rosso di Montalcino.  You can also pair with a buttery Chardonnay or a crisp Pinot Grigio.
Pasta with Asparagus and Prosciutto
Ingredients
1 pound pasta (I used casarecce)
1 bunch asparagus
2 slices prosciutto di parma (sliced thick)
3 cloves garlic
1 cup heavy cream (room temperature)
1 cup grated parmigiano reggiano
1 tablespoon butter
1/4 teaspoon salt
1/4 teaspoon freshly ground black pepper
Instructions
Prepare the ingredients. Slice the garlic. Cut off the woody ends of the asparagus and slice on a bias. Slice the prosciutto into long thin slices (see picture in the post).
Fill a large pot of water and put over high heat. When it comes to a boil, add some salt to flavor the water (a few tablespoons) and drop the pasta in. Cook according to the directions on the box.
If the heavy cream is not at room temperature, warm it in a small sauce pan over low heat. Once it becomes the desired temperature, turn off the heat.
In a large fry pan, heat 2 tablespoons extra virgin olive oil over medium heat. Add the garlic and asparagus and cook for 5-6 minutes until the asparagus is soft. Stir frequently.
Add the salt, heavy cream and prosciutto. Combine and cook for 3 minutes. Add the grated parmigiano reggiano. Stir and lower the heat. Allow to cook gently for 2 minutes until the sauce starts to thicken.
Turn off the heat and add the butter. Stir until the butter is melted into the sauce.
Reserve a half cup of pasta water and drain the pasta.
Add the cooked pasta to the sauce and combine.
Serve with some extra grated parmigiano reggiano.
If you do not serve immediately, the sauce may dry up a little. Add some reserved pasta water (a few tablespoons at a time) until the sauce returns to a creamy consistency.
https://www.mangiamichelle.com/pasta-with-asparagus-and-prosciutto/
. . .