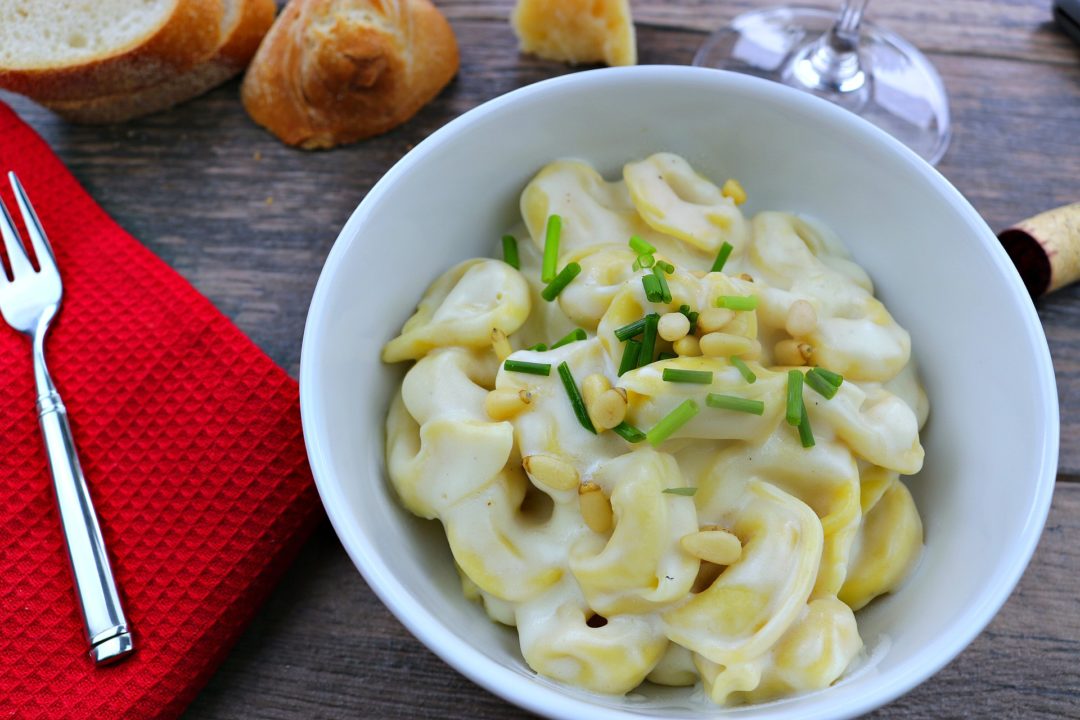 Anytime I visited Italy, I kept a food journal.  I promised myself that when I came home I would recreate the dishes that I had while I was there.  I have not been very diligent with this, however, I do still have the food journal and I decided that it was time to really start making these dishes at home.  One dish that I remember like it was yesterday, is Tortellini Quattro Formaggio.  I had this for dinner at Antica Enoteca on the Via della Croce in Rome.  This was an awesome little restaurant right in the middle of the hustle and bustle of a Rome.  People are out and about, strolling the streets.  You can hear the accordion playing somewhere nearby, and the smell of fresh Italian pastries are in the air from the Pasticceria from across the street.  I have recreated this amazing dish and now I am sharing my recipe with you.  This is an easy dish that you can make any night of the week.


Tortellini Quattro Formaggio is fast and easy enough to make on a week night.
This is the picture that I took of tortellini quattro formaggio that I had in Rome.  I apologize for the less than professional grade photo.  It may not look like much, but it was delicious.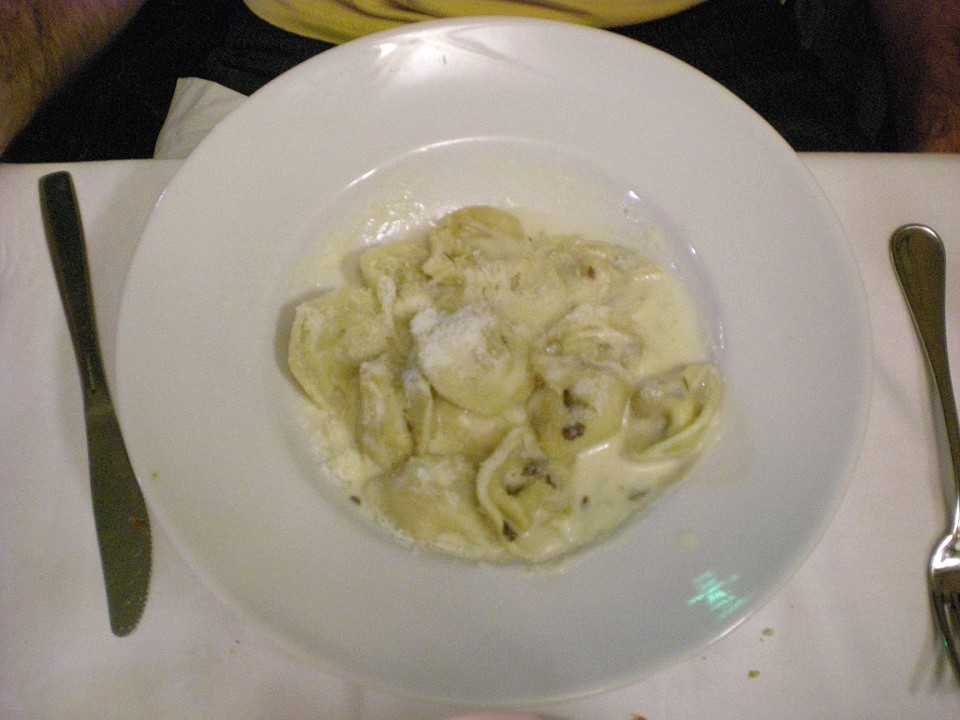 Here is my re-creation.  I added some chives and pignoli nuts to give a little extra flavor.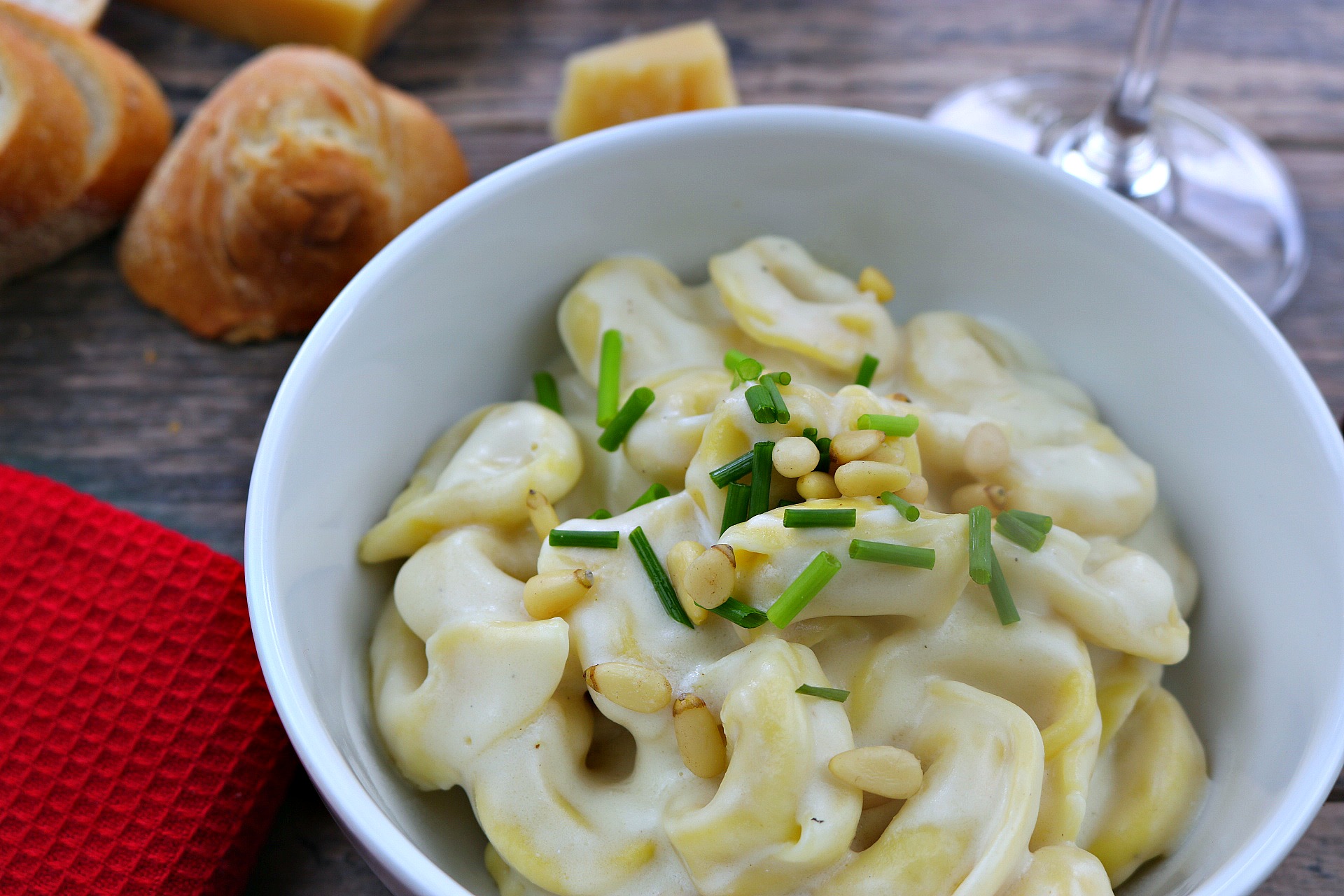 Quattro formaggio means "four cheeses."  This dish is pretty easy to make.  I made a basic bechamel sauce, and added four different cheeses; parmigiano reggiano, pecorino romano, mascarpone and mozzarella.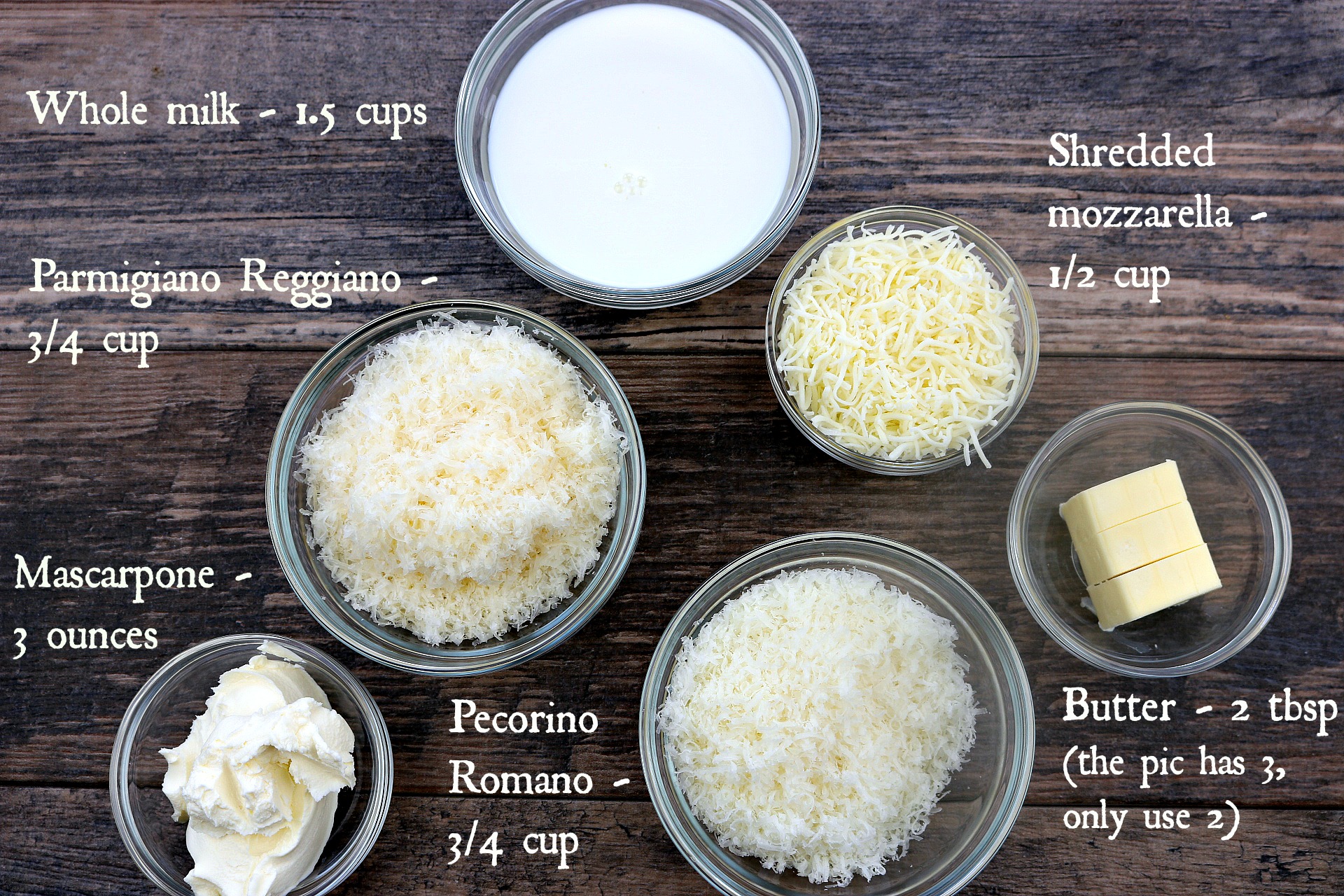 This is a dish that you can make any night of the week.  It is cheesy and creamy and will be a win win with adults and children.  I mean really, whats not to love? Cheese, cheese, cheese and cheese.  Four cheeses. There is nothing tricky about the recipe.  Just follow the directions carefully.  Make sure that you warm the milk before mixing it with the melted butter and flour.  If you do not warm the milk, it will start to curdle. And there is nothing delicious or appetizing about that.
Serve this dish with a light side salad, or a caprese salad would be a nice starter dish as well.  Serve with a Cabernet Sauvignon or a Montelpulciano.  The cheese sauce is a bit on the heavy side.  This is definitely comfort food, and not exactly figure friendly.  Therefore, you need a strong wine to stand up to the creamy texture and all of that cheese.  If you are looking for a 3 course meal, check out my dinner in Rome menu.  This includes an easy 3 course Italian meal that you can make right at home.
Reheating instructions:
For best results, reheat this in a pot.  It will not turn out great if you pop it in the microwave.  The sauce tends to thicken up a lot once it has been refrigerated, so you will need to add water to return it to the right texture.  Put the tortellini in a small pot over medium low heat.  Add water, a quarter cup at a time. Continue to stir.  Add water until the pasta reaches the correct consistency.
Easy Tortellini Quattro Formaggio: Dinner in Rome
Ingredients
1 pound tortellini
Whole milk (1 ½ cups)
Butter (2 tablespoons)
Flour (2 tablespoons)
Mascarpone cheese (3 ounces)
Shredded Mozzarella cheese (½ cup)
Pecorino Romano cheese (¾ cup)
Parmigiano Reggiano (¾ cup)
Chives
Pignoli nuts (optional)
Salt
Pepper
Extra virgin olive oil
Nutmeg
Instructions
Fill a large pot with water and put over high heat, and begin to bring to a boil.
In a small sauce pan, over low heat, warm up the milk.
In a medium sauce pan, melt 2 tablespoons butter. Stir in 2 tablespoons flour. Stir with a whisk for a minute.
Add the warm milk to the butter and flour mixture. Keep whisking for about 5-6 minutes until the sauce starts to thicken.
Add all of the cheeses to the milk mixture and whisk together.
Add 1/2 teaspoon salt, 1/8 teaspoon fresh nutmeg, and 1/4 teaspoon freshly ground black pepper and stir.
When water comes to a boil, cook tortellini according to the package (this will only take 3-5 minutes).
Reserve one cup of cooking water.
Drain pasta and add to the cheese sauce. Stir together. Add some pasta water if the cheese mixture is too thick.
Top with chives and pignoli nuts (optional).
https://www.mangiamichelle.com/easy-tortellini-quattro-formaggio/
. . .