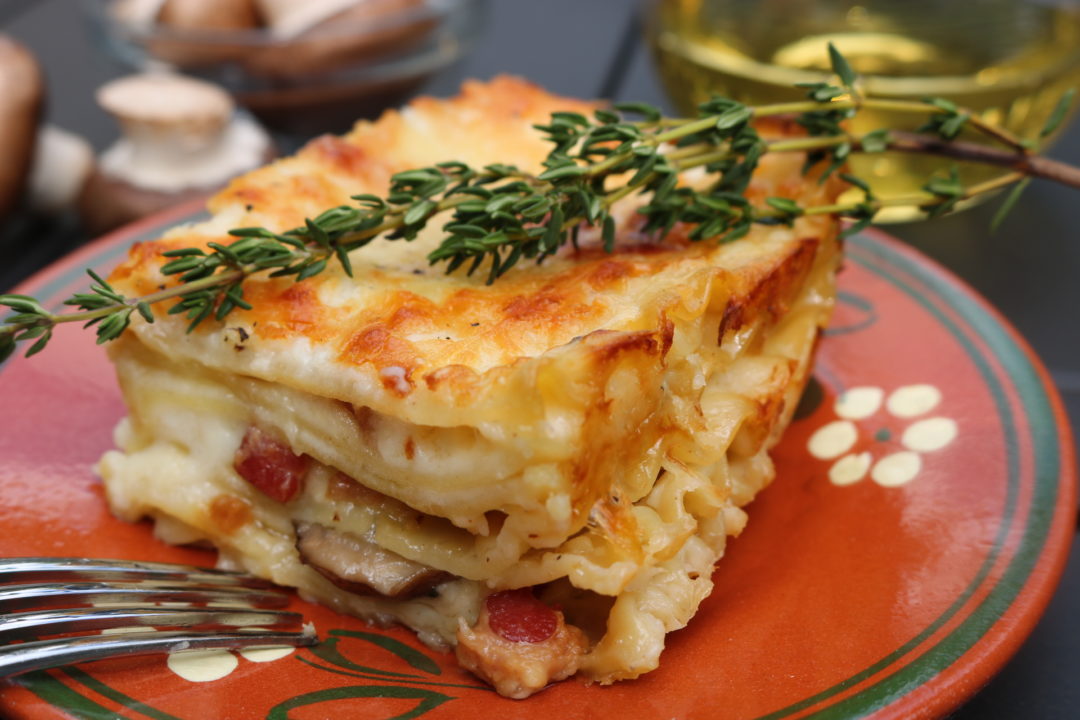 This is my one of my all time favorite comfort foods.  Its warm, earthy, cheesy and truly decadent.  White Lasagna with swiss cheese.  Oh. My. Word.  It will knock your socks off.  No joke.  It is elegant enough for a special occasion, especially if paired with an arugula salad with shaved parmigiano reggiano and a glass of oaky chardonnay.  I've even made it for Christmas Day for the antipasti course.  And of course, it can be made for no reason at all.  Just to hang out with your friends on a rainy Sunday evening.


White lasagna with swiss cheese will make your mouth water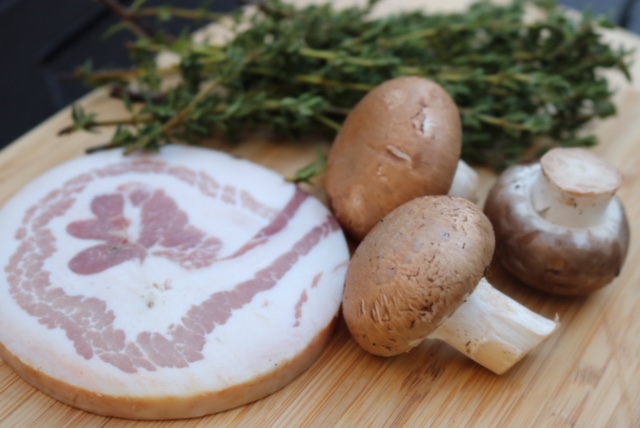 This lasagna (like all) freezes well.  Sometimes I make small trays, wrap in plastic wrap and then tin foil and pop them in the freezer for an easy weeknight meal.  Just take it out of the freezer in the morning to defrost, and then bake as usual.
I love making this lasagna in the fall and winter.  The earthy mushrooms and thyme, and the creamy bechamel with a touch of swiss cheese make this the ultimate winter night meal.  Cozy up on the couch, put on the fire and pour yourself a nice glass of wine.  For white, I would choose a nice Chardonnay.  For red, well let's see…Pinot Noir, Malbec and Petit Syrah would be lovely.  But drink whatever you like.  Or drink whatever you have on hand.
The pancetta gives the lasagna a subtle, salty bite.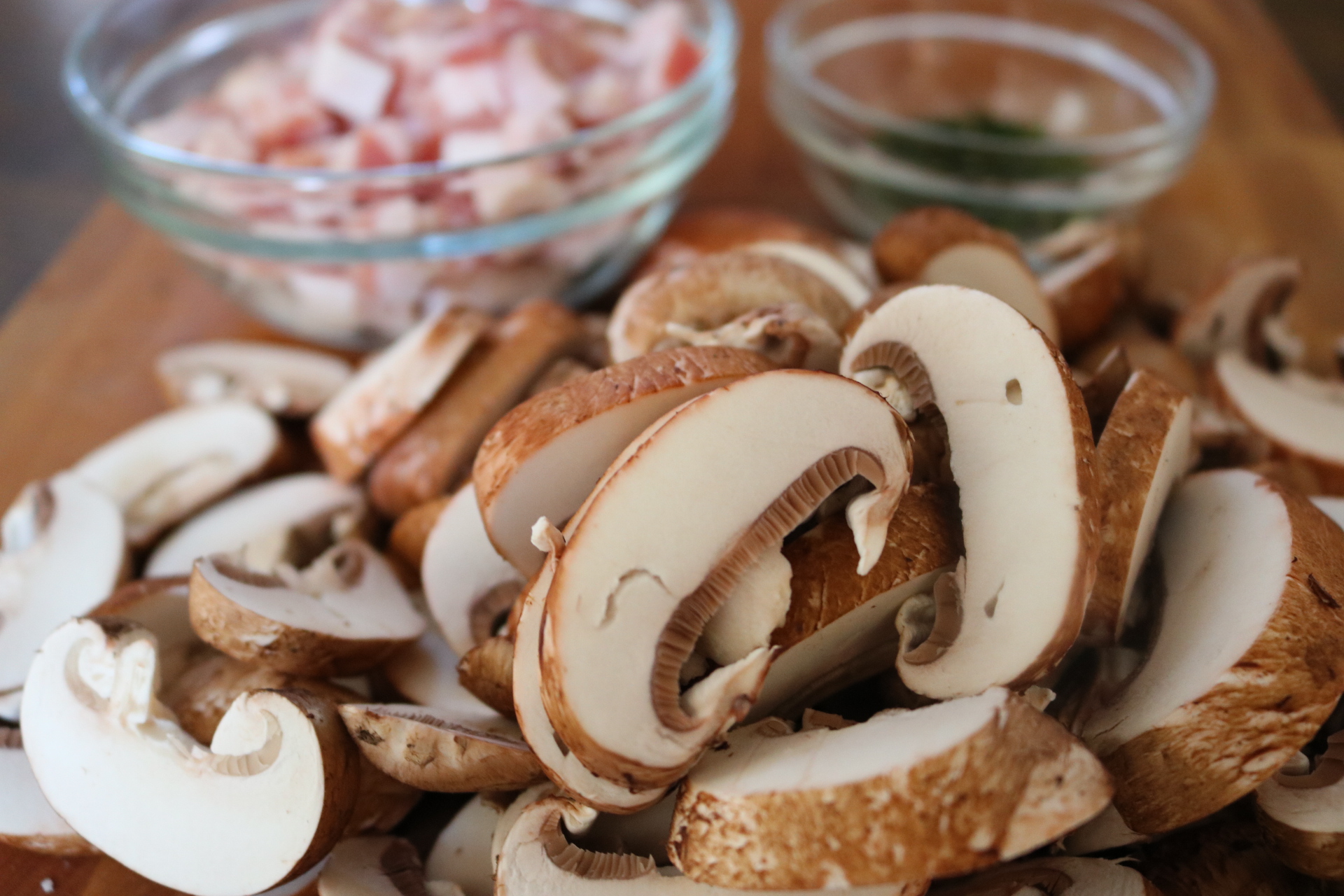 DON'T SLICE THE MUSHROOMS TOO THIN.  YOU WANT TO BITE RIGHT INTO THEM.
It is important not to go overboard on the mushrooms.  They are not the star of this recipe.  Actually, as with most lasagna recipes, it is not about one ingredient that stands out.  It is the marriage of all of the ingredients together.  The mushrooms should not overpower the lasagna.  Each bite should have a little bit of mushroom and salty pancetta, which is balanced out by the silky bechamel, the swiss cheese and the bite from the pasta.
Please, please, please try this recipe! I promise you, you will not be let down.  Please let me know how it turns out.  I would love your feedback…and if something went wrong, please let me know and we can troubleshoot together.
Mangia!
White Lasagna
Prep time: 45 minutes
Bake time: 40 minutes
Servings: 8
Ingredients
1 box lasagna noodles
2 slices Pancetta (1/4 inch thick)
12 ounces cremini mushrooms
6 ounces shredded mozzarella cheese
6 ounces Swiss cheese
1 tablespoon fresh thyme
2 tablespoons butter
1 tablespoon extra virgin olive oil
Salt
Freshly ground black pepper,.
Bechamel sauce:
1/2 cup all-purpose flour
4 cups whole milk
1 stick butter
Salt
Freshly ground black pepper
Nutmeg
Instructions
Start by prepping all of the ingredients.

Dice the pancetta.

Clean the mushrooms (use a brush or a damp paper towel).  Do not submerge the mushrooms in water.  Brush them clean.  Slice mushrooms in ¼ inch thick slices.

Mince the fresh thyme.

Fill a large pot of water and let it start to come to a boil (high heat).

Preheat the oven to 350 degrees.

Add two tablespoons of olive oil to a medium fry pan.  Turn pan on medium heat.  Add the pancetta and cook until slightly crispy (about 5 minutes).  Remove from the pan onto a paper towel.  Discard any grease from the pan.

In the same pan, add the mushrooms and two tablespoons of butter.  Saute for about 5 minutes before adding salt.  This will help the mushrooms to brown better.  Add thyme and cook for another 3 minutes.  Remove mushrooms to a bowl.  Drain liquid.

Before you make the bechamel sauce, it is imperative that you warm the milk.  If you add the milk to the butter/flour mixture while the milk is cold, it will form those small lumps.  You do not want that.  You must put the milk in a saucepan over medium low heat and let it warm up a bit.  This will prevent those small lumps from forming and will give you a silky, shiny, beautiful bechamel sauce.

Add butter and flour to a medium sauce pan.  Let the mixture cook for 1-2 minutes to cook the flour (this will eliminate the raw flour taste).  Slowly add the warm milk, whisking the entire time.  Let the mixture cook for about 6-7 minutes (whisking every minute or two).  Once the mixture is silky smooth and coats a spoon, add the nutmeg, pepper and 1 cup of shredded swiss cheese.  Mix until the cheese is completely combined.  Reduce heat to low to keep the bechamel warm.

By now, the water should be boiling.  Add a generous amount of kosher salt.  Add the lasagna noodles.  Cook the noodles according to the directions on the box.  When the noodles are done, drain them in a colander and mix them with a tablespoon of olive oil.  This will prevent them from sticking.  I like to lay them out on a baking sheet to avoid the noodle clump.

Now you are ready to assemble your lasagna.

In a 9×13 baking dish (or lasagna pan), add a ladle of bechamel.  Spread evenly on the bottom.  Then add your first layer of lasagna noodles.  Add another ladle of bechamel and spread evenly.  Sprinkle with half cup of mozzarella.  Quarter cup mushrooms.  Sprinkle of pancetta.  Continue with another layer of lasagna noodles and repeat layering until your lasagna reaches the top of your baking dish.  Top your last layer of lasagna noodles with a ladle of bechamel (spread evenly), ½ cup mozzarella and ¼ cup swiss.  Add a few sprinkles of salt and pepper and a little bit of extra virgin olive oil on top.

Bake in the preheated oven for 35-40 minutes, until bubbly and the top is slightly brown.

Let rest for 45 minutes before cutting.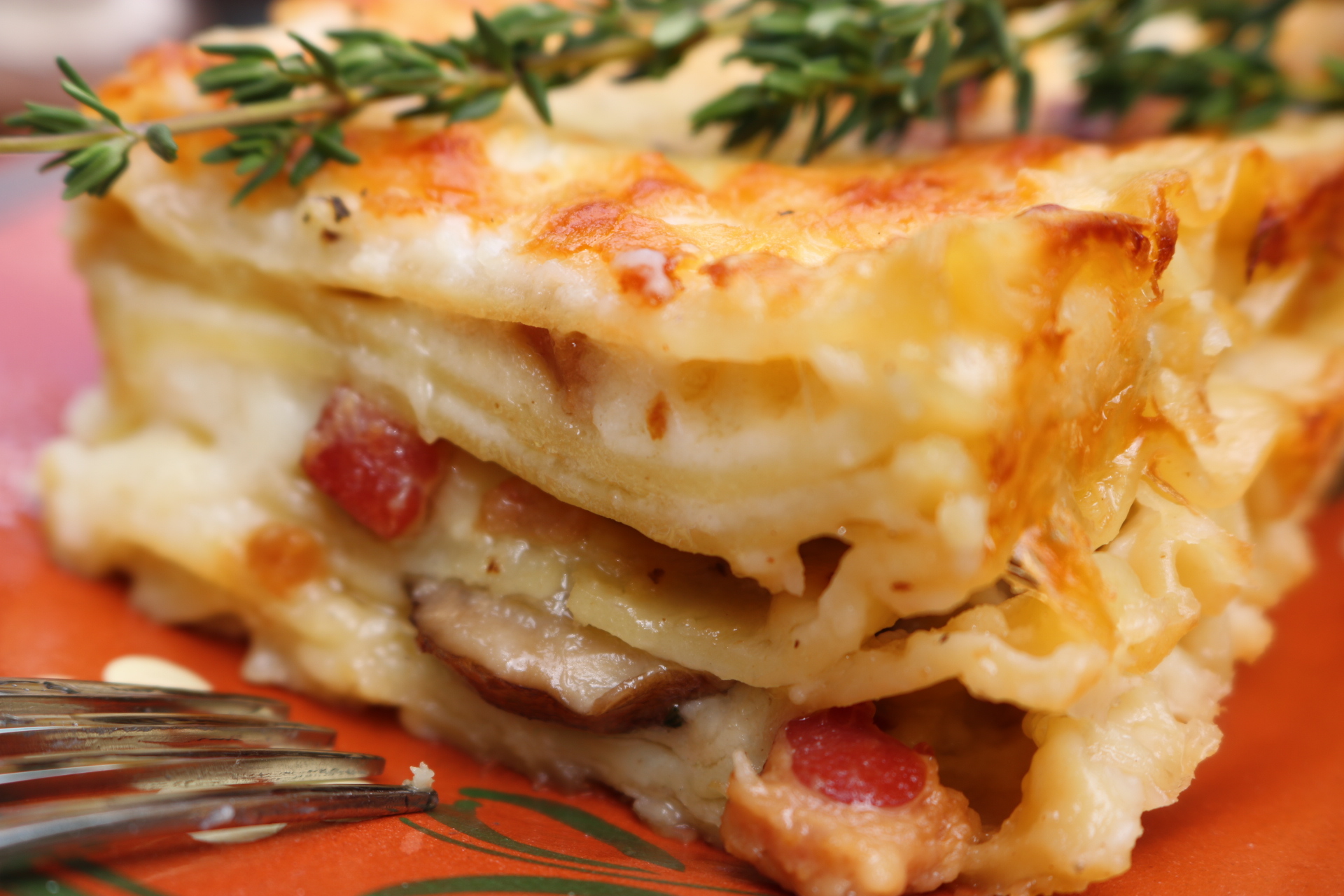 . . .