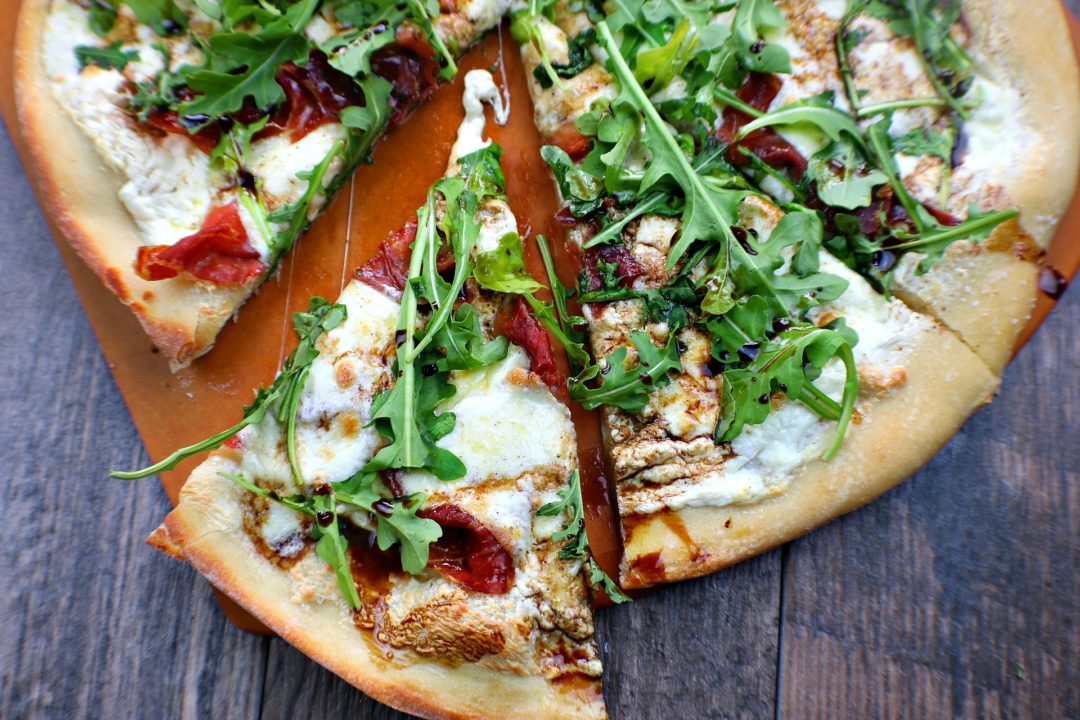 Are you looking for the perfect pizza to go with that bold glass of Chianti?  I know that I sure as hell am.  Wine and pizza….pizza and wine…a perfect combination.  But for me, it has to be the right kind of pizza.  Think of a mix between gourmet and comfort food (undeniably the best combo, IMHO).  This pizza gives you both.  The creamy ricotta and the fresh mozzarella pair nicely with the salty prosciutto.  Then it is topped off with peppery arugula and a drizzle of a savory and sweet fig balsamic vinegar.  The flavors of are outstanding.  Pair with a bold Chianti of a Tuscan blend and there it is.  Pizza and wine night.
Pizza and Wine are a classic pair.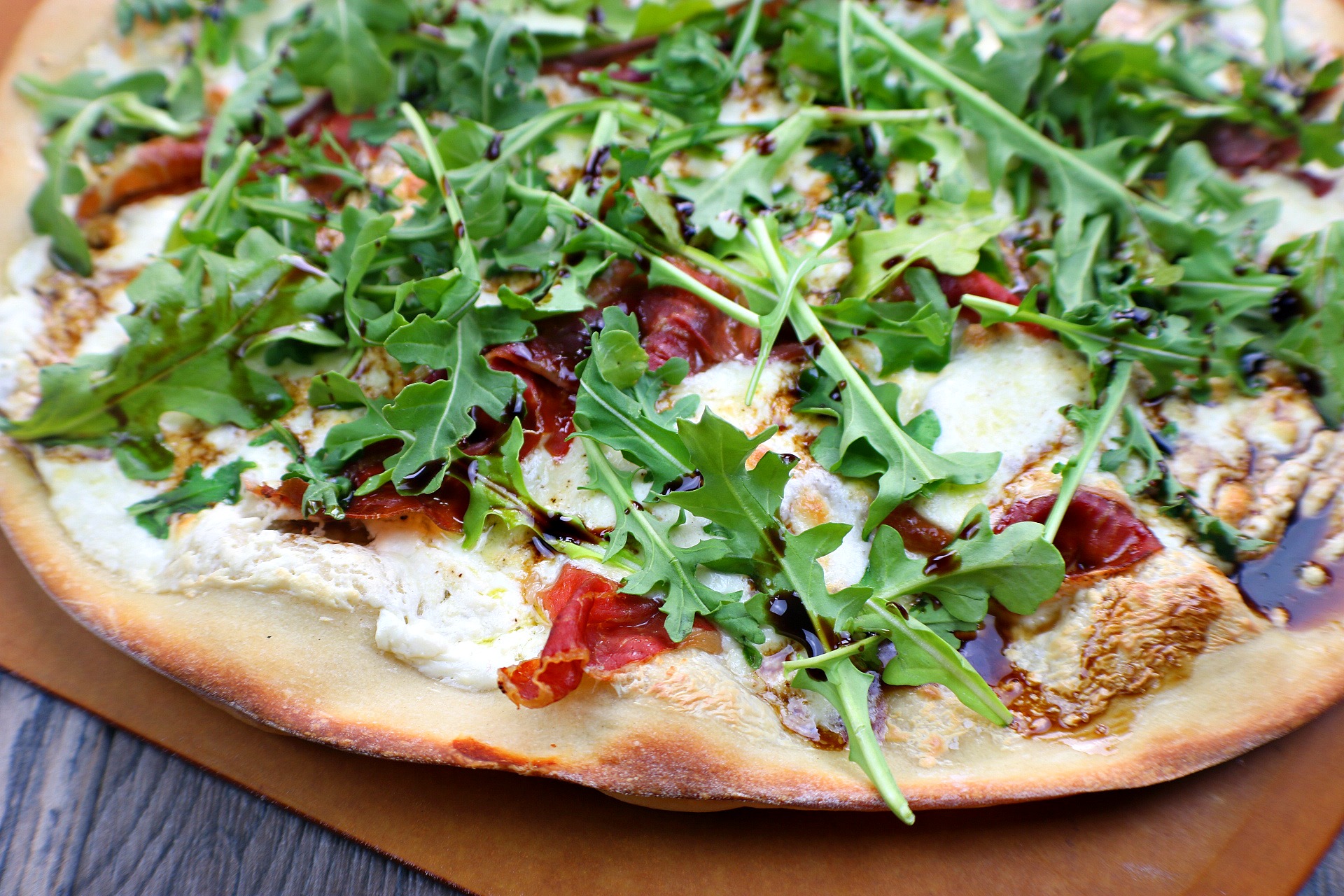 Friday is the night that I do pizza and wine.  For me, it is the best way to wind down a busy work week.  This pizza is easy to make and so insanely delicious that it wins over takeout.  Every. Single. Time.  You really aren't cooking anything, as much as you are assembling a few ingredients.
Here is what you need for Pizza and Wine Night
PIZZA DOUGH (store bought, unless you are ambitious and want to make your own)
FRESH RICOTTA CHEESE
PROSCIUTTO DI PARMA (buy imported – if you have read any of my other recipes that use prosciutto, which is a lot of them, you know that I am a huge advocate of buying imported)
ARUGULA
MISSION FIG BALSAMIC VINEGAR (you can order this at the Twisted Branch)

See the recipe below for full instructions
Make this delicious pizza in 5 easy steps
Roll out the pizza dough on a floured surface.
Layer the following ingredients in this order: ricotta, prosciutto, mozzarella
Bake at 400 in a preheated oven for 12-14 minutes.
Toss arugula on top.
Drizzle with mission fig balsamic vinegar.
And there you have it.  Your very own perfect pizza to enjoy with a glass (or bottle???? don't judge) of your favorite Italian red.  Follow the five simple steps above and you are about 20 minutes away from a relaxing evening of fancyish pizza and wine.  The good news is that your kids will see green and won't want any.  So that means more for you.  Its a win win.  But in all seriousness, make this pizza for your next "Pizza and Wine" evening.  I promise you that it won't disappoint.
PAIRING: Chianti, Tuscan blend, Sangiovese, Montepulciano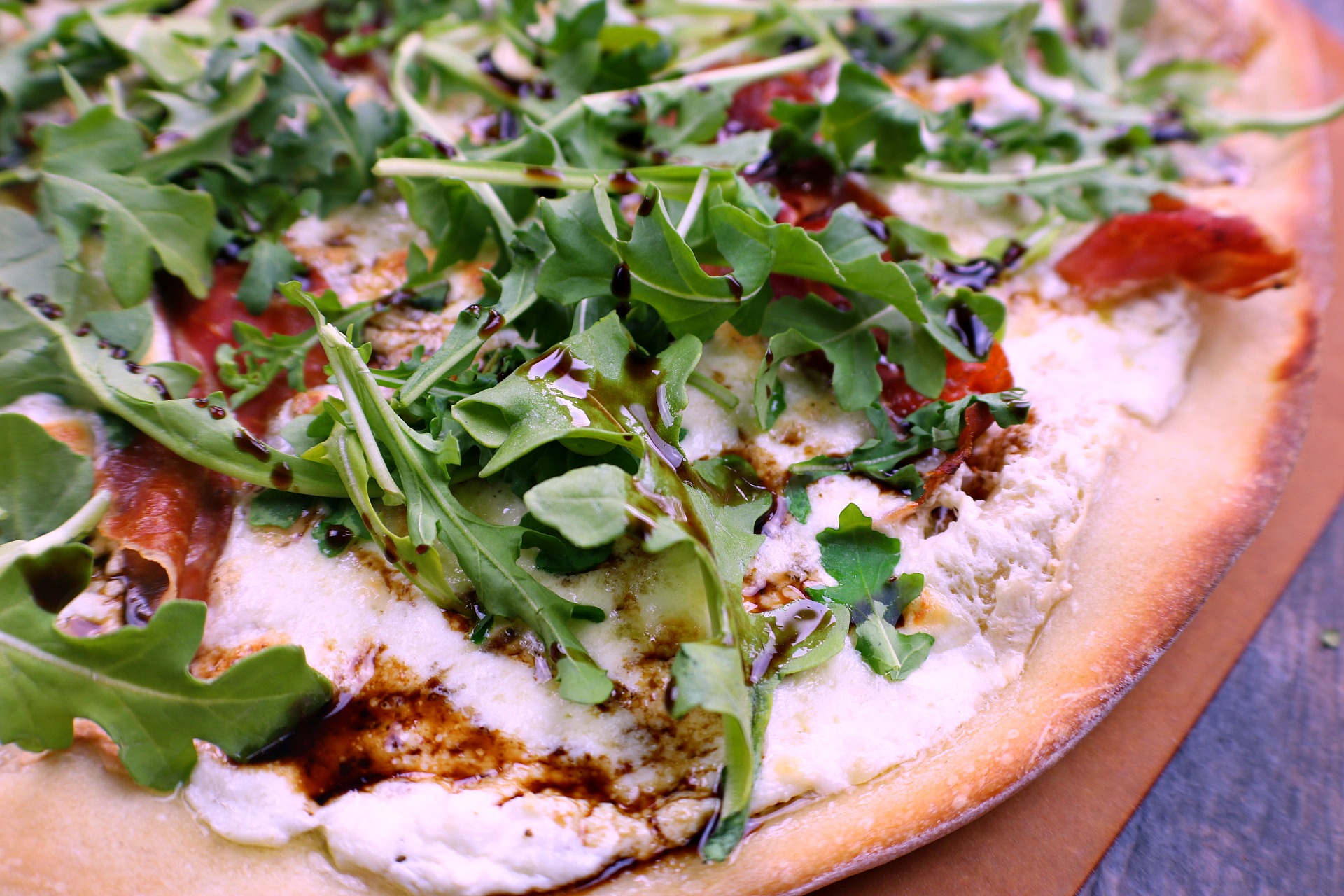 Perfect "Wine Night" Pizza
Ingredients
Pizza dough
1/4 pound prosciutto di Parma, sliced thin
8 ounces fresh mozzarella cheese
½ pound fresh ricotta cheese
1 cup arugula, washed
Extra virgin olive oil
Salt
Pepper
Instructions
Preheat the oven to 400 degrees.
Roll out pizza dough on a floured surface.
Spread a thin layer of ricotta cheese.
Place the prosciutto on top. Layer with thin slices of fresh mozzarella (not too close together, as the cheese will spread as it melts).
Sprinkle with salt and pepper.
Drizzle with extra virgin olive oil.
Cook for about 12-14 minutes, until the crust is golden and the cheese is bubbly.
Allow to cool for 10 minutes.
Toss the arugula on top.
Drizzle the Mission Fig balsamic vinegar over the top.
https://www.mangiamichelle.com/pizza-and-wine/
Check out these products:
. . .