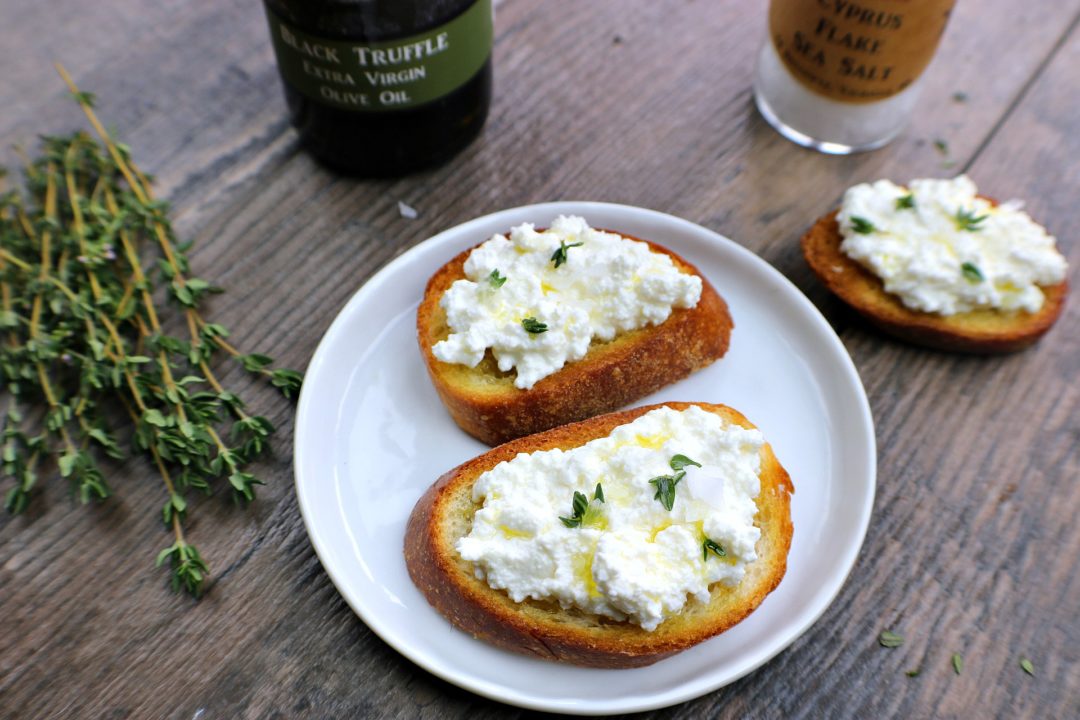 So you have a dilemma.  You are hosting friends for dinner and you forgot all about appetizers.  And let's speak honestly here, the appetizers can be the best part of the entire dinner party.  At least for me they are. Appetizers and me have been having a love affair for years now.  Like when I go to a wedding, what do I love the most? The cocktail hour, duh! Anyway, I digress.  So what do you need? A fast, yet delicious appetizer that goes well with wine or cocktails.  Don't panic! I got your back…black truffle crostini.  First, black truffle = fancy, and crostini = carbs.  And who doesn't love them some fancy carbs?  The answer…everyone.  Everyone loves carbs.  Especially fancy ones.  This fancy shmancy app takes about ten minutes to prepare and is a guaranteed hit.
Black Truffle Crostini – here is what you need
First, you need a freshly baked baguette.  Well, it does not have to be fresh as in just out of the oven.  But please make sure it is still soft on the inside.  Second, you need fresh ricotta.  Here is where you need to splurge a little bit.  You want FRESH ricotta.  You can find this in a gourmet supermarket or a good Italian deli.  And, actually, it isn't all that expensive.  Third, and this is the star ingredient, you need black truffle oil.  I love this shop called the Twisted Branch.  They sell every flavor of infused olive oil that you can possible think of.  Also, they have a very large variety of flavored balsamic vinegars and specialty salts and spices (which by the way make great holiday gifts…I'm just sayin'). Best of all, you can buy their products online and they will ship them right to you…score!  Finally, you will need thyme, extra virgin olive oil, garlic and flakey sea salt.  I use Cyprus Flake sea salt, also from the twisted branch.
Easiest.  Appetizer.  Ever.
This crostini can be made in 4 simple steps (see the recipe below for full and detailed instruction).
1. Drizzle baguette slices with extra virgin olive oil and toast in the oven.
2. Rub each toasted slice of baguette with garlic.
3. Top each baguette with ricotta and thyme.
4. Drizzle each one with black truffle olive oil and sprinkle some flakey sea salt.
And there you have it….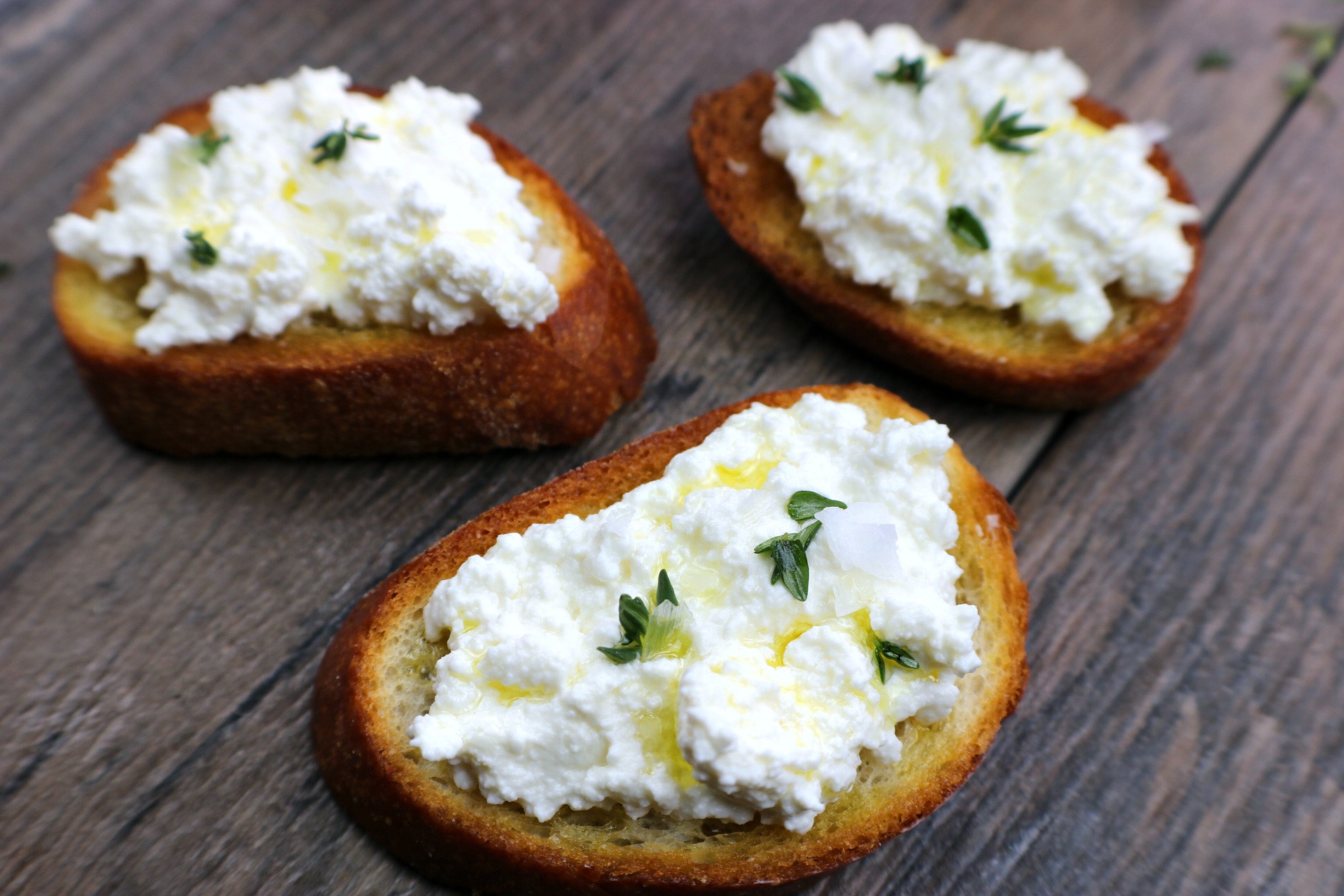 So there it is.  A simple, fast and delicious appetizer for your next party.  A total of 7 ingredients and 4 simple steps.  You can serve these bad boys alongside some charcuterie, such as Italian dry salami or a spicy soppressata would be divine.  And both require zero prep work…even better (wink, wink).  See, i gotchu boo.  Of course, don't forget the vino (don't EVER forget the vino)!  For a white, I recommend… and for red I recommend…  So that is all.  Go make this black truffle crostini.  You will love it, I promise.
Easy and Delicious Black Truffle Crostini
Ingredients
½ pound fresh ricotta
1 baguette, sliced into ½-1" thick pieces
Black truffle infused olive oil
Extra virgin olive oil
Cyprus flake sea salt
1 clove of garlic
Thyme
Instructions
Preheat the oven at 350 degrees.
Placed the slices of baguette on a baking sheet. Drizzle with extra virgin olive oil. Bake for 3-5 minutes each side until they are golden brown.
Take a clove of garlic and gently rub on each piece of toasted baguette.
Spread fresh ricotta on each slice (about 2 teaspoons).
Sprinkle thyme leaves over the ricotta.
Drizzle each piece with black truffle olive oil.
Sprinkle each piece with a few flakes of Cyprus flake sea salt (do not overdo it, or it will be too salty).
https://www.mangiamichelle.com/black-truffle-crostini/
. . .