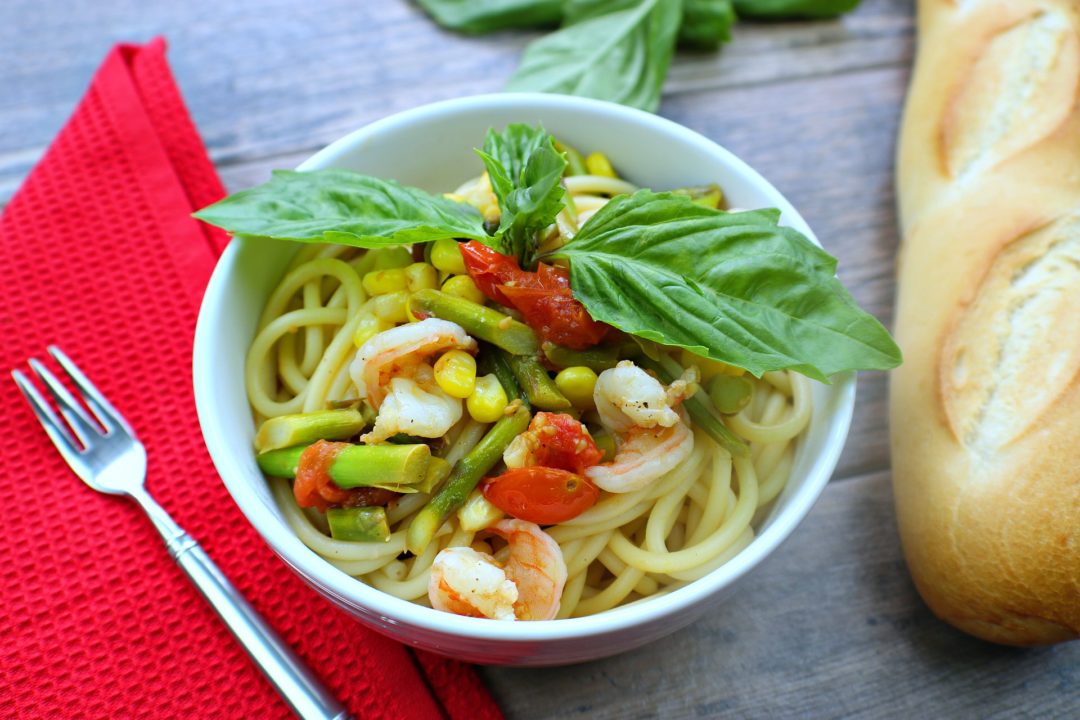 Summer is here ladies, and we all want to shed some of the winter fluff to get ready for the beach.  This is not always easy to do, right? Agreed.  So, I have created a healthy summer pasta dish that is both delicious and won't wreak havoc on your diet plans.  I will also list some other healthy modifications to this meal at the bottom of the post…so keep reading.  Not only is this recipe delicious, but it includes healthy ingredients that are widely available in the summertime.  Lets keep summer light, fit and super delicious. Are you ready? Let's go!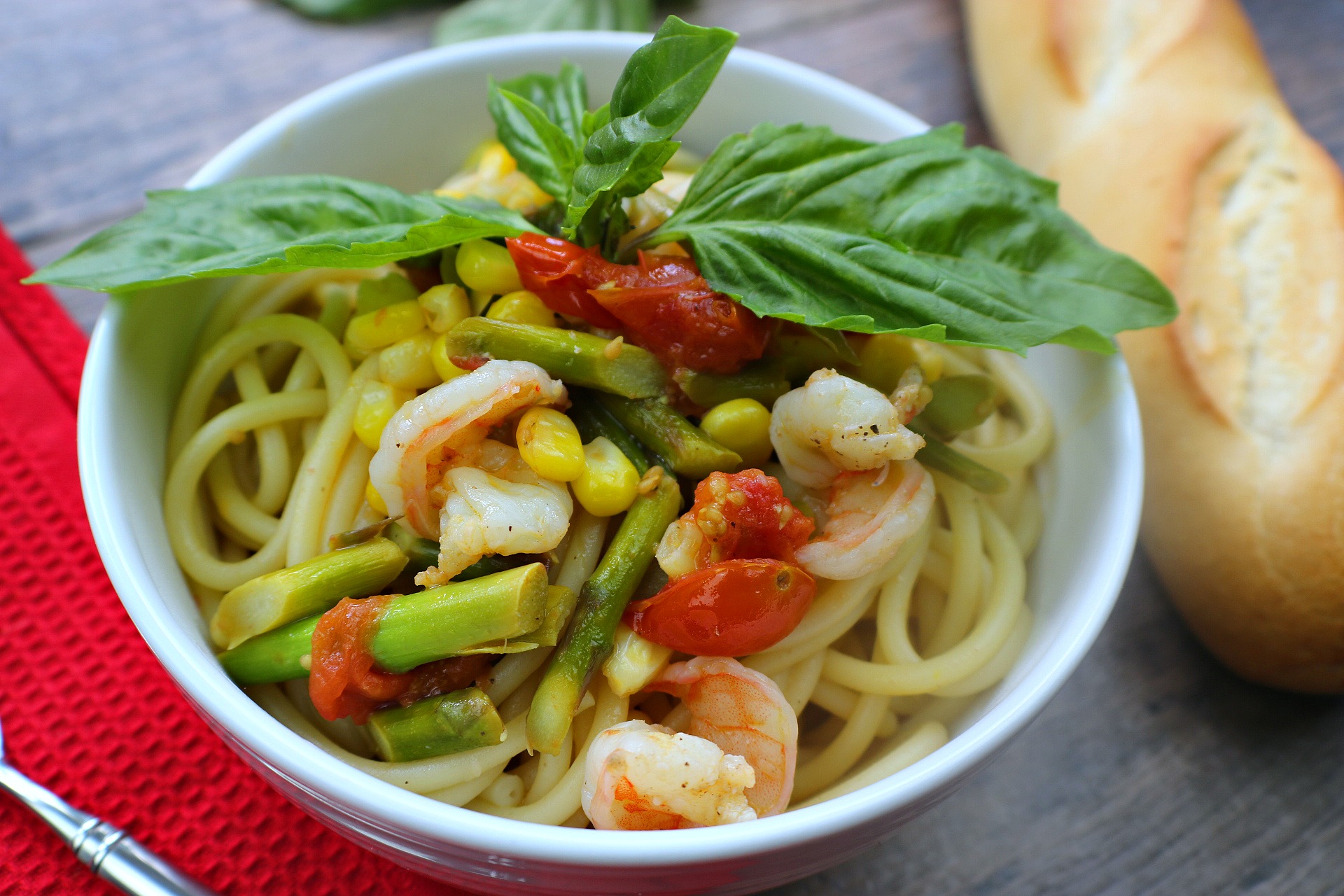 Summer Bucatini is a delicious summer pasta with fresh and seasonal ingredients.
Nothing says summer quite like fresh corn, cherry tomatoes and seafood.  So I have decided to incorporate all of these ingredients into a pasta dish.  It isn't often that you see corn in pasta…but I must say, it really adds a nice sweetness to a savory dish.  Not to mention, it also adds a nice pop of color, along with the green asparagus and bright red cherry tomatoes.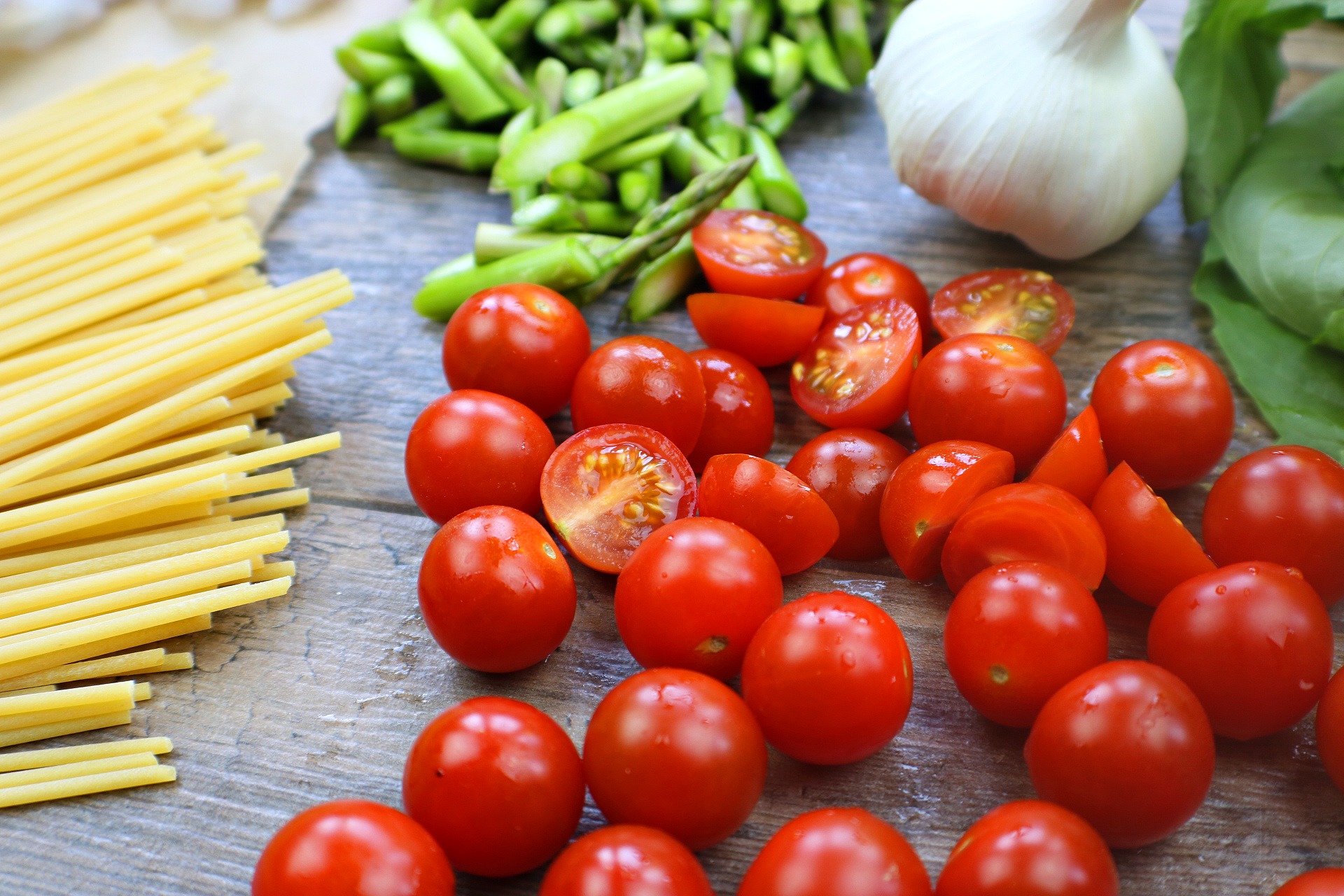 To me, cherry tomatoes are the hallmark of summer.  I eat them almost every day.  They are in season, and widely available (not to mention, sweet and delicious).  I eat them in salads, in pasta, in an omelette, with fresh mozzarella, basil and garlic, basically, in almost every meal.  The color is a beautiful, bold red.  But my favorite way to prepare them, is to sauté them in a fry pan until they start to burst and the juices start pouring out.  Then you can put them over pasta, grilled chicken or seafood.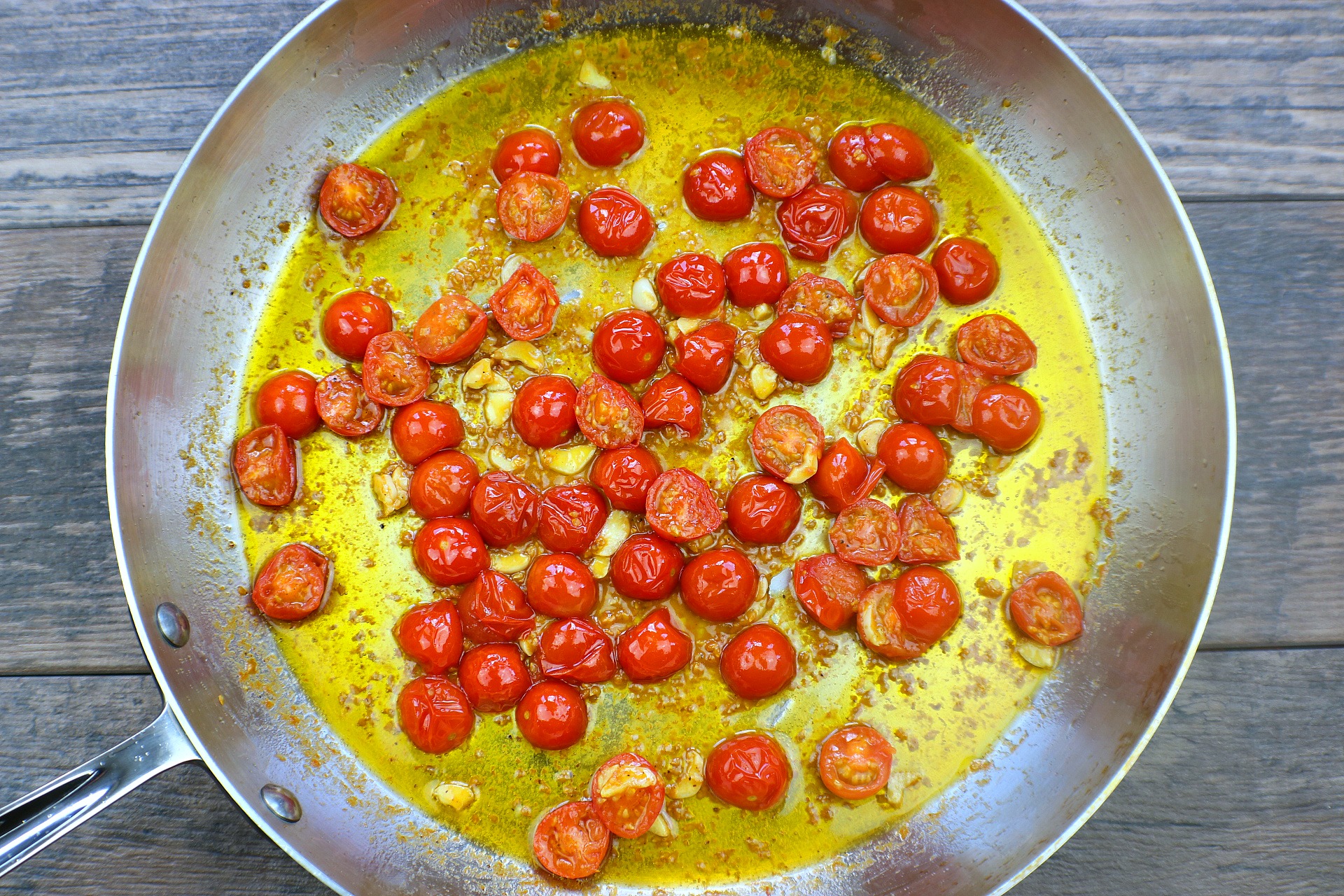 Add shrimp to this summer pasta dish to make it extra special.
Now, of course you could make this without the shrimp…but why? Why would one do that? I guess if you are allergic? Or maybe you just don't like seafood (insert eyeroll…j/k, no judgement here).  In my opinion, the shrimp makes this summer pasta dish extra special.  Shrimp tends to take on the flavors around it, and when you mix the shrimp with the tomatoes and the corn, you get an amazing combination.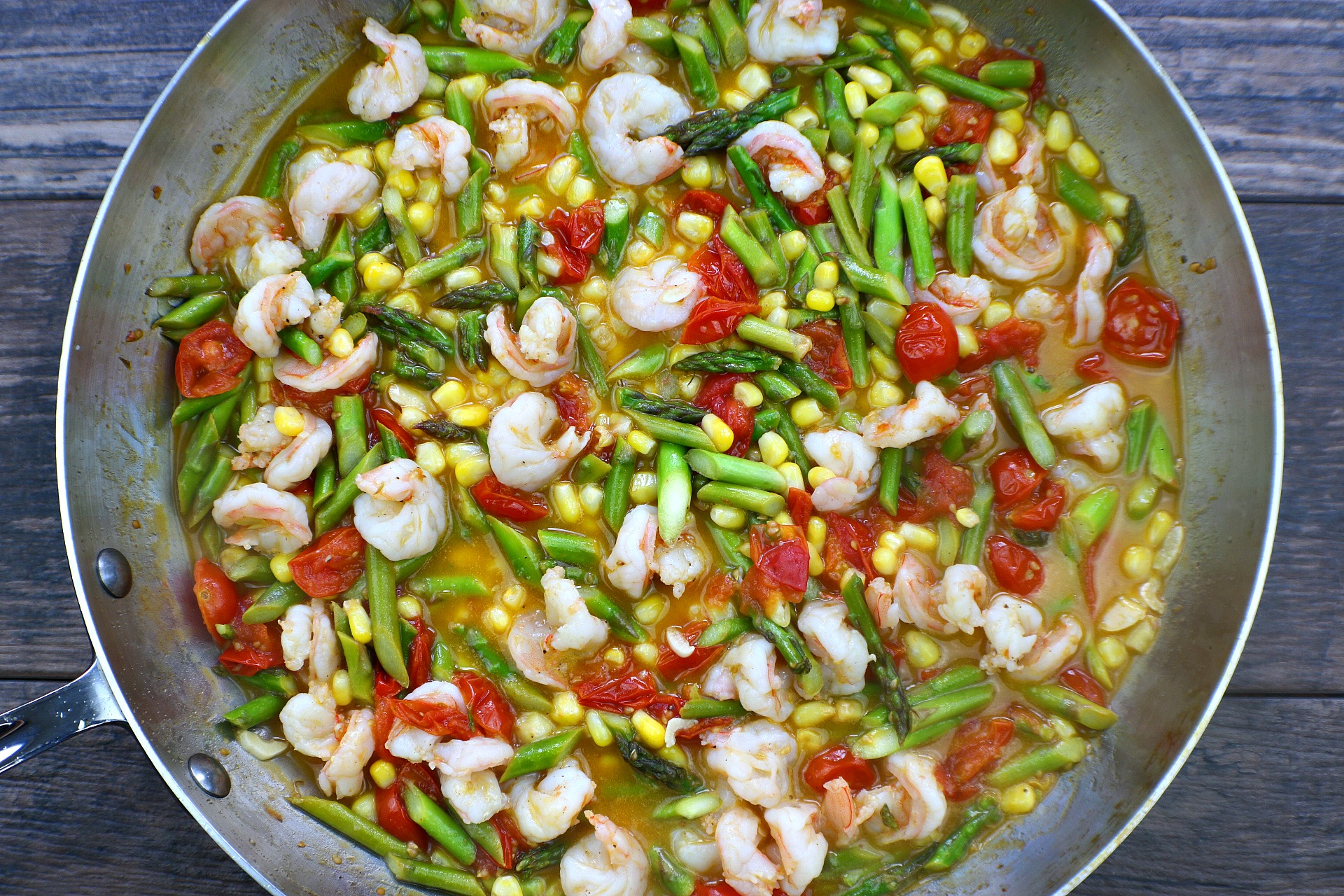 How can I make this summer dish even healthier?
So, we have two options here.  The first option, is to use whole wheat pasta.  This is an easy way to make this dish a little more figure friendly.  I am always mindful when I make whole wheat pasta, to cook it a little longer.  Sometimes it comes out too al dente.  So test it before you drain it.  Chances are, you may want to leave it in for another minute.
Another way to make this a little bit healthier, is to take the pasta out completely.  This would be delicious served over a roasted half of spaghetti squash.  Cut a spaghetti squash in half, drizzle with olive oil, salt and pepper, and roast it face down on a baking sheet in the oven.  For more specific directions, click on this link.
Go ahead and make this.  Not only will it be surprisingly delicious, but you will feel good about it afterwards.  The fresh and light ingredients are widely accessible in the summer (and the winter). This summer pasta is a light and delicious dish that you can enjoy even past the summer months. And speaking of enjoyment, I am going to recommend you serve this alongside a nice chilled glass of rosé.
Mangia!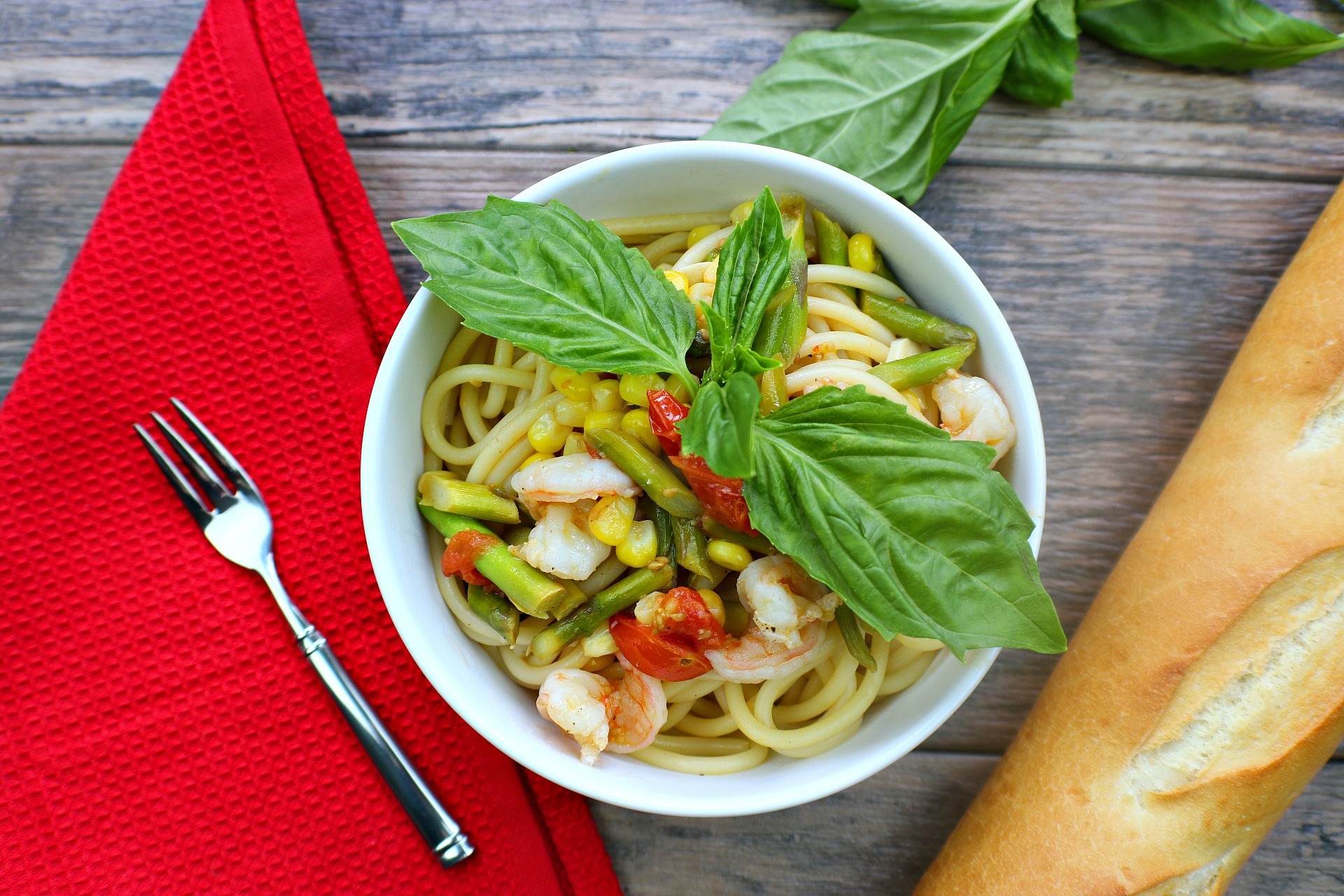 Fit and Fresh Summer Bucatini
Ingredients
1 pound bucatini
1 pound shrimp, cleaned and deveined
1 pint cherry tomatoes, cleaned and sliced in half
Asparagus, bottoms trimmed and cut on a bias
2 cloves garlic, sliced thin
1 cup dry white wine (like Pinot Grigio)
1 cup frozen corn
Salt
Pepper
Extra virgin olive oil
Basil
Instructions
Put a large pot of water on the stove. Bring to a boil. Cook the bucatini according to the directions on the box.
While you are waiting for the water to boil, begin to prepare the ingredients.
Clean and devein the shrimp. Use a paring knife to cut the shrimp in half lengthwise. Season with a drizzle of extra virgin olive oil and a sprinkle of salt and pepper.
Clean the cherry tomatoes and cut in half.
Clean the asparagus. Cut off the bottoms (about 3 inches). Slice the asparagus on a bias (about ½ inch pieces).
Thinly slice two cloves of garlic.
Warm ¼ cup of extra virgin olive oil on a large skillet over medium heat. Add the cherry tomatoes and the sliced garlic. Sprinkle with salt and pepper. Allow the tomatoes and garlic to cook together, stirring frequently so the garlic doesn't burn. Cook until the tomatoes soften and the juices start to come out, about 7-8 minutes.
Add one cup of dry white wine and the asparagus. Season lightly with salt and pepper. Raise heat to medium high. Cook until the wine thickens and reduces, about 7-8 minutes.
Add the seasoned shrimp and one cup frozen corn to the tomatoes, garlic and asparagus. Cook until the shrimp is cooked through, about 5 minutes.
Add the bucatini to the skillet. Toss all ingredients together.
Top with chopped basil.
https://www.mangiamichelle.com/summer-pasta/
. . .