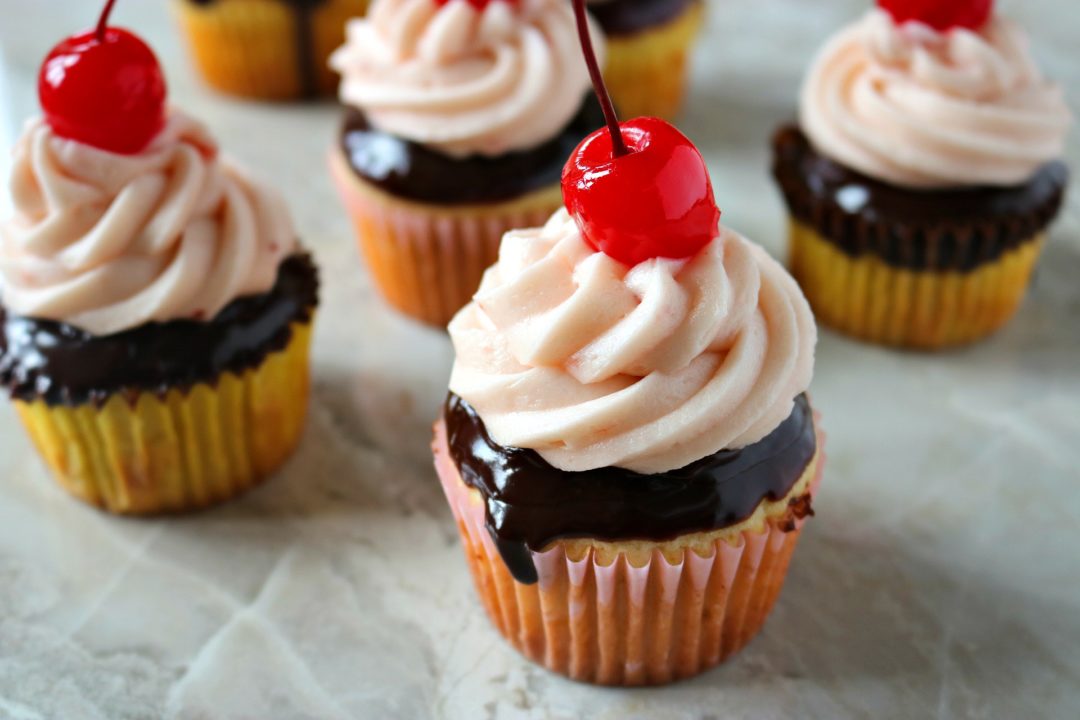 Let me start off by saying this…desserts are not my strength or specialty.  It takes me time (a lot of time) to come up with a tasty treat.  Not the idea of the treat, that I can come up with rather quickly, more so the recipe itself.  So basically, what I am trying to say, is that my dessert recipes are 100% amateur.  So for all of you pastry and dessert connoisseurs out there, feel free to perfect them as you see fit.  And if you have any suggestions for me, please please please send me a message.  I am always looking to improve.  Ok…enough of that, lets move on to banana split cupcakes.


Make banana split cupcakes for your next special occasion.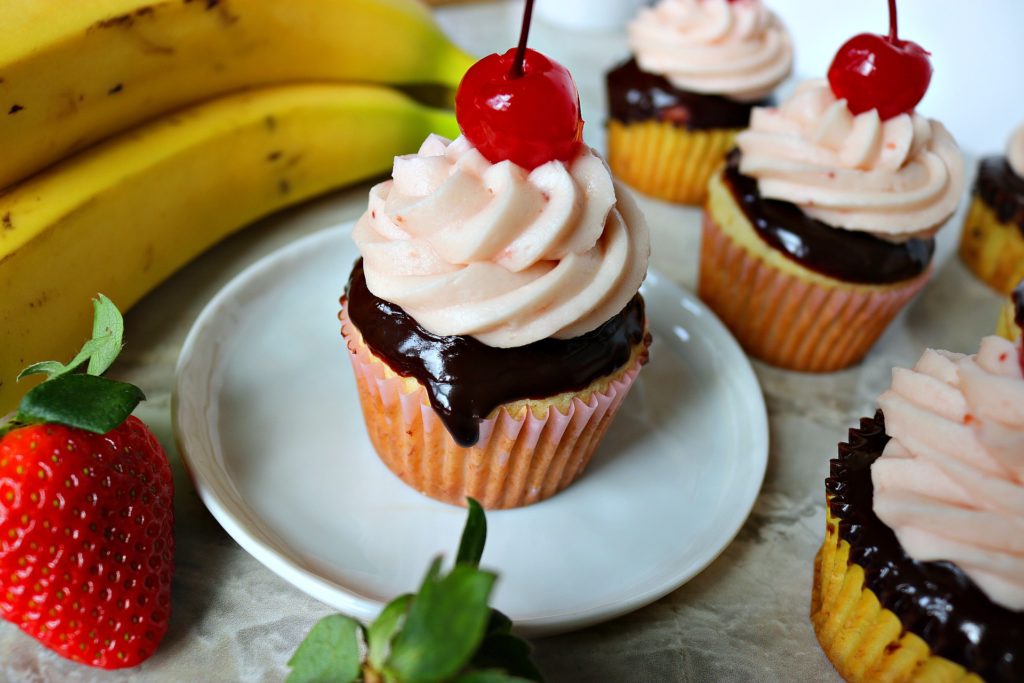 So these cupcakes have all of the same flavors of a traditional banana split.  The cupcake is a banana flavored cupcake.  The next layer is a rich chocolate ganache, which is topped with a strawberry buttercream frosting.  And of course, no banana split would be complete without a sweet maraschino cherry on top.  Yum!
The cupcake batter is pretty easy to make.  Just follow the directions and don't over mix.  Fill the cupcake liners about two thirds of the way full and you will get perfectly plump cupcakes.  See picture below.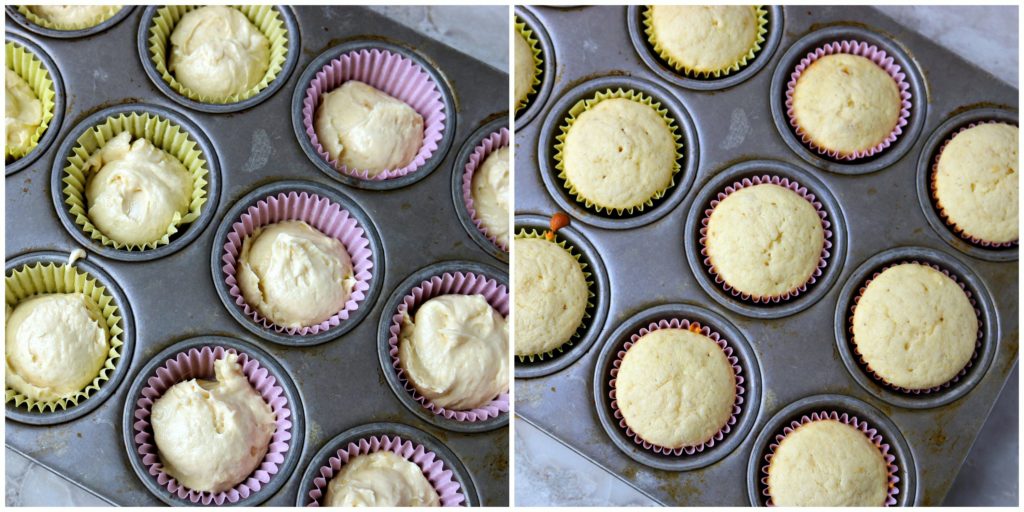 Once you allow the cupcakes to cool completely, dip them in the chocolate ganache.  If you really want a thick layer of chocolate, allow the ganache to set for 15 minutes and then dip again.  A double dip will give a fudgier layer of chocolate.  Totally optional though.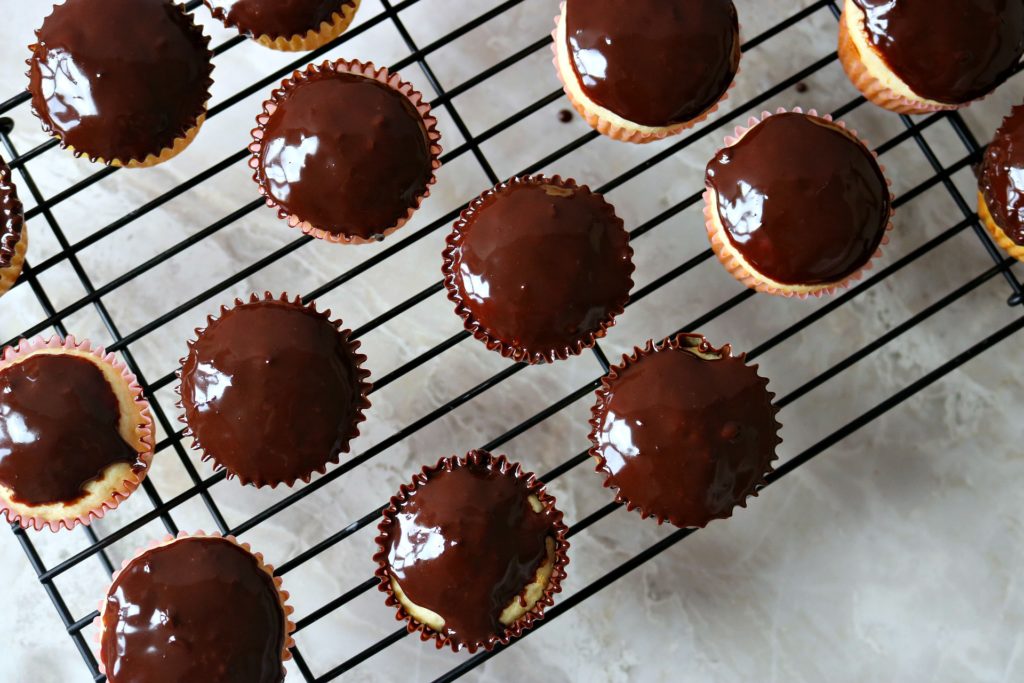 Then of course, comes the frosting.  I did not add any red food coloring to get this pink tone…it comes from the strawberry preserves.  But if you want to add some food coloring to make it pinker, go right ahead girlfriend!
Strawberry buttercream frosting is the perfect topping for banana split cupcakes.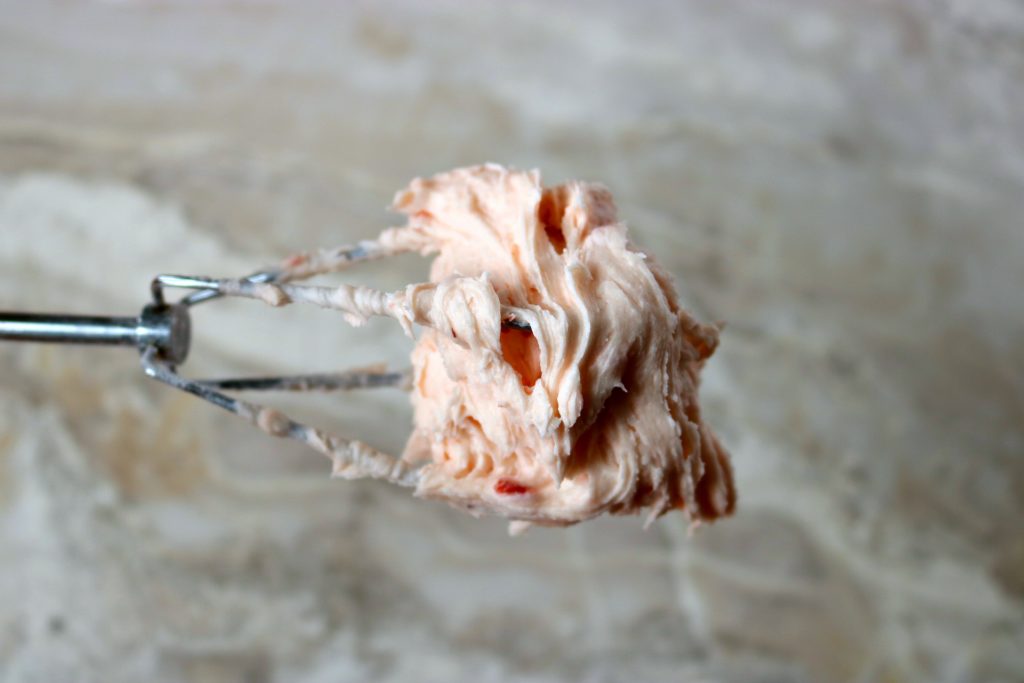 Now, let me talk about frosting for a minute.  I have been on many a websites that say when you frost cupcakes you can use a large plastic Ziploc to pipe frosting.  Let me tell you, this has NEVER worked for me! Like never ever.  So, when I went to pipe the strawberry buttercream frosting on these beauties, to my dismay I was completely out of piping bags! Oh no! Whatever shall I do? So I decided to try the large ziplock.  So I snipped off the end of the bag and inserted my fancy piping tip and away I went.
First off, the bottom of the baggie is too wide for the tip so I had to hold the bottom so the frosting would channel right into the metal tip and not go around it.  Then I began to pipe.  It worked for one swirl around before the tip blew through the bottom of the baggie.  Fail.  So I try again.  This time making a smaller snip on the bag and trying not to put as much pressure when I pipe.  Ok, here we go again.  One pretty swirl and bam! The tip blows through again.  Don't do this to yourself.  Buy the frosting baggies.  You can buy them at a craft store or through this link below.

So you are probably wondering how I finished piping my cupcakes.  Well…and I am not proud of this…my daughter got a play baking set for Christmas.  And, luckily for me, it came with two plastic piping bags. Yes, I stole my daughter's toy.  But do not worry, she reaped the benefits of my theft…she was the first to bite into one of these delicious cupcakes.  Don't judge.  Desperate times call for desperate measures.  I will replace her piping bags.
Enjoy this recipe!  Mangia!
Banana Split Cupcakes with Strawberry Buttercream Frosting
Ingredients
For the Cupcakes:

1 cup granulated sugar
10 tablespoons unsalted butter at room temperature
1 teaspoon vanilla extract
1 large egg white
1 large egg
1 2/3 cup all purpose flour
1 1/2 teaspoons baking powder
1/4 teaspoon salt (fine)
1/2 cup bananas, mashed
1/2 cup milk
1 tablespoon water

For the Chocolate Ganache:

16 ounces semi-sweet chocolate chips
1 cup heavy whipping cream

For the Strawberry Buttercream Frosting:

16 tablespoon unsalted butter (2 sticks) at room temperature
4 cups confectioner sugar
1/4 cup strawberry preserves
1/4 cup heavy cream
Maraschino cherries (about 16, or one for each cupcake)
Instructions
For the Cupcakes:

Preheat the oven to 350 degrees.
Using a hand mixer, cream the butter and the sugar until light and fluffy (about 2 minutes).
Add the egg white and mix until combined.
Add the egg and mix until combined.
In a small bowl, combine the mashed bananas, milk and vanilla.
In another bowl, combine the dry ingredients (flour, baking powder, salt).
Add half of the dry ingredients to the butter and sugar mixture and mix until combined.
Add the banana, vanilla and milk to the batter. Mix until combined.
Add the rest of the dry ingredients to the batter and mix until combined.
Line the muffin tin with cupcake liners.
Fill the cupcake liners about 2/3 full.
Bake for 20 minutes, or until a toothpick comes out dry when inserted.
Allow to cool completely on a cooling rack.

Make the chocolate ganache

Warm the heavy cream on a burner over low heat.
Once it comes to a simmer, add it in a bowl with the chocolate chips.
Let sit for 5 minutes,
Stir the mixture completely until the cream and chocolate is combined.
Allow to set for 15 minutes. This will allow the ganache to form and thicken.
When the cupcakes are completely cool, dip them in the chocolate ganache.
You may do a double dip it you would like (there will be enough ganache). Allow the first layer to set for about 5-7 minutes first.

For the Strawberry Buttercream Frosting:

In a large bowl, beat the butter until it is fluffy.
Add the confectioners sugar 1 cup at a time. Mix after each addition until the ingredients are combined.
Add the heavy cream and mix until combined.
Add the strawberry preserves and mix until combined.
When the ganache has set on the cupcakes, frost the cupcakes with the strawberry buttercream. Put the buttercream in a piping bag with a frosting tip. Frost the cupcakes. Top each cupcake with a maraschino cherry.
https://www.mangiamichelle.com/banana-split-cupcakes/
. . .