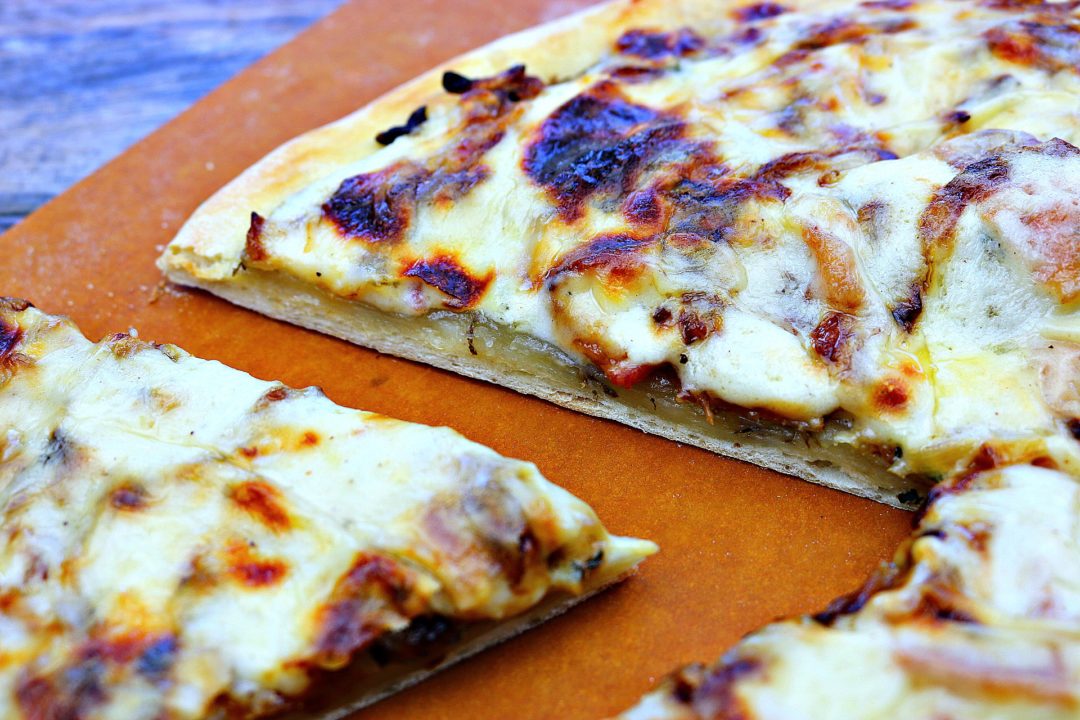 Um…hello, did you read the title of this post? Yes, my friends.  It has happened. Pizza perfection. Who doesn't love potatoes au gratin? No one, the answer, is no one. Potatoes and cheese are always a win.  Add some bacon and caramelized onions? Big winner.  Put it on top of a pizza…holy food porn.  Does life get any better? Ok, fine.  Have your favorite cocktail with it, and life just got a little better.  Potato au gratin pizza…one of life's finest delicacies.  I have been toying with this idea for a while now, and I am so glad that I finally decided to take the plunge.  And you will be so glad too.  This hot piping pie of deliciousness is pretty easy to make.  Keep reading for some simple steps to get this on your table in no time.
Make potato au gratin pizza tonight!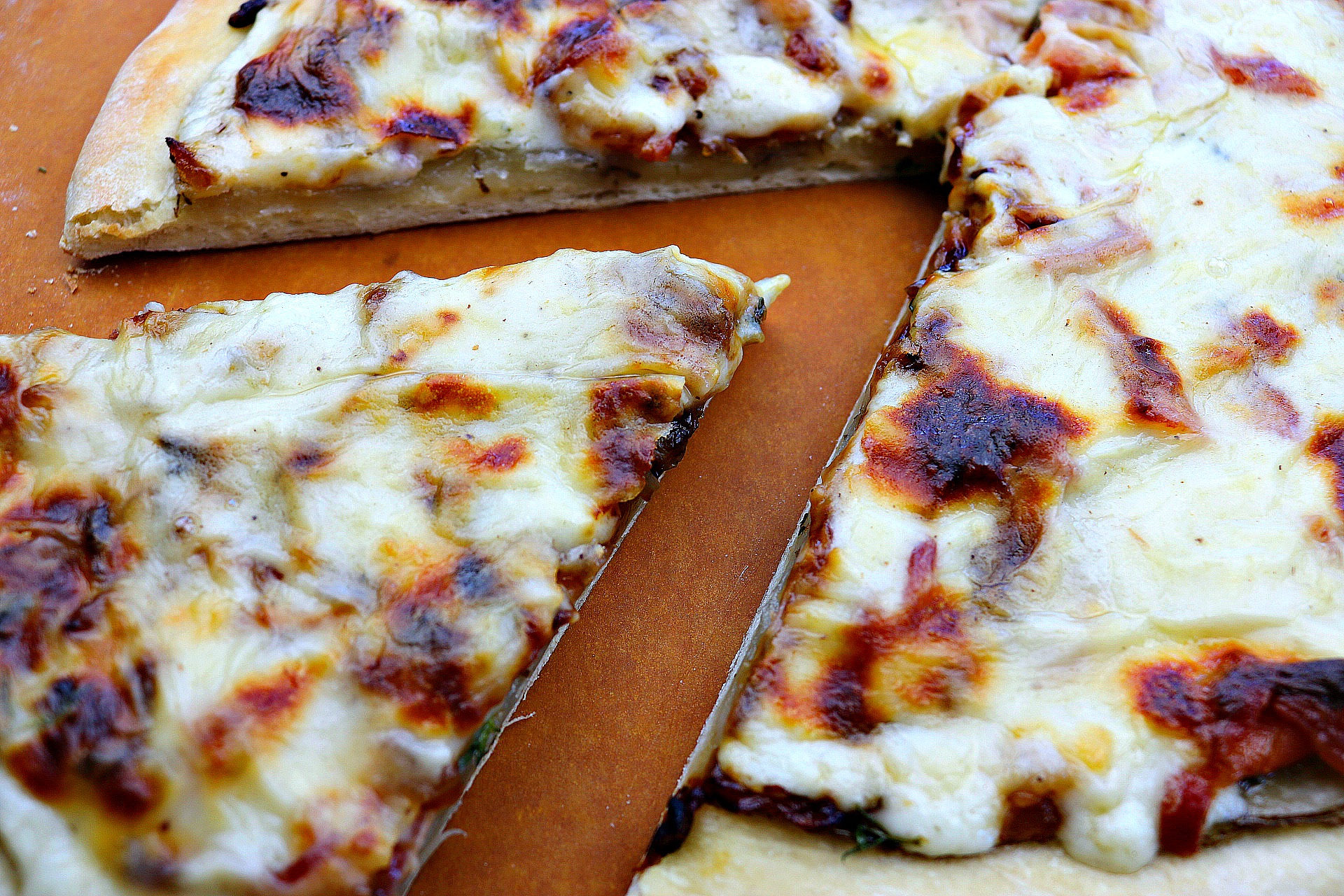 So, I will admit, not the most figure friendly recipe out there…but if you were looking for figure friendly, I guess you would not be here.  Everything in moderation, my friends.  Anyhow, this pizza is truly amazing. If you every host a pizza night with your friends, this is one to make.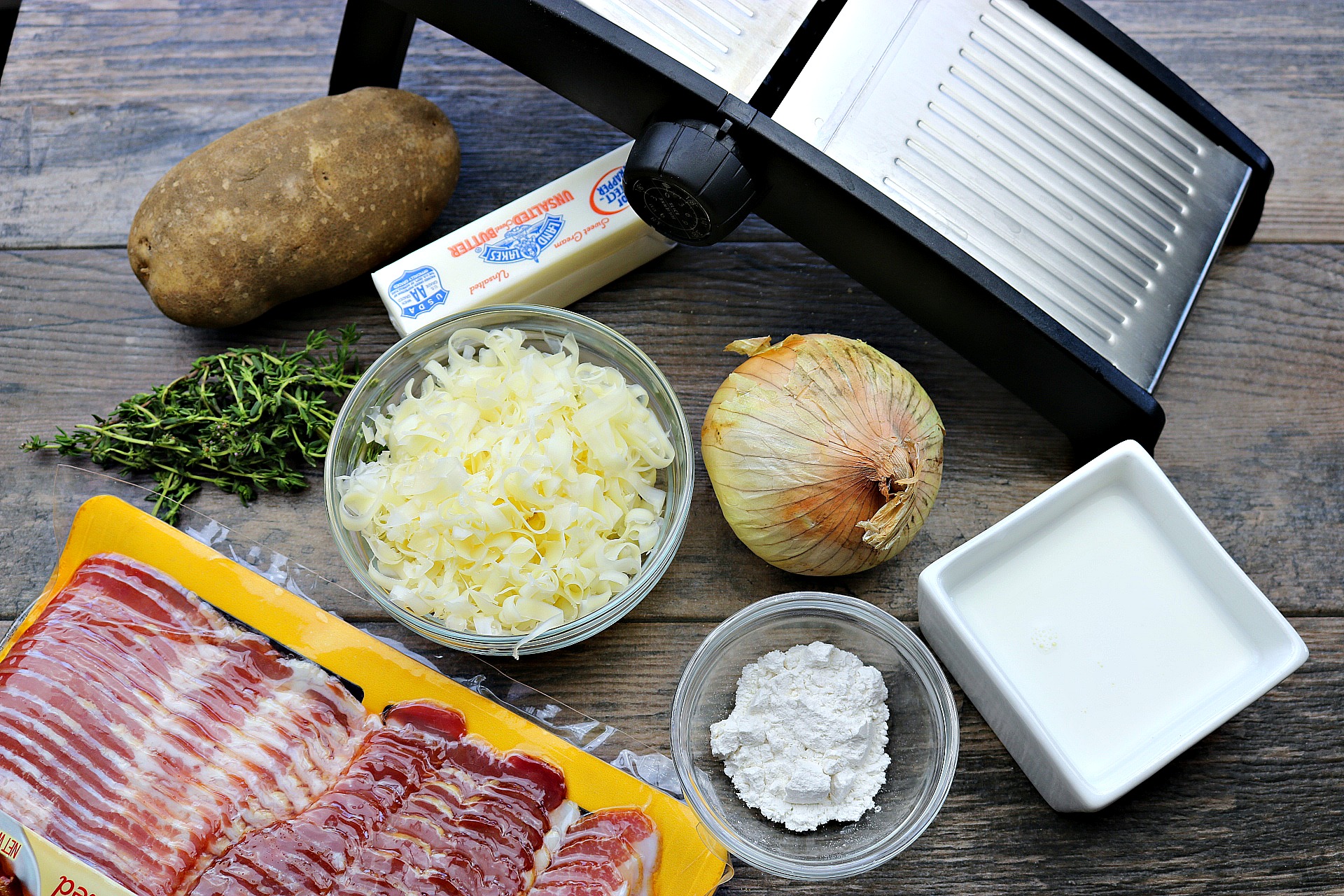 These are the ingredients that you need (obviously the full ingredient list and recipe is listed below).


Step 1: Slice the potatoes
The one thing that I highly, highly recommend, is a mandoline.  It is impossible, at least for me it is, to get the potatoes sliced so perfectly thin without one.  I have tried.  Many, many times.  And I can't get the slices this thin and uniform.  Take a lookey below. I use the OXO Good Grips Mandoline Slicer
. It is amazing and every home cook should own one!  You can thinly slice pretty much anything.  Its a game changer, my lovely foodie friends.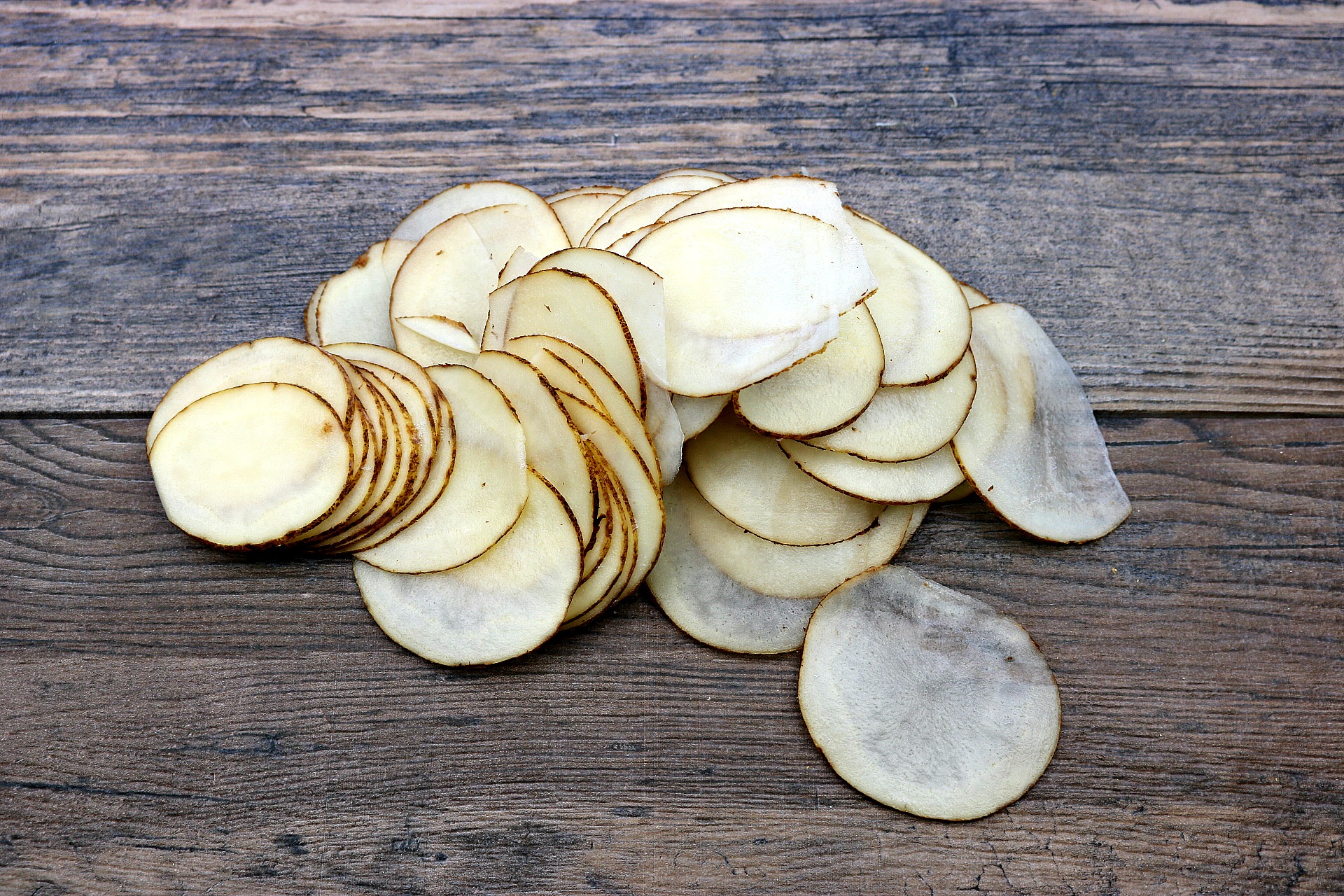 Step 2: Caramelize the Onions
Another important step, is perfectly caramelizing the onions.  You must, must, must do this low and slow. Low heat, and take it slow. This takes time.  If you try to rush it, it will never turn out the way it should.  I also like to add a little bit of brown sugar.  This gives the onions an extra kick of sweetness and helps them turn into a jammy type consistency.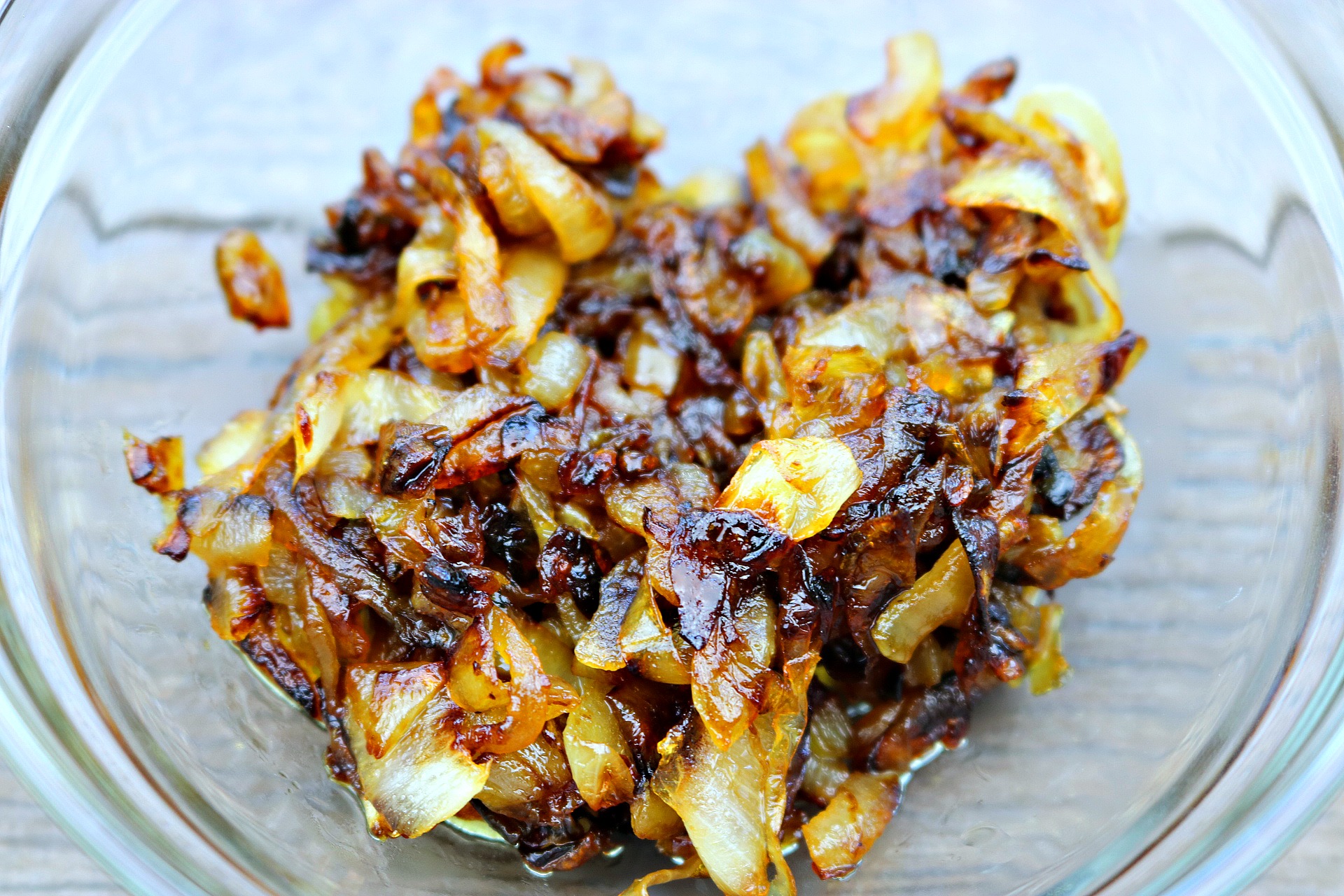 Step 3: Make the Bechamel
The "sauce" for this pizza, is a swiss, bechamel sauce.  This part is easy.  You make a simple bechamel (see recipe) and add some shredded swiss cheese.  If you do not know how to make bechamel, learn how to. Like, right now.  No worries, its easy, just check out the recipe below.  Bechamel is pretty versatile and is used in many dishes.  You can add whatever cheese you want depending on the dish you are using it for. Here, I added shredded swiss.  Yum!  If you want to see another recipe with bechamel, check out my white lasagna recipe.
Step 4: Layer the Pizza
This is easy.  Roll out the pizza dough on a floured surface, and add the potatoes, onions and cooked bacon. Then you are going to pour the velvety, creamy bechamel right on top.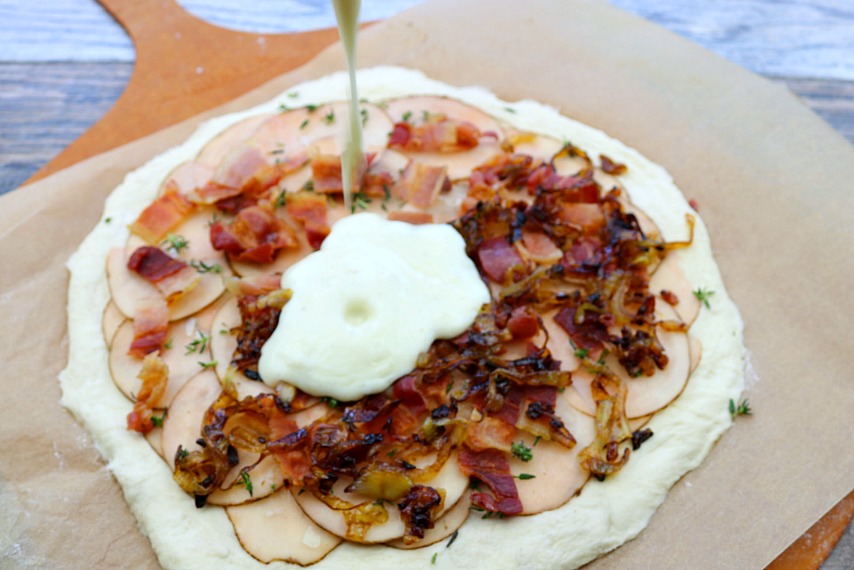 *If you are wondering why only half of the pizza has caramelized onions, ask my husband…no seriously, he hates onions.
Step 5: Bake in the oven for 12-14 minutes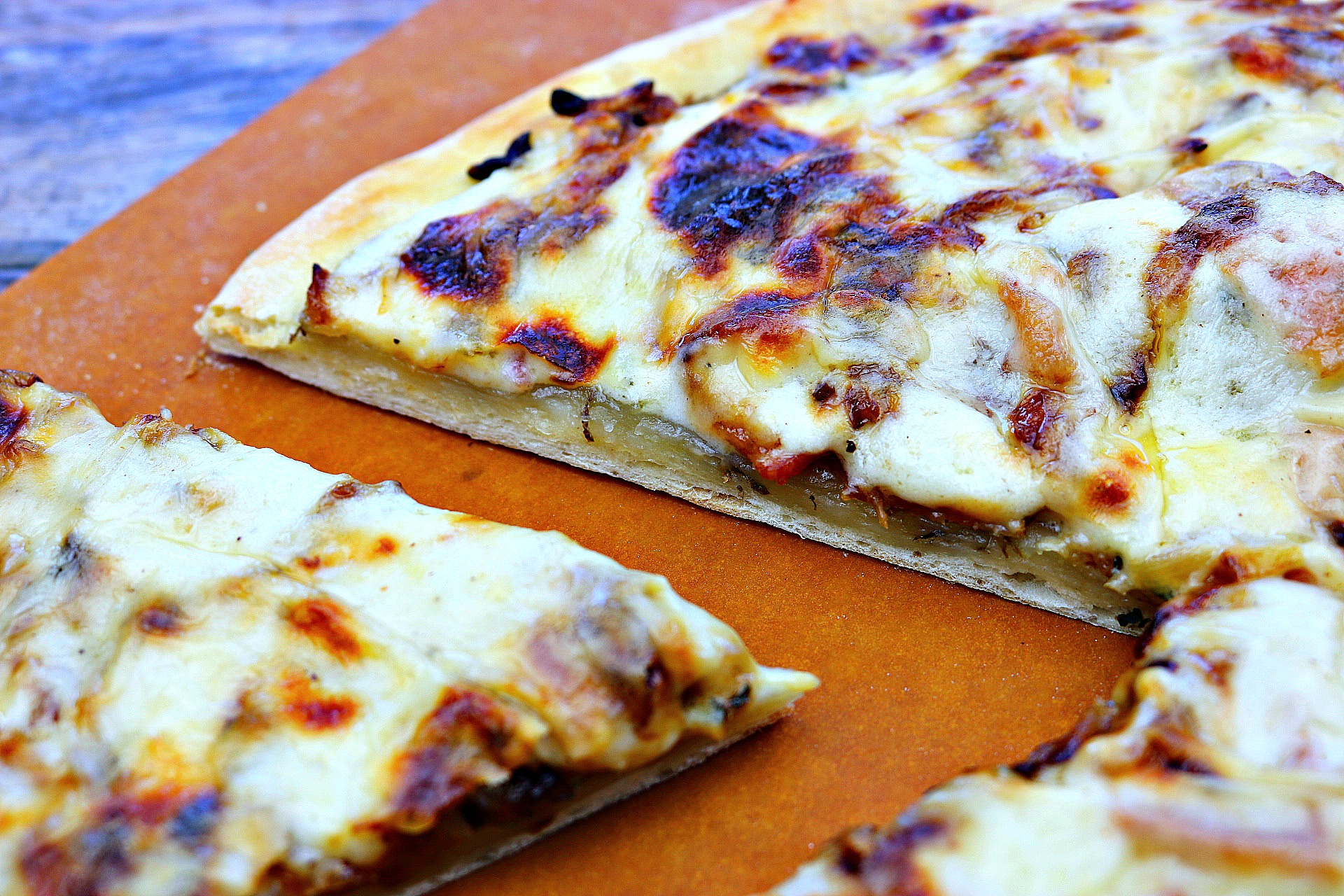 So there you have it.  IMHO, this is a pizza masterpiece.  Not only is it super delish, but it is relatively easy to make, and also can be made ahead of time.  I made this the day before and reheated it in the oven the next day.  It tasted just as good and the consistency of the ingredients and the pizza crust was perfect. Follow the 5 simple steps above and you are on your way to winning over the hearts (and stomachs) of your friends and family.
Important Items to make potato au gratin pizza:
Potato Au Gratin Pizza with Bacon and Caramelized Onions
Ingredients
1 potato, washed and sliced thin on the mandoline
1 small vidalia onion, sliced thin
½ teaspoon brown sugar
6 slices bacon, cooked and broken into small 1" pieces
Pizza dough (store bought)
Swiss cheese, shredded,
1¼ cup whole milk
1 tablespoon all purpose flour
Thyme, chopped, 1 tablespoon
1 tablespoon extra virgin olive oil
Salt
Pepper, freshly ground
Instructions
Preheat the oven to 425 degrees.
Slice the potato on the mandoline, one notch below ? inch mark. Set aside.
Thinly slice onion. Put in a medium fry pan with 1 tablespoon extra virgin olive oil, ¼ teaspoon salt and a pinch of freshly ground black pepper.
Caramelize on very low heat for 20-30 minutes. Stir frequently to avoid burning. Once the onions are almost done, add ½ teaspoon brown sugar. Stir to combine. Cook for another 5 minutes.
Warm milk in a small pot over low heat (about 5 minutes).
In another medium pot, melt 1 tablespoon butter. Add one tablespoon flour and cook for about 1-2 minutes until the flour is combined and cooked.
Add the warm milk to the butter and flour mixture. Whisk until it thickens. Add a pinch of salt and freshly ground black pepper.
Add one cup shredded swiss cheese to the milk and whisk until combined.
Roll out the pizza dough on a floured surface.
Spread 1-2 thin layers of the potato on the rolled out pizza dough. Top with bacon, thyme, and caramelized onions.
Top with the swiss bechamel sauce.
Bake at 425 degrees for 12-14 minutes, until the top is brown.
https://www.mangiamichelle.com/potato-au-gratin-pizza/
. . .