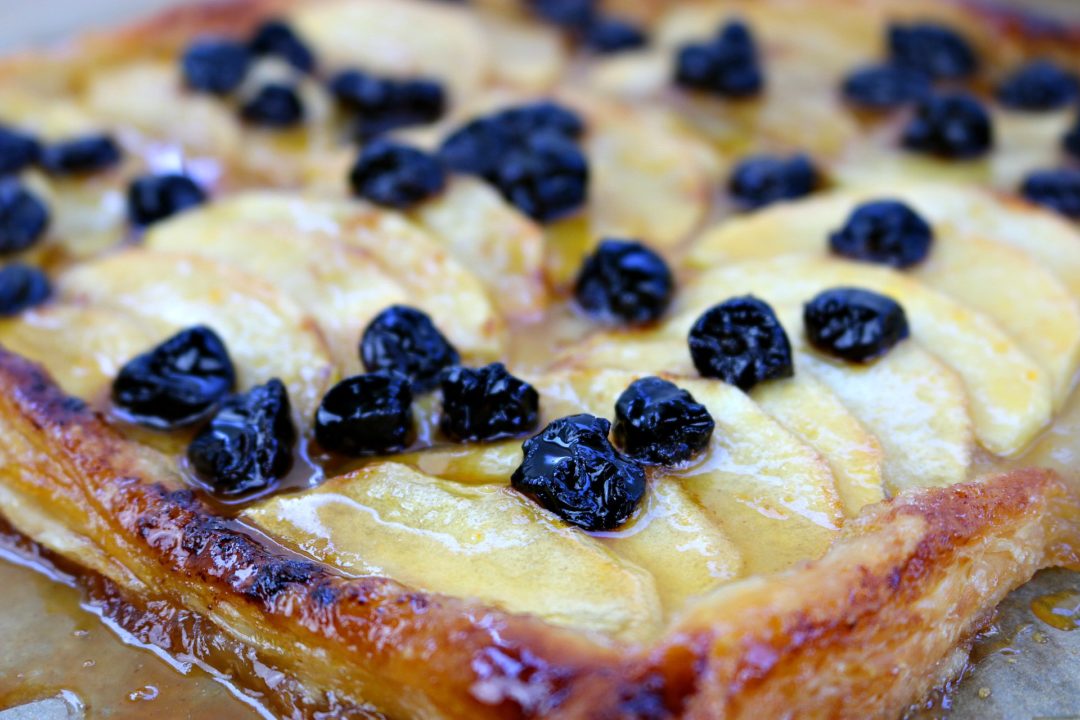 Ok, this is one of my new faves.  Especially as apple picking season is literally right around the corner.  I have already been on Pinterest looking for apple themed crafts for my kids and fall decor (and if you really want to know, Santa Claus has been checking on my kids at night since about March…he doesn't really get a vacay in my family).  Anyhow, I amped up a classic French apple tart by adding some dried cherries on top.  The results: delicious.
French Apple Tart is a classic dessert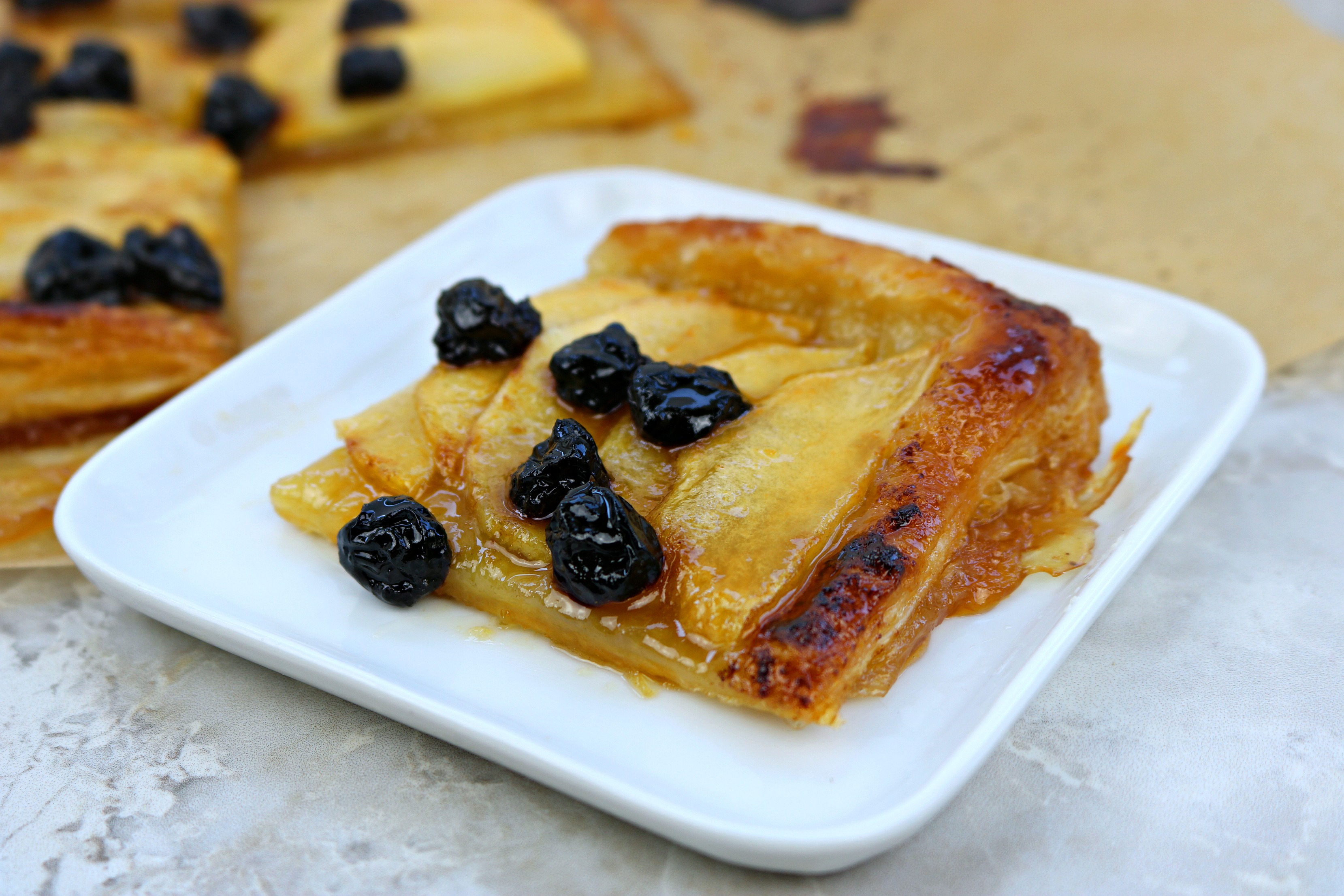 This dessert is also pretty flexible.  It can do splits and stuff…JK, bad joke.  But honestly, there is some versatility here.  If dried cherries are too tart for you, add some dried cranberries.  Or, some chopped walnuts would be AMAZING! The walnuts would really complement the caramelly glaze that you get on top from the sugar.  It's truly amazing actually.  I never knew what I was missing in life without ever having a French apple tart just until recently.  It's incredible.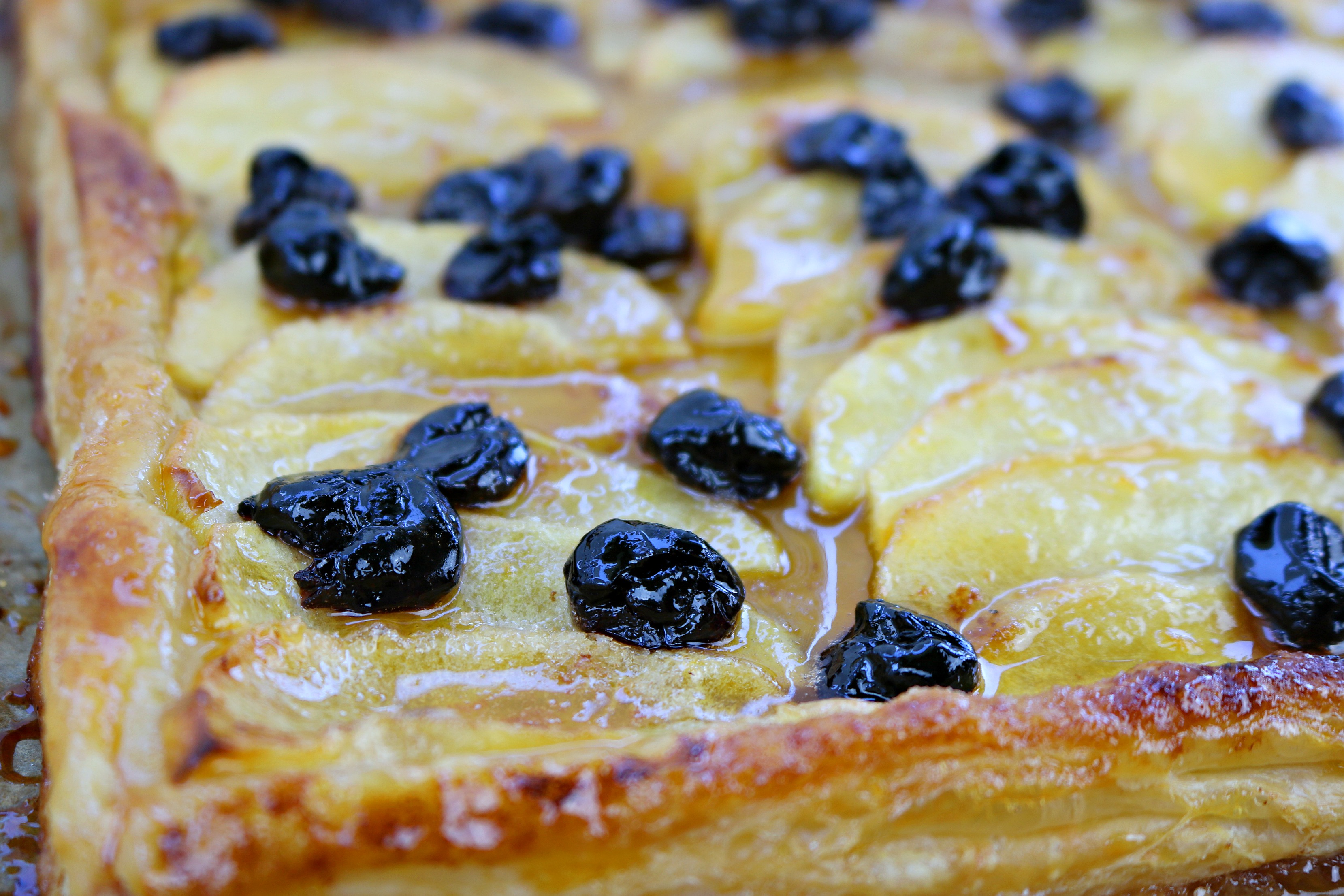 Just look at the glaze on top here.  The shininess is from the sugar that bakes on top like a layer of thin caramel, and the apricot preserves glaze that you brush on top after you take it out of the oven.  Its a masterpiece.  And pretty easy to make, actually.  I will be honest, I use a shortcut.  The shortcut is I buy frozen pre-made puff pastry sheets, instead of making my own pastry.  No shame in my game.  Who has time to make their own pastry? Ok, some people do.  And if you are one of them, more power to you.  But if you are like me, buy the frozen stuff.
Now, if you want to make this classic French dessert part of a full 3 course French meal, check out my menu for dinner in Paris.  This dessert is the ending to a 3 course meal, preceded by cheese gougeres and steak frites.  If you are entertaining friends or family, this is a great menu to make.  Cheese, steak, apple tart.  What's not to love? It will make everyone happy.
Let me know what you think of this apple tart.  And, if you try it with a different topping, let me know how it turns out…drop me a comment below 😉
French Apple Tart with Dried Cherries
Ingredients
2-3 yellow delicious apples, peeled and sliced in ¼" slices
1 sheet puff pastry
¼ cup granulated sugar
¼ cup dried cherries (can substitute with dried cranberries)
3 tablespoons butter, chilled and diced
¼ cup apricot preserves, strained
2 tablespoons water
Instructions
Preheat the oven to 400 degrees.
Line a baking sheet with parchment paper.
Take one sheet of thawed puff pastry sheet. On a flour surface, lightly roll it out so it has an even thickness.
Take a fork and poke holes in the pastry (about 1-2 inches apart), leaving a one inch border around the edge.
Wash and peel the apples. Remove the cores and thinly slice them into uniform pieces, about 1/4 inch thick.
Neatly layer the slices of apple on the puff pastry. Leave the border about 1/2-1 inch thick. You should get three rows of apple.
Evenly toss the dried cherries on top.
Top the pastry with the sugar.
Bake for about 25 minutes, or until the top is browned. The sugar will caramelize and may spill onto the parchment paper.
Allow to cool for five minutes.
While the tart is cooling, in a small saucepan, combine the apricot preserves and water on low heat for about 5 minutes.
Use a pastry brush and brush the apricot and water mixture on top of the tart.
Slice and serve.
https://www.mangiamichelle.com/french-apple-tart-with-dried-cherries/
. . .