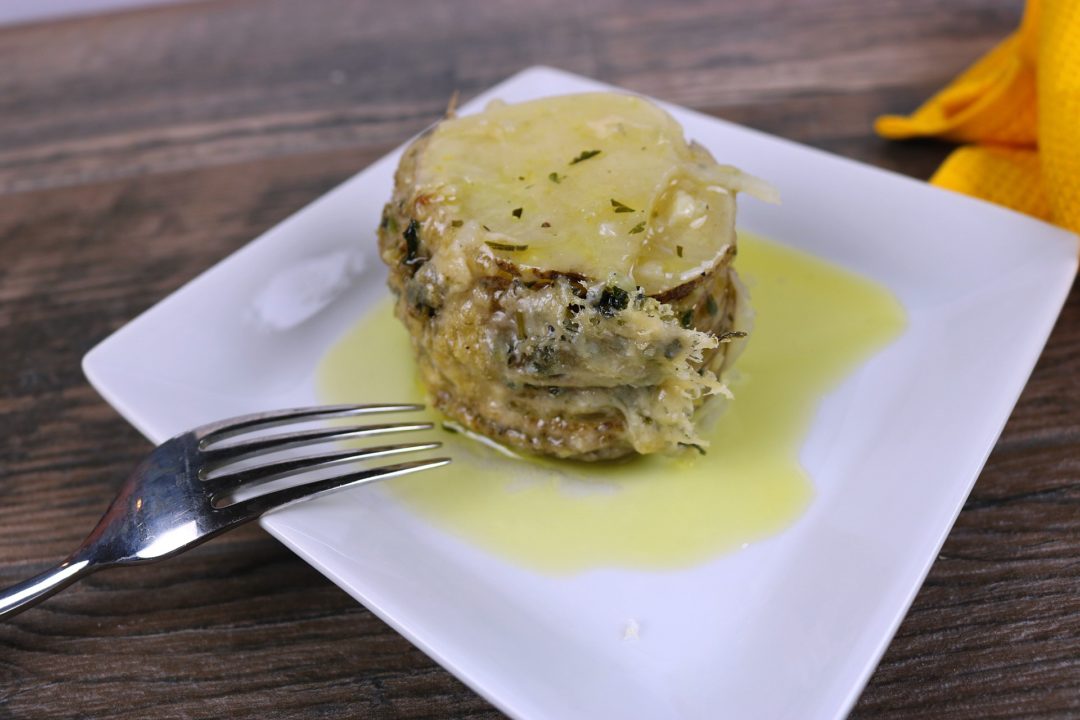 These butter and garlic potatoes, New York strip steak, a glass of Cabernet Sauvignon and a dim lit dining room with candles, a fireplace and some soft music playing in the background.  Those, my dear friends, are the ingredients for a perfect date night.  This is what my husband and I are having for dinner tonight.  Except, replace the soft music with our two youngsters fighting over the fireman Sam truck, replace the dim lit candles with the glow of the television, and most likely, I will be drinking Cabernet out of a Paw Patrol sippy cup.  Ok, all is true, except for the sippy cup part. I always have plenty of clean wine glasses on hand.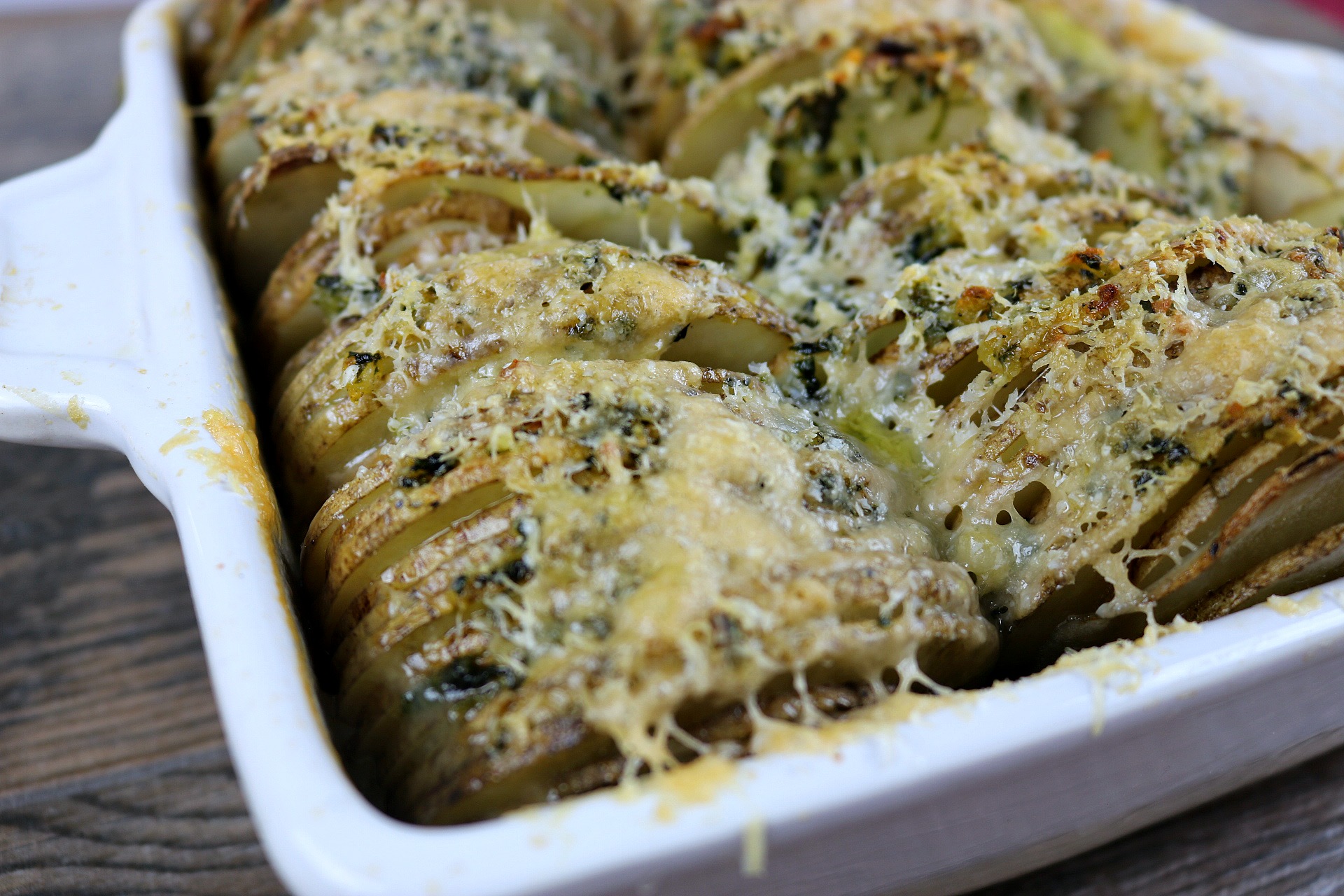 Butter, garlic and herb potatoes are the perfect side dish for your favorite steak dinner.
So, the first thing you need to make this dish successful, is a mandoline.  Of course, you can cut the potatoes with a really sharp kitchen knife, however, if you want perfectly even potatoes (not to mention do it within minutes), then you need a mandoline.  I use the OXO Good Grips Mandoline Slicer
.  Mandolines are a great kitchen tool.  You can use them to slice vegetables perfectly for casseroles, or even to make grilled vegetables, like squash or eggplant.  Look (below) how even the slices are! Beautiful!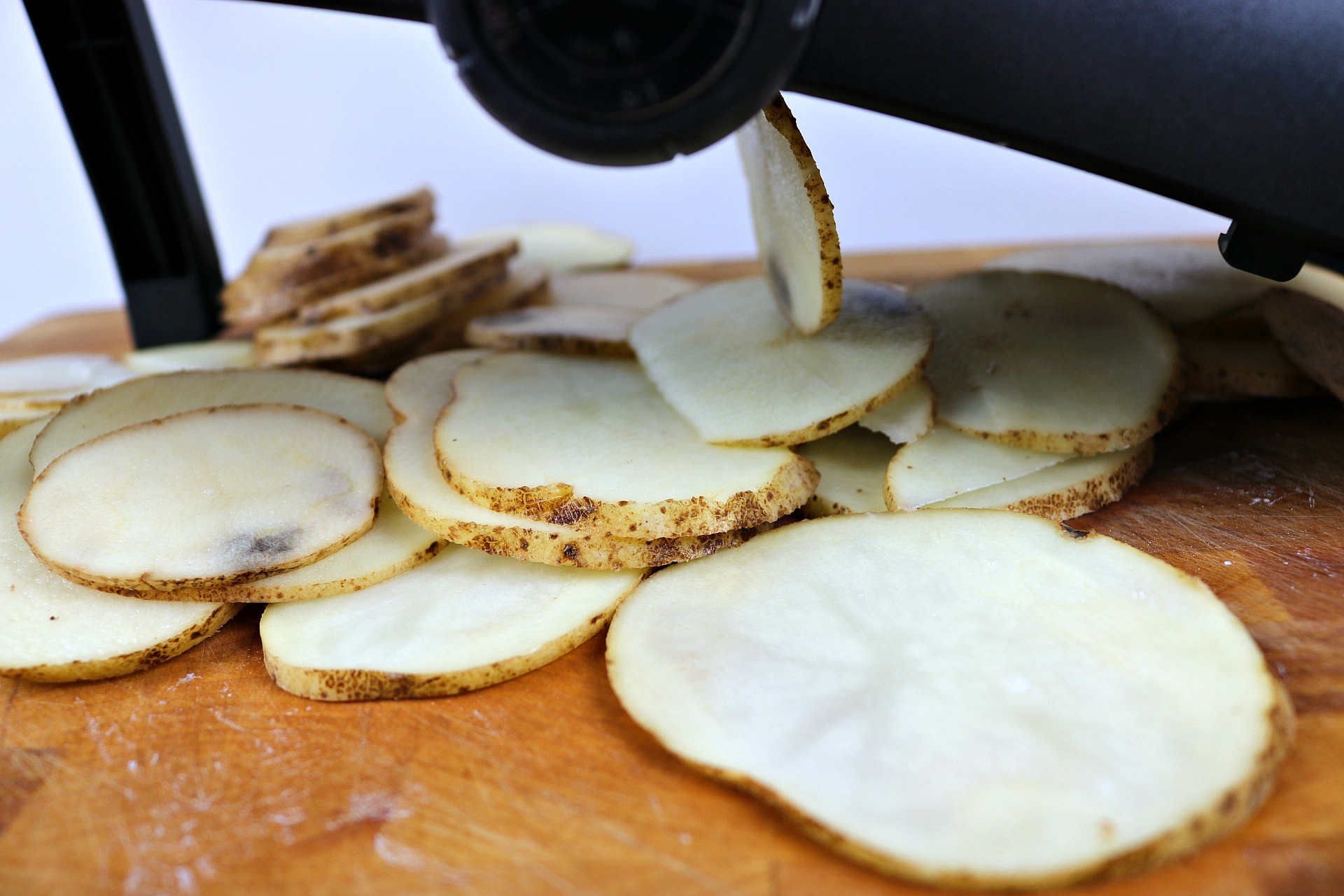 Then you can line them up in a small baking dish (I used an 8×8 inch dish).  Then you cover them with a little bit of chicken broth and the savory, delicious sauce made with butter, garlic, parsley and rosemary.  Use your hands to make sure that the garlic and herbs get evenly distributed and in as many crevices as possible.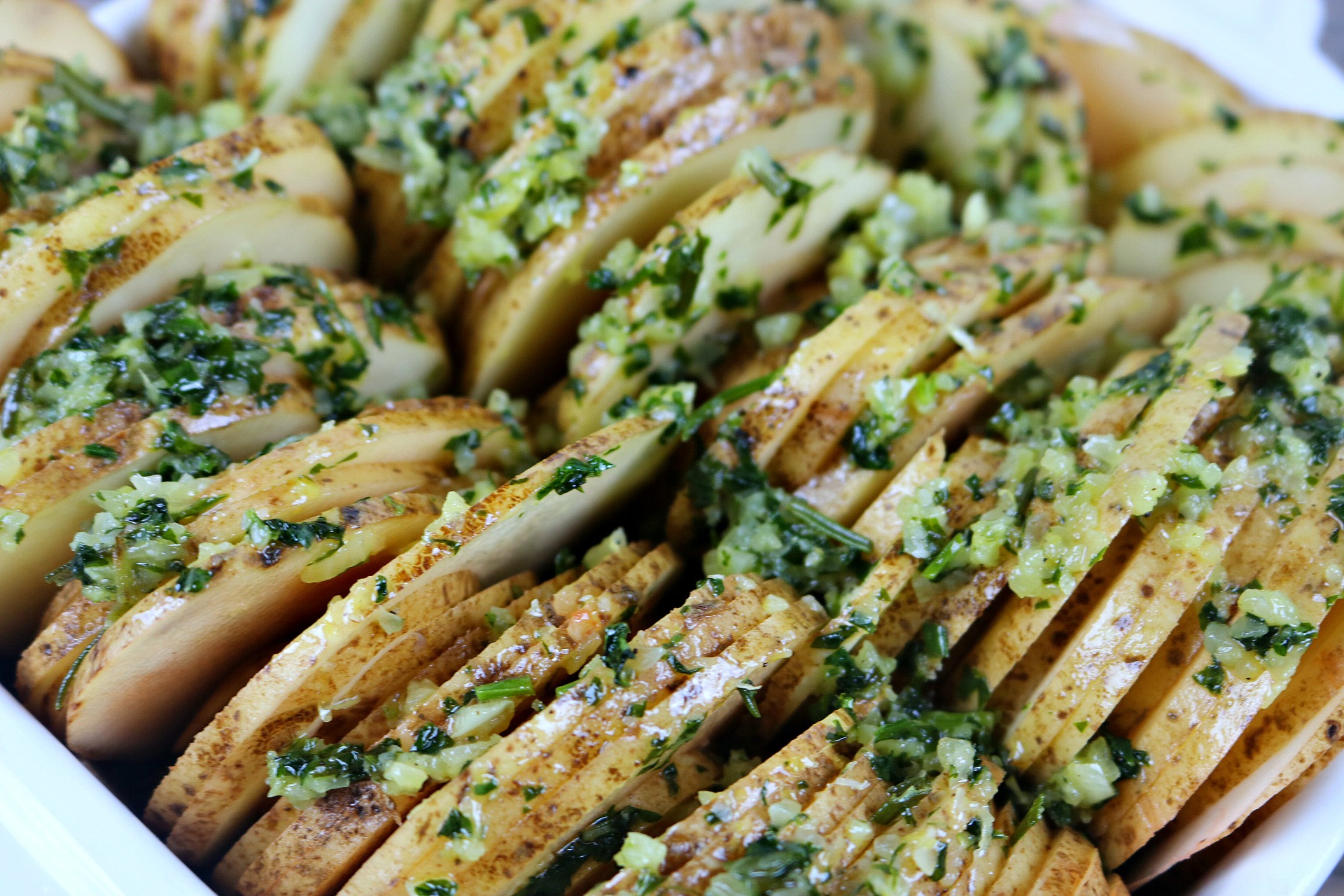 Bake these babies up and serve hot with your favorite steak dinner.  Don't forget the wine…with steak, go for a big red like a Cabernet Sauvignon.
Mangia!
Butter, Garlic & Herb Potato Casserole
Ingredients
4 Idaho russet potatoes (about 3 1/2 pounds)
2 tablespoons minced garlic
2 tablespoons minced parsley
1 teaspoon chopped rosemary
Zest of half a lemon
1 teaspoon salt
1/4 teaspoon freshly ground black pepper
1 cup chicken broth
1/2 cup extra virgin olive oil
4 tablespoons butter
1 cup grated parmigiano reggiano
Instructions
Preheat the oven to 400 degrees.
Rinse and scrub the potatoes. Do not remove the skins.
Use a mandoline to evenly slice the potatoes (should be between 1/8 inch and 1/4 inch).
Line the bottom of an 8x8 baking dish with the potatoes. The potatoes should be layed vertically, not horizontally (see pictures in the post).
Pour the chicken broth on top.
In a small saucepan over medium heat, add the olive oil, garlic, parsley, rosemary, lemon zest, salt and pepper. Cook for about 4-5 minutes until the garlic starts to smell delicious.
Add the butter and stir until melted.
Pour the mixture over the potatoes evenly. Use your fingers to get the garlic and herbs in all of the crevices.
Cover with tin foil and bake for 1 hour, removing the cover after 45 minutes.
Remove from the oven and top with the grated parmigiano reggiano cheese.
Bake for 10 minutes.
https://www.mangiamichelle.com/butter-garlic-potatoes/
. . .