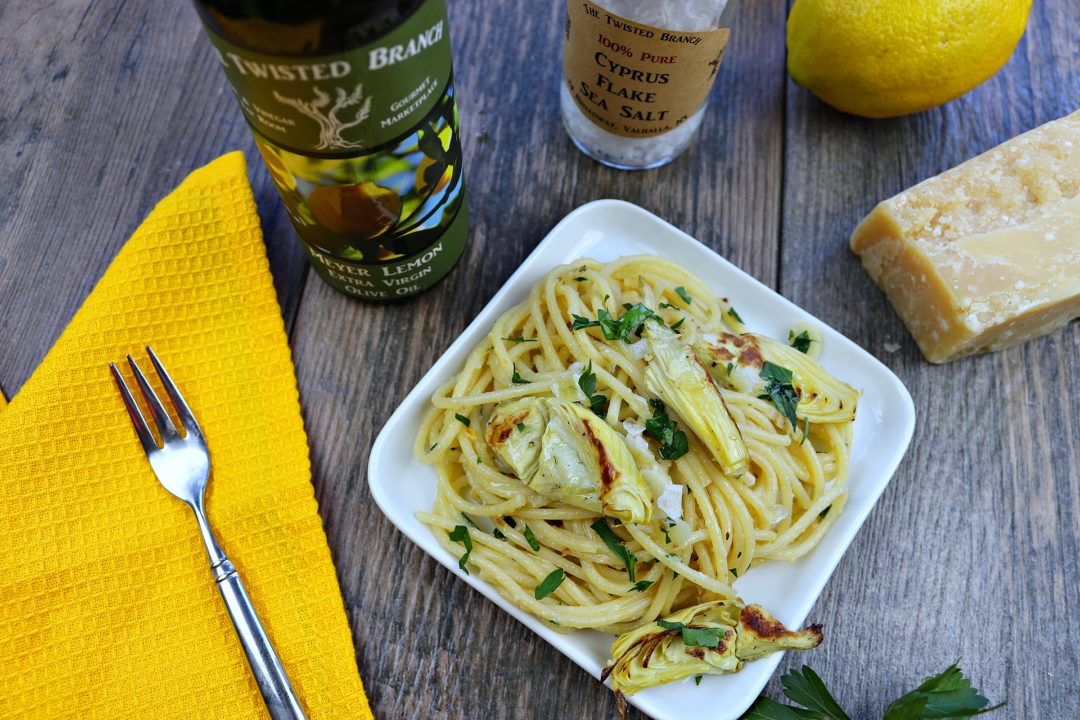 Are you looking for a simple and delicious pasta dish that you can toss together any night of the week? Yes? Then keep reading, because I have the recipe that you have been waiting for.  Not only is this lemon and roasted artichoke pasta easy and delicious, but it is also light and easy on the figure.  Don't worry, I got you girl (wink, wink).
Easy, easy, easy! You don't have to be a chef to make this roasted artichoke pasta dish!
Not only is this easy to make, but it will certainly impress your dinner guests.  Do you want to throw an impromptu, super casual dinner for friends?  Something you can throw together after work, or between soccer practice and dance class? Something that tastes like it took you all day, but in reality, you boiled pasta water and threw together some items from the pantry?  No problem! Mangia Michelle to the rescue.
Here is what you need:
Spaghetti
Canned artichoke hearts
Italian breadcrumbs
Parsley
Salt and pepper
Grated parmigiano reggiano
Extra virgin olive oil
Red pepper flakes (optional)


So the first thing that you need to do, is roast the artichoke hearts.  And before you do that, you need to drain as much liquid out of them as possible.  Here is how you do it…place the artichoke hearts in a clean dish towel.  Fold the towel over and gently squeeze the liquid out.  Make sure you are gentle, if you apply too much pressure, you will rip apart the artichoke hearts.  And that will not make for a pretty dish my friends.  Draining the liquid is a very important step.  If they are too water lodged then they won't get brown when you roast them.  And if they don't get brown, then they won't be as tasty.  Remember, brown food = tasty food.  Then, follow the directions below…season them with extra virgin olive oil, salt and pepper, spread on a baking sheet and roast in the oven.  When they are done, they will look like this (see pic below).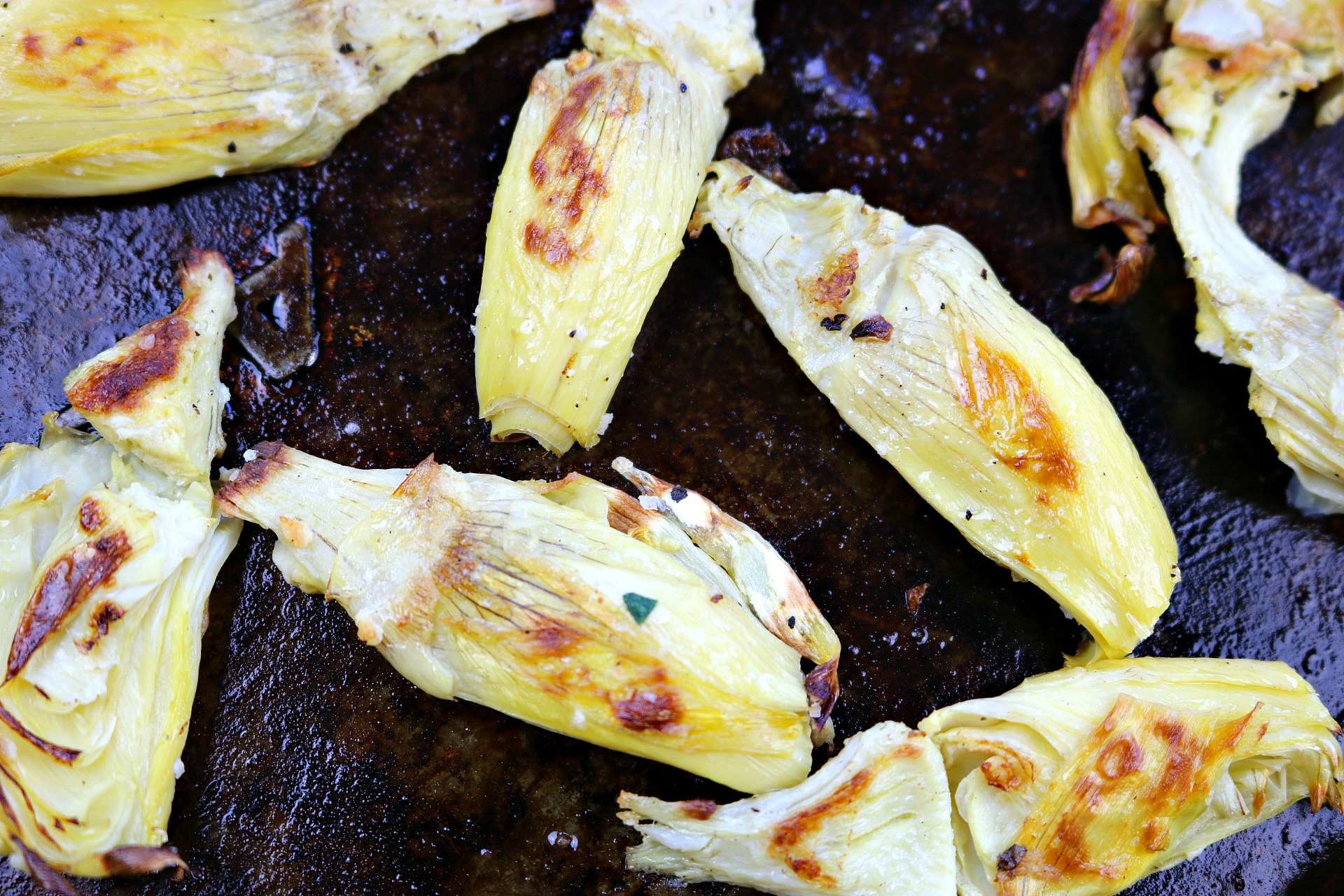 The Twisted Branch: A Foodie's Dream Come True!
Ok, so let me stop for a moment to talk about some of the special products that I use in this dish.  First off, thank you Erika at The Twisted Branch for having me come and sample your AMAZING products! I got to spend some time sampling the delicious flavor infused olive oils, balsamic vinegars, and spices and salts at her shop.  I can't wait to create and post more recipes using these awesome products.  For all of you foodies out there (yes, I'm talking to you) check them out.  If you are local in Westchester, go visit.  If not, don't hit the panic button, just go to their website.  The Black Truffle Extra Virgin olive oil is sinfully delicious, and the Black Mission Fig Dark Balsamic is sure to make it into my next pizza recipe.  They even have a Chocolate Balsamic Vinegar that will knock your socks off.  I mean, are you kidding me, chocolate balsamic? Sign me up!  They have a limited supply, so if you are interested, shoot them an email.
Ok, so let's recap, here is what you need to do.  One, invite some friends over for dinner. Two, check out the Twisted Branch ASAP.  Three, buy some wine (see my recommendations below).  Four, make this easy lemon and roasted artichoke spaghetti.  Five, mangia!
Pairing: Sauvignon Blanc or Pinot Grigio.
Easy Lemon and Roasted Artichoke Spaghetti
Ingredients
2 cans artichoke hearts, quartered and drained
1 pound spaghetti
1 cup Italian flavored breadcrumbs
2 garlic cloves sliced
Extra virgin olive oil
2 tablespoons chopped parsley
2 tablespoons meyer lemon olive oil plus extra to drizzle on top
Salt and pepper
Grated parmigiano reggiano (for garnish)
Optional: Red pepper flakes
1 cup reserved pasta liquid
Instructions
Preheat oven to 375 degrees.
Fill a large pot with water. Put over high heat and begin to bring to a boil.
Drain the artichokes, squeezing out as much liquid as possible.
Put artichokes in a bowl. Drizzle one tablespoon extra virgin olive oil, ½ teaspoon salt and a pinch of freshly ground black pepper.
Spread the seasoned artichokes out on a baking sheet.
Bake for 15-16 minutes, flipping halfway through.
Once the water begins to boil, add the spaghetti. Cook the spaghetti according to the package.
When the pasta only has 4 minutes left, put a large saute pan over medium heat. Add 2 tablespoons extra virgin olive oil. Add the garlic. Saute for a few minutes. Toss the garlic to avoid burning.
When the pasta is done, reserve one cup of cooking water. Add the pasta to the pot with the garlic and oil. Toss the pasta to coat.
To the pasta, add 2 tablespoons of meyer lemon olive oil. Toss to coat. Add the chopped parsley, red pepper flakes (½ teaspoon - or more or less depending on your preference), and bread crumbs. Toss the pasta to coat. Slowly add the cooking liquid, ¼ cup at a time. You may not use the entire cup if you think you don't need anymore liquid.
Add the artichokes and toss everything together.
Serve pasta. Garnish with a drizzle of the meyer lemon olive oil, the Cyprus flake sea salt and parmigiano reggiano cheese.
https://www.mangiamichelle.com/easy-lemon-roasted-artichoke-spaghetti/
. . .