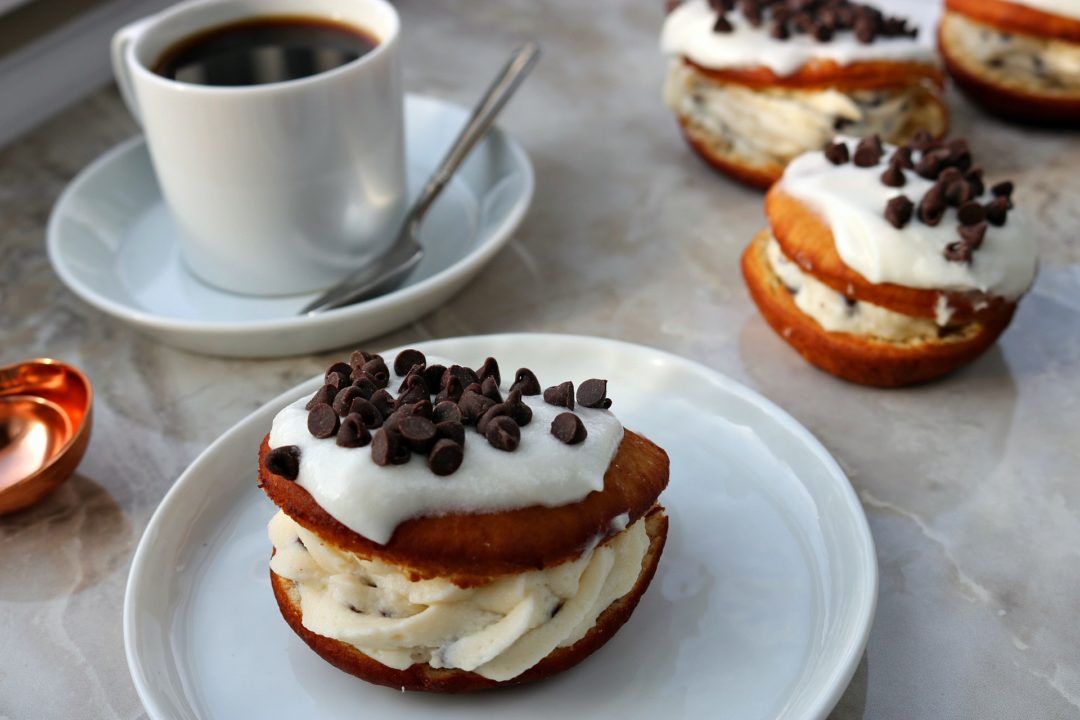 Do you want a cannoli for breakfast? Yes? Ok, I got you covered.  Now, its no secret that I love cannoli cream.  If you follow my blog, you have read my posts on cannoli cups and chocolate covered cannoli cupcakes. I knew that I wanted to make doughnuts this weekend.  So, as I sat there and pondered the many possibilities, it was cannoli doughnuts that stood out.  Because, who doesn't want a cannoli for breakfast? Feeling guilty about that? Ok, just stuff some cannoli cream inside a doughnut and lets call it a day.  I'm a glutton for punishment.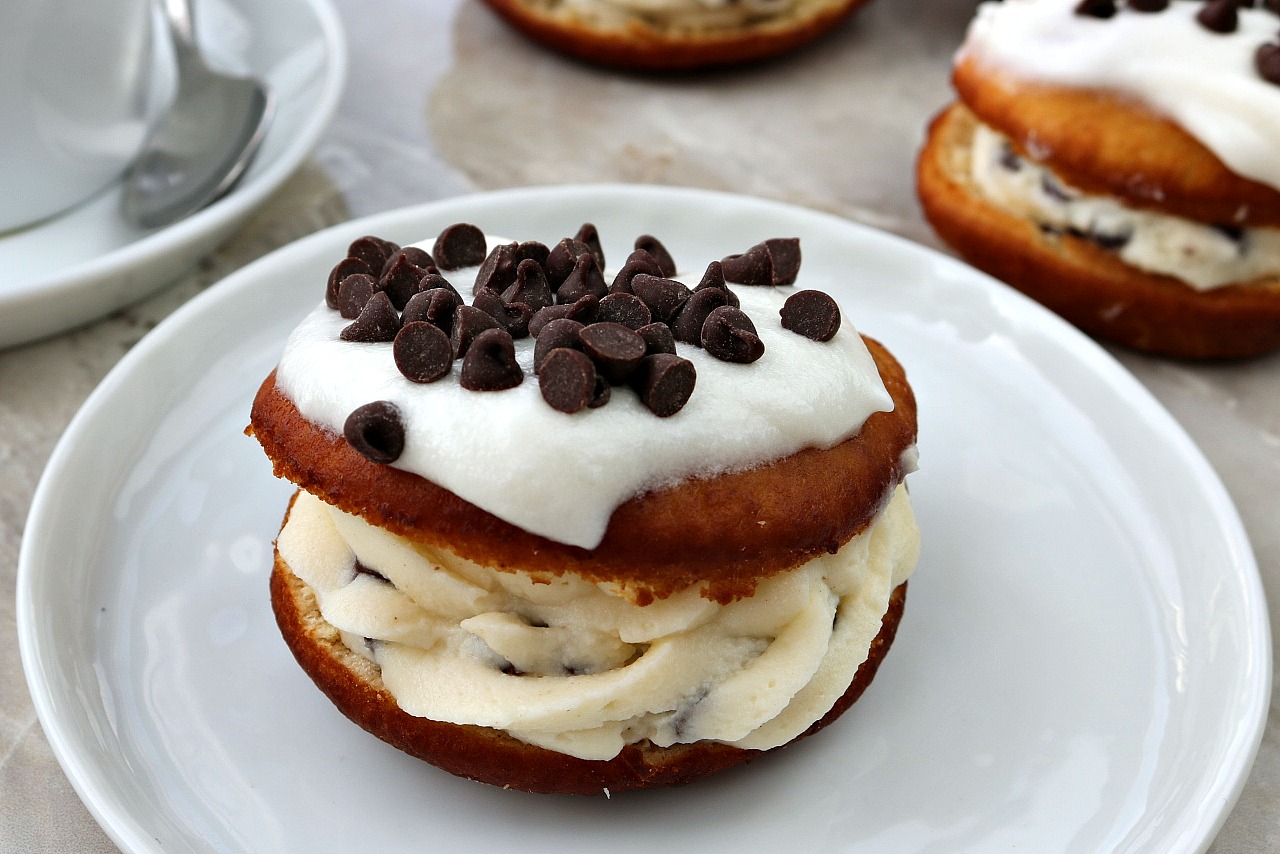 Does it get any better than this? My love affair with cannoli cream continues.  This recipe is part whole milk ricotta and part mascarpone.  It gives it a creamier finish that tastes great inside a doughnut.  But let's be honest, cannoli cream would taste great inside of anything.
Serve cannoli doughnuts for breakfast alongside a doppio espresso.
When I first bit into this gem, it took me back to a time that my husband and I vacationed in Italy.  We drank a lot of espresso, ya know, to combat the nasty jetlag.  Anyhow, we would go to an espresso bar, order ourselves a doppio espresso and a pastry.  Because eating pastries for breakfast is totally acceptable in Italy.  Have I mentioned how civilized they are? I would be a happy gal if I could eat pastries for breakfast on the regular. Unfortunately, my guilt would overcome me after a few days of sugary indulgence first thing in the morning.  Sigh…


Before I move on to kitchen equipment, let me just say that if you don't feel like deep frying your own doughnuts, feel free to get some plain store bought ones and stuff them with your own homemade cannoli cream.  I am fine with that.  Who has time to deep fry their own doughnuts? The struggle is real my friend. Keep it practical, easy and well-suited to your lifestyle.
Now, you will need some kitchen equipment to make these.
First, you need a hot oil/candy thermometer for frying the doughnuts.

You will need pastry bags to pipe the cannoli cream into the doughnuts.  Some people swear by using plastic baggies, however, I have never had success with that method.

You need pastry tips to put in the end of the pastry bags.

* Now if you don't care about the cannoli cream getting the pretty spiral look from the piping tips and pastry bags, feel free to spoon it inside the doughnuts.  In this recipe, I slice the doughnuts in half, pipe the cream and then make it like a doughnut sandwich.  And I must confess, that is because I had a hard time stuffing it without the tops of the doughnuts breaking.  The "sandwich" way was easier and looked a lot prettier.
You will also need cheesecloth to drain the ricotta/mascarpone mixture.  I cannot stress the importance of draining the ricotta cheese.  You absolutely MUST do this.  Otherwise the cheese is liquidy, and not appetizing at all.  To do this, put the cheese in a cheesecloth, over a strainer, fit over a bowl.  Wrap the cheesecloth over the top and they weight it with a few canned goods.  Leave it in the refrigerator overnight. The next day, take it out, try to squeeze out any excess liquid.  Now, you should be good to go.

Finally, you will need circular cookies cutters (3 inch to be exact) to make the doughnuts.

Pairing: Espresso
Ingredients
For the doughnuts:

2 ½ cups flour
1 egg
2 egg yolks
½ cup sugar, plus 1 teaspoon
½ cup whole milk at Luke warm temperature
2 1/2 teaspoons active dry yeast
2 tablespoons unsalted butter
¼ teaspoon cinnamon
Pinch of salt

For the cannoli cream:

6 ounces whole milk ricotta, drained
6 ounces mascarpone, drained
½ cup confectioners sugar
1 teaspoon vanilla
½ cup mini chocolate chips

For the frosting:

1/4 cup butter, softened
1/4 cup shortening
1 teaspoon vanilla
2 cups confectioners sugar
3 tablespoons whole milk
1/4 teaspoon cinnamon (optional)
Extra mini chocolate chips for the topping
Instructions
The night before:

You must drain the ricotta and mascarpone cheese. Place the cheeses in the middle of a cheesecloth. Wrap the cloth over the top. Place it in a small colander, fitted inside a bowl (to catch the liquid). Weight it with a few canned goods. Place in the refrigerator overnight.

The day of:

The milk must be luke warm. You can put it in the microwave for about 20 seconds. Put the milk, 1 teaspoon sugar and active dry yeast in a small bowl. Set aside for 15 minutes.
In a large bowl, add the flour, egg and egg yolks, half cup sugar, butter and cinnamon. Add the yeast mixture. Combine all ingredients until it forms a dough.
On a floured surface, knead the dough for about 10-15 minutes.
Place the ball of dough in an oiled bowl. Cover in plastic wrap and place aside for one and a half hours. This will allow it to rise.
After one and a half hours, roll out the dough on a floured surface until it is a quarter inch thick. Use a circular cookie cutter (3 inches) and make as many circles as you can. Place them on a baking sheet covered in parchment paper. Cover in plastic wrap and set aside for 15 minutes.
In the meantime, fill a large pot with 2-3 inches of vegetable oil. Place over medium heat. Use a hot oil/candy thermometer. Once the temperature reaches 370 degrees, it is ready for the doughnuts. I prefer medium heat because it allows the doughnuts to cook more evenly. It may take a while, however, for it to reach the desired temperature.
Put the doughnuts in the hot oil (2-3 at a time). They will cook up quickly, about 45 seconds to a minute on each side. Flip them and then remove from the oil on a baking sheet covered with paper towels.

For the cannoli cream:

Place the drained cheese mixture in a bowl with the confectioners sugar and vanilla. Use a hand mixer and mix until the mixture is combined and creamy. Fold in the mini chocolate chips.
Place the cannoli cream in a plastic pastry bag with a large tip inserted in the bottom.
When the doughnuts are cooled, slice them in half. Use the pastry bag and pipe in cannoli cream. Cover with the other half of the doughnut.

For the frosting:

In a bowl, combine the shortening, butter, confectioners sugar, vanilla, cinnamon and milk. Use a mixer to combine all ingredients.
Carefully, use a spoon and spoon the frosting over the doughnuts.
Top with some mini chocolate chips.
Refrigerate doughuts that will not be eaten right away,
https://www.mangiamichelle.com/cannoli-doughnuts/
. . .