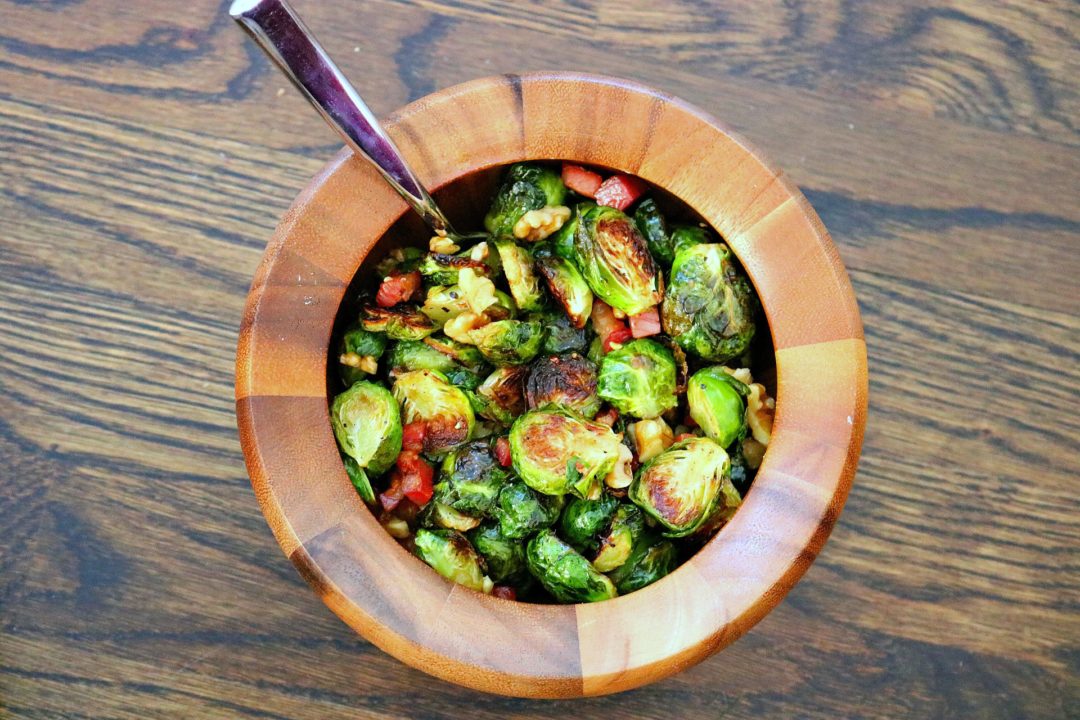 They make the perfect holiday side dish
These brussels sprouts are always a hit when I make them.  Whether its for Thanksgiving or Christmas dinner, or just on a wednesday night, they are always a crowd pleaser.  And better yet, they are super easy to make and don't take a whole lot of prep.  Maple glazed brussels sprouts with pancetta and walnuts are the perfect side dish for your holiday dinner.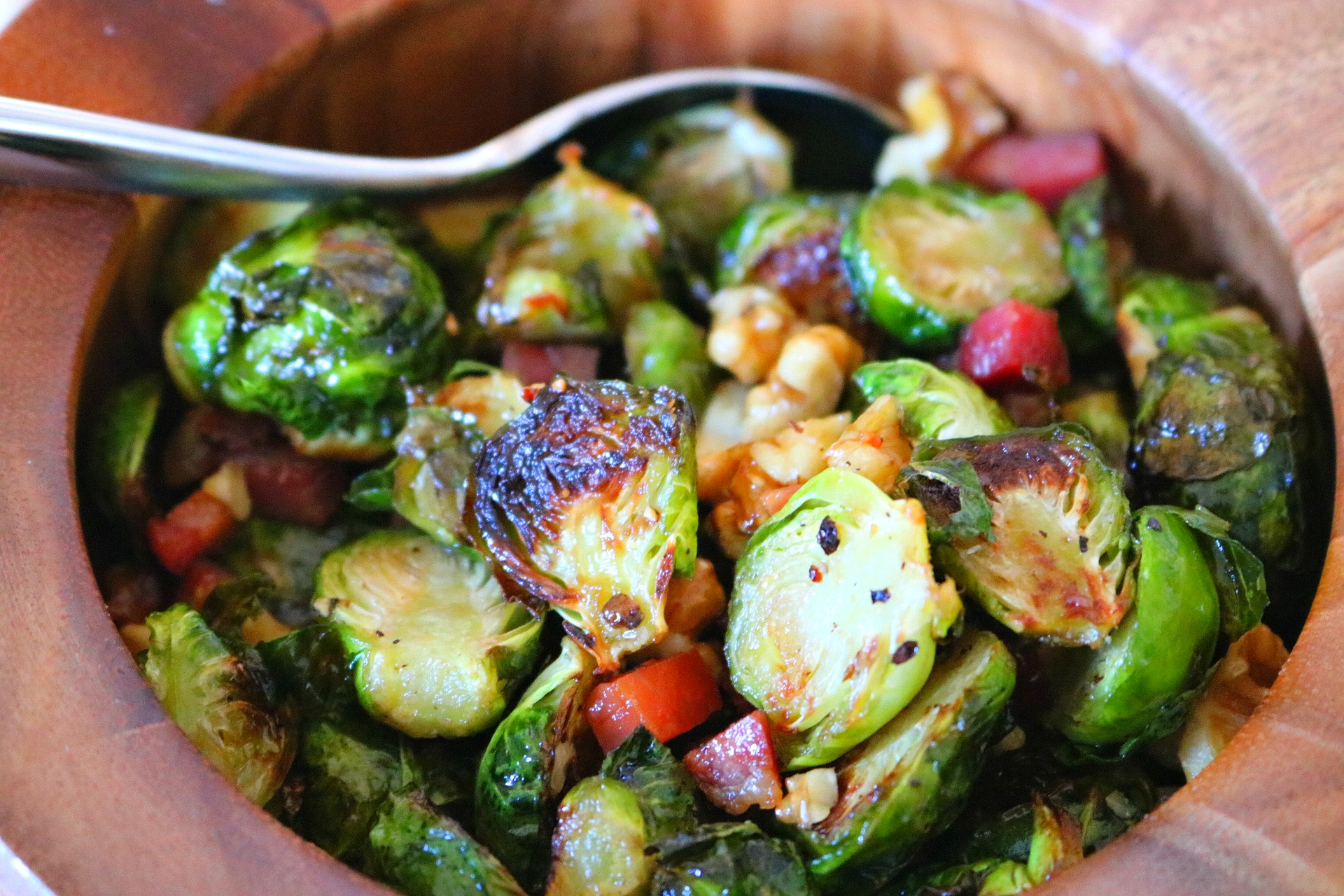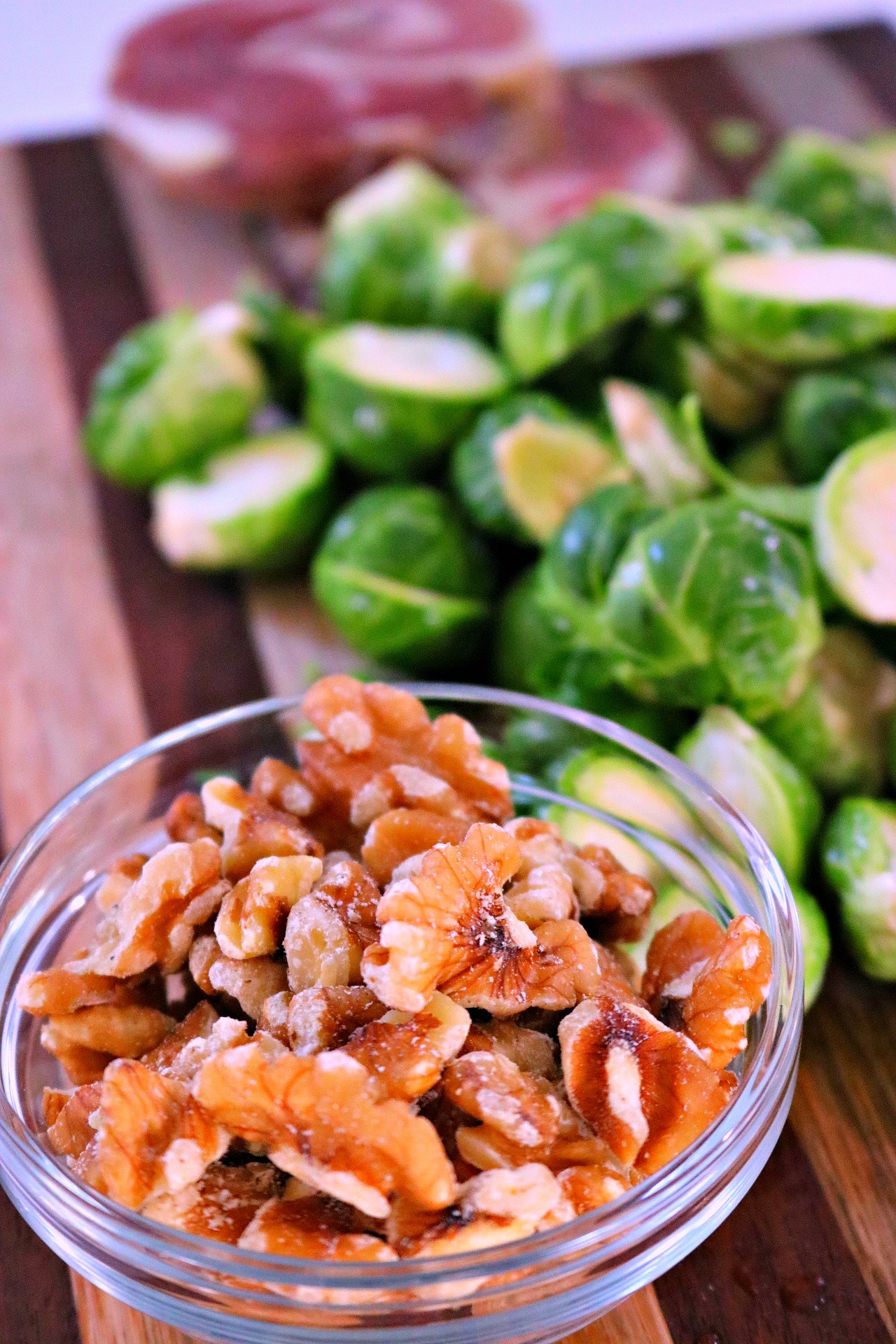 The pancetta gives them an elegant touch, however, they are just as delicious with bacon if that is what you have on hand,  The recipe calls for one tablespoon
of maple syrup.  I prefer the maple syrup to be mild and more in the background.  If you want more of that maple taste, feel free to add more, 1 teaspoon at a time.  But do not add any extra until you have tested them first.  Because too much maple syrup can overpower the other ingredients.
Maple glazed brussels sprouts with pancetta and walnuts are the perfect side dish for your holiday meal.
This side dish goes great with roasted turkey on Thanksgiving, or it is elegant enough to pair with a filet mignon for Christmas.  They also pair well with mashed potatoes…because everything goes with mashed potatoes.  And for a week night dinner, they are excellent with pork chops.
For a wine pairing, a California Cabernet Franc would be an excellent choice.


Mangia!
Maple Brussels Sprouts with Pancetta & Walnuts
Prep time: 15 minutes
Bake time: 20 minutes
Servings: 4
Ingredients
12 ounces of brussels sprouts
1/2 inch thick piece of pancetta
1/4 cup walnuts
1 teaspoon kosher salt
1/2 teaspoon freshly ground black pepper
2 tablespoons extra virgin olive oil
1 tablespoon maple syrup
Instructions
Preheat the oven to 400 degrees.
Rinse the brussels sprouts in water.  Cut the woody end off the brussels sprouts and cut in half.
In a mixing bowl, mix the brussels sprouts with olive oil, salt and pepper.  Spread evenly onto a baking sheet. Roast the brussels sprouts for 20 minutes, flipping halfway through.
While the brussels sprouts are roasting, toast the walnuts in a small fry pan over low heat.  Do not walk away! They will burn very quickly.  They will only take about 5 minutes.  Transfer to a plate and allow them to cool.  Once cool, give them a quick chop. They should not be cut too small.
Dice the pancetta into pea sized pieces.  Use the same fry pan from the walnuts and cook the pancetta until it is crispy.  Transfer to a paper towel.
When the brussels sprouts are done, put them in a mixing bowl and toss with the maple syrup.  Add the cooked pancetta and diced walnuts.
Notes
1 tablespoon will give a very mild hint of maple to the brussels sprouts.  Feel free to add a little more if you want a stronger maple flavor.  Test them first before adding additional maple syrup.
. . .