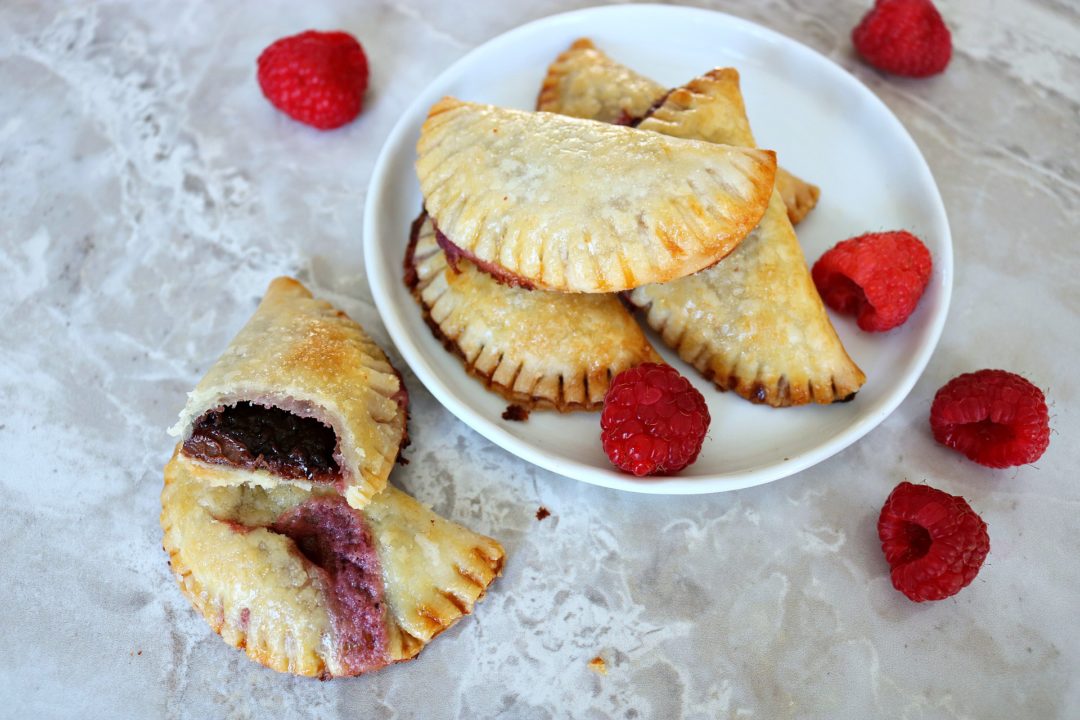 I have to admit, I am freecken tired.  Some of my recipes lately, well, let me just say they are not necessarily quick and easy to make.  Especially for all of us tired moms out there (holla). Cannoli doughnuts, seafood mac and cheese, banana split cupcakes…while all very delicious, and totally worth the effort if you have the time, are not always realistic when you are managing kids, a spouse, a job and well…life.  So I needed a recipe that is short and sweet and will make everyone (cooks included) happy.  So here it is, raspberry and Nutella hand pies.  They fit the bit the bill of quick, easy and delicious.  And to all you tired moms and dads out there, you're welcome 🙂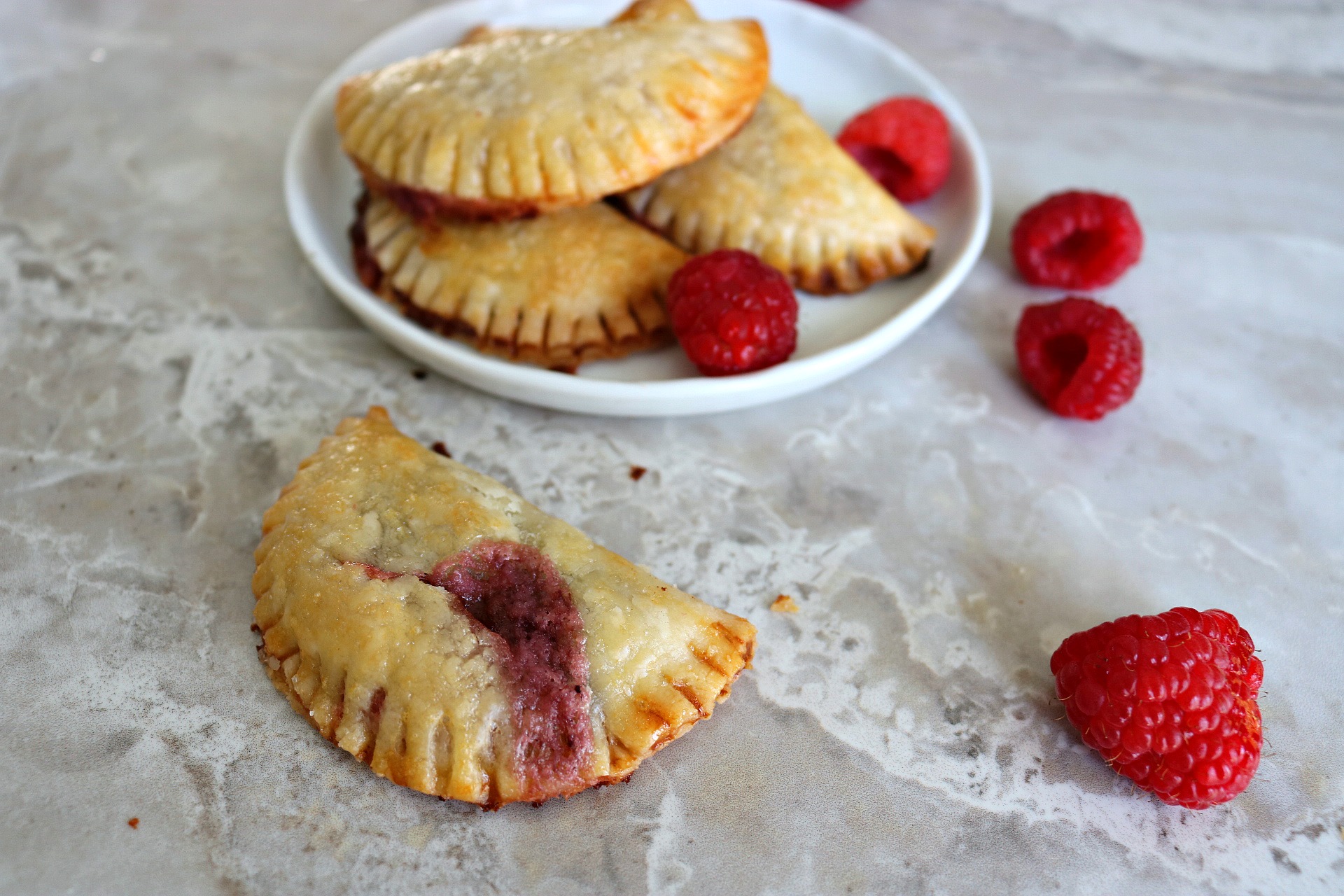 Raspberry and Nutella hand pies only have 4 main ingredients!
This quick dessert only has 4 main ingredients; frozen pie crust, raspberry preserves, Nutella, and mascarpone or cream cheese.  You will also need 1 egg (for an egg wash) and sugar to sprinkle on top.  You can assemble them in about 15 minutes.  They are that easy.  A few things to note…you can use either mascarpone OR cream cheese.  Either would taste fine.  Mascarpone cheese is a bit more expensive than cream cheese.  I happened to use mascarpone cheese because that is what I had at home…one less thing for me to buy.  Also, you can use any flavor preserves that you want.  Strawberry preserves would also be delicious, and you could even use orange marmalade. Play around with it, and drop me a comment below on your variation.
One thing that you will need is a round cookie cutter.  I used a three inch cookie cutter for this recipe.  It makes the perfect little hand held snack.  They are super easy to assemble.  Drop a little Nutella in the center of the circle and then put some of the mascarpone (or cream cheese) and raspberry preserve mixture on top (see picture below).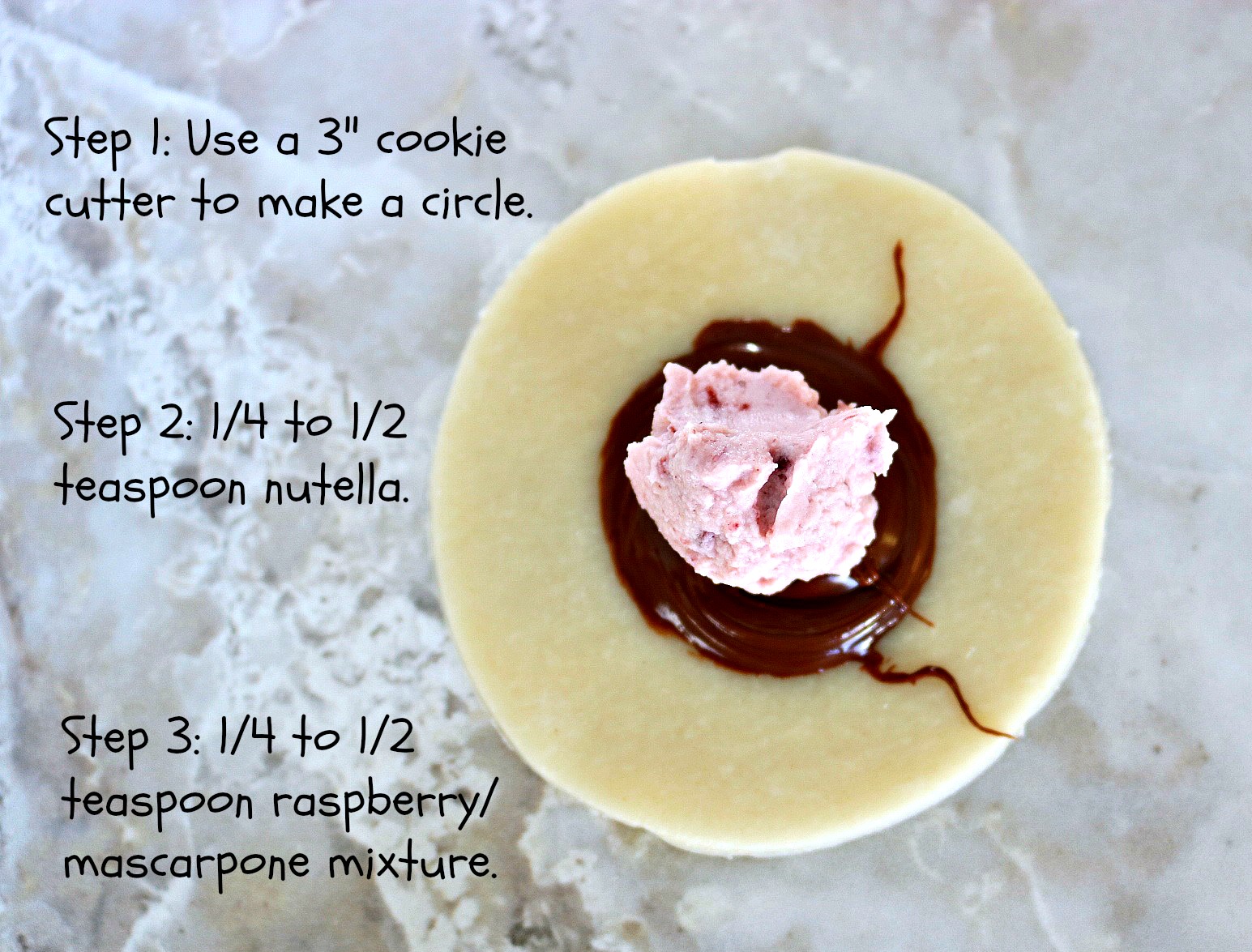 After you follow the Make sure that you use egg wash around the edges before you seal it into a semicircle.  Then you will brush with egg wash and sprinkle with some granulated sugar.  That gives it a shiny coating with a sweet little crunch.  Bake for 20 minutes at 350 degrees, and you are all set!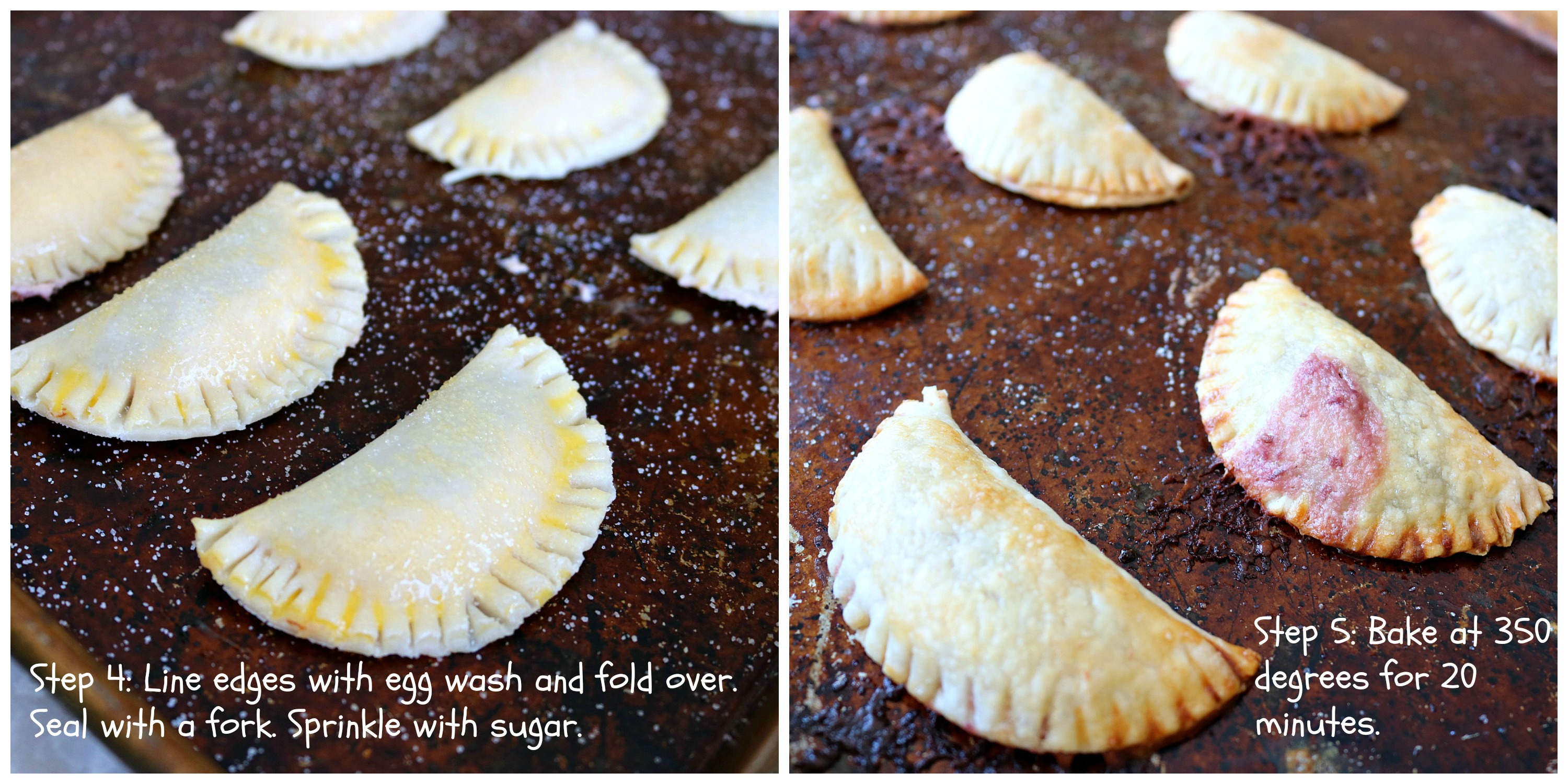 So, enjoy this quick and easy treat.  Stress the "quick" and "easy."  Let me know what you think!
Pairing: a latte, a mimosa
Mangia!
Quick and Easy 4 Ingredient Raspberry & Nutella Hand Pies
Ingredients
2 pie crusts, defrosted
6 ounces cream cheese or mascarpone cheese
¼ cup raspberry preserves
4 ounces Nutella
Sugar
1 egg
Instructions
Preheat the oven to 350 degrees.
Unroll the pie crusts. Use a rolling pin over them twice to even out.
Use a three inch circular cookie cutter and make circles. You will get about ten for each pie crust (20 total).
In a small bowl mix the raspberry preserves and the mascarpone (or cream cheese) until they are combined.
Use a quarter teaspoon measure and put a quarter teaspoon of Nutella in the center. Put a quarter teaspoon of the mascarpone raspberry mixture on top.
Mix one egg to make an egg wash.
Use your finger to line the outside of the circle with egg wash.
Gently fold over the pie crust so it makes a semicircle. Use a fork to seal the edges by pressing on the outside of the semicircle.
Place on a baking sheet. Brush egg wash on each semicircle. Sprinkle with sugar.
Bake for 20 minutes.
https://www.mangiamichelle.com/raspberry-nutella-hand-pies/
. . .