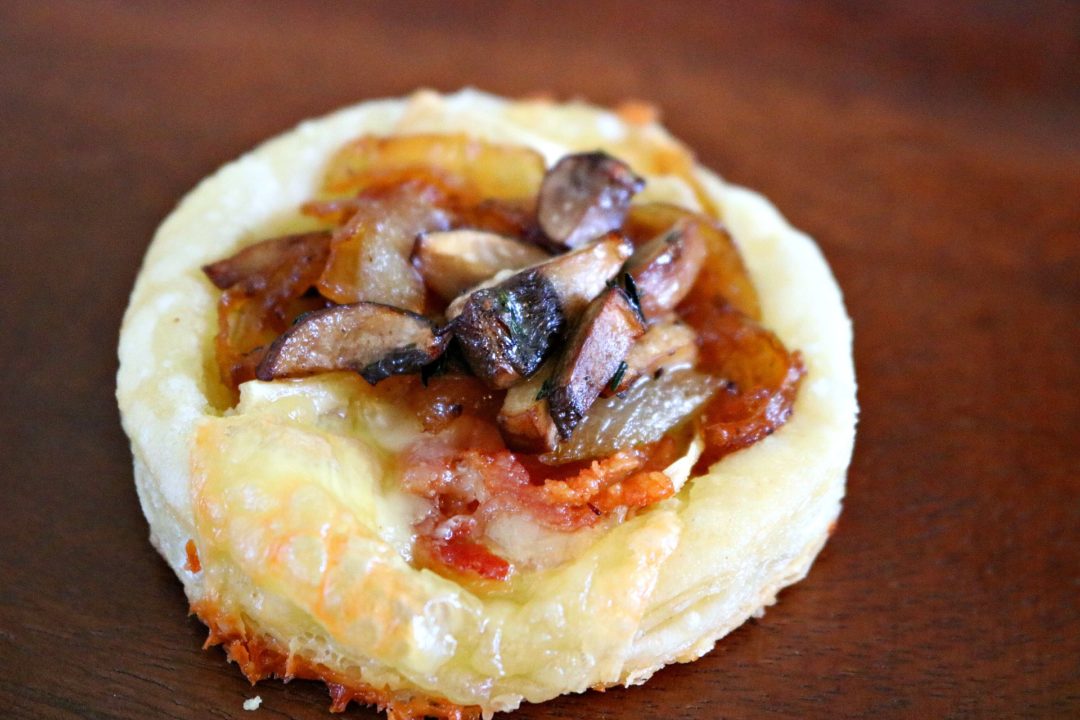 These brie tarts with bacon and caramelized onions are a must for your holiday party spread. They are always a guaranteed hit when I make them.  You can make them in any size, but I use a 3 inch round cookie cutter, like this one.  I find it to be the perfect size for these.
Brie tarts with bacon and caramelized onions are a must for your party spread.
These tarts are a larger appetizer that can be served at your cocktail party, or alongside a salad for a light meal.  They are addicting! I promise, you will not be let down.  The brie is nice and creamy and tastes great with the bacon and mushrooms.  The caramelized onions give a nice hint of sweetness and are the kick that leaves everyone coming back for more.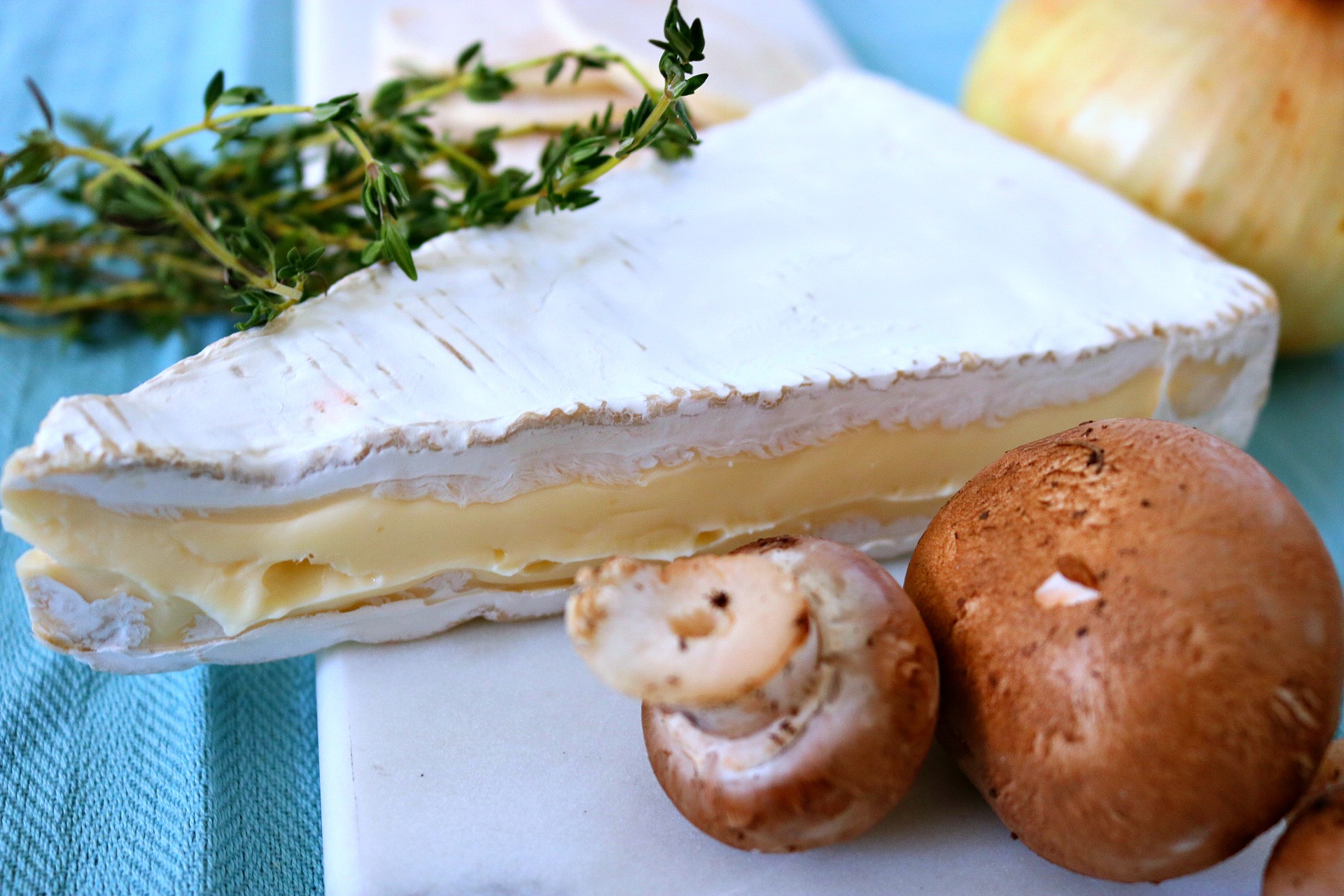 I use double cream French brie in this recipe.  For the mushrooms, I use cremini, a/k/a baby portobellos. The caramelized onions are what make this…do not leave them out! The sweetness is addicting and rounds out the whole tart.  Do not forget to add the brown sugar to the caramelized onions. That is the trick to making them extra sweet and delicious.


Use double cream brie to make these tarts truly delightful.
I use a 3 inch round cookie cutter to cut the puff pastry.  After you place the round of puff pastry on a baking sheet, take a fork and poke in the center of the circle, leaving a one inch border.  Make sure to give it a good poke!  This is very important.  This is what allows the puff pastry to rise on the sides making a little bowl for the filling.  When I made my first batch of these, I did not do a great job poking, and well, it made a mess on the baking sheet.  The pastry rose all over and some of the filling slid off the side.  After poking the puff pastry, place the filling directly in the center of the puff pastry.  I use a teaspoon measure to scoop in the mushrooms and onions.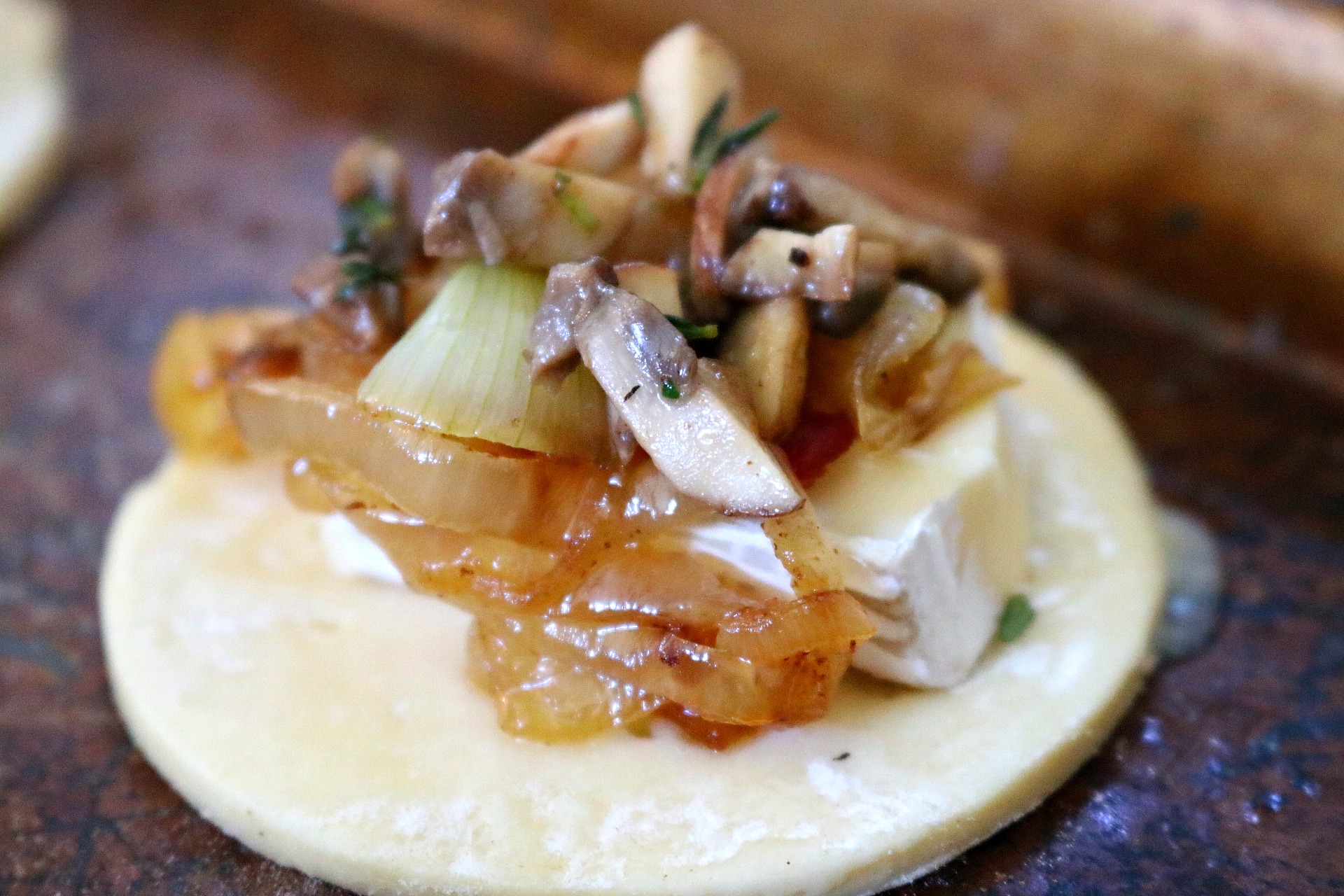 These tarts will really impress your guests.  They are perfect for a girls wine night.  I would pair them with a nice bubbly champagne, or a crisp, buttery chardonnay.  But as you know, my motto always is, they will go fine with whatever you have.  I have certainly never kicked a bottle of wine off the table.  All wines are welcome and enjoyed at my dinner table.
I hope you enjoy these tarts.  Let me know what you think!
Mangia!
Brie Tarts with Bacon & Caramelized Onions
Ingredients
1 box puff pastry
Half sweet onion
6 slices bacon
3 sprigs of thyme
10 ounces double cream brie cheese
8 ounces mushrooms
2 tablespoons extra virgin olive oil
1 tablespoon butter
1 tablespoon brown sugar
1 teaspoon salt
1/2 teaspoom freshly ground black pepper
Instructions
Allow the puff pastry to defrost, about 45 minutes.
Preheat the oven to 375 degrees.
With a damp paper towel, clean the mushrooms and remove the stems.
Chop the mushrooms and thyme.
Slice the onion into 1/4 inch thick slices.
Heat 1 tablespoon olive oil and butter in a medium fry pan.
Cook the onions over medium heat until they start to brown, about 25 minutes. Add the brown sugar and cook until caramelized, about 20 more minutes. Remove to a bowl.
Cut the bacon into 1/2 inch pieces. In a medium fry pan, cook the bacon. Transfer to a paper towel to drain and remove the grease.
In the same pan, add olive oil. Cook the mushrooms, about 5-6 minutes. Add the thyme, salt and freshly ground pepper and cook for one more minute. Transfer to a bowl.
Remove the puff pastry from the box and lay flat on a clean surface.
Use a 3 inch cookie cutter and make rounds (about 9) per sheet. Place rounds on a baking sheet.
Using a fork, poke the center of each round, leaving a 1 inch border.
Cut small pieces of brie (about 1 inch) and place in the center of the puff pastry round.
Use a teaspoon measure and do one scoop of onions, one scoop of mushrooms and a piece of bacon piled on top.
Bake in the oven for 25 minutes, or until slightly browned on top.
https://www.mangiamichelle.com/brie-tarts-bacon-mushrooms-caramelized-onions/
. . .