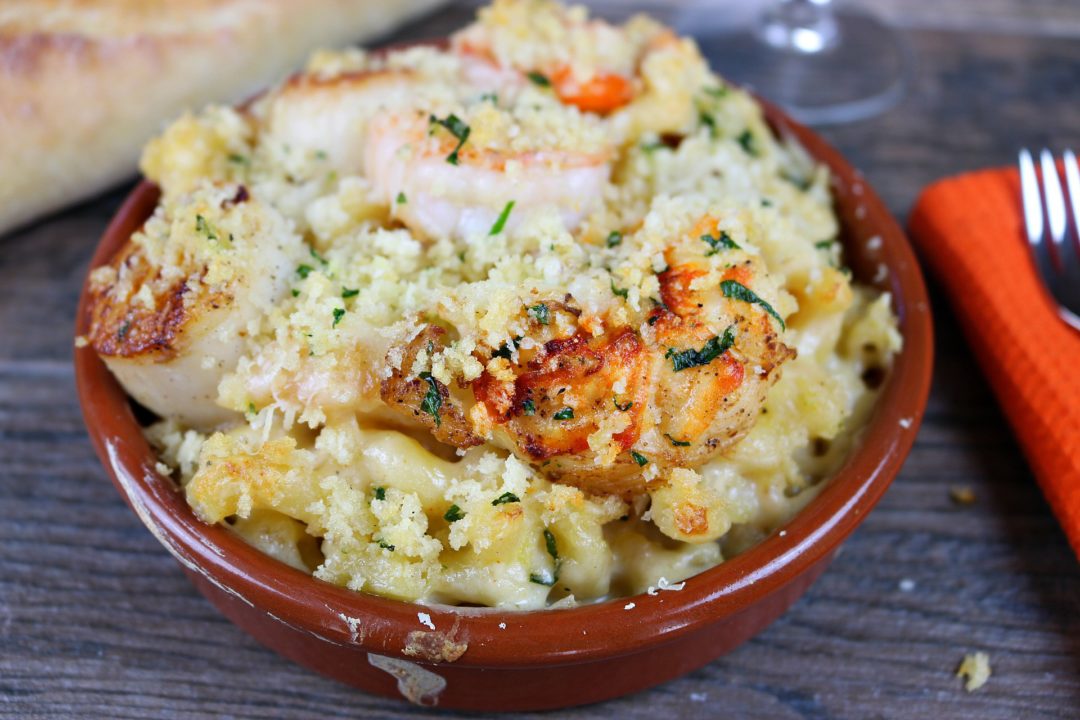 Here it is…the king of all food porn…seafood mac and cheese.  Need a recipe for Valentine's Day? Your special someone's birthday? Anniversary? Look no more, here it is.  This recipe has several different cheeses combined to make a scrumptious and unforgettable meal.  Gruyere, white cheddar, mascarpone and parmigiano reggiano make this mac and cheese creamy and delectable.
Seafood mac and cheese is a special dinner to make for your loved ones.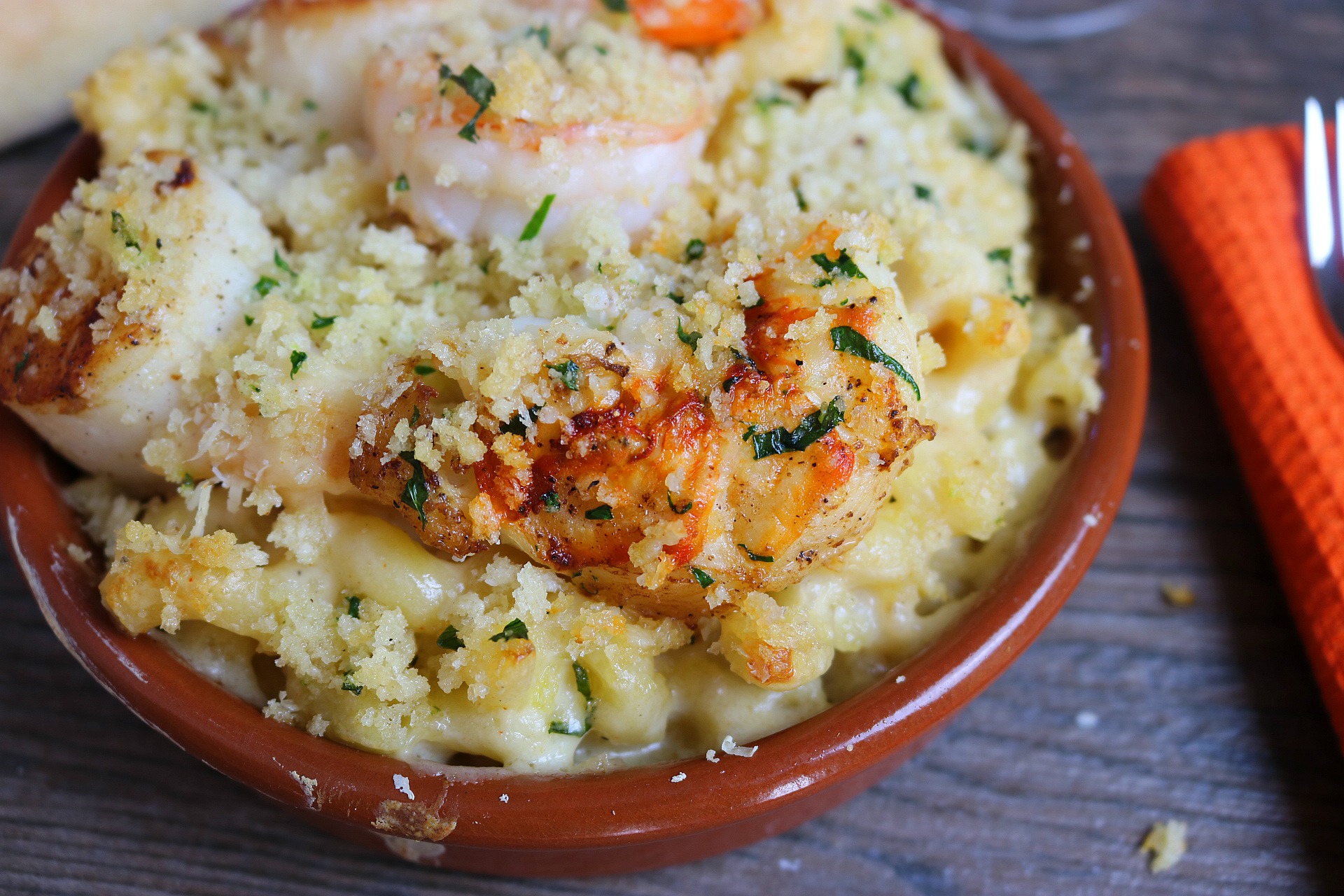 When I was writing this recipe, I was thinking of adding mushrooms, or scallions, or some pancetta. Nothing came to mind that I thought would make this recipe better than it already is.  It is mac and cheese. Choose the right combination and amounts of cheese and stop right there.  I realized that I didn't need to go any further.  Because then, it becomes a pasta dish, not mac and cheese.  And I wanted to make mac and cheese.  So I said to myself, "keep it simple, stupid." So I did…but added the seafood.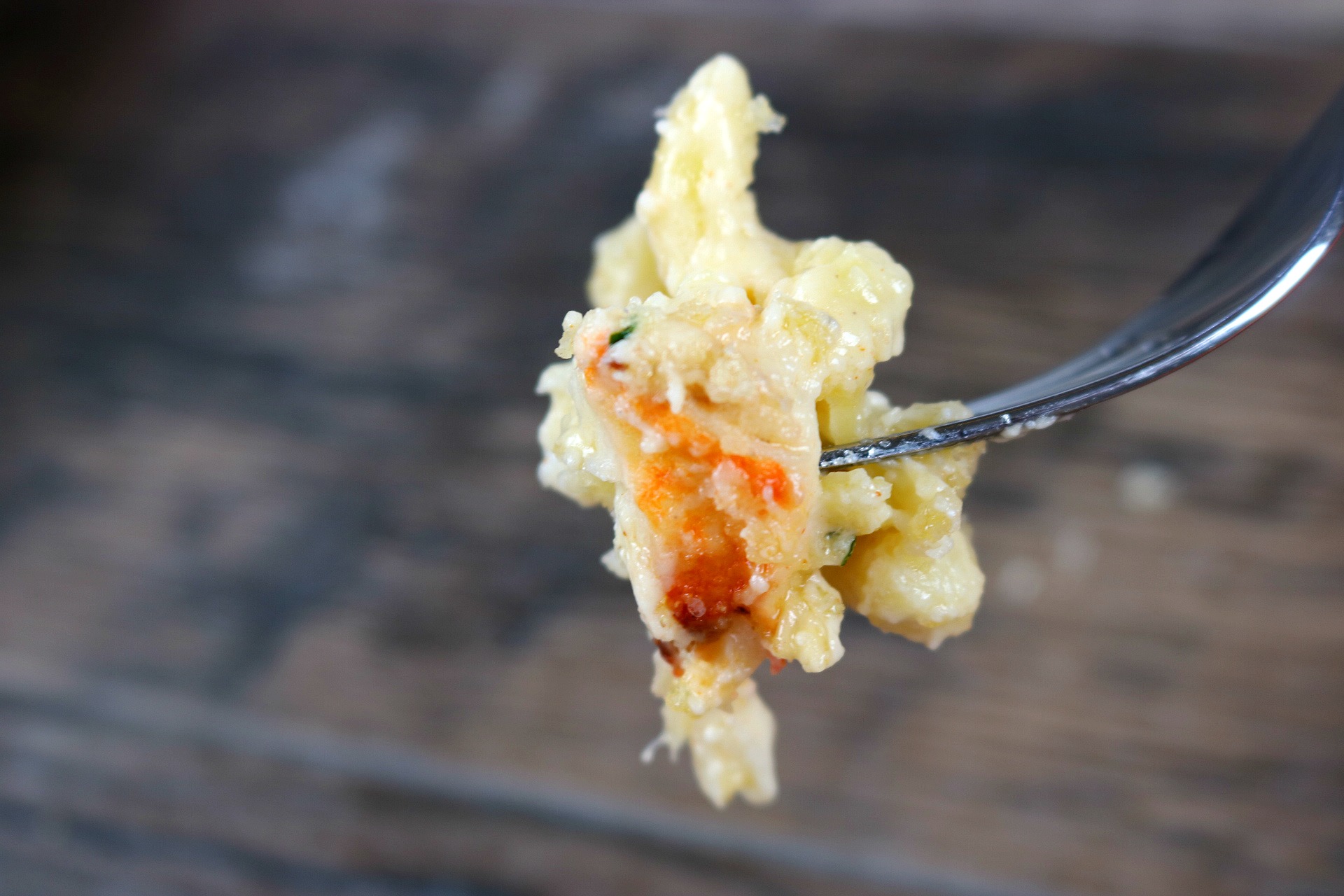 If you love seafood and cheese (and really, who doesn't love seafood and cheese), then this is the dish for you.  Lobster, scallops and shrimp! Oh my! It is buttery, cheesy and literally melts in your mouth.  You won't be able to get enough of it.  And no worries, I got you covered, this recipe makes a lot.  One pound of pasta, 1/2 pound of shrimp, 1/2 pound of scallops and 8 ounces of lobster.  For the lobster, I bought two small frozen lobster tails.  I put them in warm water for 10 minutes and voila! Ready to cook in butter and parsley.  How can you go wrong? Oh, you can't.
You can also make individual dishes (like in the picture).  You need small individual sized baking dishes.  This terra cotta cazuela is the perfect dish to use.  You can buy them here on Amazon.  This is a really great idea if you are having a dinner party or some friends over to enjoy a meal.  May I also suggest white bean dip to have as a starter?  I only suggest that because this is exactly the meal I am having for dinner tonight. I am going to toast up some slices of baguette to dip in the white bean dip and after I devour that, I will get into the seafood mac and cheese.  Fortunately, my husband loves me because I will probably look like a pig to a troth.  True love.
Wine pairing: Chardonnay
Mangia!
Ingredients
1/2 pound shrimp (cleaned, peeled, deveined)
1/2 pound large sea scallops (muscle removed)
8 ounces of lobster meat (you can use frozen lobster tails)
1 pound cavatappi pasta (you can also use elbow)
1 cup panko breadcrumbs
2 teaspoons chopped parsley
1/4 teaspoon ground mustard
1/4 teaspoon paprika
3 cups whole milk
10 tablespoons butter
1/4 cup flour
1 1/2 cups shredded gruyere cheese
1 1/2 cups shredded white cheddar
3 ounces mascarpone cheese
1 cup grated parmigiano reggiano
Salt
Pepper
Extra virgin olive oil
Instructions
Preheat the oven to 350 degrees.
Spray a baking dish (13x9) with non-stick cooking spray.
Boil a large pot with water to cook the pasta. Cook the pasta according to the directions on the box, but subtract one minute from the cook time so that the pasta is al dente. The pasta will continue to cook in the oven. Drain the pasta and set aside. While you are waiting for the pasta to cook, continue with the directions below.
In a small bowl, add the shrimp, 1/4 teaspoon salt, a sprinkle of pepper (one crank on the pepper mill) and a drizzle of extra virgin olive oil. Toss to coat the shrimp. Cook the shrimp, about 2-3 minutes on each side until they are cooked. Remove to a plate.
Repeat the same process with the scallops and remove to a plate.
In a medium sauce pan on medium low heat, heat up 1 tablespoon extra virgin olive oil.
Add 2 tablespoons of butter to the pan. Cook the lobster tails for about 4-5 minutes. Add the parsley and cook for another minute. Remove to a plate.
Dice the seafood in large chunks. If you want, you can leave a few pieces whole to add to the top of the mac and cheese (like in the picture from the post).
In the same pan that the seafood was cooked in, add 4 tablespoons butter, panko breadcrumbs, 1 teaspoon chopped parsley, 1/2 teaspoon salt and a crank of pepper from the pepper mill. Cook for about 3-4 minutes. Stir frequently so the breadcrumbs don't burn. Set aside.
In a small saucepan, warm up the milk on low heat.
In the same pot that you cooked the pasta in, melt 4 tablespoons butter. Add the flour and whisk until combined. Continue to whisk and cook for about 2 minutes. Add the warm milk and whisk for about 5 minutes until the mixture thickens, making a bechamel sauce.
Add the gruyere, white cheddar, mascarpone, ground mustard, paprika, 1 teaspoon salt and a quarter teaspoon freshly ground black pepper to the bechamel sauce. Stir until the cheese is melted and combined with the sauce. Remove from heat.
Add the pasta and mix until combined. Add the seafood and mix until combined.
Pour the mac and cheese into the baking dish.
Top with the grated parmigiano reggiano and then the panko breadcrumb mixture.
Bake for 25 minutes until the top is very slightly browned and the dish is bubbling.
Allow to cool 5 minutes before serving.
https://www.mangiamichelle.com/seafood-mac-cheese/
. . .