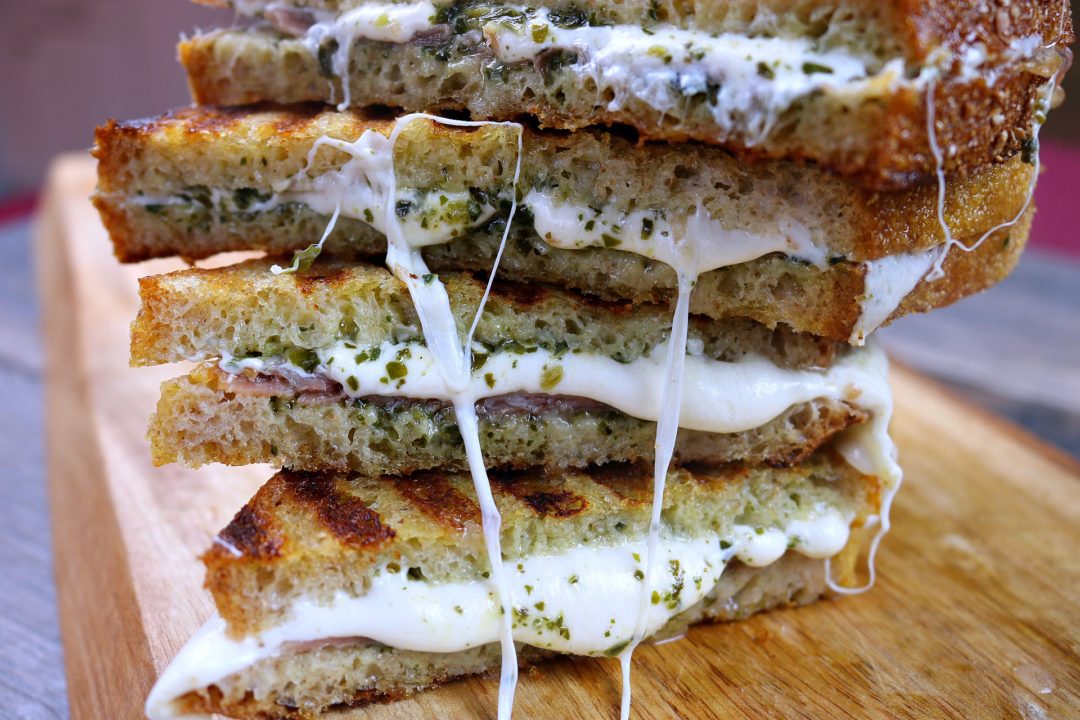 We love panini night in our house! Honestly, we try to do panini night once a week.  Paninis are the best, because you can put anything in them you want.  I love how the bread gets crispy on the outside and the cheese is just oozing and delicious on the inside. Not only are paninis scrumptious, but they are a very quick and easy dinner to make during the week.  This is especially good when you are pressed for time. Haha, get it? Pressed? Like panini press? Ok, not funny…shameful.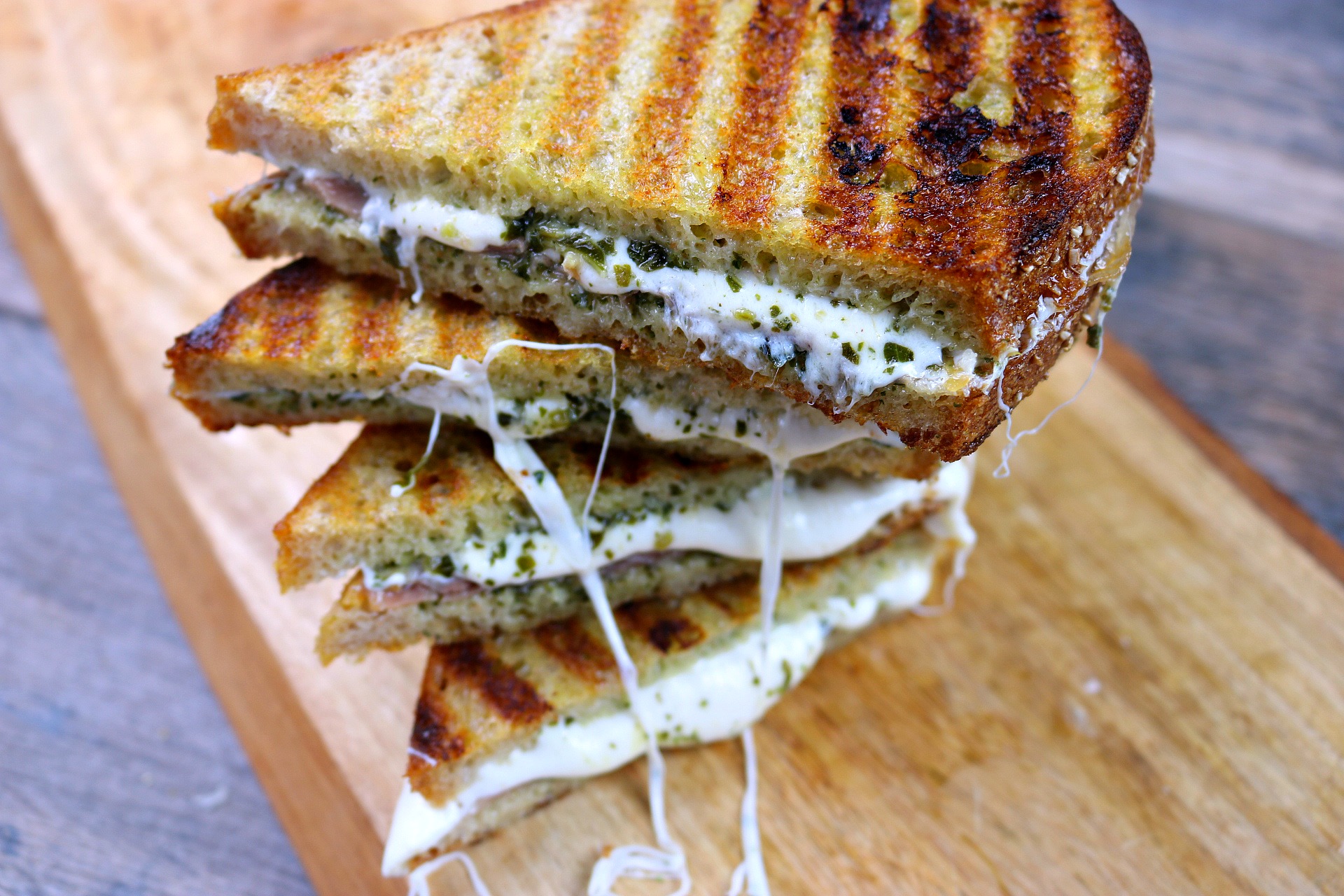 Now, the one thing you will need is a panini press.  Of course, you can always assemble the sandwich and cook it on the frying pan like a grilled cheese, but I prefer the panini press because it gives the bread the nice toasty ridges and makes it extra crispy.  My panini press of choice is the Cuisinart Griddler.  I have had the same one for 8 years (and going strong) and have not had any problems with it.  The Breville Panini Press
 also gets good reviews as well.  I have never used their panini press, however, I have other Breville products and have been very satisfied with them.
Prosciutto and pesto panini is a quick weeknight meal that only has 4 main ingredients.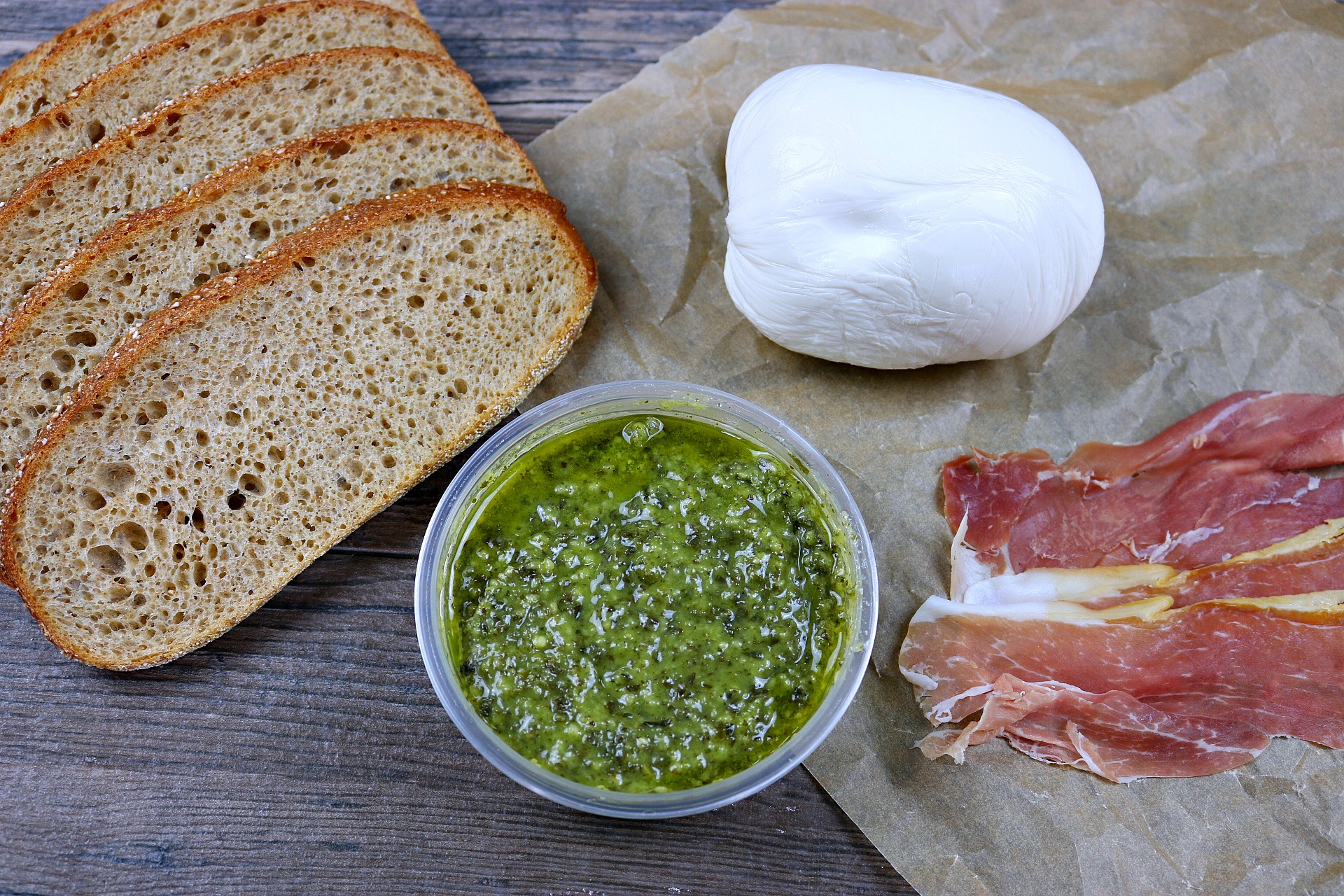 So, this recipe has four main ingredients (plus extra virgin olive oil for the panini press).
First, prosciutto di Parma (buy imported).
Second, pesto.  I buy Buitoni pesto from the supermarket.  It is sold in the produce aisle near the deli (at least at my supermarket it is).
Third, fresh mozzarella.
Fourth, bread.  Sometimes supermarkets will sell bread in the bakery made for panini.  It is pre-sliced.  Sometimes I will get this.  The bread I used in this picture is whole grain tuscan bread, also pre-sliced.  Also, I have used pre-sliced ciabatta bread.  Any of these will work.  I do, however, suggest getting bread that is pre-sliced.  For a couple of reasons; 1) it makes this meal easier to prepare, and 2) no matter how hard I try, I can never slice the bread evenly.  It is really important that the slices are of the same thickness.  This helps them crisp up evenly and melt the cheese evenly as well.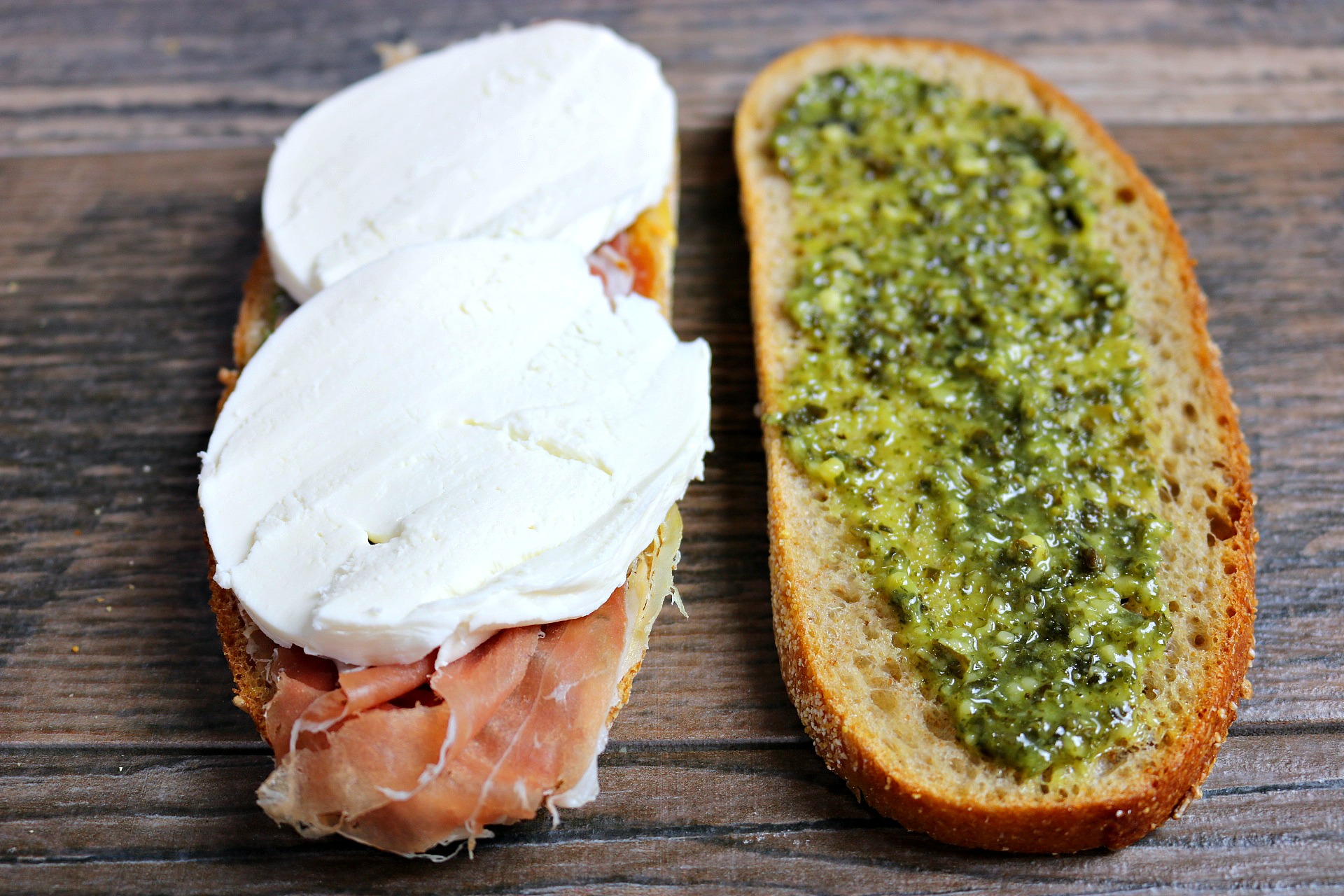 Assembling the panini is simple.  Pesto on each slice, a few thin slices of prosciutto and 2-3 slices of fresh mozz.  Drizzle some olive oil on the bottom of the panini press, drizzle some olive oil on the top of each sandwich, grill for about 5 minutes, and you end up with this cheesy, gooey goodness.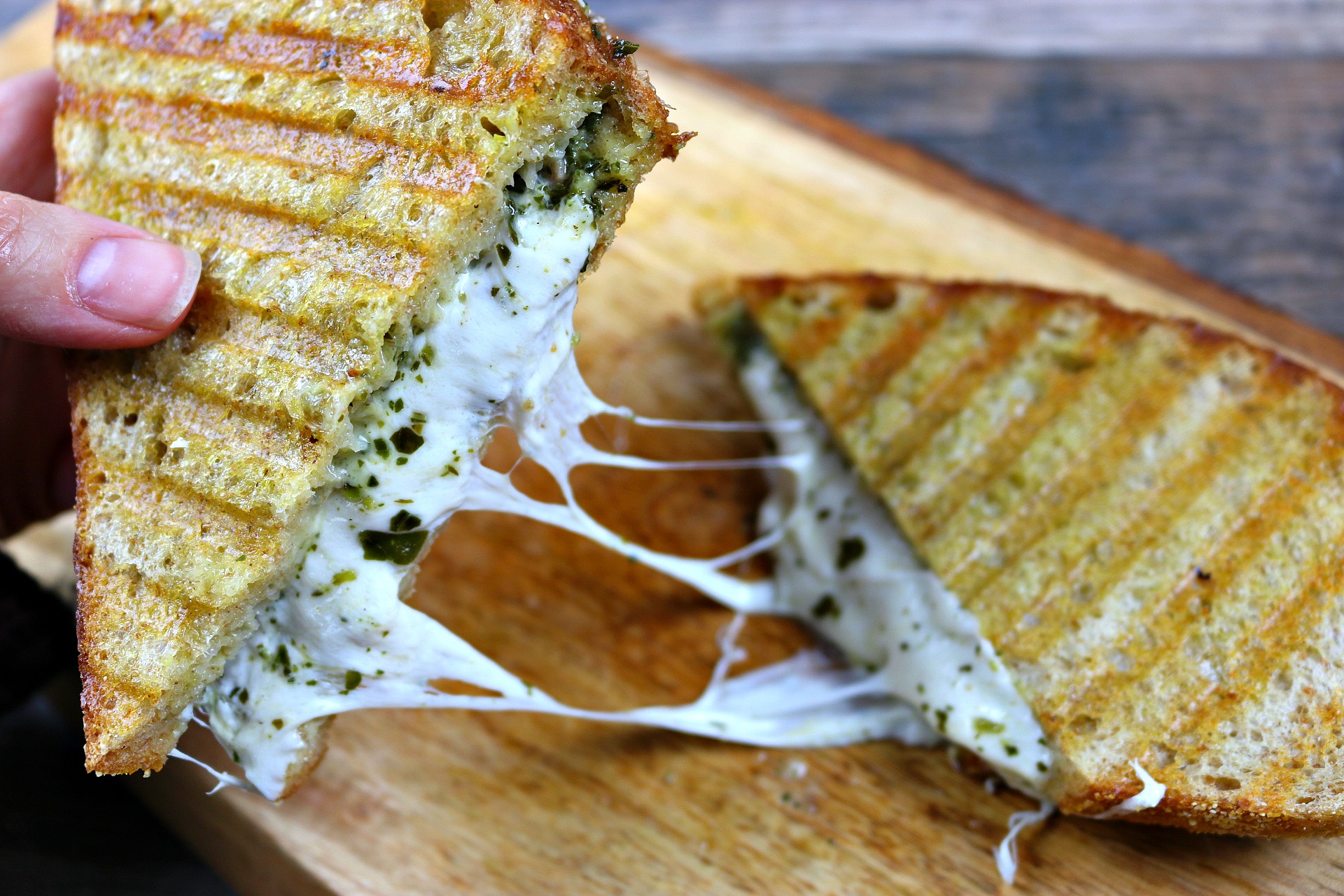 And can you guess where that panini went right after taking this pic? You guessed it…nom nom nom. And it was delicious! Cheesy, crispy, heavenly, yum! I will post more panini recipes in the next few weeks…I promise.  All of you busy moms and dads out there can probably use some simple weeknight meals that will keep everyone happy and satisfied.
Mangia!


Prosciutto and Pesto Panini
Ingredients
8 slices panini bread
3/4 pound fresh mozzarella, sliced in quarter inch thick slices
7 ounces pesto
1/4 pound prosciutto di parma
extra virgin olive to drizzle on panini press
Instructions
Slice the mozzarella into quarter inch thick slices.
To assemble the sandwich, spread pesto on each slice of bread (inside only). Layer with 1-2 slices of prosciutto and 2 slices mozzarella (enough to cover the slice of bread). Put sandwich together.
Drizzle a little bit of olive oil on the panini press.
Place sandwiches on panini press and drizzle the top of each sandwich with olive oil.
Press the paninis and grill for about 4-5 minutes.
Cut in the middle and serve immediately.
https://www.mangiamichelle.com/prosciutto-pesto-panini/
. . .