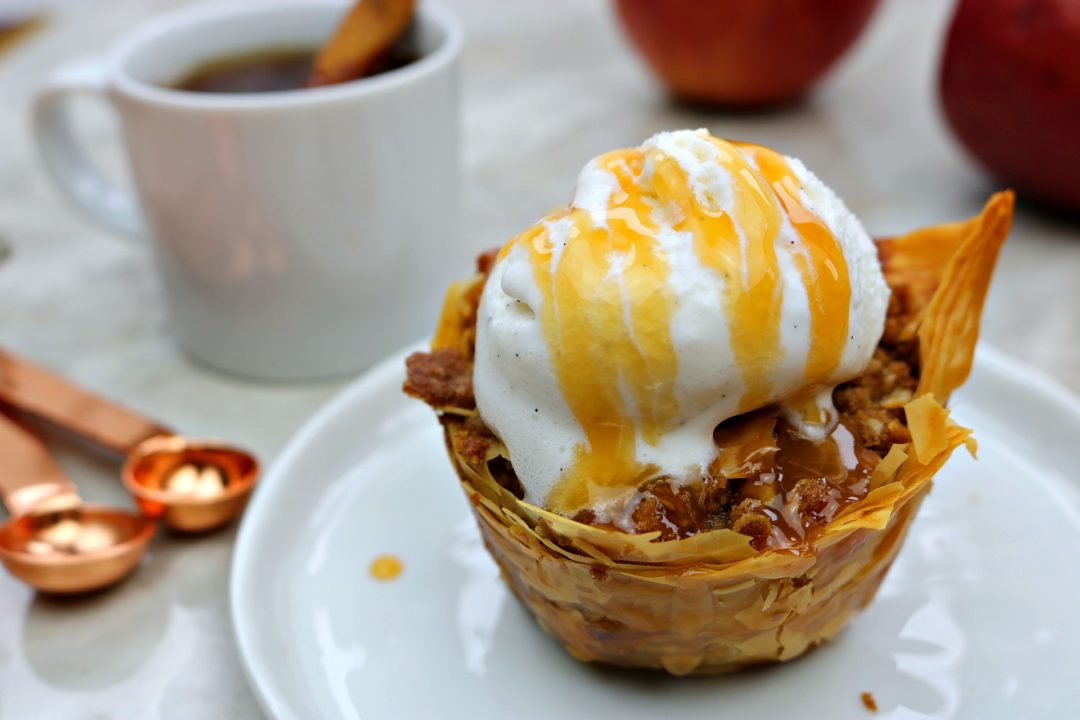 Well, helllllloooooo there September! I've been waiting for you for quite some time now.  I love the fall.  It is my most favorite season of them all.  I love everything about fall; apple picking, pumpkins, foliage, autumn decor, pumpkin spice lattes (thank you Starbucks), and the list goes on and on.  So, I decided to create some fall inspired recipes.  Individual apple crisp is the first one.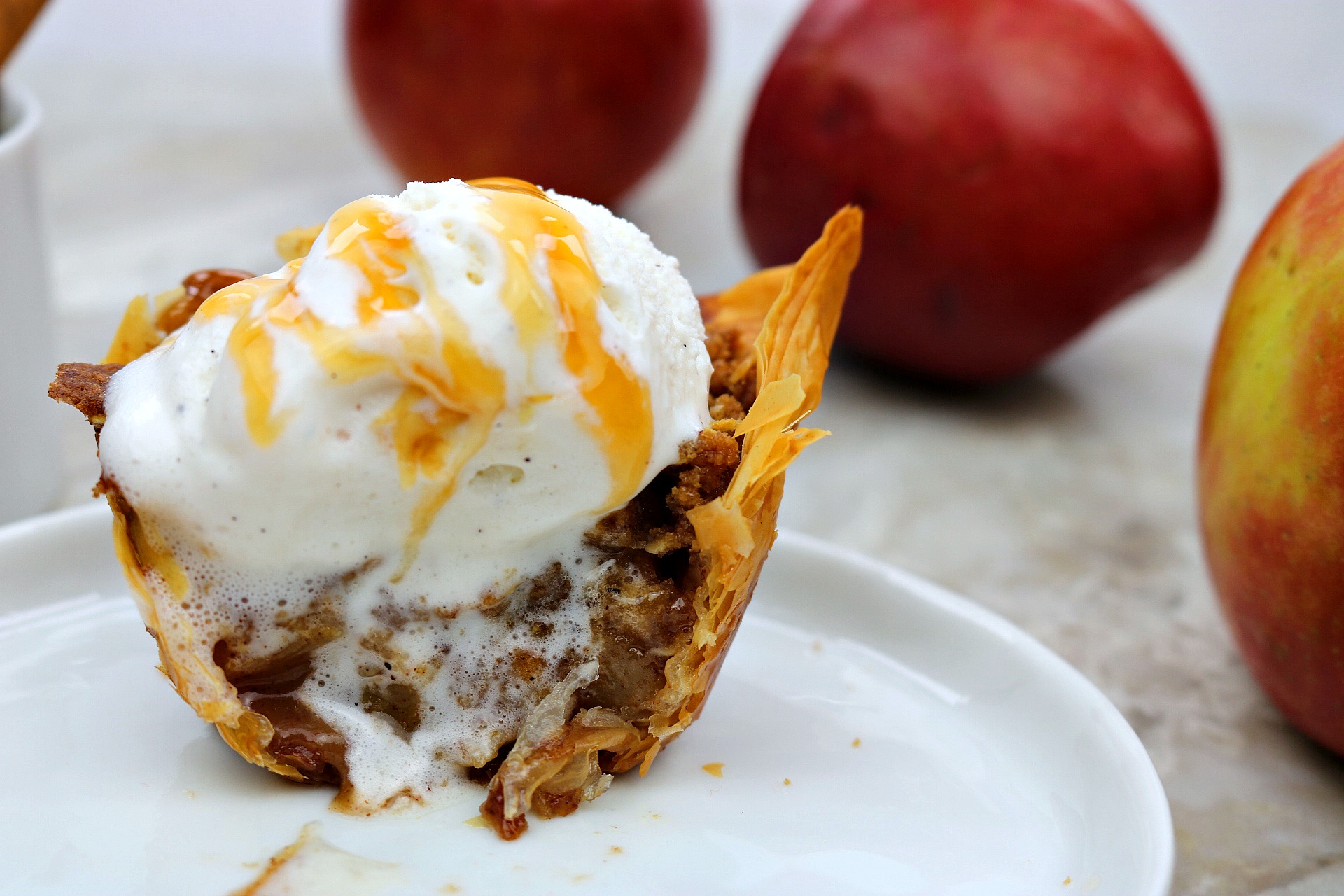 These are pretty easy to make, and are perfect when topped with vanilla ice cream and some caramel drizzle.  I had to stop myself from eating the entire tray.  They were that good.  The center filling is warm and gooey, and the crumble topping and phyllo add a nice touch of crispiness.  Yum!

Individual Apple Crisp are best when served warm
These babies are best when served warm, with ice cream and caramel drizzle.  However, you can make some of it ahead to make life a little easier.  The filling can be made ahead and stored in an air tight container in the refrigerator.  The crumble can also be made ahead, and stored in the refrigerator.  Unless you use pre-made phyllo cups, then the phyllo dough has to be done the day of.  But it does not take too long.  See the recipe below for full directions.  Once you make the phyllo squares, you put them in a muffin tin, add filling and crumb topping and you are all set!
Now, I am going to give you some brutal honesty here.  I REALLY wanted to use the pre-made phyllo shells.  However, the only ones I could find at the supermarket were the mini phyllo shells.  Now don't get me wrong, you can make these mini if you want.  But I didn't want mini.  So I had to opt for getting phyllo sheets and doing it myself (and it's kinda annoying, but a girl has to get it done sometimes…such is life.) Anyway, you can buy the regular size here
. Unfortunately, I only see them sold in bulk online, but they do freeze and are perfect for making appetizers and other desserts.
Ok, I hope you love these as much as my family and I did.  Don't forget the ice cream and caramel!
~ Michelle
Ingredients
1 package frozen phyllo sheets
3 tablespoons melted butter
3 yellow delicious apples, peeled and diced
1 tablespoon lemon juice
1 teaspoon cornstarch
1 tablespoon flour
2 tablespoons whole milk
1 teaspoon ground cinnamon
¼ teaspoon ground nutmeg
2 teaspoons vanilla extract
¼ cup brown sugar
½ cup oats
½ cup flour
¾ cup brown sugar
1 teaspoon ground cinnamon
6 tablespoons butter, chilled and diced
¼ teaspoon baking powder
Instructions
Allow the phyllo sheets to thaw for 2 hours.
Preheat oven to 350 degrees.
In a bowl, add all of the filling ingredients. Toss until everything is combined.
In another bowl, add all of the crumb topping ingredients. Mix until all ingredients make a crumb-like mixture. This will take a few minutes, and works best if you use your hands.
Put the phyllo on a clean surface. Cover with wax paper and then put a damp cloth on top to keep the phyllo moist, as it will dry out very quickly and tear.
Layer three sheets of phyllo, brushing with melted butter in between layers.
Cut the phyllo into 4"X4" squares.
Spray the muffin tin with non-stick cooking spray.
Put the phyllo squares into the muffin tin.
Add filling into each phyllo square.
Top each phyllo square with crumb topping.
Bake for 35 minutes. The crumb topping will be browned and the filling may ooze out a little bit.
Allow to cool. Remove each apple crisp.
Top with vanilla ice cream and drizzle with caramel sauce.
https://www.mangiamichelle.com/individual-apple-crisp/
. . .