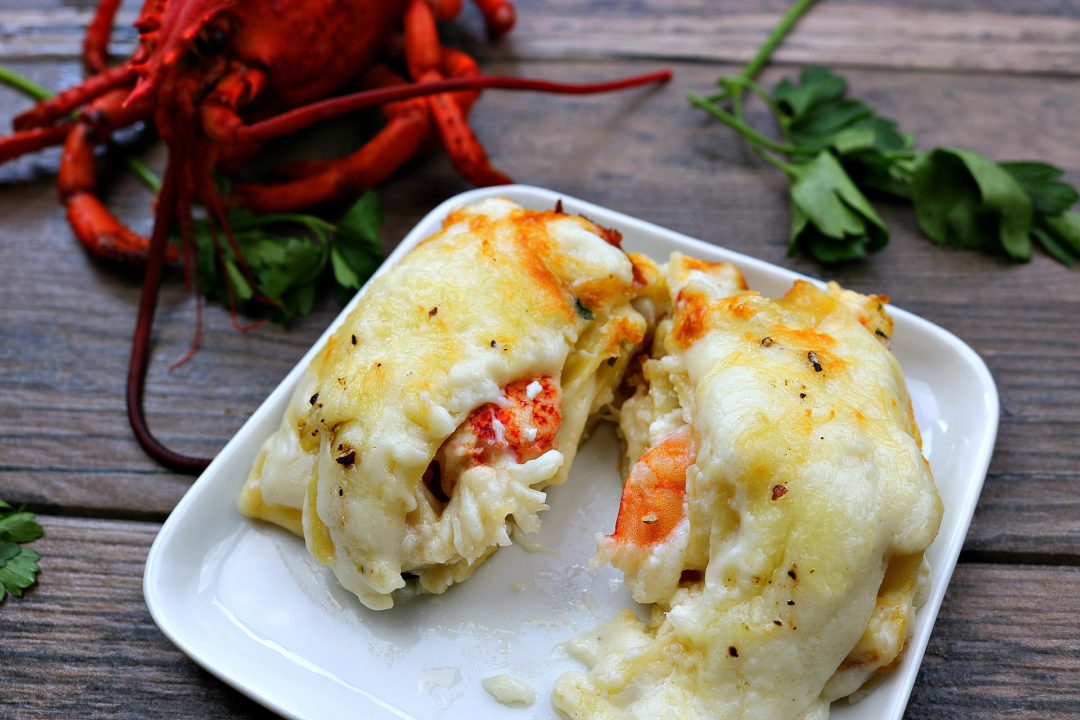 Hello, beautiful! Lasagna.  Lobster.  And lots of gooey cheese. Simply, perfect.  Think of this as a mix between white lasagna and seafood mac and cheese. This recipe for seafood lasagna rollups is elegant, decadent, and best of all, can be made ahead of time.  For me, this dish is a contender for Christmas Eve dinner.  I am thinking seafood lasagna rollups and filet mignon.  A different take on surf and turf.  While this will take a little extra effort to make, you can make it the night before, pop it in the fridge and then throw it in the oven the next day.  It comes out of the oven browned and full of bubbling cheese.  Not to mention, chock full of delicious seafood!
Seafood Lasagna Rollups are decadent enough for a holiday meal.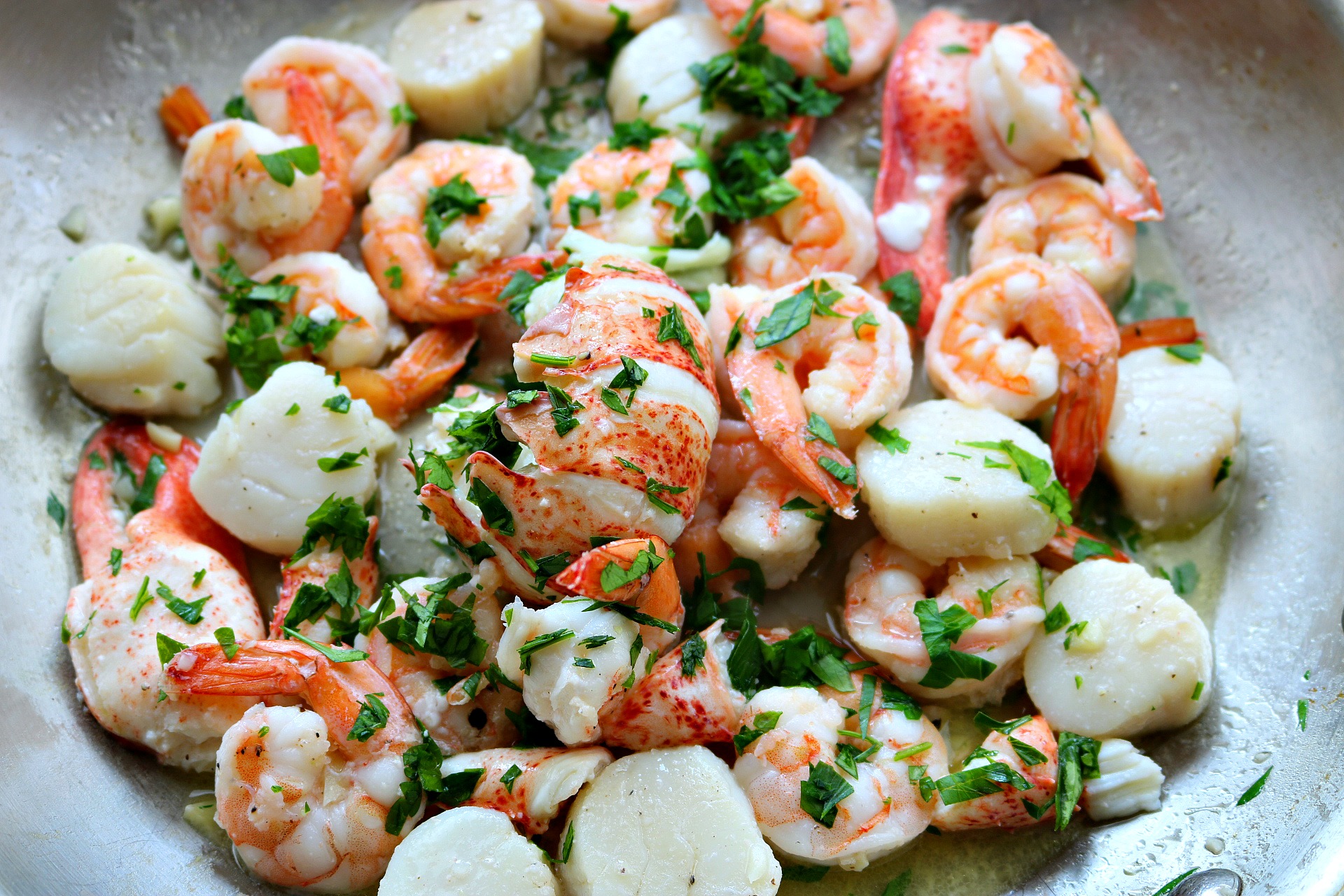 For this recipe, I use shrimp, scallops and succulent lobster tail.  I scored some frozen lobster tail that was on sale at the supermarket.  Cha-ching! Of course, you can swap something out for other types of shellfish.  You could switch the scallops for luscious lump crab meat, if that tickles your fancy.  It is up to you. Even tender calamari would be delicious.
Now, like I said, this recipe requires some steps, but I promise you it is well worth the extra effort.  I recommend making one thing at a time.  Don't rush it, and don't try to make more than one thing at a time. I will break it down for you in a few steps below.  Of course, you need to read the recipe for the specifics.


Step 1: Start cooking the lasagna noodles.  This is the only thing that can be going on in the background while you start the other steps, as it will take some time for the water to boil.  And then once you drop the lasagna noodles, you just have to wait for them to cook.
Step 2: Cook the Seafood.  Of course, you can buy the seafood precooked, and then coat it with the garlic and parsley mixture.  Also, the seafood can be made up to two days before and stored in an airtight container.  After the seafood is cooked, set aside.
Step 3:  Make the bechamel sauce.
Step 4: Prepare the rollups (see picture below).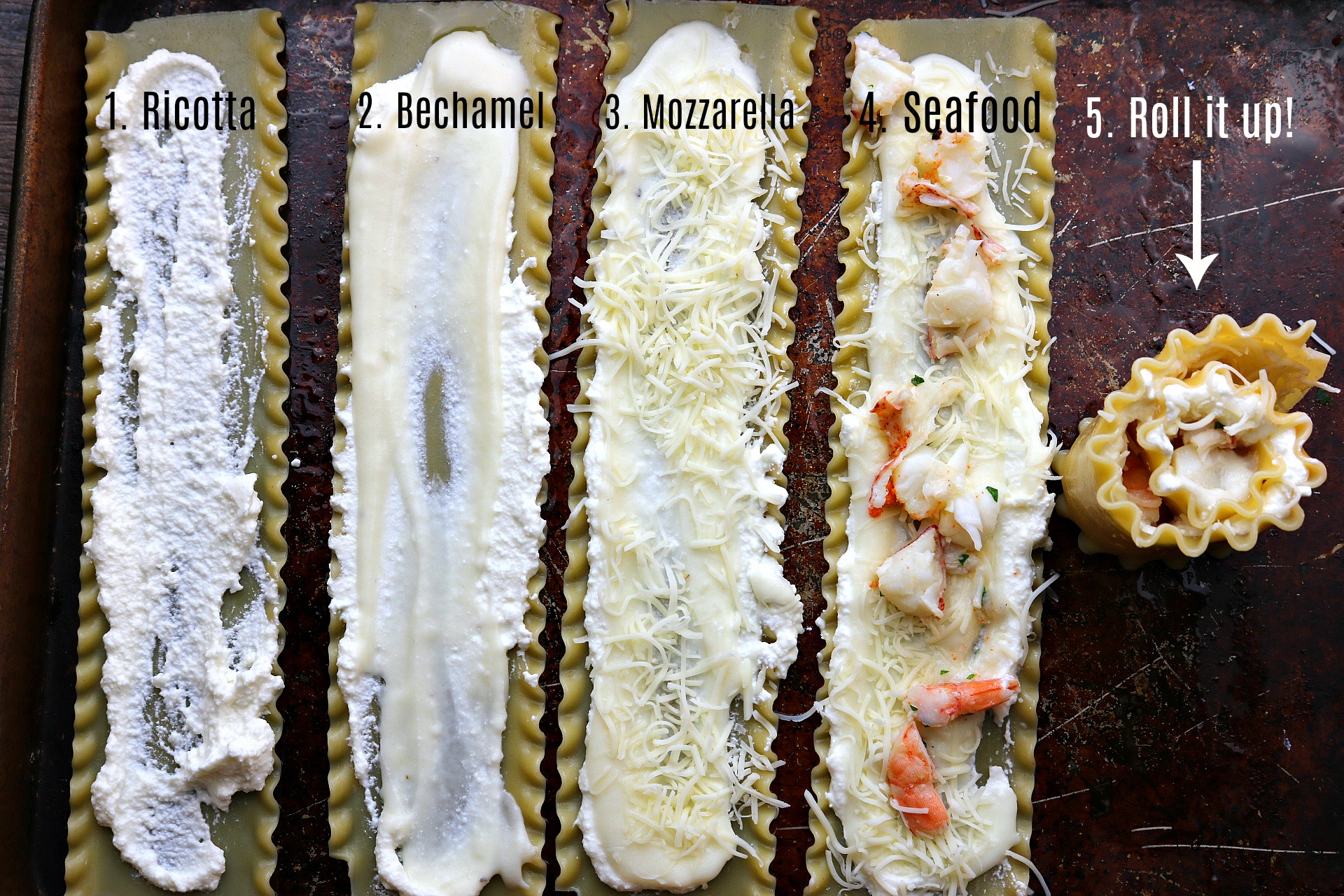 Step 5: Line the lasagna dish with bechamel sauce, and layer the rollups.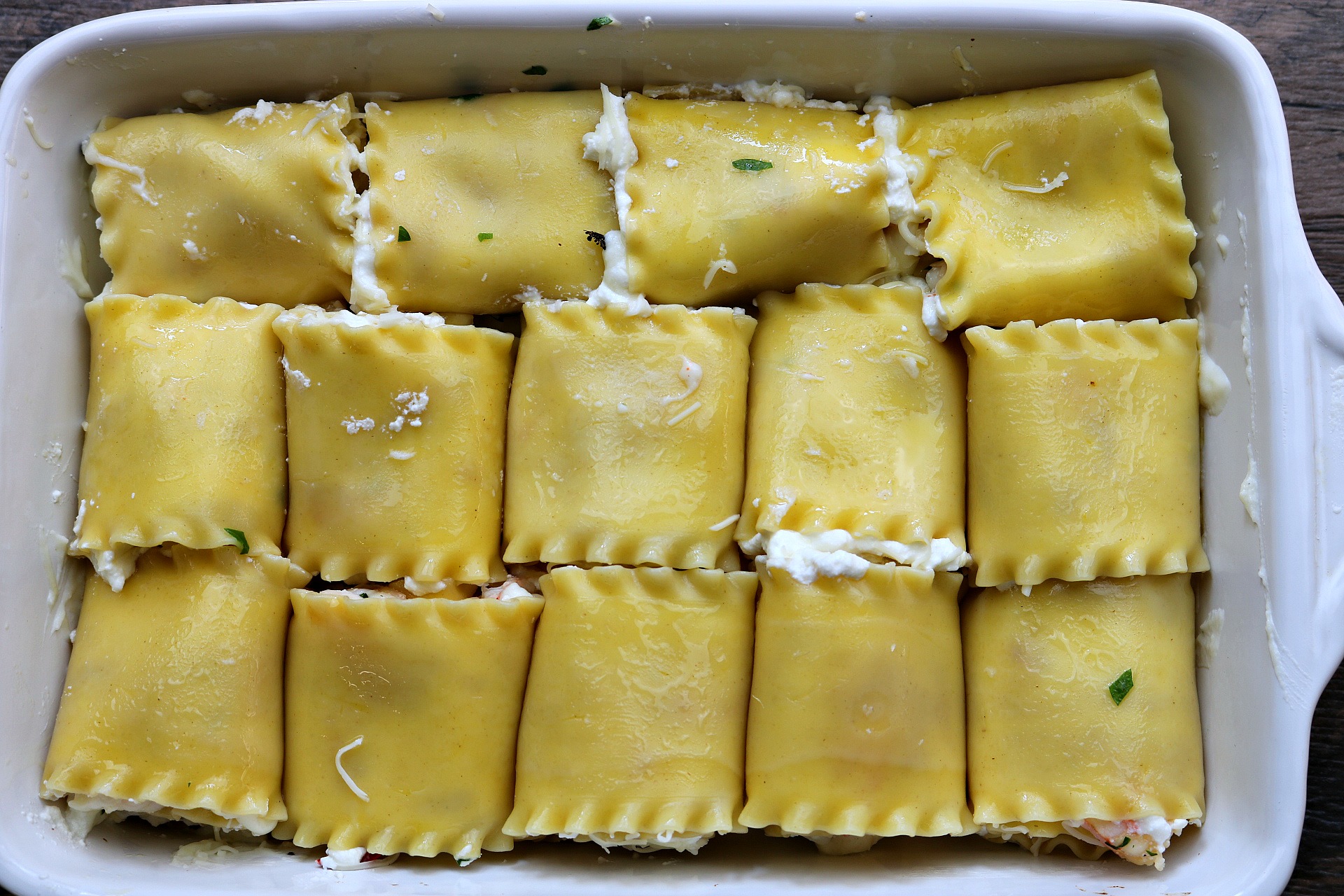 Step 6: Cover the rollups with the rest of the bechamel sauce.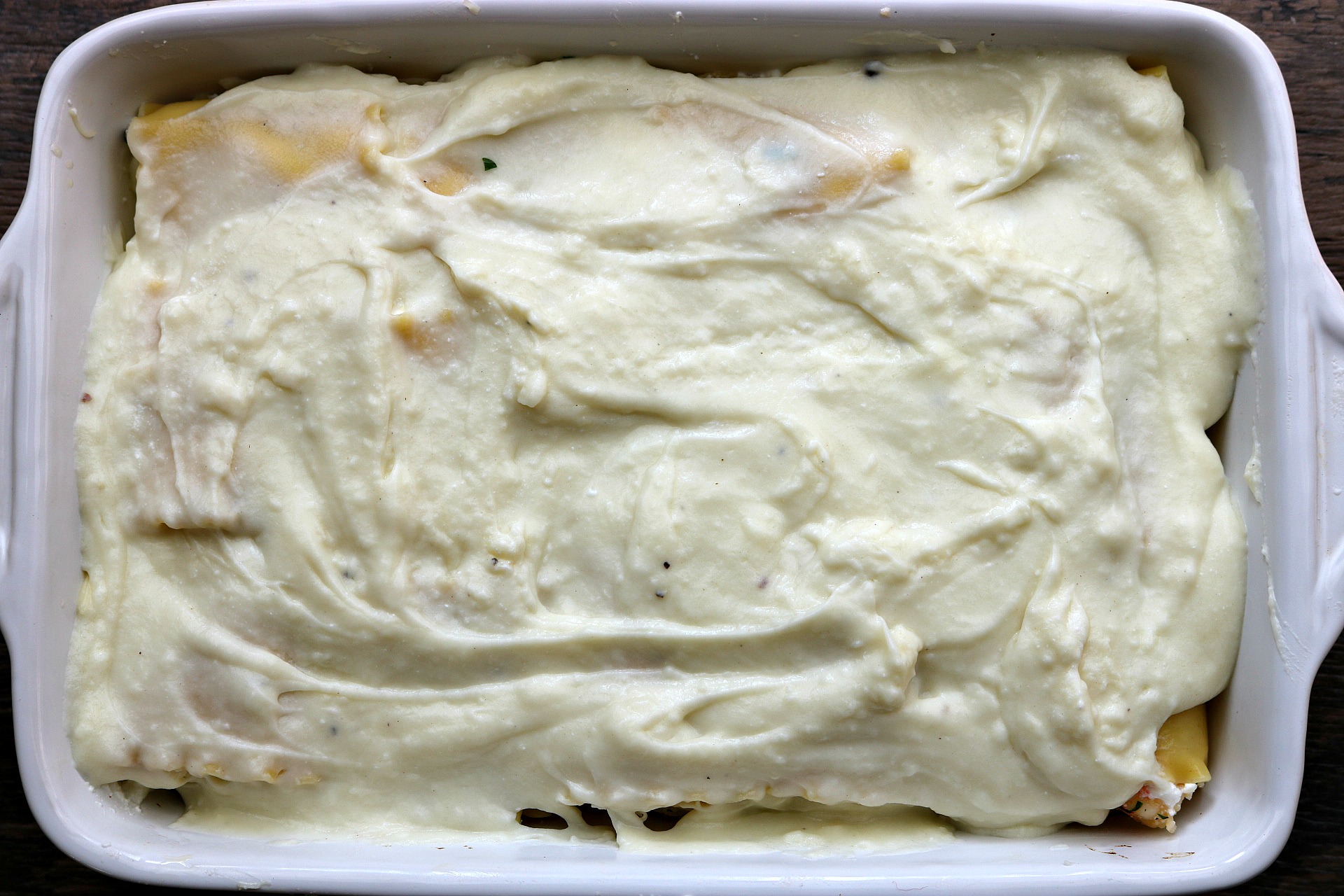 Step 7: Top with mozzarella cheese and cubed butter.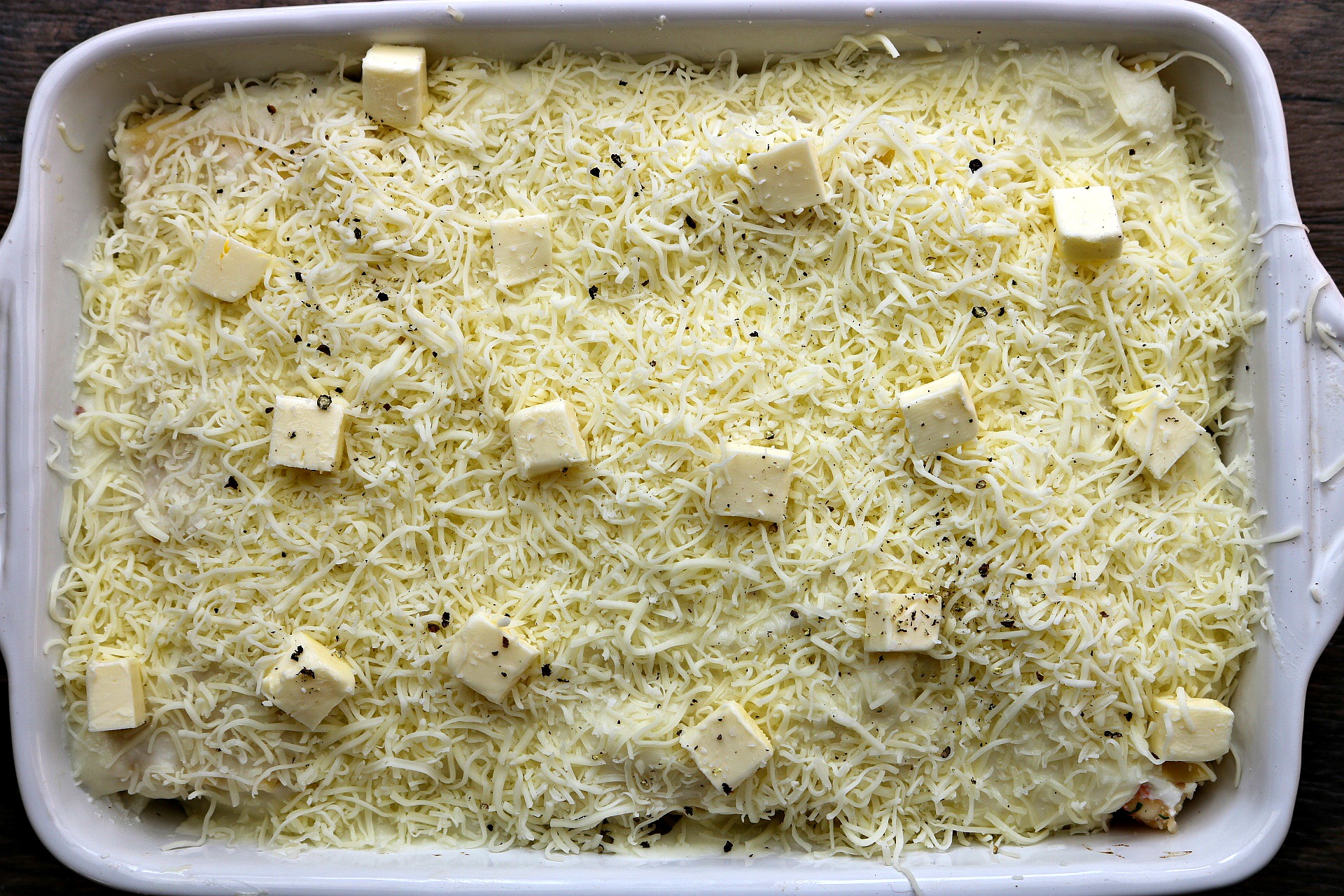 Step 8: Bake according to the recipe.  Allow to cool for 20 minutes before digging in!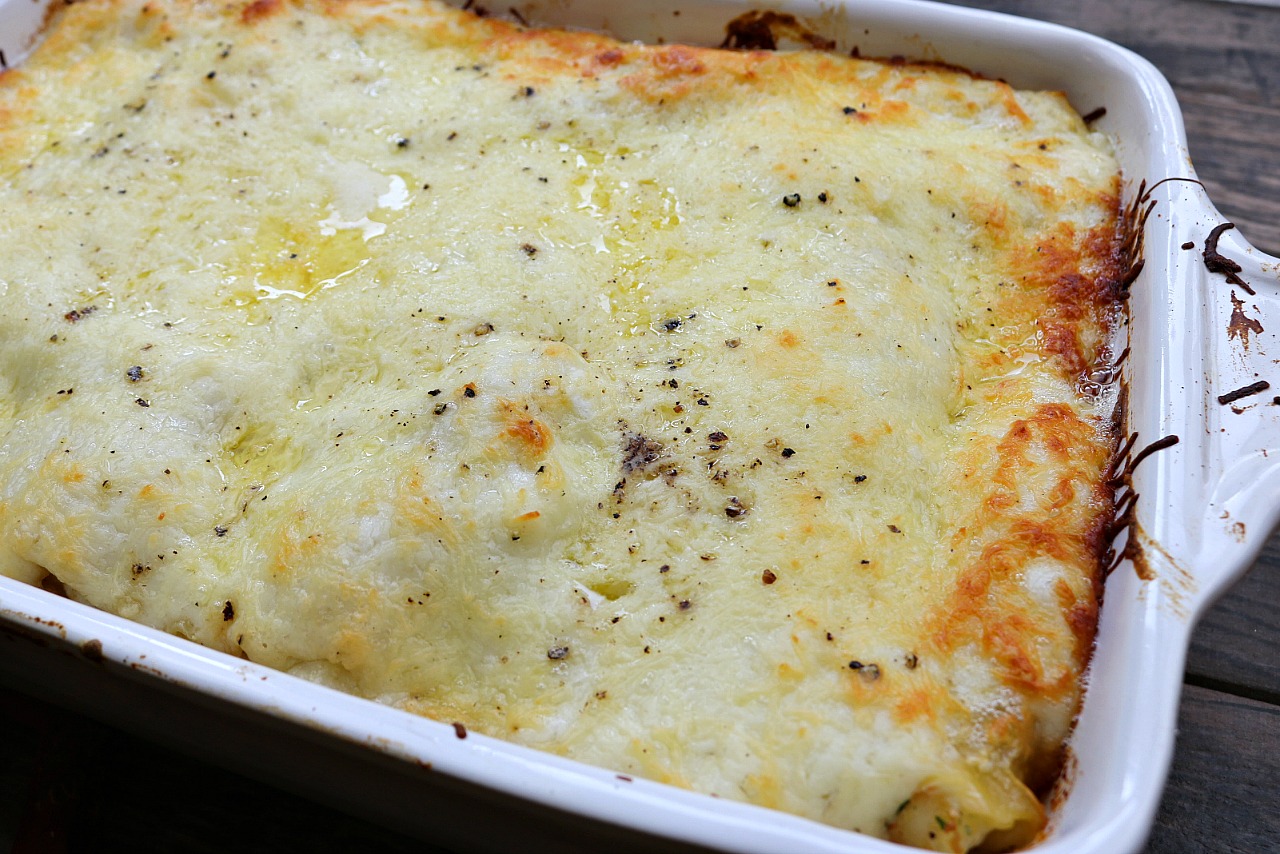 If you want to prepare this a day ahead, stop short of baking it in the oven.  Prepare up to step 7 and then wrap it in foil and put in the fridge.  You can bake it before you want to serve it.
I enjoyed this baby with a cold glass of chardonnay.  It helped to round out the perfect meal.  I hope that you love this as much as my family and I did.  My plan is to make this for Christmas Eve, alongside a filet mignon.  I like to call it indulgent, cheesy surf and turf.
Mangia!
Ingredients
? pound sea scallops
½ pound shrimp
Meat from a 1 pound lobster
1 pound lasagna noodles
1 tablespoon parsley, chopped
1 clove garlic minced
15 ounces Ricotta cheese
Shredded mozzarella
1 cup shredded parmesan cheese

Bechamel sauce:

½ cup all purpose flour
4 cups whole milk (warmed)
1 stick butter
Salt
Freshly ground pepper
Instructions
Preheat the oven to 350 degrees.
In a medium saute pan, add one tablespoon butter and one tablespoon olive. Cook until the butter is melted.
Add the scallops and shrimp and minced garlic to the pan. Sprinkle with salt and pepper. Cook until the seafood is cooked through (about 5 minutes). Add the cooked lobster meat and parsley. Toss until all ingredients are combined. Remove the seafood from the pan and set aside.
Cook the lasagna noodles according to the direction on the package. When they are cooked, lay them out on a baking sheet that has been brushed with olive oil.
In a medium sauce pan, add the milk. Cook over low heat until the milk is warmed through.
In another medium sauce pan, melt one stick of butter. Add the flour and stir for about 1 minute. Add the milk, salt and pepper. Whisk constantly for 3-4 minutes. The sauce will thicken. Add one cup of shredded parmesan and whisk until combined. Turn off the heat.
Dice all of the seafood.
Butter the bottom of a casserole dish, and spread a ladle of the bechamel sauce on the bottom.
On the baking sheet you will prepare the rollups. On a lasagna noodle, put a thin layer of Ricotta cheese. Drizzle some bechamel on top, followed by 1 tablespoon of shredded mozzarella and 2 tablespoons of the chopped seafood. Roll up the lasagna noodle and place it inside of the baking dish. Continue until there isn't any more room in the baking dish.
Pour the rest of the bechamel on top of the seafood lasagna rollups. Tops with ½ cup pf shredded mozzarella.
Dice 3 tablespoons of butter and put on top of the casserole. Sprinkle the top with salt and pepper.
Bake in the oven for 35 minutes, or until the top is bubbling and browned.
https://www.mangiamichelle.com/seafood-lasagna-rollups/
. . .