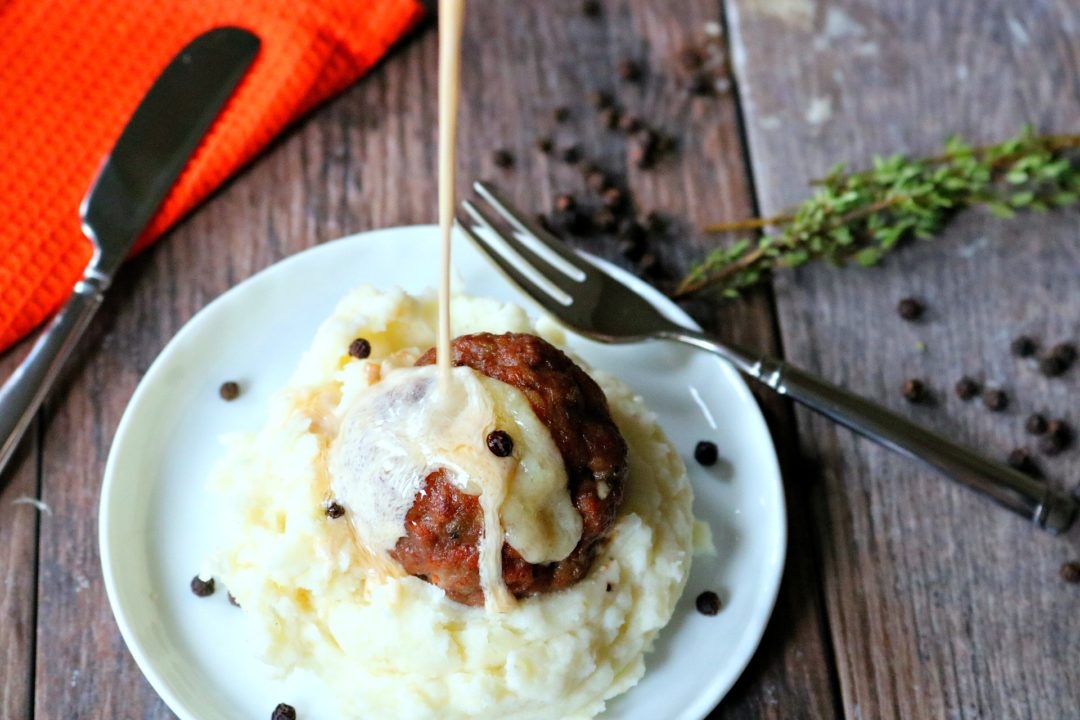 Can you say, "fancy comfort food?" Because that is exactly what this dish is all about.  Meatballs au poivre is a comforting (and more budget friendly) take on the classic steak au poivre.  This is the meal you want on a cold snowy evening in January.  It is deeeelish!  Light up the fireplace, grab a glass (or two) of wine, and you are ret to go!
Meatballs au poivre puts the fancy in meatballs.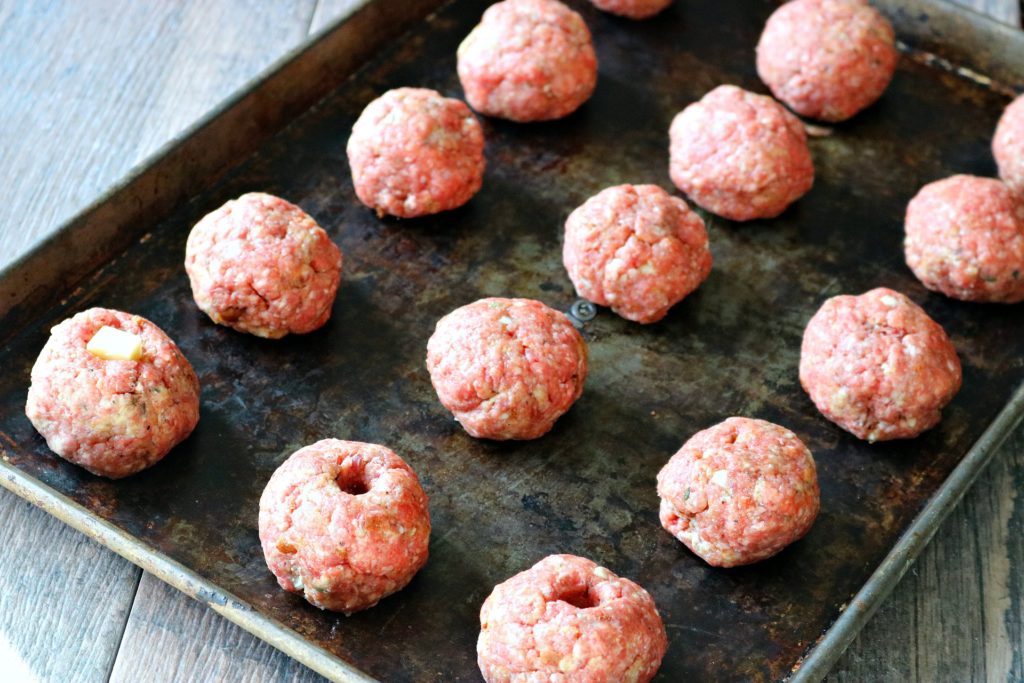 And did I mention that I stuff them with gruyere (see image above)?  Did I actually forget that minor detail?  Oh yes.  A little gruyere goodness never hurt a meatball.  We are breaking rules here, folks.  Take the end of your wooden spoon and make a hole right in the center of the meatball (refer to the picture above).  I make my meatballs a little bit larger than the size of a golf ball (not as big as a tennis ball). And as you can see, I bake them in this recipe.  You can use this recipe for spaghetti and meatballs too…just swap out the fresh thyme for some fresh parsley.  Everything else is the same.  Future post…I promise.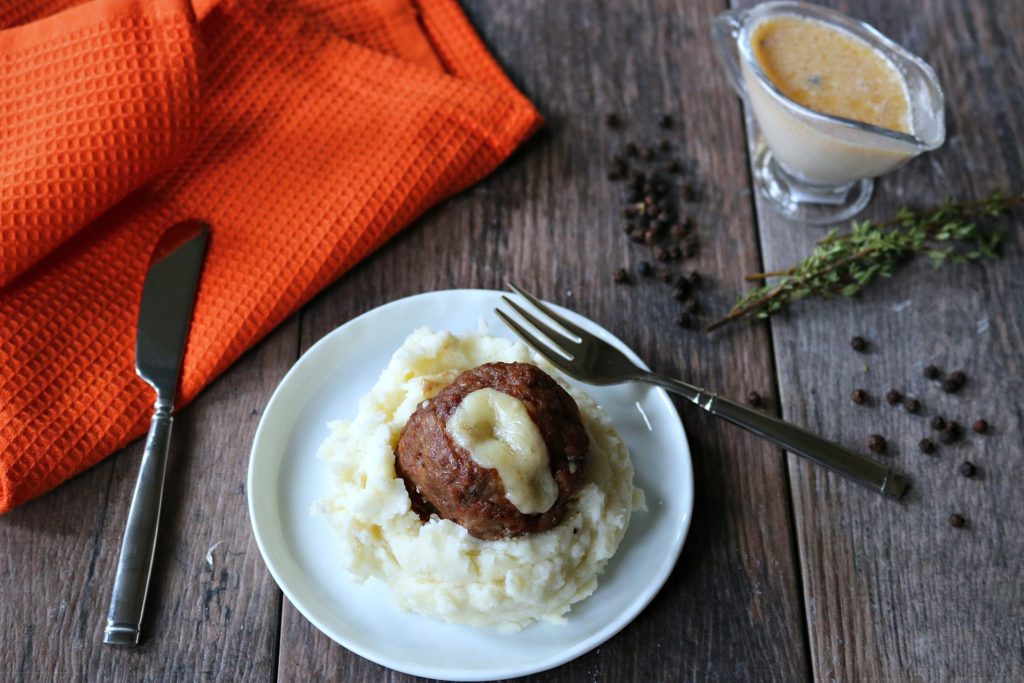 Now, you can serve them however you would like.  But I serve these bad boys over some creamy, garlicky, buttery, mashed potatoes.  I promise, you will not be let down. Check out my recipe on garlic mashed potatoes.  They whip up in no time and it is a fool proof recipe.  And one more confession, I buy 80% lean ground meat…which is the fattiest. But in my opinion, the most flavorful.  You can certainly go leaner if you wish.  This recipe is not figure friendly…sorry, not sorry. Meatballs au poivre is nothing other than some yummy comfort food, but plan on a workout in the morning.  Its totally worth it.


Wine pairing: a jammy, blackberry tasting Syrah
Ingredients
For the Meatballs:

2 1/2 pounds ground beef
2 eggs
5 slices white (or whole wheat) bread
1/2 cup milk
1 tablespoon tomato paste
1 tablespoon fresh thyme, chopped
2 cloves garlic, minced
1 cup grated Pecorino Romano cheese
2 teaspoons salt
1/2 teaspoon freshly ground black pepper
4 ounces gruyere cheese (cut into small cubes)

For the Au Poivre Sauce:

8 tablespoons butter (1 stick)
1 cup Brandy
1 1/2 cups heavy cream
1 cup beef broth
1 teaspoon salt
2 tablespoons cracked peppercorns
Instructions
Preheat the oven to 325 degrees.
In a large bowl, add the ground beef, eggs, tomato paste, chopped thyme, minced garlic, salt, pepper and grated Pecorino Romano cheese.
Put the five slices of bread in a small bowl with the milk. Allow the bread to absorb the milk (3 minutes). Squeeze the excess milk from the bread.
Tear up the soaked bread and add to the large bowl with the ground beef.
Using your hands, combine all ingredients until they are completely blended.
Form into balls (between the size of a golf ball and a tennis ball).
Line the meatballs on a baking sheet.
Use the end of a wooden spoon, and make a hole down the center of the meatballs.
Insert a small piece of gruyere cheese.
Bake for 20 minutes.
While the meatballs are baking, add the butter to a fry pan over medium low heat.
Add the brandy. Be careful, it may ignite.
Cook until the brandy is reduced.
Add the heavy cream and salt.
Cook for a few minutes until it starts to thicken.
Add the beef broth.
Continue to cook on medium low heat until it begins to thicken.
Take the peppercorns in a small plastic bag. Lightly smash the peppercorns.
Spoon the sauce over the meatballs and sprinkle with some cracked peppercorns.
Serve immediately.
https://www.mangiamichelle.com/meatballs-au-poivre/
. . .