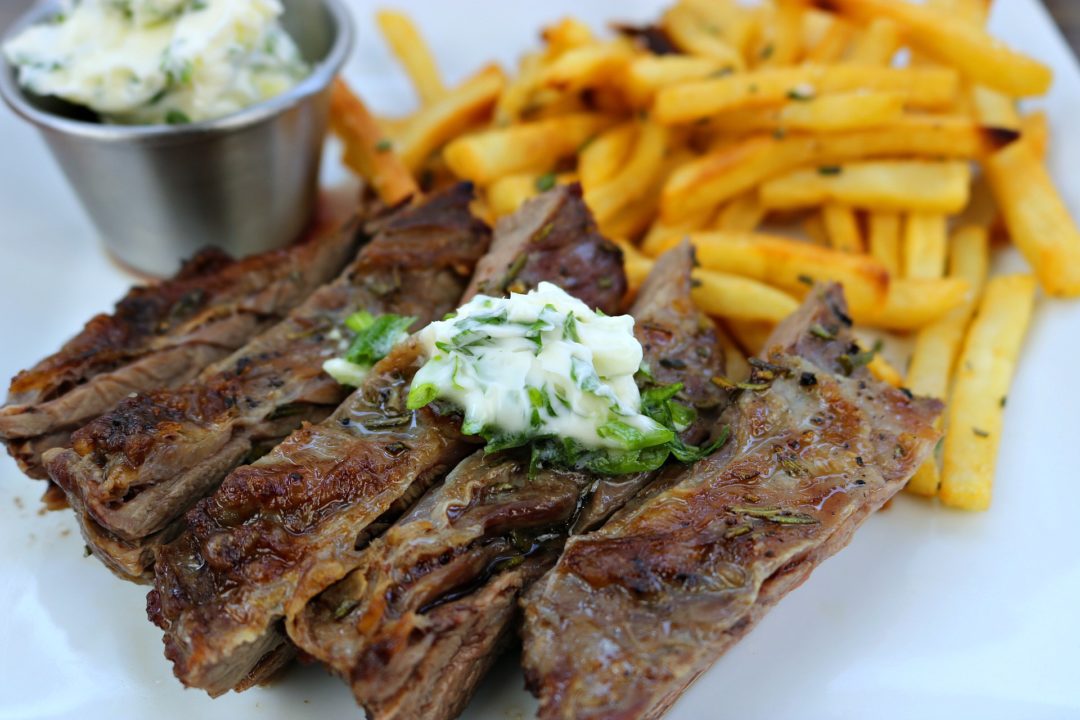 Here is a one pan dinner that will please all carnivores…sheet pan steak frites.  This classic French dish is easy enough that anyone can make it.  If you are looking for a three course French meal, check out my Dinner in Paris menu.  When my husband and I visited Paris, steak frites was always on the menu.  This is basically a simple steak dinner, served with french fries.  I gave steak frites and update, by adding an herb compound butter, and turning plain old shoestring potato french fries into truffle fries.  Not only is this a simple dish, but you can make the whole thing on a sheet pan and bake it in the oven.  Win win for the family for getting a delicious, and hearty meal, and win win for mom for only having one pan to clean afterwards.
Sheet Pan Steak Frites is a simple and delicious meal with an easy cleanup.
The secret to getting both crispy fries and a perfectly roasted steak, is to use a layer a sheet of parchment paper over a sheet of tin foil on a baking sheet.  You start this meal with frozen french fries one side of a sheet pan (on the parchment paper).  You cook the fries (see full recipe below) partially.  Then you remove the layer of parchment, and add the seasoned steak to the other side of the sheet pan, along with the fries. Now you are using the tin foil.  You cook the steak as directed.  The tin foil will now help to crisp up the french fries.  But keep an eye on them, if they start to get too dark, remove them until the steak is done.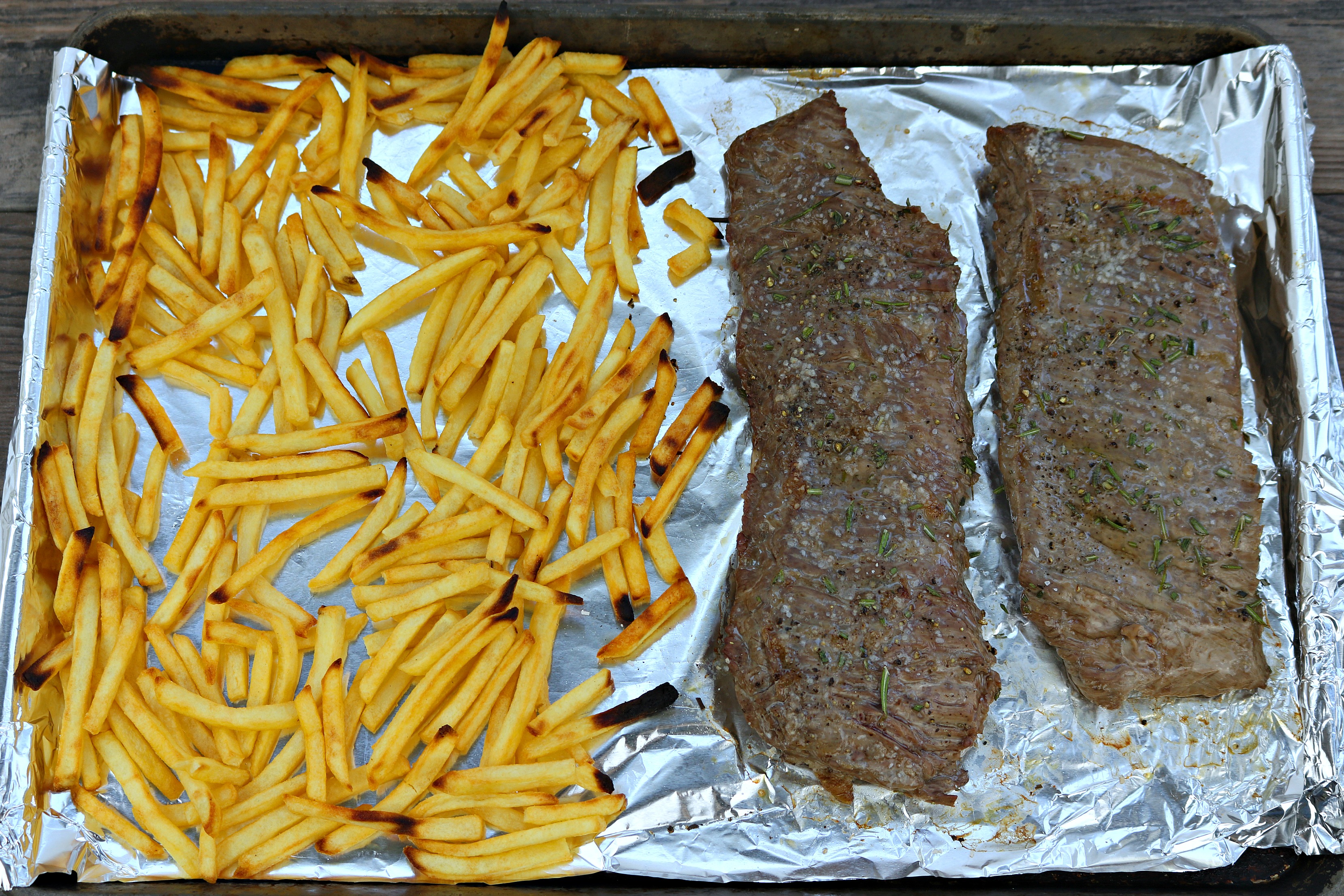 And how do you make almost anything better? Butter.  Of course.  Make a simple herb compound butter to plop right on top of that delicious steak.  Take a stick of room temperature butter and add some chopped herbs.  I use chives, parsley and chopped garlic.  A little bit goes a long way.  You want some butter with your steak, not some steak with your butter.  It should simply complement the steak.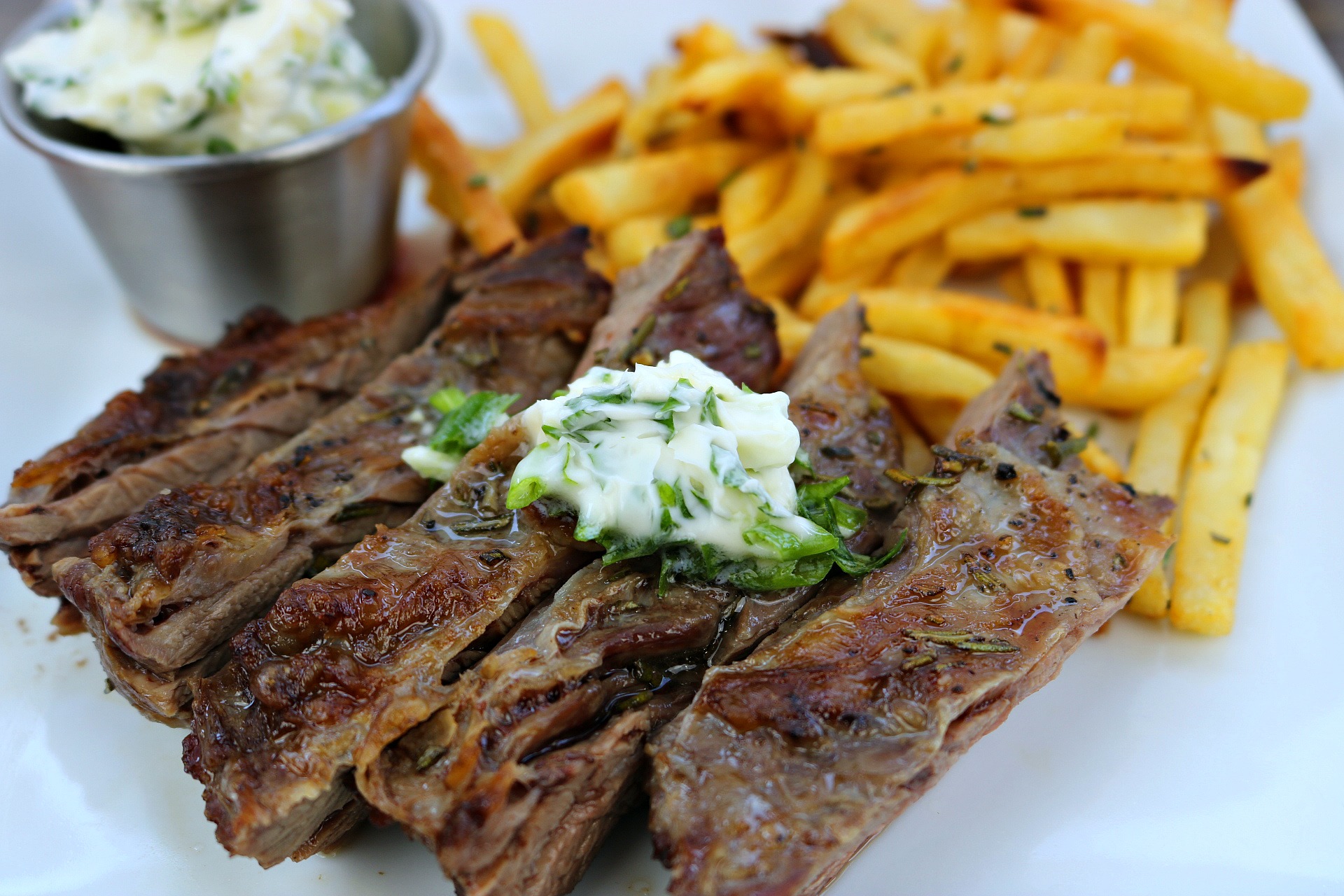 Just look at the buttery, herby goodness.  And don't forget about the french fries.  These are frozen store bought fries that I doctor up with some black truffle flavored olive oil.  Now, if you opt for real truffle oil, use a smaller amount.  Real truffle oil is much stronger than the flavored olive oil.  So I say, start with a teaspoon, test and see if you need more.  You don't want to over-truffle your fries now…or do you?
Serve sheet pan steak frites with a nice glass of Bordeaux (Cabernet Sauvignon).  If you aren't looking for a 3 course meal, you can always pick up some delish macarons from a local bakery for dessert.  If you want the whole shabang, check out my recipe for French apple tart.  It is the perfect dessert for this steak dinner.
I hope you enjoy…Bon Appetit!
Ingredients
For the Steak Frites:

½ pound frozen shoe string French fries
1 tablespoon black truffle olive oil
Skirt steak
Salt and pepper
Chopped rosemary

For the compound butter:

1 stick butter, at room temperature
1 tablespoon chopped chives
1 tablespoon chopped parsley
1 cloves garlic minced
Instructions
Preheat the oven to 400 degrees.
Season the steak with salt, pepper and chopped rosemary and set aside.
Layer a sheet pan with one sheet of tin foil and one sheet of parchment paper.
Partially bake the frozen french fries, turning halfway through. Cook according to the package (for half the recommended cooking time).
Remove the parchment layer so the foil is exposed. Move the fries to one side of the pan, and add the steak to the other side.
Turn on the broiler and move the sheet pan closer to the top of the oven (one below the very top).
Cook the steak for 3-4 minutes on each side (depending on thickness of steak and how you want it done). Flip the fries when you flip the steak. If the fries are starting to burn, remove them and continue cooking the steak.
When the steak is done, let it rest for five minutes. While it is resting, make the compound butter.
In a small bowl, add the butter (room temperature), chives, parsley and garlic. Stir until combined.
Put the french fries in a bowl, add one teaspoon salt, and the truffle flavored olive oil. Toss until combined.
Serve steak with a tablespoon of compound butter on top and a side of french fries.
https://www.mangiamichelle.com/sheet-pan-steak-frites/
. . .