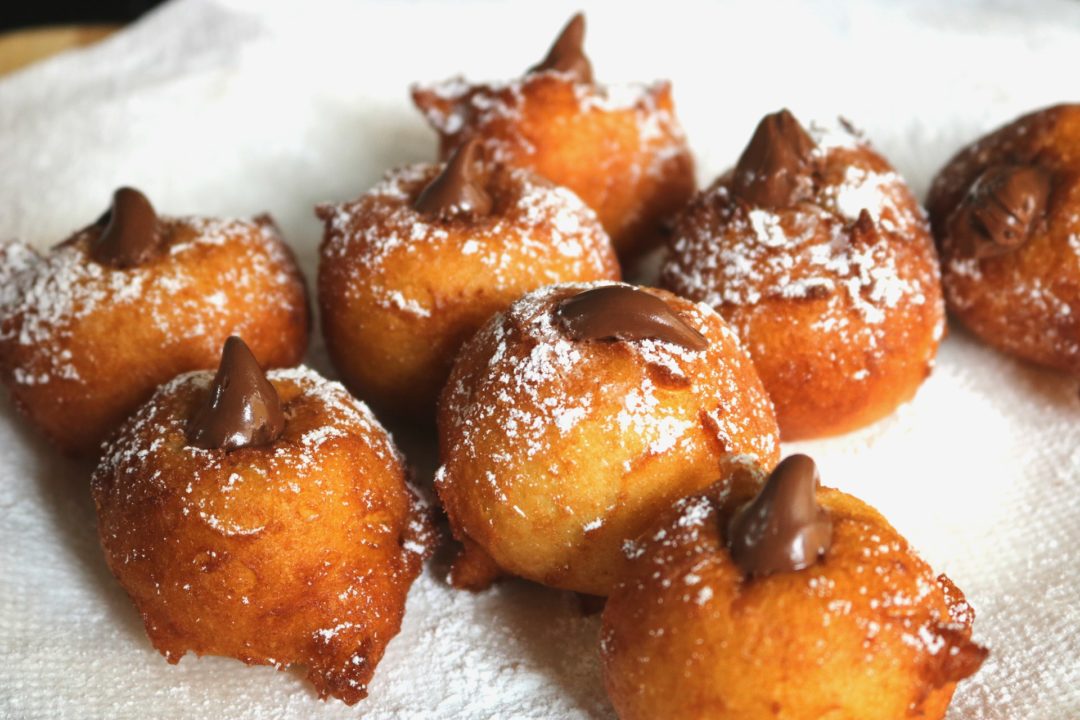 Say no more.  Me…right here….sold! As if you couldn't make zeppoles anymore heavenly than they already are…just add your favorite hazelnut chocolate filling.  My favorite, of course, is Nutella brand.  This recipe for zeppoles with Nutella are a sweet treat that you can enjoy at any time.
Make this recipe for zeppoles with Nutella for Sunday breakfast.
There are two things that inspired me to make these fried balls of deliciousness.  The first, was from my honeymoon. My husband and I went to Positano on the Amalfi Coast of Italy.  It is the most beautiful place in the world. I truly cannot wait to visit there again one day.  Anyhow, we stayed at this hotel called Buca di Bacco. I highly recommend it.  We had a balcony with a pergola of flowers.  And we also had a 180 degree view of the Mediterranean…absolutely breath taking!
Buca di Bacco is one of the few hotels right on the beach. The service was excellent.  They truly go above and beyond.  On our day of departure we had to wake up super early to get to the airport.  The concierge made me a cappuccino at 4:00 in the morning.  I mean, who does that?  Ok, so back to my point.  Below the hotel on the beach there was a little bakery/gelateria.  We went there one day for breakfast and I got a bomba nutella.  Basically, it is Italy's version of a jelly doughnut.  Except they substitute nutella for jelly.  It was delicious!  I never forgot about…obviously.
My second source of inspiration to make these zeppoles came from a disappointing visit to the San Gennaro Festival recently.  The festival itself was great.  The disappointing part came when I wanted to buy zeppoles.  Because, as everyone knows, the San Gennaro festival is not complete until you have made the pilgrimage to the zeppole stand to buy a bag (or two or three) of the fried doughy goodness, sprinkled with the just the right amount of confectioners sugar.  They are perfectly crisp on the outside, and moist and heavenly on the inside.  To my dismay, the line for zeppoles was about a quarter of a mile long (no exaggeration).  And with a two and three year old, you don't ever wait on a line that long…unless of course you enjoy torturing yourself.
After the festival I promised myself that I would make zeppoles.  And because I was so bitter that I didn't get any at the festival, I had to make them even better.  And how do you make the already perfectly divine zeppole better, you ask? Simple.  Just add nutella.  Thus, zeppoles with chocolate hazelnut filling were born.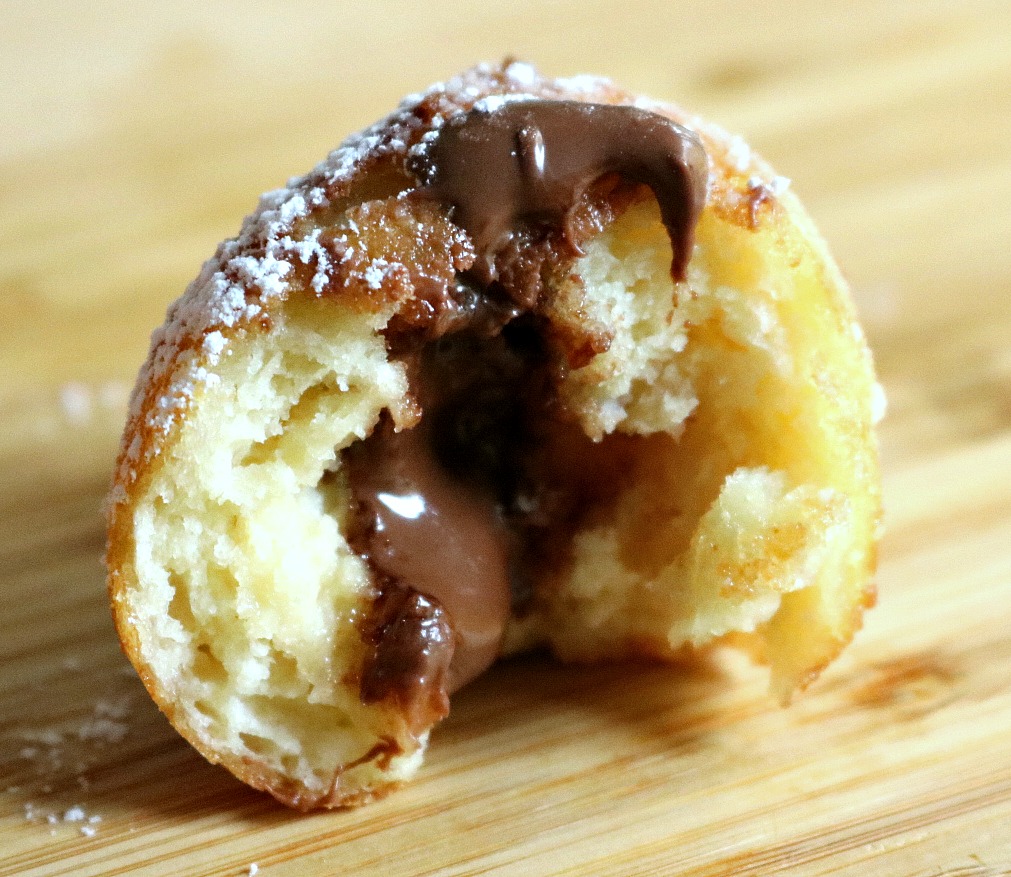 Zeppoles fry up quickly for an easy and fast snack.
Not only are these fried heaven, but they are ridiculously easy to make.  You probably have most of the ingredients already in your pantry.  You can enjoy them at any time of day.  Because anytime is zeppole time! You can have them in the morning with an espresso for breakfast or after lunch or dinner to satisfy your sweet tooth.  And I promise, it is totally acceptable to have them for a midnight snack if the mood strikes!  Just be careful handling hot oil if you are only half awake.  Safety first.
Note: use a candy thermometer to reach the desired temperature for the oil. I use this one.

Mangia!
Zeppoles with Hazelnut Chocolate Filling
Ingredients
2 eggs
1 cup all purpose flour
2 1/4 teaspoons baking powder
1/4 cup granulated sugar
1 cup of whole milk ricotta cheese
1 teaspoon vanilla extract
Dash of salt
1/2 cup hazelnut chocolate spread
Confectioners sugar for dusting
Vegetable or canola oil for frying
Instructions
Put oil in a deep fry pan. Begin to heat oil.
Beat two eggs in a large mixing bowl until foamy.
On low speed, add the flour, sugar, baking powder and dash of salt.
Immediately add the ricotta cheese and vanilla.
Mix on slow speed until it is all combined. Do not overmix. The batter will be sticky and thick.
When the oil reaches 375 degrees, you are ready to fry your zeppole.
Use a small ice cream scoop (or a melon baller). Spray with a cooking spray to prevent the batter from sticking to it. Scoop about a tablespoon into the hot oil. You may do several at one time, however, do not overcrowd the pan. The zeppoles should not touch. About 4-5 at a time.
Use a wooden spoon to turn the zeppoles a few times. It will take about 3-4 minutes until they are cooked. They will be a golden brown.
Dust the tops of the zeppoles with confectioners sugar.
Allow zeppoles to cool for a few minutes.
Add the chocolate hazelnut cream to a pastry bag with a small pastry tip.
Using a paring knife, make an X on the top of each zeppole. The knife should go down to the bottom of the zeppole but should not cut through it.
Take the pastry bag and stuff each zeppole with just enough cream so that it shows on the top.
Enjoy these babies while they are hot!
https://www.mangiamichelle.com/zeppoles-chocolate-hazelnut-filling/
. . .